Content marketing runs on editorial content. And in order to publish high-quality content at a regular cadence, you need an editorial calendar.
An editorial calendar serves several purposes; it helps you to:
In this post, we'll give you a step-by-step walk-through for creating an editorial calendar that will achieve all those functions and streamline your content marketing process. We've formatted it to address many frequently asked questions that marketers often have when creating an editorial calendar for the first time. We've also included a template that you can download and use for your editorial calendar.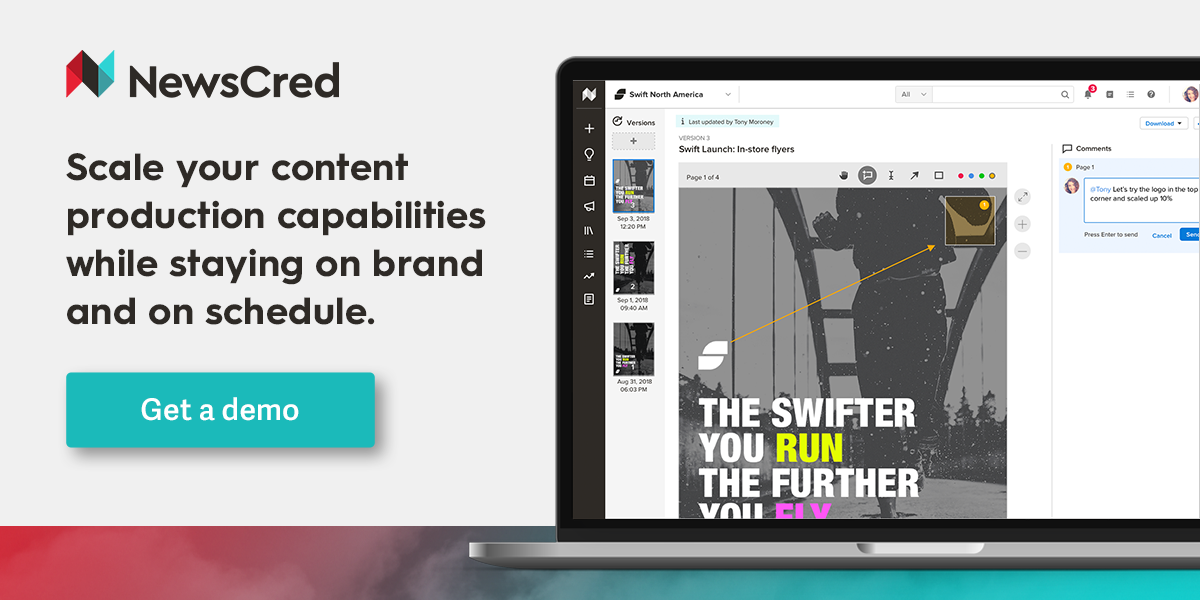 Where should I create my editorial calendar?
Your first question may be where to create your editorial calendar. The format of your calendar will depend on your organization.
Your team may have access to a content marketing platform, like NewsCred's. Most content marketing platforms have built-in editorial calendars that let you create workflows for blog posts and other pieces of content, plot them on a calendar, and manage all the writing, editing, publishing, and distribution in one place.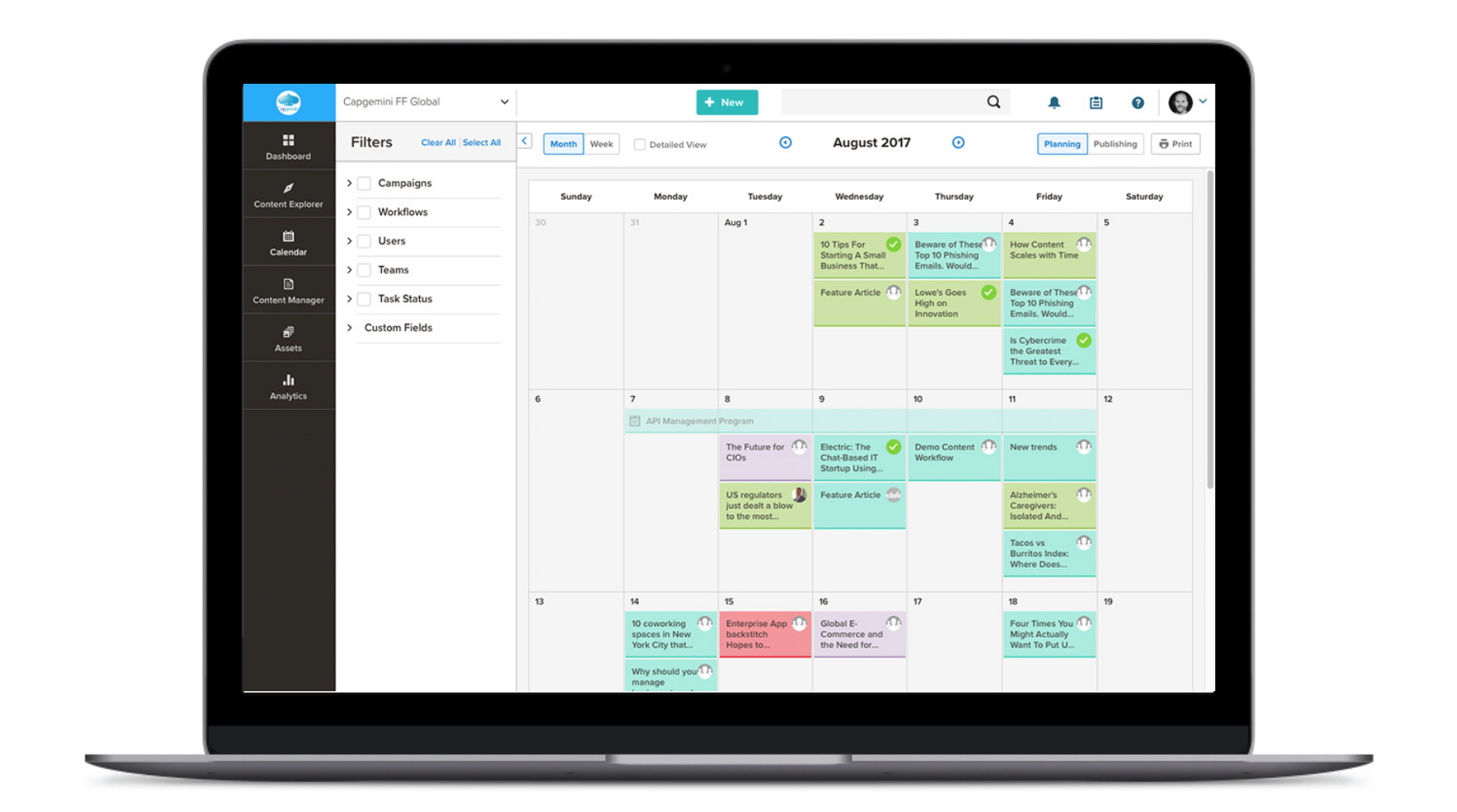 An editorial calendar in the NewsCred Content Marketing Platform
If you don't have a content marketing platform, a Google Sheet or Excel spreadsheet can serve as your calendar. Create a dedicated workbook for one year and within that spreadsheet, designate one tab for each month. Use this template as a guide for formatting your calendar: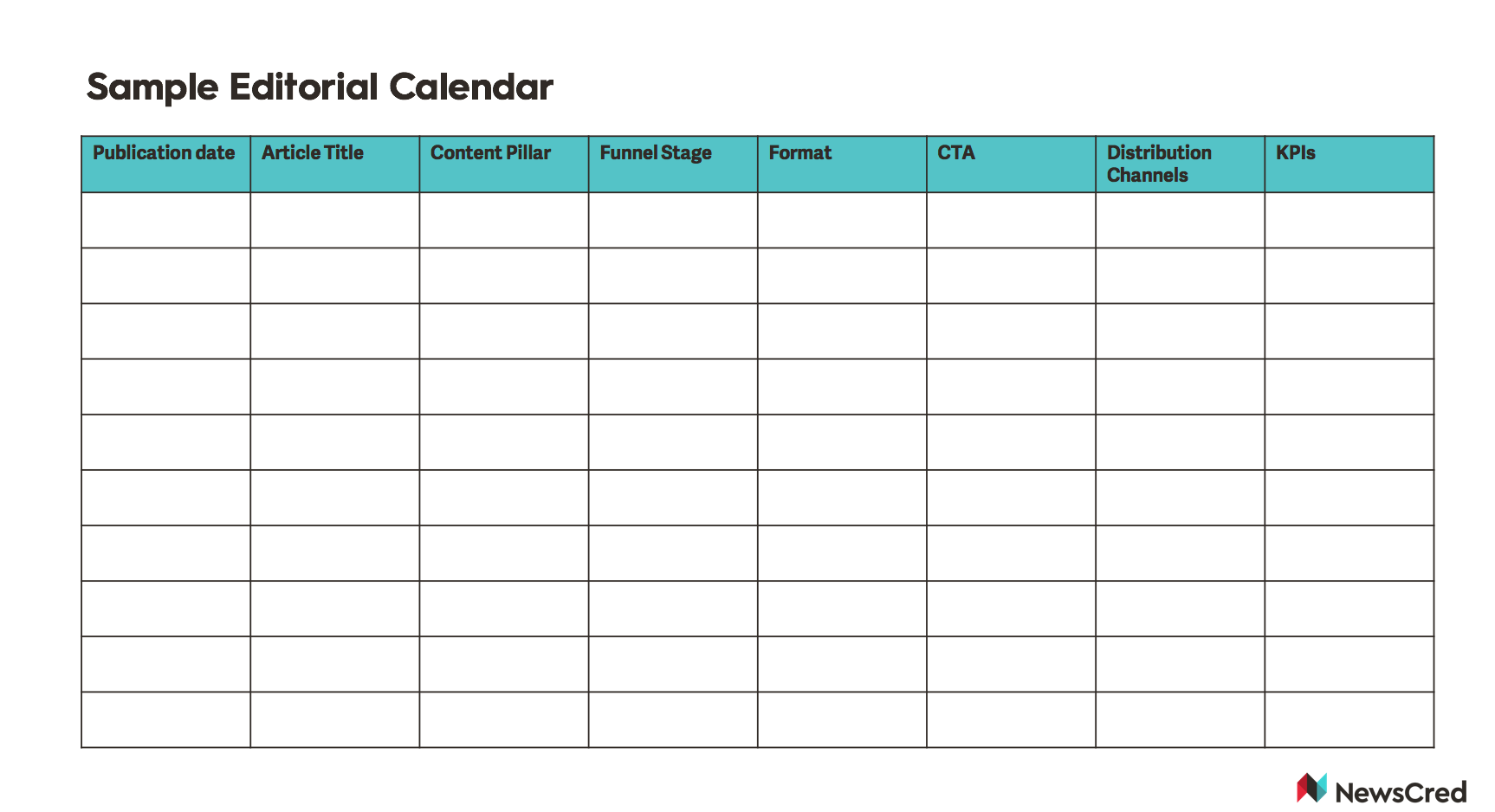 (Download this template from our content marketing strategy template here.)
Of course, feel free to adapt the template so it suits your needs.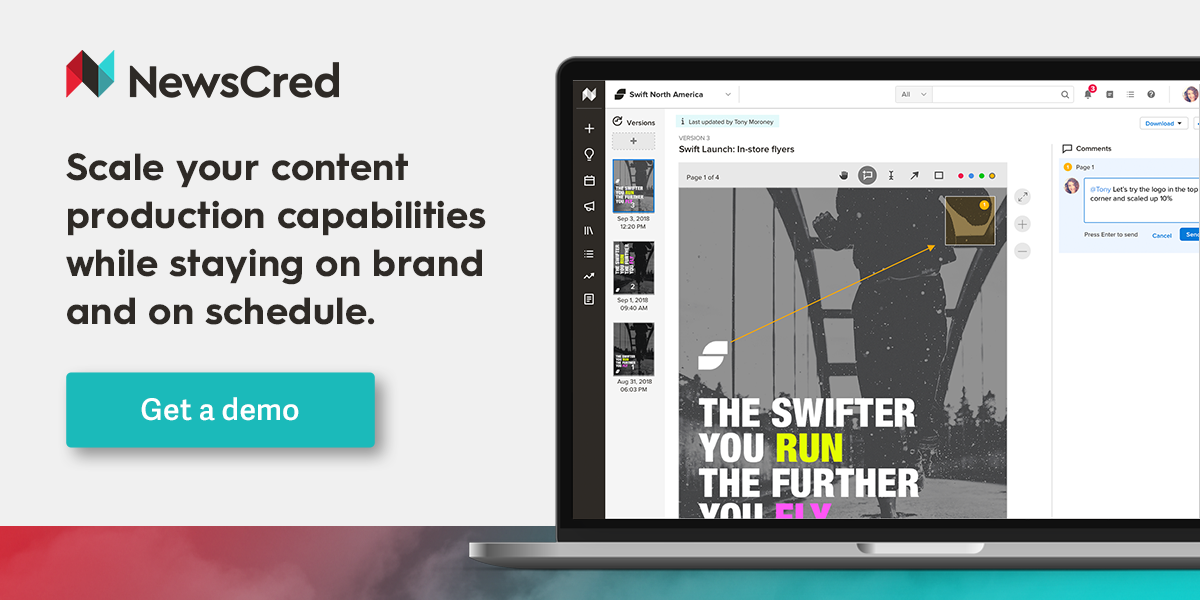 How do I align my editorial calendar with my content marketing strategy?
When you created your documented content marketing strategy, you essentially laid the foundation for your editorial calendar. After all, your content marketing strategy ensures that all the content you produce will result in positive ROI toward your content marketing goals.
In your content marketing strategy, you established content pillars, which are the core topics that you're seeking to own.
These pillars align with your brand mission and the SEO keywords for which you're hoping to rank. Within each pillar are related topics. For example, if you're a fitness company, one of your content pillars might be "Nutrition and Healthy Eating." The related topics for that pillar might include "meal plans," "recipes," and "expert advice."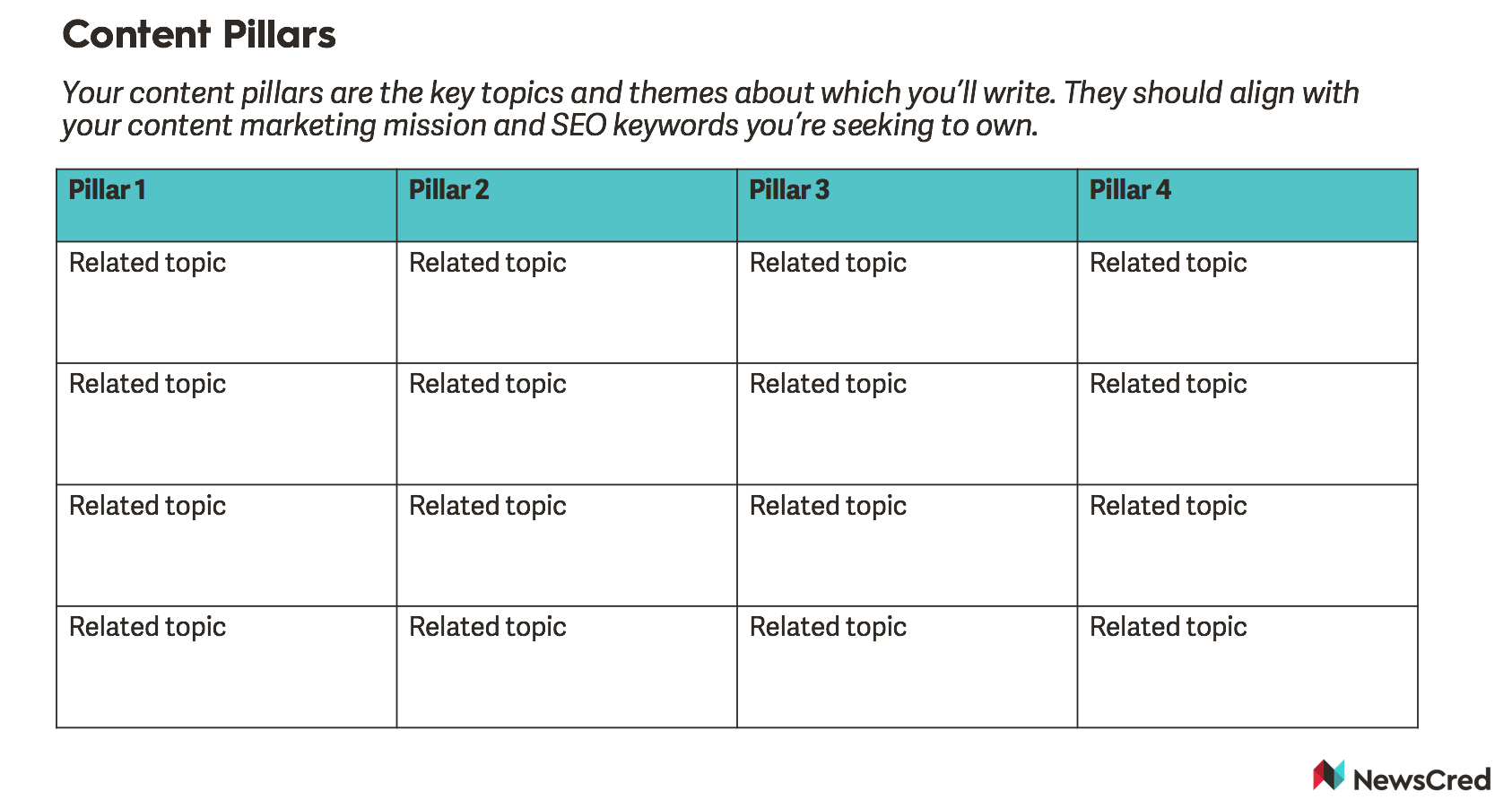 (Download this template from our content marketing strategy template here.)
Within your content marketing strategy, you also mapped content types to the buyer journey. Blog posts, infographics, and curated lists about topics that appeal to most of your buyer personas make up your top-of-funnel content; they will drive traffic and awareness. Your middle-of-funnel content may include interactive content designed to attract leads and newsletter sign-ups, thus increasing your engagement with potential customers. Bottom-of-funnel content might be product-focused as you move people closer to purchase.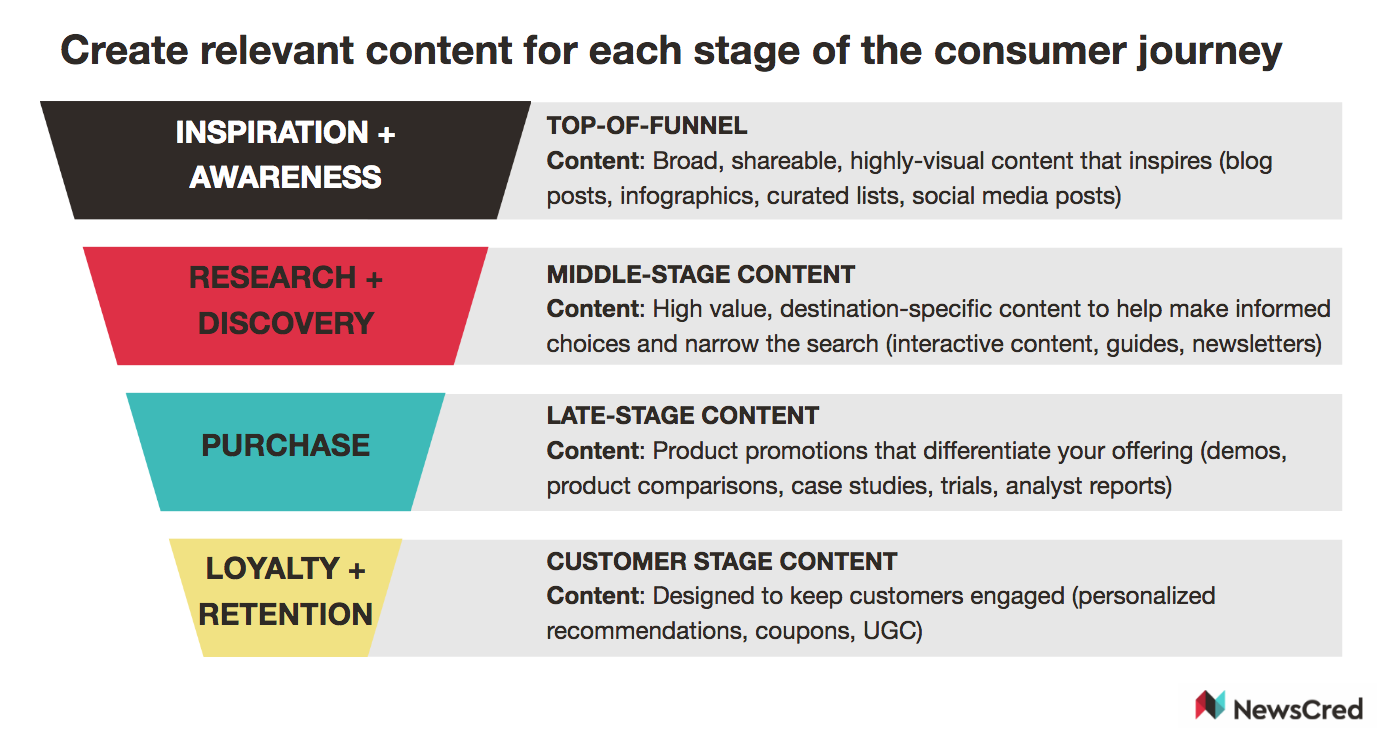 Along with content pillars and content types, the following factors will also influence your content marketing strategy and how you populate your editorial calendar:
Major marketing campaigns: What initiatives do you have planned for the year? This will impact your content calendar. For example, if you're hosting an annual event, you'll likely be writing articles to promote the event and drive audience acquisition. After the event, you'll probably publish post-event content utilizing the access you had to industry leaders, photos, videos, data collected, and more.
Big rock content: Big rock content is content that's so epic that your audience can't help but pay attention to it. Big rock content can be a short film, a feature film, an e-book, a printed book, or a whitepaper.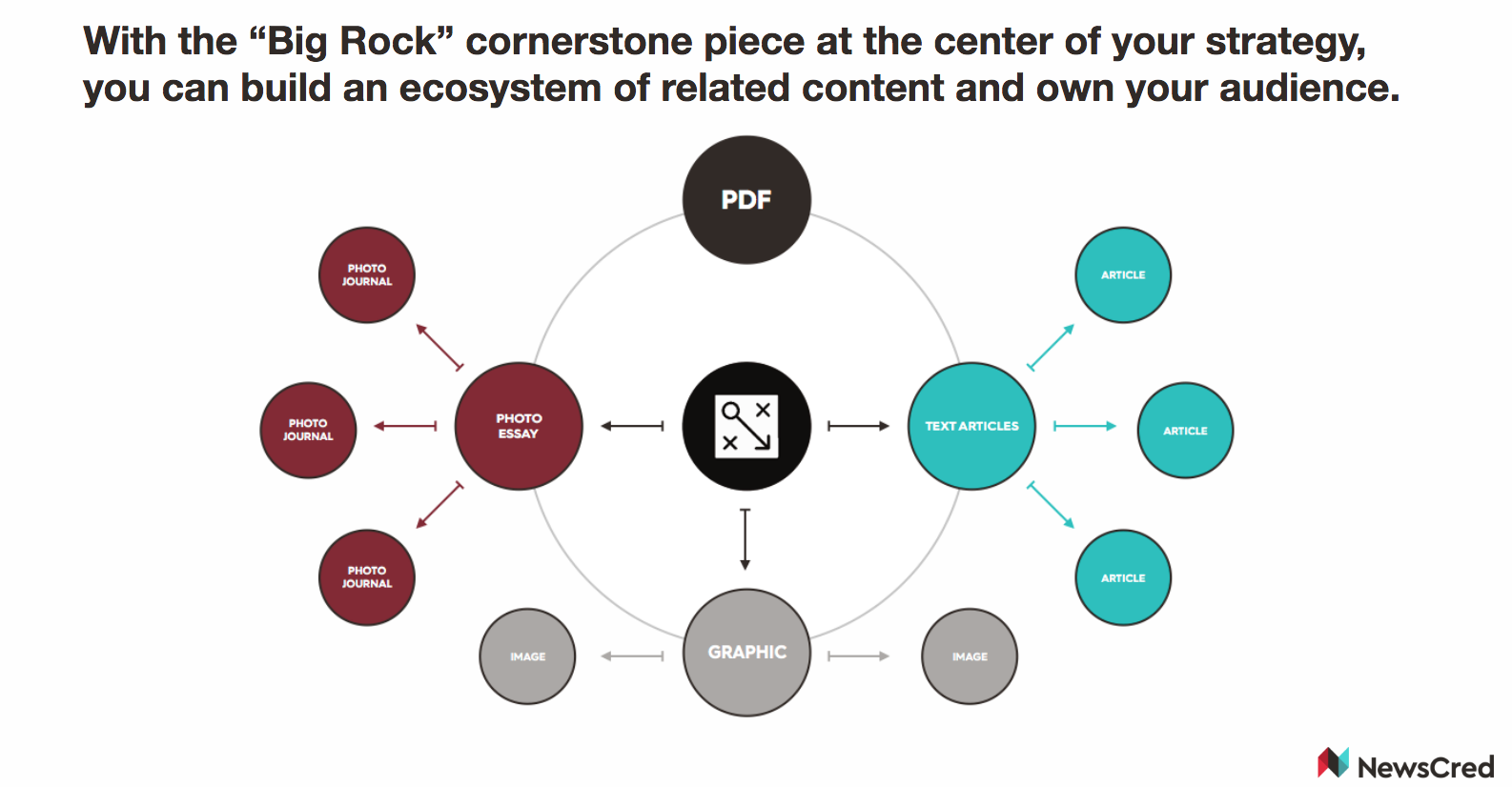 It requires a substantial investment to produce, but it's almost always worth it because big rock content can drive major ROI in the form of increased brand awareness, leads, sales, and operational efficiencies. Once you've produced your big rock content, you can carve it up (like a Thanksgiving turkey) and distribute the assets on social media and other marketing channels to further promote the piece.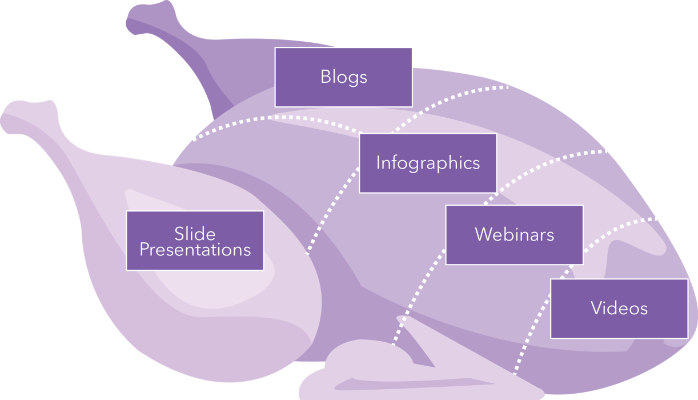 SEO content: What search terms are you seeking to own? This will further impact your content calendar, as you'll want to regularly create long-form, SEO-optimized blog posts to try to rank for those keywords.
Seasonal content: What holidays or annual occurrences are important to your audience? And how far in advance will they be looking for content? SEO tools, like Google Trends, can help you find that information.
For example, if you're a children's clothing retailer, back to school is one of your most important seasons. According to Google Trends, searches for "back to school clothing" start spiking in mid-July – which means that you should start publishing content on that topic by the end of June so it's available (and has had the chance to rank well) by the time people are actively seeking it out.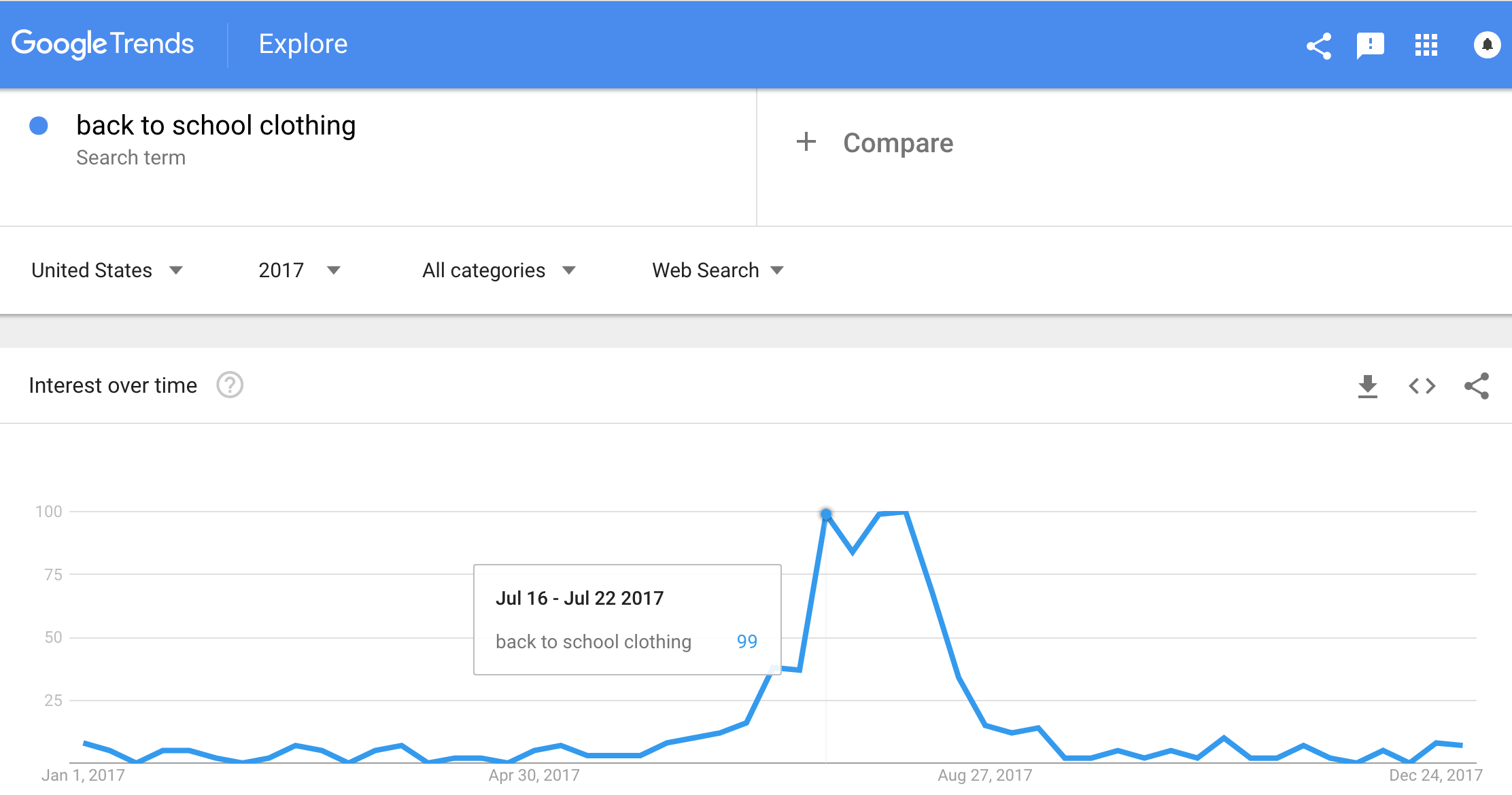 How do I come up with ideas for my editorial calendar?
Before you can start filling out your editorial calendar, you need to think up ideas. This is the fun part. You can either ideate on your own or with your team.
Hold a team brainstorm
Gather your key content marketing stakeholders for a team brainstorm. You can include your fellow marketing team members and subject matter experts (SMEs) from other departments.
To ensure that your brainstorm will be productive, structure it with an agenda. You might begin by walking people through your content pillars and content types, and then dedicate 10 to 20 minutes to brainstorm content for each pillar. In addition, it may be helpful to share thought-starters with attendees prior to the meeting; this will give them time to think independently and come prepared with ideas to discuss.
At the brainstorm meeting, make sure there's a place to record ideas where everyone can see. This can be on a whiteboard, sticky notes, or a document that you type on and project in the meeting room. Once everyone has shared their ideas, group together similar ideas.
For example, say you're a marketing company brainstorming ideas for your social media pillar. One person suggests a story about Instagram Stories, another person recommends an idea about influencer marketing, and a third person proposes a piece about the current state of hashtags. You might want to combine all of those ideas into a long-form piece entitled "The Ultimate Guide to Instagram Marketing."
Research story ideas independently
You can also ideate on your own.
Reading and researching will inform much of your ideation. Stay up-to-date with publications in your industry, general news, and the topics that your customers most care about. Create a dedicated place to store your ideas no matter how fully baked they are; you may need to research a topic more, but you don't want to lose your idea.
How do I slot my ideas into my editorial calendar?
Once you have a lot of ideas to work with, start mapping out which ideas align with specific content pillars and content types, while taking into account major marketing campaigns, big rock content, SEO content, and seasonality.
It's helpful to start with fixed dates. First, schedule content tied to holidays, annual occurrences, and major company or marketing initiatives, since you have a good sense of when you need to publish those articles. Then, schedule your big rock content and all the pieces that will result from that content; because of the investment big rock content requires, you may just have one piece per quarter or even one per year. After that, schedule your SEO content for the keywords that you most want to rank on; estimate one to two pieces per month (and don't forget to check Google Trends to see if there's an ideal time to publish those pieces).
Once you've scheduled all those pieces, slot in other stories. Of course, you won't be able to populate those articles many months in advance, and you shouldn't. In addition to having fixed pieces, you need the flexibility to publish other content, as needed, in order to respond to news, timely events, and pitches from writers and SMEs. Your calendar should always feel like a work in progress.
How much time should I allocate for each piece of content?
Each content type requires a different timeline, but it's a good rule to work backward from your ideal publication time.
For a long-form blog post, for example, a writer may need one to two weeks to research the topic and write a first draft. An editor will need about a week to edit it and go back and forth with the writer with questions and revisions. The whole editorial process may take about three weeks.
On the other hand, if you're creating an interactive e-book, you'll need several months. A writer may need one month to research and write the first draft, and the editing and copyediting process will likely take two to three weeks. These types of projects often also require additional rounds of approvals from stakeholders, which may add on a few weeks. Plus, web developers and designers will be working concurrently, and their whole process will take several months.
It's always good to account for extra time for each step, as content production often takes longer than you originally intended. Stay in frequent contact with all your collaborators and make sure everyone knows their deadlines. (And don't worry if you have to follow up; people usually appreciate the extra nudge or reminder about due dates.)
What happens after each piece of content goes live?
Promote it on social media, in your email newsletter, in internal company platforms, and through other marketing channels. After all, distribution is necessary for content marketing success. Even if you've created a thoughtful editorial calendar and published incredible content, it won't drive any substantial return for your brand unless you've actively promoted it.
That said, be sure to measure the ROI of each piece. Where each piece falls on the funnel will determine your success metrics, ranging from pageviews for top-of-funnel blog posts, to sales, leads generated, or deals influenced for bottom-of-funnel content.
An editorial calendar can be one of a content marketer's most useful tools. It exists to make every part of your job easier and more organized, so use it to your full advantage.

Heather Eng is NewsCred's Executive Editor.