Here's a scary thought to ponder: 54% of companies have used Google to search for their own company's logo.
That's why so many companies are investing in a robust digital asset management software, aka DAM system.
DAM solutions can help ensure that your marketers, social media managers, creative teams, and anyone who touches marketing content can be much more efficient.
Read on to learn more about what a digital asset management system is, how it works, and how its benefits can help you streamline your processes and improve workflows.
What is a Digital Asset Management System?
Before defining digital asset management, you should understand what a digital file or digital asset is.
Digital assets can be any type of multimedia that your team uses.
Digital content can include various file types, such as images, photos, videos, documents, PDFs, music, and other rich media assets that power your website, blog, email newsletter, social media pages, slideshow presentations, sales decks, and more.
A digital asset management solution is a type of SaaS that provides a cloud-based storage area for all of your marketing assets.
Anyone from anywhere can be invited to access all or some of the brand assets in your catalogue.
Brand consistency is crucial and a DAM platform can help ensure that everyone is using the most updated versions of creative files – and that there's a "single source of truth."
What's more, DAM software provides tools to organize, tag, and add metadata to every piece of digital content you have.
And, it allows teams to set up workflows and streamline every step of the digital content lifecycle.
Why Digital Asset Management Matters
Not having a DAM system means your staffers are wasting time, and therefore, not being as productive. That cuts directly into the bottom line.
Creative teams know the pain of getting bombarded with requests from martech, marketing, sales, product, and other teams every time they need a company logo or a tweak to an existing image. Just think of how much time can be saved without the incessant back and forth?
DAM software creates efficiencies and puts an end to the grunt work that weighs down busy teams. And, when your digital assets are easily accessible within other content management systems, marketing teams can have a much improved user experience.
Many companies are making major investments in DAM systems for that very reason. In fact, according to a study by Markets and Markets, the global digital asset management market is expected to be worth $6 billion by 2025.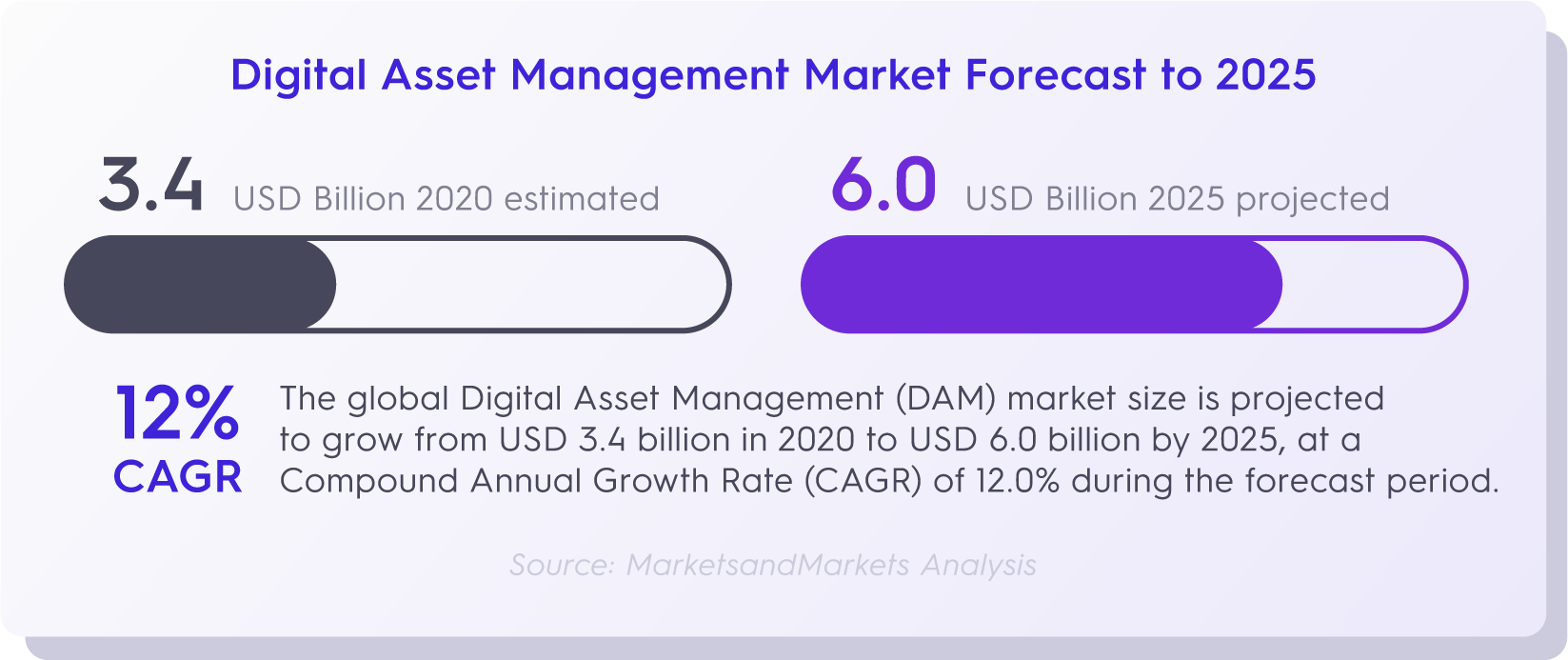 Digital asset management systems not only help with the functionality of your asset library, but they can also allow you to automate processes to accommodate each project's specific approval and publishing steps.
How Do DAM Systems Work?
Digital asset management systems like the one offered by Welcome work like a digital age Dewey Decimal system on steroids.
It not only helps users locate the digital assets they need, but it aids in the entire media asset creation process.
From start to finish, teams can collaborate and publish assets in various file formats, share marketing materials with key stakeholders, and stay within brand guidelines.
Using a workflow integration with campaigns and tasks, teams have the ability to access assets more quickly as well as repurpose existing files as needed.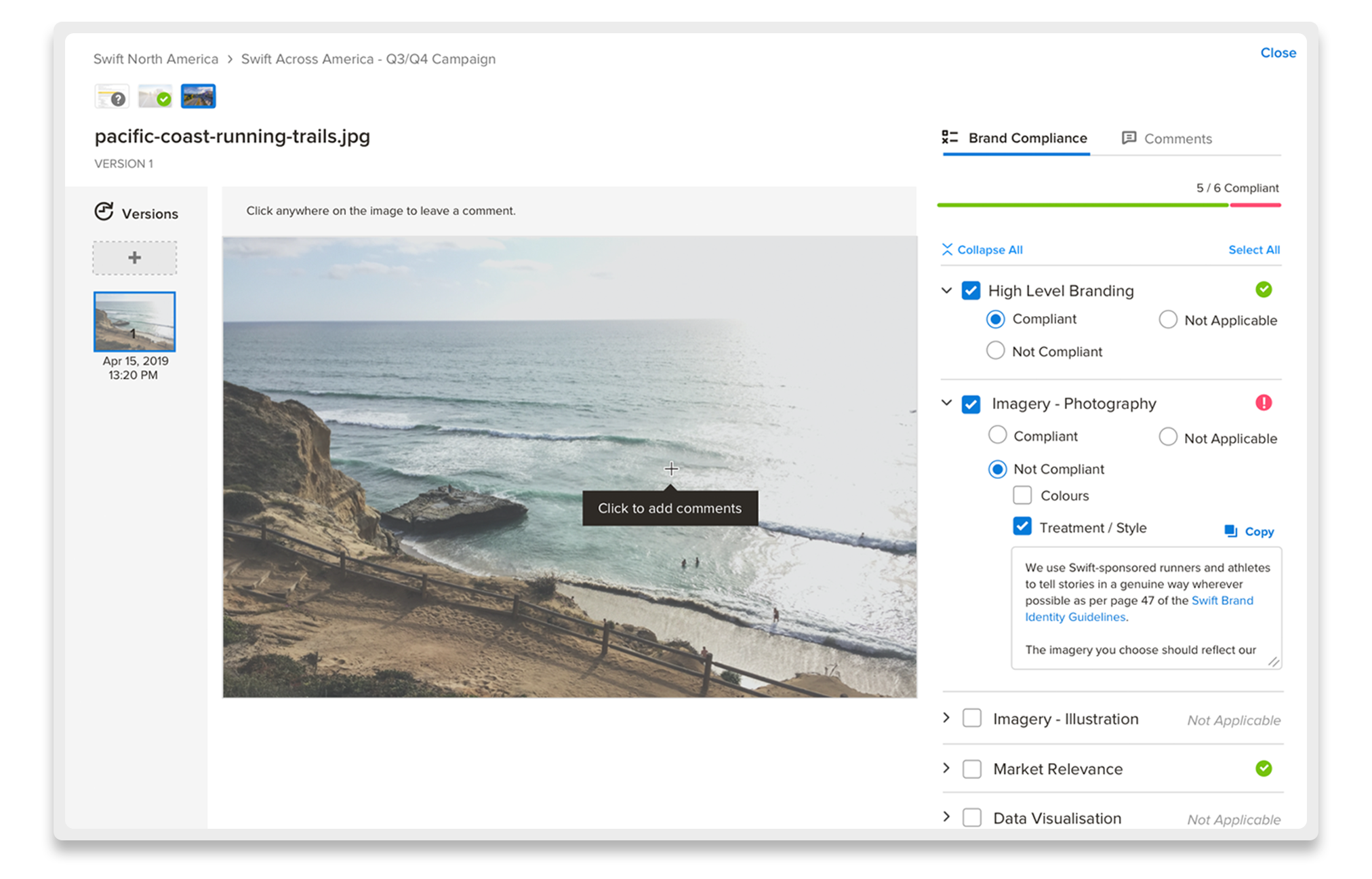 Welcome's DAM System
A content marketing team is tasked to create an article for its website. The brand editor sets up the task in Welcome's content marketing platform, assigning steps to a writer, editors, designers, reviewers, and others.
During the article creation process, writers, editors and/or designers may be responsible for choosing images and other digital media to enhance the content, and they can do so without leaving the Welcome platform. They just have to enter the DAM system.
They can browse through pre-loaded and pre-approved images and marketing assets, or search by keyword and apply filters to find ones that fit the article. If it's not quite right, they can open up the DAM image editor and make adjustments, without having to leave the platform to use Adobe Photoshop. They can crop, resize, change the resolution, add text or stickers, and more. Designers can also create new images and upload them to the DAM library.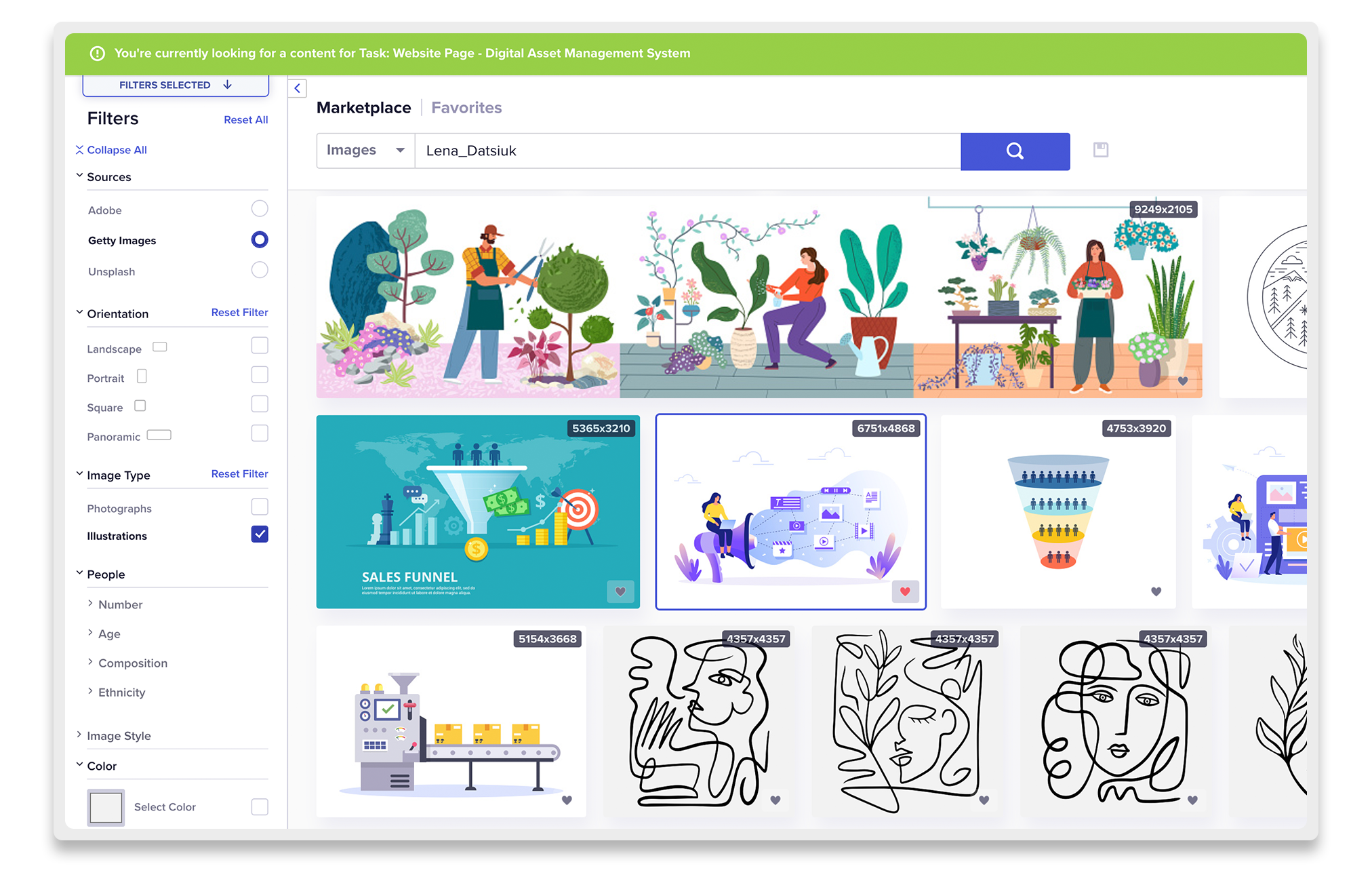 The DAM system will keep a log of each asset's lifecycle including who used it, when/where it was used or shared, and if it was edited. Users who have the proper permissions and version controls can also leave notes and annotations for other team members, and link back to the specific tasks that the asset is associated with.
Welcome's digital asset management system also lets you create folders so you can bundle and package up digital content in ways that improve the user experience for your brand management and creative teams. For instance, you can keep the company leaders' headshots all in one place, or you can store a collection of social media headers or e-commerce product photos.
The Benefits of a DAM System
Now that you understand what a digital asset management system is and how it can be useful in day-to-day workflows, you still need to make a business case for investing in one. When comparing pricing, here are just some of the many benefits that DAM software can provide.
It offers time-saving functionality. Did you know that Gartner predicted that 90% of consumer brands would face bottlenecks when it comes to managing their digital content? A digital asset management system lets you organize your content into folders, manage who gets access to each folder, and create tags and metadata to improve search results. The old-school alternative of emailing creative teams to request an image, and then waiting around for their response is not efficient. Nor is spending precious time looking for assets because you can't quite remember how it was named, or which cloud storage platform it might be on. This is especially relevant now with so many team members working remotely, in different time zones, and on flexible schedules.
The creative team gets to focus on actually creating things. Designers can create, update, and repurpose digital assets and add them to the DAM system without having to send files individually to stakeholders or field numerous requests when someone can't find something. By adding and updated the digital content library on a regular basis, everyone will always have the latest iterations at their fingertips, giving designers their time back. No more constant interruptions.
Creative collaboration can happen without miscommunications or missed deadlines. A DAM platform is a key tool for project management, making it easy for group collaborations so teams can share notes, annotate, and get approvals on new digital file creations. Instead of sharing files across email or other file transfer tools, remembering who needs to be looped in, and sending follow-up messages to get feedback and approval (only to hear crickets), team members involved with the task can clearly follow the workflow and track progress in real-time.
It's easier to stick with brand guidelines. Consistency across marketing materials is an important component of customer experience. By keeping the latest versions of brand assets in one place, you can ensure that no one is using outdated logos or images. A good DAM system can track the history of each marketing asset.
It helps marketing teams stay on budget. Reinventing the proverbial wheel can be costly. With a large database of assets at their disposal, it's easier to grab an item and repurpose it rather than starting from scratch. Having access to all versions of templates and digital files makes it more likely that a designer will have a foundation to work with. By helping teams leverage existing digital content, it can ultimately lower content production costs.
Teams can work in a more secure environment. A DAM system lets you control who has access to specific files and folders. The 2019 Global Data Risk Report by Varonis reveals that 53% of companies had at least 1,000 sensitive files open to all employees. While digital assets might not immediately come to mind in terms of sensitive data, think about if a company is working on a new product launch or  needs to protect some kind of propriety information. You wouldn't want blueprints of product designs or a PDF describing an internal matter to get into the wrong hands. What's more, since everything is kept in a secure system requiring user logins, you don't have to worry about anything being hacked during an email or file drop over potentially vulnerable channels.
Choosing a DAM System
After reading through the benefits of a DAM platform, the next step is to select one that can help improve team workflows. When choosing a digital asset management partner, there are some important attributes to look for:
Reputation and marketing expertise. Going with a company that has a strong track record of marketing industry leadership is important because that means they have a keen understanding of marketer's needs and pain points. When considering a DAM platform, ask about other clients that are using it and read reviews.
Strong customer service. When considering digital asset management platforms, you should feel comfortable with the level of support that's offered. In addition to a transparent customer experience, a platform should offer onboarding training and support as needed. There should also be robust online resources to help with troubleshooting. For instance, Welcome has a comprehensive KnowledgeBase that walks users through the most common features of its software, including the DAM system.
Intuitive functionality. You don't want to choose a DAM platform that has a very steep learning curve because poor user experience can limit adoption. The whole point is to simplify and streamline your workflows, while gaining full visibility into the lifecycle of your marketing assets. Be sure to request a demo to see exactly how the DAM software works, and feel comfortable that your team members will be able to get up to speed quickly.
Easy integration. Marketing automation and content creation platforms should not be separated from digital asset management. Ideally, you want all of your tools to work together and speak the same language.
Ready to modernize your digital asset management? Welcome Software, which includes digital asset management among its suite of marketing orchestration solutions, is purpose-built for modern marketing. Get in touch to request a demo.