Although the idea of content marketing is not new — 91 percent of B2B marketers use content marketing to reach their customers — marketers still struggle with defining and proving content marketing success. In fact, only 8 percent of marketers consider themselves successful in tracking content marketing ROI.
Why is that? An overwhelming majority of marketers say their biggest challenge with measuring ROI is establishing key performance indicators and having the right technology to support the measurement of those metrics.
As a result, most marketers use softer, top-of-funnel metrics such as page views and impressions to prove value — and at one time, these vanity metrics were a sufficient means of measurement. When content marketing first became a popular tactic, brands had no baseline for truly defining success, and technology limited the types of metrics marketers could track.
However, as marketers (and CMOs specifically) realized they could use content for more than just expanding brand awareness and reach — and could actually drive audiences to take a desired action — the need for more definitive metrics became stronger. Now, thanks to tools that go beyond standard site analytics, such as NewsCred's very own Action Analytics, marketers can easily track engagement metrics such as attention, time on site, and return visitors.
The buyer journey, however, doesn't stop there — and neither should the metrics that marketers measure. But without the proper technology, marketers are left struggling to measure that final part of the buyer journey: content's impact on revenue. This presents a significant challenge in today's marketing landscape, as marketers must demonstrate content ROI to both defend their budgets, and prove the value of their work (and their place on the marketing team).
But how?
How NewsCred empowers content marketers with Pipeline Analytics
At NewsCred, we believe we are in the performance era of content marketing, where content's goal is to drive real business results and is therefore measured as a revenue driver — the need to measure and demonstrate content marketing ROI is here to stay.
And although we believe measuring the full-funnel impact of content from first-touch attribution through to closed-won revenue is critical for optimizing the entire sales cycle, we also believe the true leading indicator of content marketing success is tied directly to content-generated & content-influenced pipeline.
That's why we're excited to announce Pipeline Analytics — a new feature that quantifies content influenced pipeline and content-generated pipeline, so your team can easily prove the impact your work has on the marketing KPIs that matter most.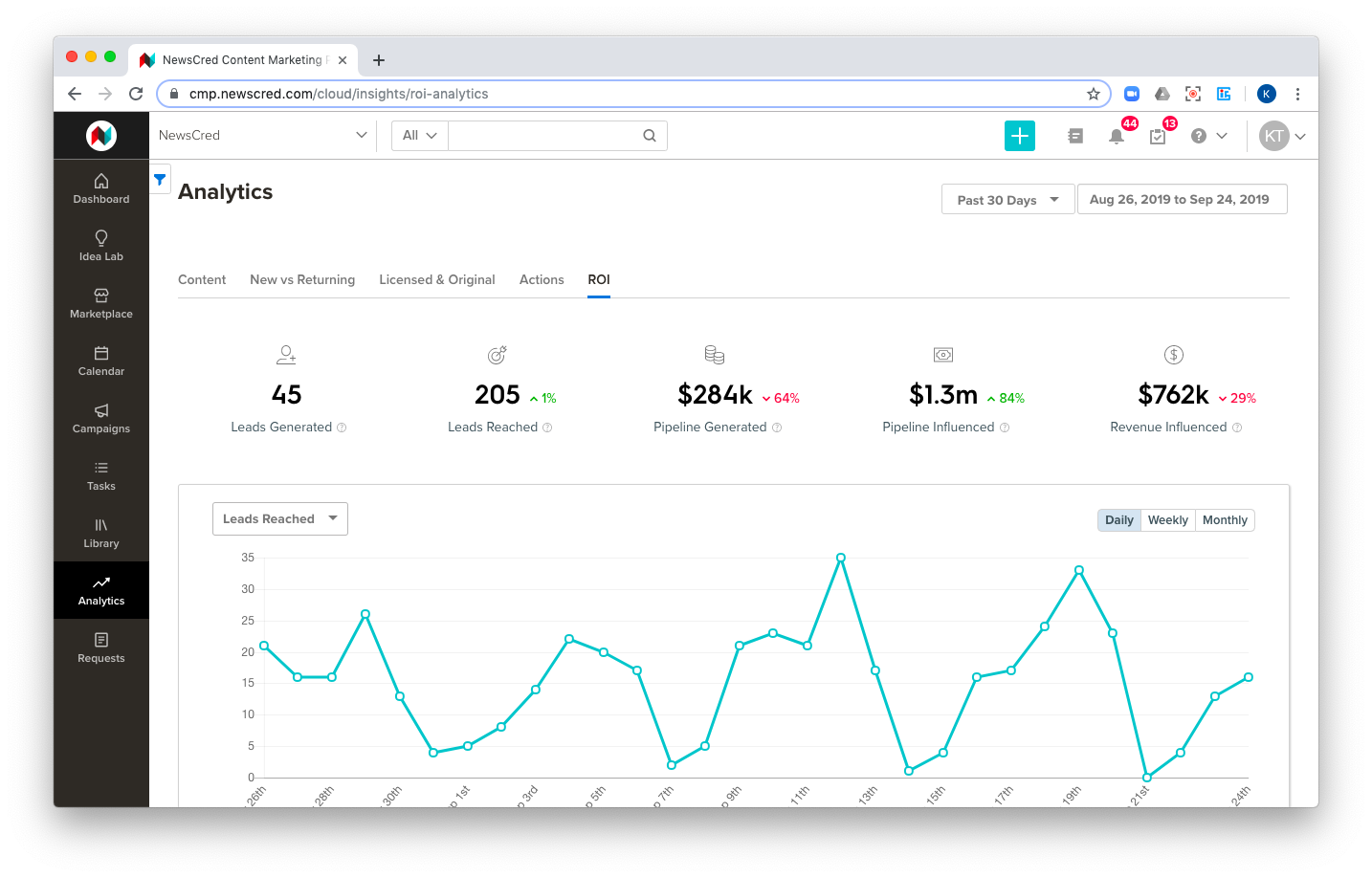 With Pipeline Analytics, your team can:
Measure Content-Influenced and Content-Generated Pipeline so you can attribute the impact of your content on both the number (and dollar amount) of new opportunities created for your sales team, as well as the number of open opportunities with contacts who have engaged with a piece of content.
View and tailor the content journey for every contact in an opportunity. With visibility into who is consuming what content, and when, you can uncover hidden pain points and deliver the right content at the right time to help nurture prospects through the sales cycle.
Identify which content types, formats, and topics influenced the buyer journey to inform your strategy, optimize distribution, and create the most effective content possible.
With the addition of Pipeline Analytics to our suite of Engagement, Action, and ROI analytics, teams now have an end-to-end solution for measuring their impact on the entire customer journey, as well as optimizing their content strategy to create and deliver the most effective content possible.
But don't take our word for it…analysts agree!
"Without proper analytics across every stage of the content lifecycle, marketers often see a disconnect between the content they're producing and the content that is actually making an impact," said Christine Polewarczyk, Service Director, Content Strategy and Operations at SiriusDecisions. "Understanding the impact content has on sales pipeline and revenue creates a feedback loop for marketers to plan, create, and publish better content, ultimately increasing the efficiency and output of their teams."
Ready to see Pipeline Analytics in action? Reach out to us for a demo!