As a phrase and buzzword, integrated marketing is not new. But it has reached critical importance now due to compounding industry challenges, alongside advancements in marketing technology that have made it easier to break down organizational silos. The proliferation of marketing channels has led to consumers being bombarded with messages and content — standing out in a sea of content requires strong strategy and consistent messaging across the user journey.
Integrated marketing is the process of delivering a consistent and relevant content experience to your audience across all channels. It is often used interchangeably with IMC (integrated marketing communications), 360-degree campaigns, and omnichannel marketing — although there's some nuance between the terms. The ultimate goal of integrated marketing is a consistent, customer-centric experience that delivers results for your brand.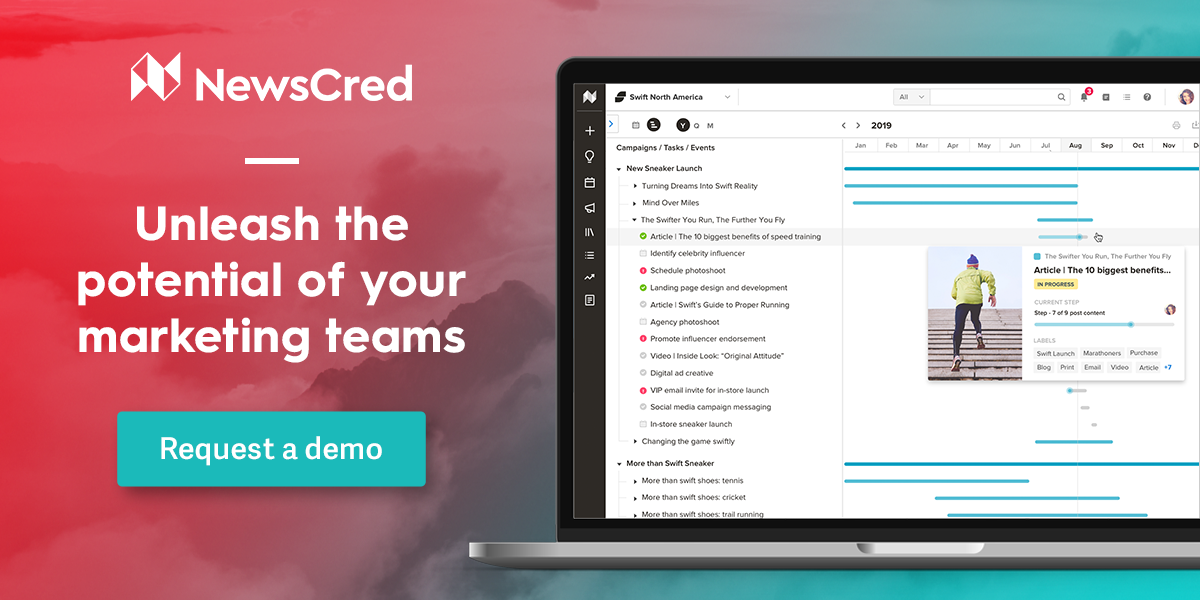 What does an integrated marketing organization look like?
You need to build an integrated marketing team before your brand can deliver a truly integrated customer experience. Many marketing teams are structured around specific channels, rather than having a more agile approach and emphasizing the holistic customer experience. The rise of "digital marketing" fragmented not only the agency landscape but the marketing function. Back in the day, we had a television and a newspaper, then we moved into the digital era which saw us split teams between digital and out-of-home channels. Mobile was separated out (at least briefly) at many organizations and paid social media responsibilities often rest with yet another team.
These modern (read: siloed) marketing teams are not set up for integrated marketing success. There are so many situations where internal teams inherently clash, including competition for budgets, attribution, ideas, and glory. There's a belief that a culture of healthy competition fosters creative ideas, but the "team of teams" model has repeatedly demonstrated that a culture of collaboration is more effective at producing creative results and also sets a team up for long-term success.
Integrated marketing organizations prioritize personalization and the customer experience above internal competition and one-way, one-size-fits-all customer communication. Building an integrated marketing organization requires building a culture of collaboration.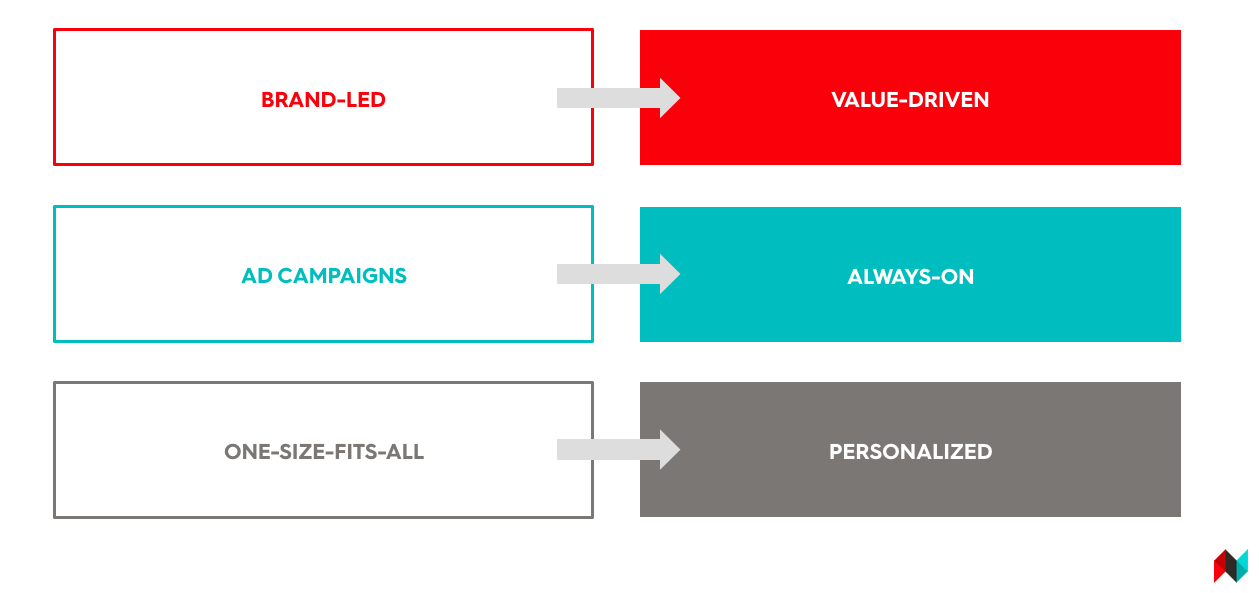 NewsCred developed the ADEPT framework for building an integrated marketing organization, and it can help you identify gaps in your teams and strategies. The five capabilities of ADEPT (alignment, design, execution, process, and technology) were developed from third-party analyst insights, over a decade of fieldwork with customers, and our in-house team of marketing experts.
Alignment: Internal alignment is essential to success because integrated marketing requires breaking down silos and increased cross-functional collaboration. This goes beyond executive sponsorship; you need active participation with change management, budgetary support, and governance.
Design: Examine your planning model. Are teams collaborating to prioritize key themes across different marketing disciplines? Is there a shared calendar view of all activities that tie into key campaigns? And is there a documented marketing taxonomy and a shared language?
Execution: The execution element looks at the rigor of following through on your plan, processes, and guidelines. Is your team delivering on time and at scale? Is there an adherence to best practices relating to tagging assets appropriately to metadata and taxonomy, auditing for relevancy and redundancies? Agile marketing methodologies often come into play here.
Process: The process element delves into the workflows that guide your marketing execution, specifically how sophisticated and complete these workflows are and whether they are documented. Do your workflows take into account different asset types and approvals as well as compliance and localization?
Technology: The criteria for technology relate to whether your brand has adopted a secure and flexible planning technology solution for long-term collaboration that includes automation intelligence. Is there a clear line of sight across content ideation, pitching, planning, production, publishing, distribution, optimization, and measurement? Ultimately, technology should help accelerate execution, build on desired team behaviors such as collaboration and integrated planning, and aid in measuring integrated marketing outcomes. This also includes flexible reporting on campaign, content, and operational performance.
Your organization may have some or all of the five ADEPT capabilities. The important thing is to document and prioritize your gap areas while understanding this is not a linear model. You may have alignment and technology in place but slip in execution and design, or vice versa. You can begin to benchmark your organization with NewsCred's Integrated Marketing Maturity Assessment.
What are the warning signs that a marketing organization is not integrated?
There are some pretty clear signs that your organization is failing to integrate:
No clear integrated campaign framework
Duplication of efforts leading to content waste
Role confusion leading to a lack of accountability
Business goals are not aligned with your marketing investments
Your technology setup is not supporting collaborative efforts
No central place to store or access content
The marketing end-to-end process is not visible
Delays in deployment and publishing
Fragmented or disjointed customer journey
As a byproduct of competing priorities and pressure to be first to market, most enterprises suffer from one or more of these symptoms. Even teams proactively trying to solve these issues often have difficulty getting traction because of deeply ingrained organizational silos.
Why is an integrated marketing strategy effective?
Investing in integrated marketing drives ROI in three ways:
Improves marketing-influenced revenue and boosts performance on KPIs.
Builds brand equity with consistent, governed messaging across all touchpoints.
Improves operational efficiency and team agility, reducing waste from duplication and lack of central visibility.
What are some integrated marketing statistics that prove its value?
If you need to build a business case for creating an integrated marketing team, here is some valuable research:
Change management is needed at marketing organizations.
Just 14% of organizations rate themselves as "advanced" in operations (SiriusDecisions "State of B2B Content Study")

Almost half (45%) of marketers feel they lack the necessary talent, technology, and processes to master omnichannel brand marketing

(CMO Council)
Only 1% of marketers believe they are delivering a consistent, personalized and contextually relevant experience across traditional and digital channels (CMO Council)

In

a survey

of 1,000 marketers worldwide by

Rakuten Marketing

, respondents estimated they waste an average of 26% of their budgets for marketing campaigns on ineffective channels and strategies
There's a strong business case for improving cross-functional team collaboration.
Breaking down technology silos improves the customer experience.
Marketers who are classified as "integrators"—those who have united data and creativity—grow their revenues at twice the average rate of S&P 500 companies: at least 10 percent annually versus 5 percent (McKinsey)

"Leading marketers" (business leaders who significantly exceeded their top business goals in 2016) indicate that "support from the top and a clear data and analytics strategy" have been critical to their success (

Econsultancy and Google study)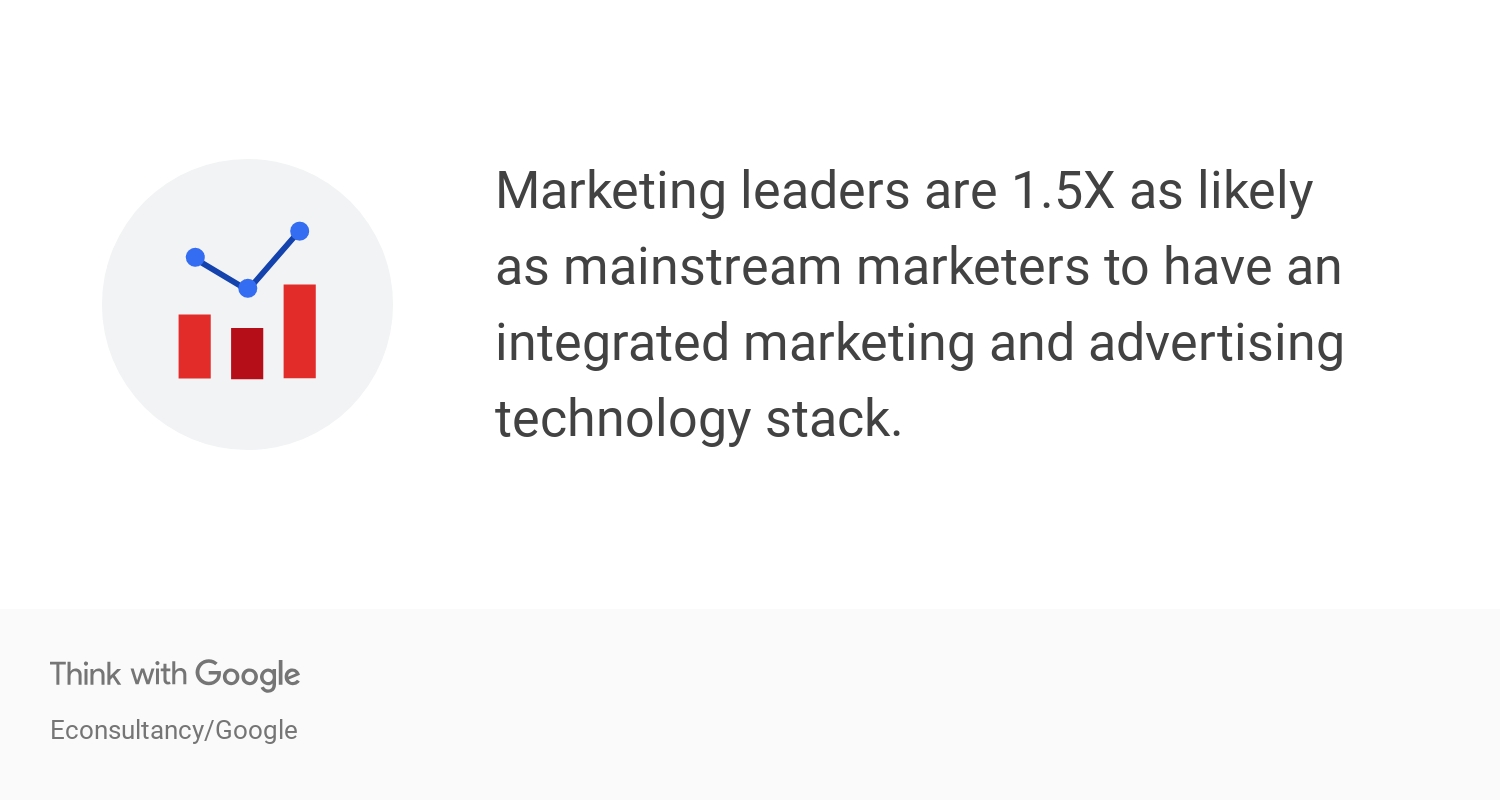 Integrated marketing drives better-performing campaigns.
How do I build an integrated marketing tech stack?
NewsCred's ADEPT methodology for integrated marketing maturity emphasizes the importance of an integrated tech stack. This is challenging because of the complex structure of enterprise marketing organizations; every tech stack is going to be unique to your organization and will require different scoping and elimination of redundancies. The best place to start is with stakeholder surveys and mapping your tech stacks across silos and teams. You can then begin to bucket your martech stack into functional categories.
The primary goal of building an integrated tech stack is centralized visibility into customer data and experience. Here are some common martech categories for organizations looking to build out integrated teams and measure integrated marketing outcomes:
Lead management or multichannel marketing: e.g., Marketo, Oracle Eloqua, Pardot, and HubSpot.
Marketing analytics: e.g., Adobe Analytics, Google Analytics, and Coremetrics.
CRM systems: e.g., Salesforce, Microsoft Dynamics, and SugarCRM.
Sales enablement: e.g., Brainshark, Highspot, and Seismic.
SEO or content intelligence tools: e.g., BrightEdge, BuzzSumo, SEMRush, and seoClarity.
Social publishing: e.g., Hootsuite, Sprinklr, Spredfast, and Sis-o-mos.
CMP systems: e.g., NewsCred
The Stackies, an awards program for tech stack visualizations, offer excellent examples of integrated martech and how to categorize platforms.
Additional integrated marketing resources: