At #ThinkContent 2017, NewsCred Co-founder and CEO Shafqat Islam spoke about how the content marketing industry is headed into the era of performance – and why that will allow marketers to execute their most ambitious, creative work yet.
Five years ago, just doing content marketing was something to celebrate.
But in the short time since, our industry has completely changed. Now, there's not just an opportunity for content marketers to participate as part of the marketing organization.
Content marketers now have the chance to reap major wins – and shape the future of marketing.
That means we need to shift the collective mindset on content marketing. The idea is no longer about brands becoming publishers. We're not. Eyeballs are not the goal. We want to drive business action.
At #ThinkContent last year, I broke down how there have been three eras of content marketing: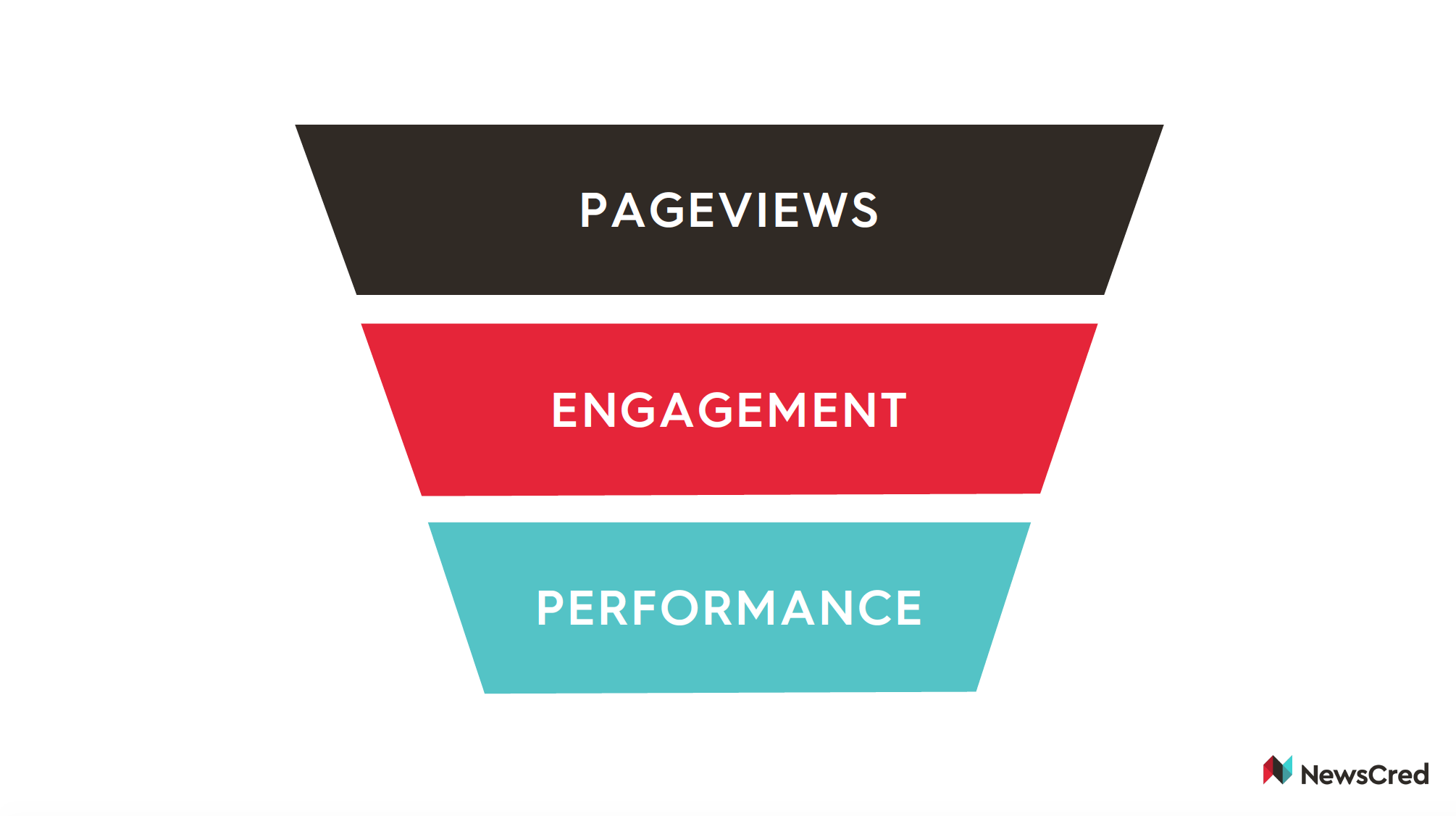 We started out measuring success with pageviews and vanity metrics – because there was little beyond that, at the time.
Then we moved into the engagement era, where we focused on attention time.
One year ago, I said that we've entered the performance era.
Now, I can definitively state that we're no longer entering the performance era. It's here.
That means that the goal for us as content marketers is not to just be good at telling stories. The goal is to use content to drive business results.
Why Company Leaders Continue to Invest in Content Marketing
When I talk to CEOs, CMOs, and CFOs and ask why they continue to invest in content marketing, their answers usually fall into three buckets:
Grow Marketing Influenced Revenue
Company leaders say that content marketing can contribute to driving marketing influenced revenue. That's the ultimate goal. Fidelity, a NewsCred client, is a great example. That team is directly tying content to millions of dollars of retirement contributions.
Drive Operational Efficiency
The second reason executives invest in content marketing is to drive operational efficiency. Within companies, there are so many divisions creating content without measuring results, or working in a silo and producing redundant content. You need to think about how to make content the thread across your entire organization. Rue La La, another NewsCred client, publishes about 15 pieces of content a day on the Rue Now content hub, and they have 20 to 30 contributors. It's the kind of well-oiled machine that CEOs and CFOs want to see.
Increase Brand Equity
Company leaders also know that content marketing can increase brand equity – content has the power to change the way people feel about brands. You can measure those effects through share of voice and share of wallet to prove that content is growing the business.
The Trade-off Between Performance Marketing and Brand
Even though I think we need to focus on performance, we should remember that historically performance marketing has come at a cost – it's felt like we have to choose between brand and measurement.
On the brand side, marketers were creating beautiful videos and moving editorial pieces that evoke a strong emotion. But we know how hard it is to measure the impact of brand. On the performance side, marketers were pursuing methods like direct response, which you can measure, personalize, and target. But, ultimately, you're working with intrusive ads.
People don't like performance marketing as it's existed for the past five to 10 years. Ads that follow you around are annoying and creepy. The rise of this tension between audience and marketer happened when retargeting took off. We need to remember that. Now that content marketing is entering the era of performance, we need to be cautious because, historically, performance hasn't been a good thing.
Here's why:
Attention Is Scarce
Time is the most important thing in peoples' lives. If you're trying to read an article and there's an ad playing in the background or disruptive pop-ups appear, you'll have a negative visceral reaction.
Ad blocking is now on 615 million devices, according to PageFair. It's increasing 30 percent year over year, and it's grown even more on mobile between 2015 and 2017. People are ignoring display ads. And with millennials, you are absolutely not going to reach them through TV or digital display.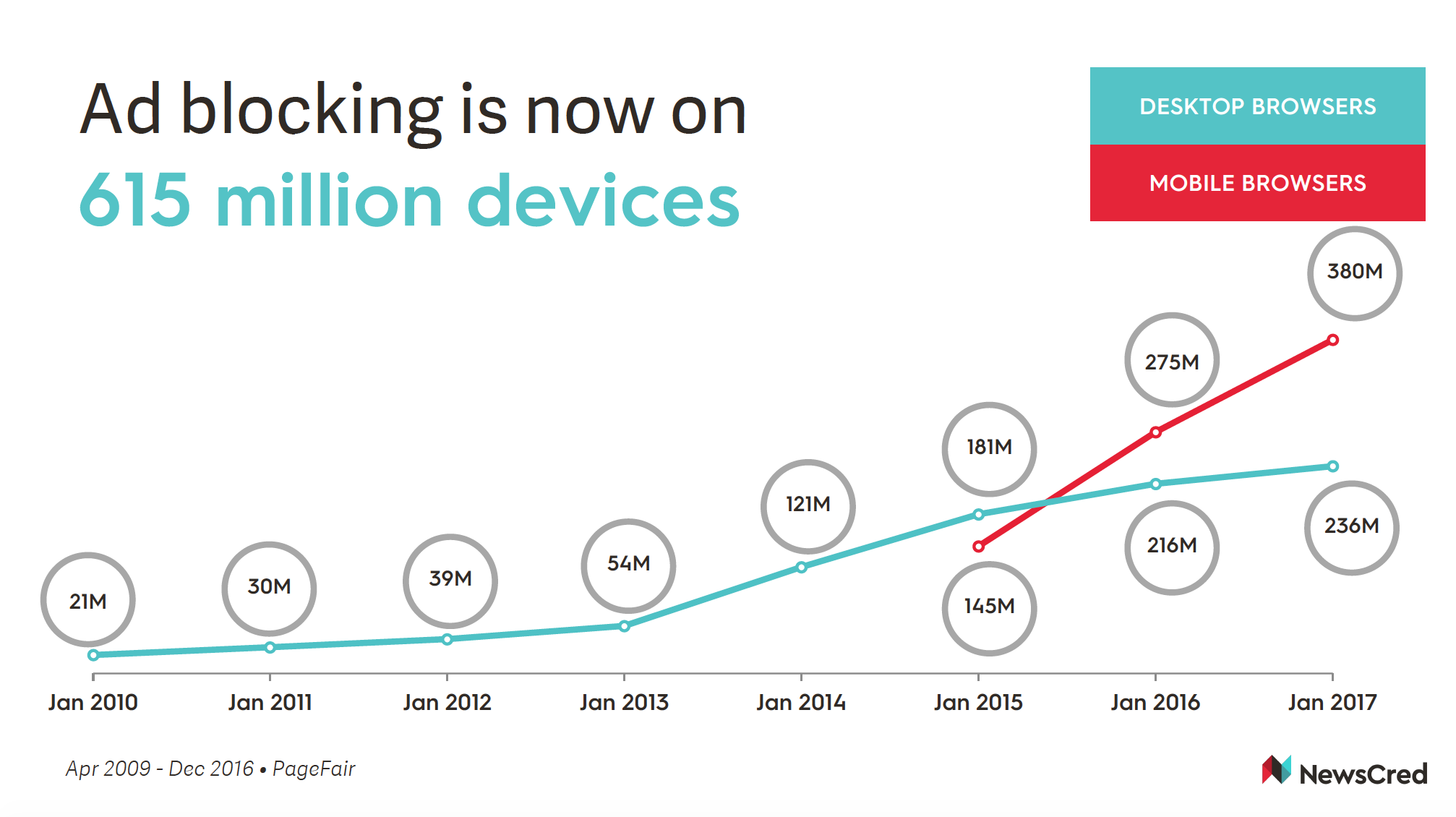 Loyalty is Dead
This is a scary thought for marketers, because we've all heard about how we need to invest in existing customers because they're loyal. But research shows otherwise. McKinsey found that 58 percent of shoppers enrolled in loyalty programs don't use them at all. And 87 percent of customers will shop around at every purchase. If you're not in the consideration set, people will choose your competitor. Every purchase cycle is a battleground to win a customer.
Waste
Only nine percent of ad impressions get looked at for more than a second. Humans only see 35 percent of ads.
The irony of performance marketing is that it doesn't perform. But I actually don't think there's a choice that we have to make.
Why It's No Longer Content Vs. Performance
The fatal flaw isn't performance. You should want to personalize, measure results, and target your audience. But no ones wants the asset we've been optimizing. It was a crappy ad.
But what if you could take the best of performance marketing and make it better. Except what you're optimizing is something people want, need, and are inspired by.
That is the future.
In a TED talk screened more than 32 million times, Simon Sinek said, "People don't buy what you do. They buy why you do it."
Jim Stengel found that brands that lead with purpose grow three times faster than the average company on the S&P 500. And brands that consumers could identify by their ideals were four times more profitable than the average S&P 500 brand, according to Stengel.
The content you create is the best vehicle to tell why you exist. Let people know how you can help solve the problems that exist in their lives.
For me, meaningful content is when you're what people are interested in, rather than being the thing that interrupts what they're interested in.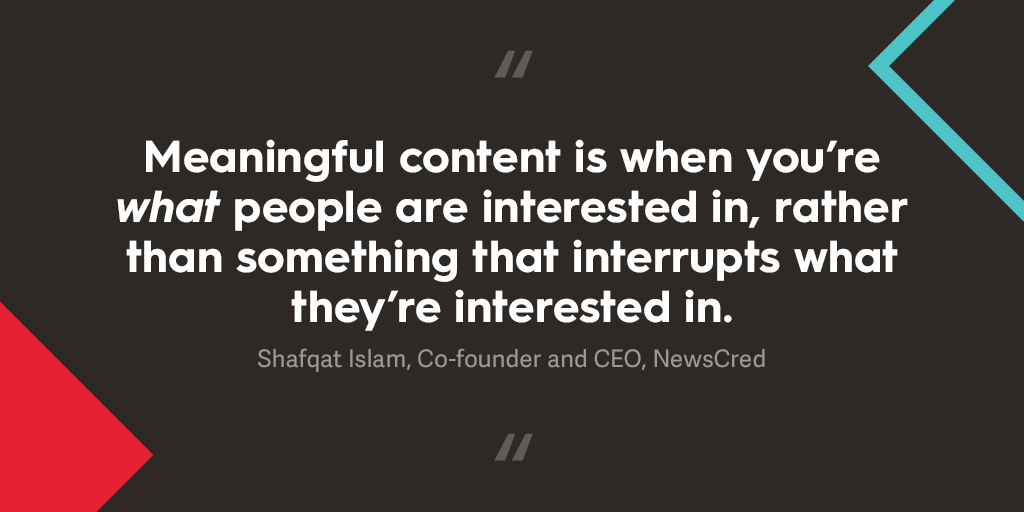 How Nike + MassMutual Marry Content + Performance Marketing
There's a shoe company in Oregon – you may know them as Nike – whose brand purpose is: If you have a body, you're an athlete.
They lead with purpose and create exceptional content.
One recent example: Breaking2, a live event where three world-class runners attempted to complete a marathon in less than two hours – a feat never before accomplished. Nike live streamed the event and surrounded it by other videos, blog posts, and a content hub. More than four million people watched the live stream – and it aired at 11:30 p.m. ET on a Friday.
Nike didn't do this to juice pageviews. It was true to its mission of wanting people to break down boundaries, push the limits of human achievement, and show what anyone can do if they put their minds to it.
Breaking2 wasn't about shoes. It was about shattering a barrier that people thought was impossible
Here's the trailer for the actual event:
Almost no one will run a two-hour marathon. But everyone has their own Breaking2 with a goal they hope to accomplish.
These numbers are not from Nike, but here's a look at initial results from Brandwatch: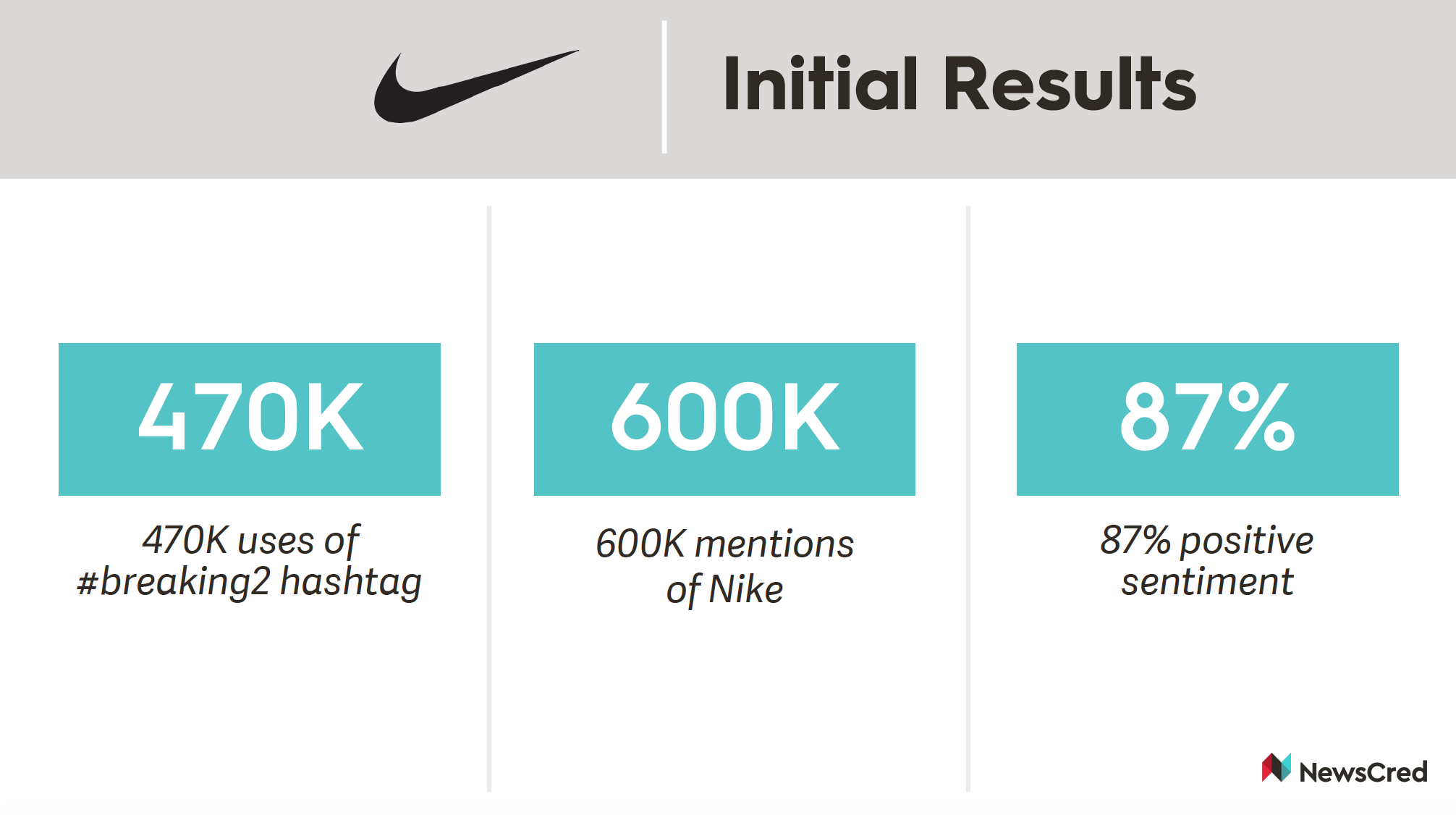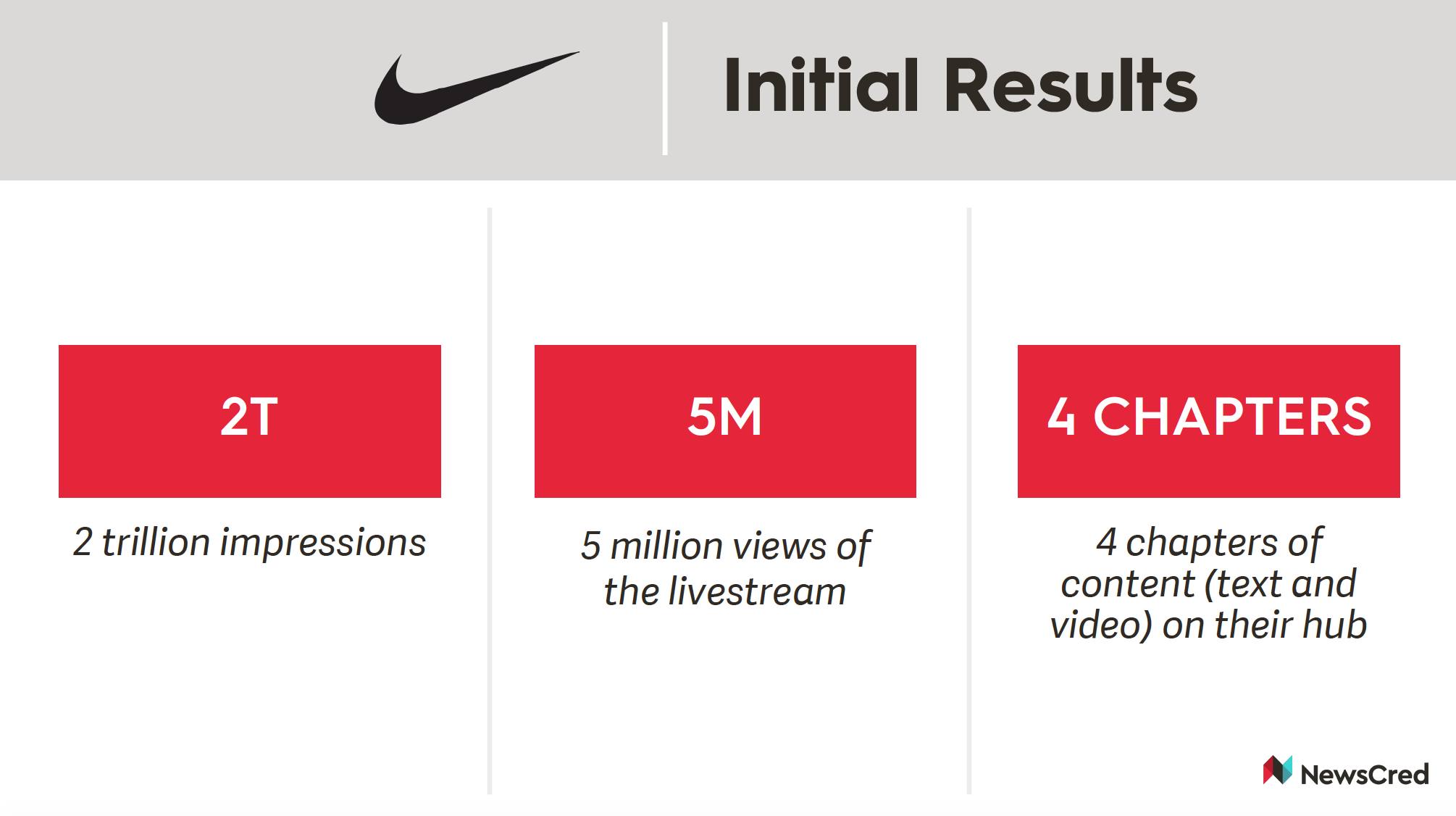 And here are some lower funnel results. Note that on their content hub, there are very strong calls to action.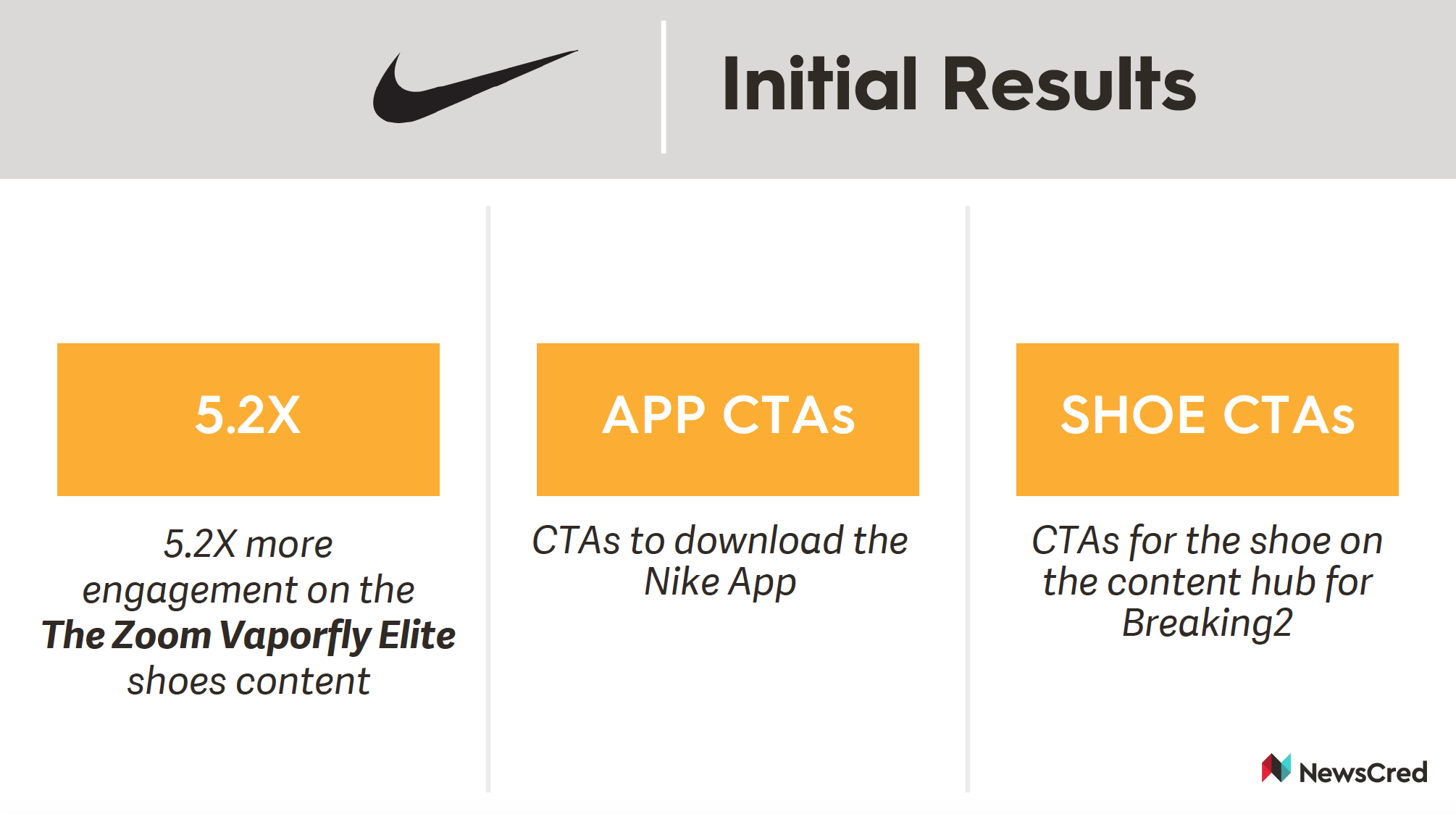 I know what you're thinking.
You're wondering, "How am I going to do this? We don't have the budget. I can't even get $50K for a freelancer."
It doesn't have to be that hard.
Here's another example: MassMutual, the financial services and insurance company, spun out a separate entity called Society of Grownups. They saw that young adults don't like talking about money, but they have a lot of financial problems. They're saddled with debt, and it's a huge problem in this country. MassMutual made it a mission to do something about it.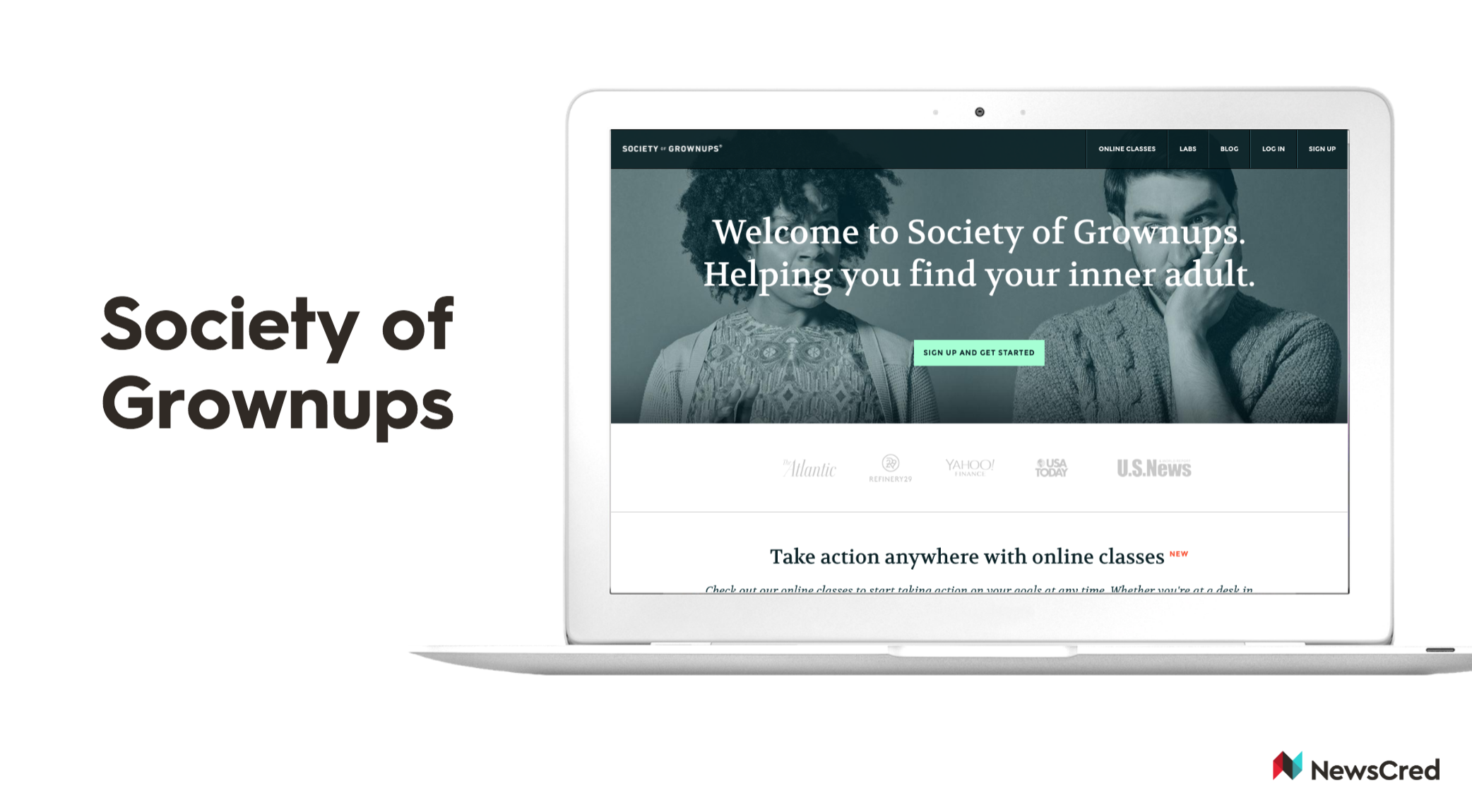 Society of Grownups is a website dedicated to helping young adults learn financial literacy and save responsibly for their futures. And the Society didn't just slap blog posts onto a site. There's a curriculum, guided learning, and interactive tools.
Just think about your mission and the customer problem you're trying to solve. You can really move the needle, not just for your business, but for others. For MassMutual, it's young adults who want a brighter future. For Nike, it's anyone who wants to break barriers. There's so much power you have in your hands. Because you're the storytellers.
Stories are the best vehicle to tell why you exist. People will feel moved by your stories and forever remember how they made you feel.
You have an incredible opportunity.
But we know this is very hard to do. It's not easy to tell amazing stories and measure the results.
How NewsCred Helps Marketers Measure Content Marketing Performance
At NewsCred, we've worked on this for the past 12 months.
We've invested in the science of content marketing. We've developed a series of methodologies, frameworks, and toolkits to help you get predictable outcomes from content marketing.
I think that every marketer needs some sort of help – a playbook so you can apply your creativity and get the results you need to show performance.
We believe the first step is identifying where you are on the Content Marketing Maturity Curve.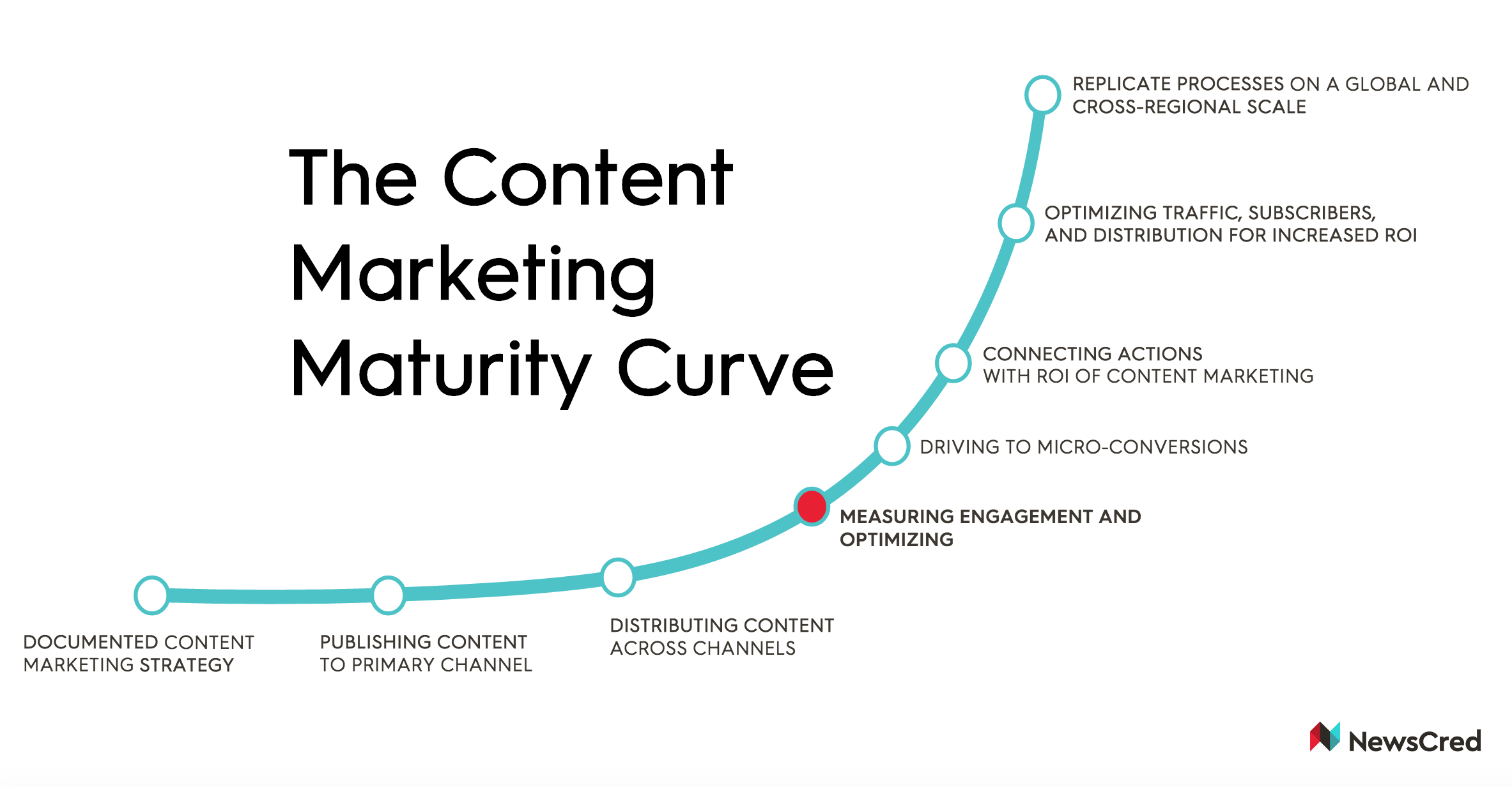 Across all our customers and hundreds of people in the industry, we found that at some point, everyone is getting stuck – even if we don't want to admit it.
We found that this place is most often where marketers are producing amazing content, but they're having a hard time proving the business results.
To help people get unstuck, we created the NewsCred Methodology so marketers can get predictable results and move up the curve.
The five pillars of the methodology are: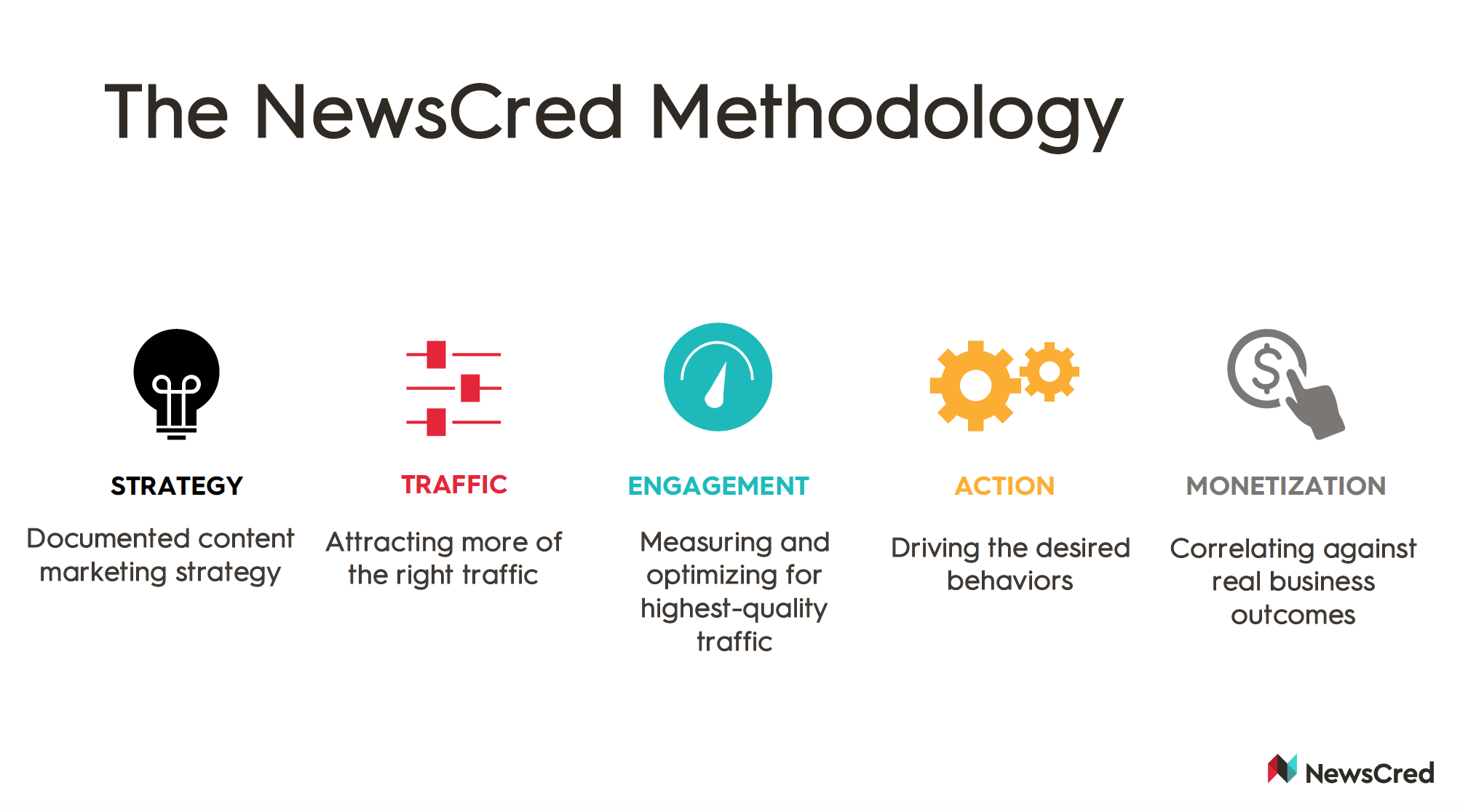 It's a repeatable methodology that drives predictable outcomes.
We've also built a Content Marketing Maturity Index. We wanted to create a way to assess how mature a content marketing program is and how well it's performing. We'll give you a benchmark so you can compare yourselves against your industry and competitors. That way, you'll get a better sense of how well your content marketing is working. And coupled with our methodology, you'll learn how to improve.
We're still crunching the data, but one area we're particularly interested in is whether there's an early indicator of content marketing success.
We found that creating systems and processes from the beginning can set you up for success and scale.
More importantly, we found that the number one predictor of success is whether you can ladder up you content marketing strategy to your company's top strategic priority: What is the top business goal your CEO has laid out for your company? And how does your content marketing ladder up to that goal? There will, of course, be many steps to get there.
Why Content Will Drive Performance Marketing
We can have both exceptional content – all the amazing things about brand marketing that we love – and marry it to the best parts of performance marketing: We can target that content, personalize it, know where it's going, who's read it, seen it, and shared it.
But people actually want the content we're optimizing. They care about it. It moves them, it entertains them, it inspires them. That's what excites us.
But we know it's hard. And that's why NewsCred exists. You know what your audience cares about, and you know how to win hearts and minds. We want to support you with our methodologies, framework, and software.
I believe that today's marketing revolutionaries will reinvent the future of marketing. We're moving away from the stuff that turns people off, that they're blocking. The future of marketing will be more creative, and I believe that it will be better for consumers. And all marketers involved in this revolution should be very proud.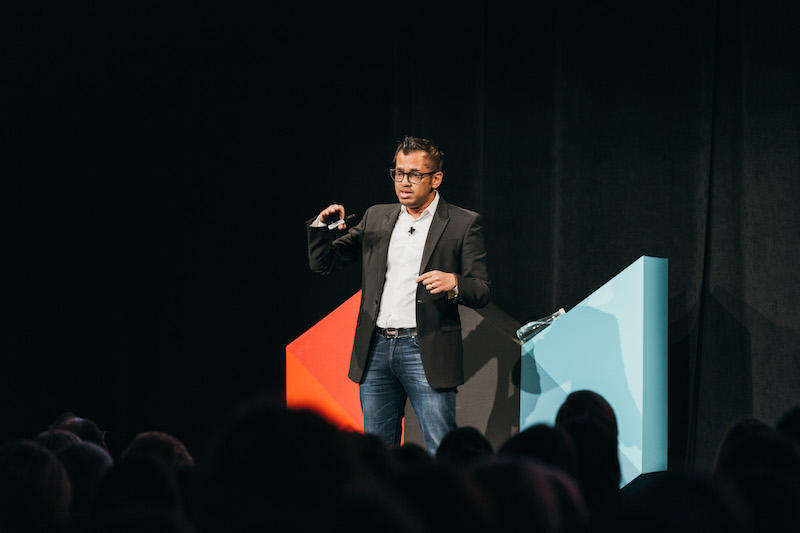 Shafqat Islam, NewsCred Co-founder and CEO at #ThinkContent 2017
Shafqat Islam is Co-founder and CEO of NewsCred.