You might know IBM's Watson from its famous victory on Jeopardy!, or for revolutionizing data analysis with its ability to crunch millions of pieces at once.
Now, IBM is poising Watson to be the next big name in marketing.
It's the technological entity behind IBM's new THINK Marketing hub, which is updated with nine pieces of thought leadership content every day.
The website is part of a long-term strategy for IBM to position itself as a marketing technology leader, and expand its reach into new client territories beyond the Fortune 500s.
As IBM's Chief Digital Officer Bob Lord explains, the company has made big strides in cognitive cloud computing software and services that can fundamentally change the way marketers, entrepreneurs, developers, and many others currently work.
"THINK Marketing is a place where marketers can come to not only get some thought capital from IBM around what's happening in the marketing world, but it also brings in third party experts," says Lord. "So there's really one place where marketers can go to research any topic around marketing."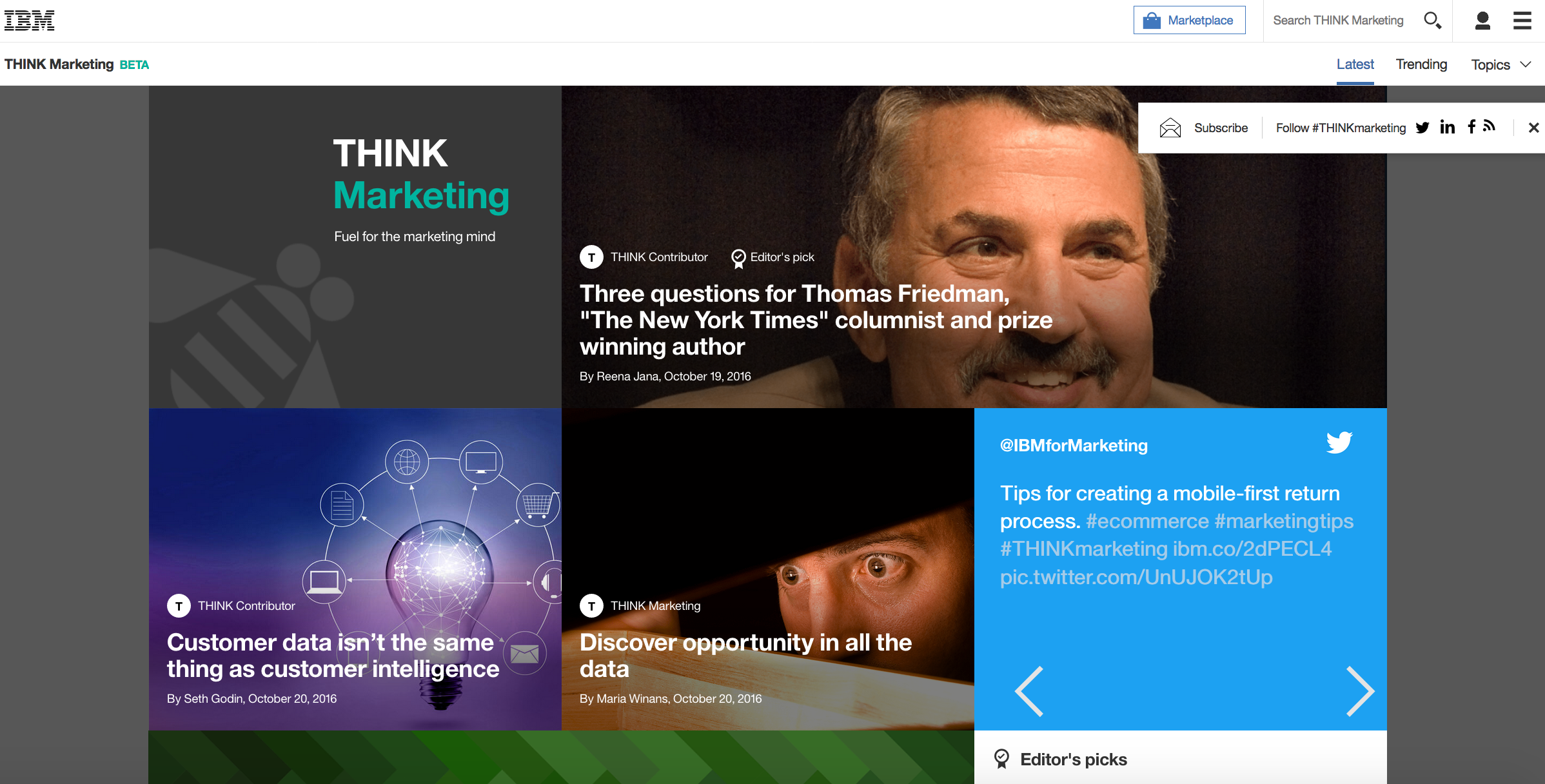 Entering the Marketing Conversation
THINK Marketing can be likened to The Huffington Post meets Amazon – or the brand newsroom meets Watson-powered customized content, according to Lord. (He was formerly president of AOL, which owns the HuffPo.)
On the newsroom side, THINK Marketing publishes a high volume of industry-leading content on a daily basis.
Though IBM isn't necessarily known for brand publishing – or being a marketing thought leader, for that matter – the company was actually spending a lot of money developing content before THINK Marketing was conceived.
"What THINK Marketing has done is focus everyone's energy to get the content into one repository," says Lord. "It's a repurposing of all the publishing we've been doing, to-date."
The goal of that publishing is to provide customers with value, says Lord. When people think about IBM, he explains, they think:
IBM is a really smart company, and they want to learn from it. Our thought capital is something that people would be interested in consuming.
They know we have a product and want to learn more about it.
"THINK Marketing allows us to capitalize on both of those things," he says. "Over the next year, we're going to bring the IBM story together, and solidify what our solutions are in market."
And to fulfill its goal of being a clearinghouse of marketing thought leadership, IBM partnered with Newscred and other third parties for supplementary content.
"It's probably about a 50/50 split from between what we're generating from IBM and through our third parties," he says.
THINK Marketing Takeaway: Maximize content creation by repurposing and capitalizing on work already being done in-house, and find likeminded partners to help fill the gaps.

A Watson-Powered Website
The game-changing part, however, is what's happening behind the scenes when people visit THINK Marketing.
"THINK Marketing looks a lot like a regular publishing site, but topics are rendered virtually," says Lord. "It's almost limitless how the hub can configure around a particular buyer type."
And that's all thanks to Watson.
Similar to how Amazon analyzes user behavior to surface relevant products, Watson also evaluates what people read, and then uses those learnings to offer personalized content.
"We're teaching Watson, our cognitive cloud computing engine, to understand what content buyers are consuming," Lord says. "Then we serve them up additional content that is relevant to the topics they're interested in, and recommend IBM and IBM-partner products that are associated with that content."
Cognitive computing gives Watson the ability to learn complex things over time and take in enormous amounts of data. The technology goes beyond simply tracking interactions on which people bought which things.
"It's a misnomer that Watson is an artificial intelligence (AI) solution," says Lord. "It's a cognitive computing solution. It's about understanding typical data trends and tying them with contextual relevant information."
For example, Watson partnered with The Northface earlier this year to help buyers find the perfect jacket. Based on where you're from and what you're looking for, Watson can pull in weather data and other powerful insights based on the buyer's intent, and recommend a particular jacket type. According to VentureBeat, the technology generated a 60 percent click-through-rate to try product recommendations.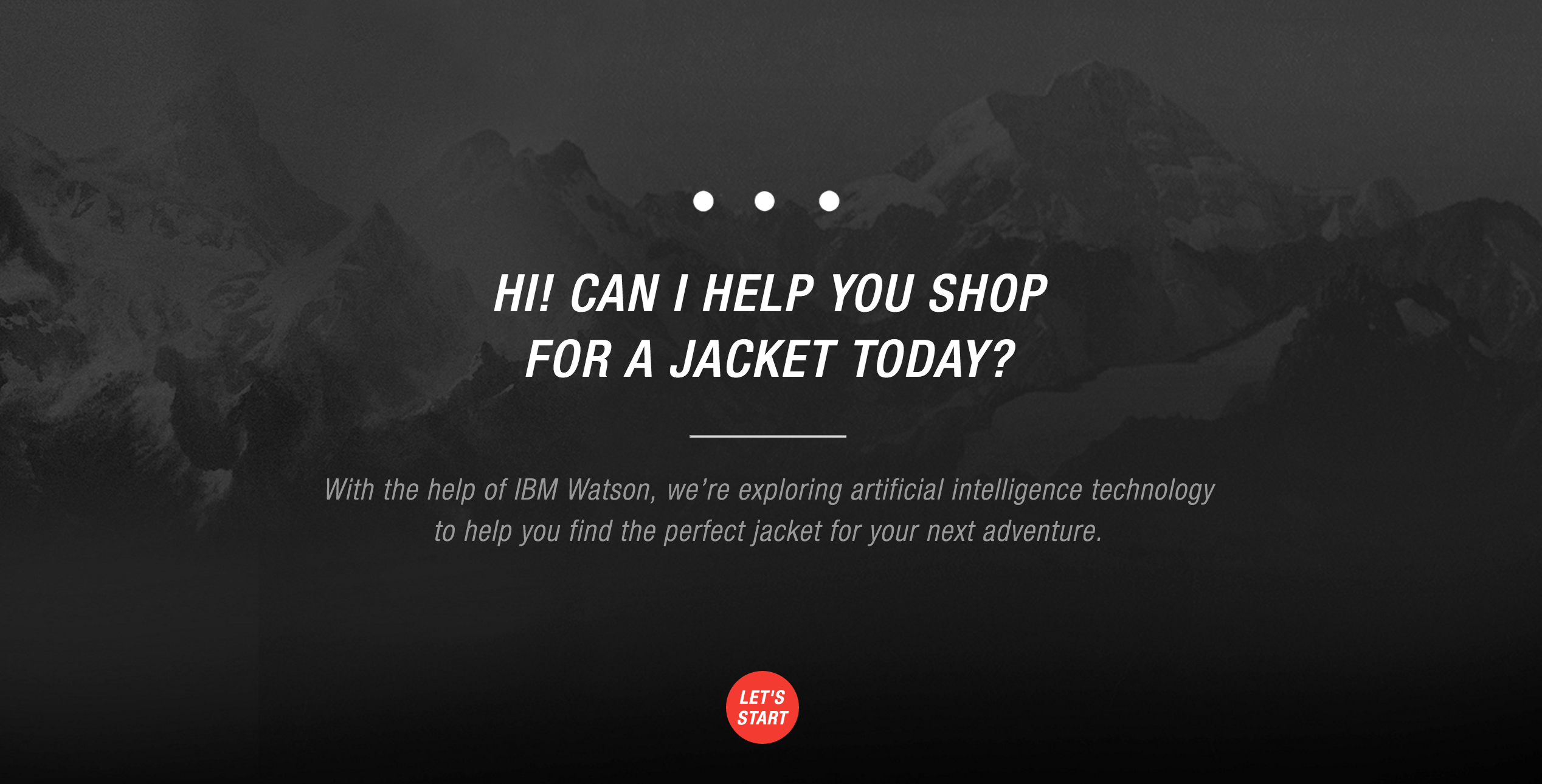 As Watson learns more and more about THINK Marketing's visitors, similar principles can be applied, and there will be a constantly moving learning curve.
"It will happen on almost a minute-to-minute basis," says Lord.
That's why you'll see a lot of changes as the site develops. Watson's insights will help influence future content creation and how it populates the site in a personalized way for each visitor.
"We're already getting some feedback in the system telling us that we will probably need to do a lot more video, and offer more sharing abilities," says Lord.
THINK Marketing Takeaway: Personalization is increasingly becoming an important part of the content and customer journey. Find data solutions that give you insights into your audience's needs and preferences, and strategize efficient ways to respond to them.

Powering IBM's Marketing with Watson's Insights
IBM's workforce benefits from THINK Marketing, as well.
"THINK Marketing allows us to understand buyers and what they are looking for," says Lord.
Whereas before there were marketing campaigns around a particular product, now everything can be done through the newsroom. For instance, IBM's 6,000-person salesforce is using the hub's content to educate existing buyers on various products and topics.
"It's helping to motivate all of the business units of IBM to collaborate on how they're going to market to a particular buyer," says Lord.
THINK Marketing Takeaway: Develop a culture of content that serves both the needs of your customers and your business.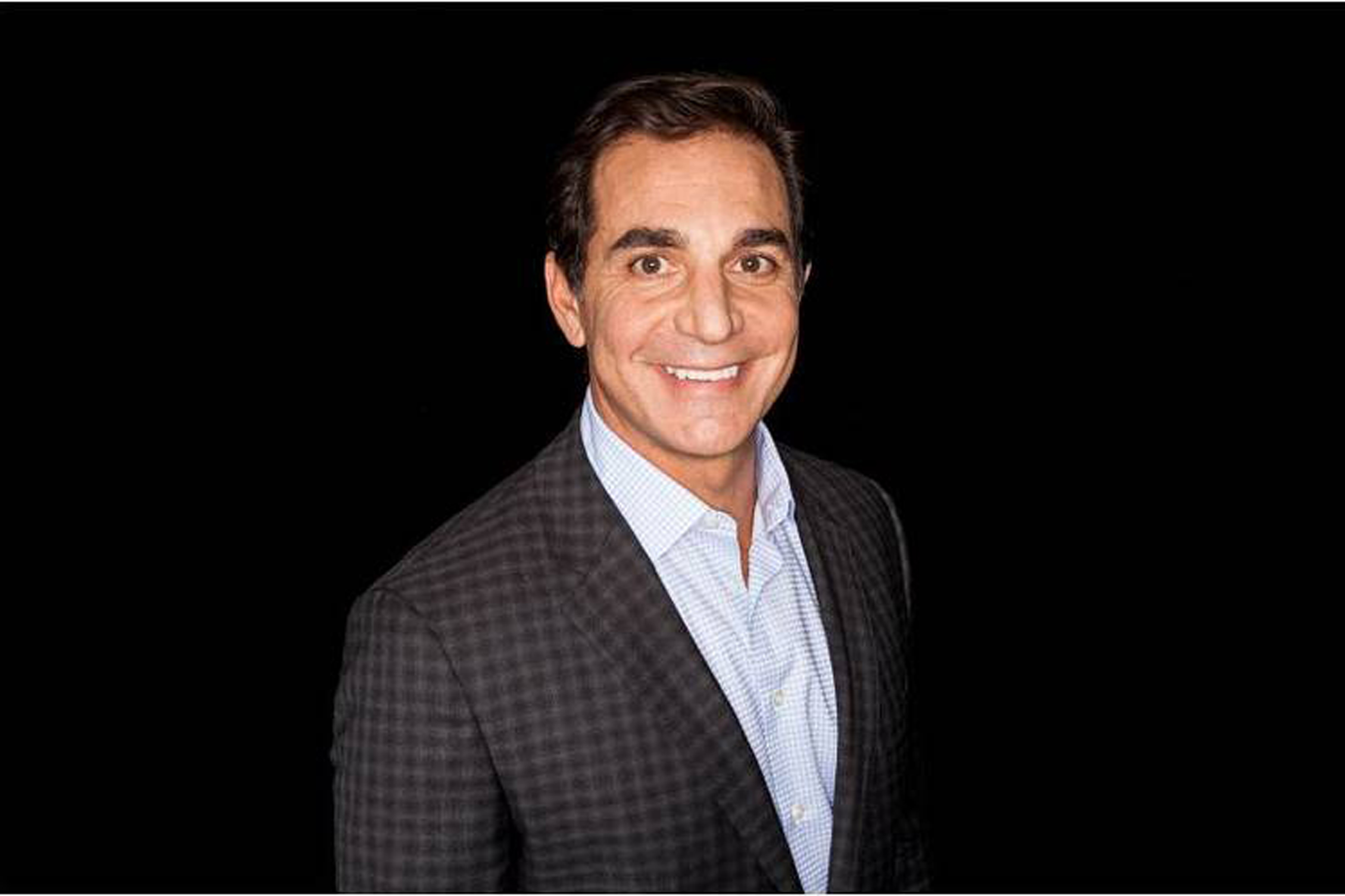 IBM's Chief Digital Officer, Bob Lord
Measuring Success through the Customer Journey
In THINK Marketing's first month after its launch on September 14, Lord says he was pleased to learn there were about 200K visitors and 230K pageviews.
However, those won't necessarily be the most meaningful metrics, going forward.
"The impact that we're having is people engaging with products, and the time they are actually spending with IBM," says Lord. "That's the first metric we're going after. It's the whole journey, not the traffic. We're not happy until the whole journey is complete."
Because content plays such a big role in today's customer journey, Lord is hoping the new site can take IBM's legacy of successful face-to-face selling into the digital age. Therefore, as the site content ramps up, there is also a push to offer more automatic demos and better videos to support the product lines.
"Are we seeing people drop off the site when buyers begin to interact with our products?" asks Lord. "We need to do a lot to make sure our products can be digitally explained. That's the trigger I'm going to go after right now."
THINK Marketing Takeaway: Pay more attention to what customers do once they get to your site, not just how many stopped by. Measure success through the KPIs that define your bottom line.
While Lord is excited to see where Watson will take THINK Marketing in the coming months, he says the customer is the true north star guiding its direction: "The customer journey is the only way to drive digital transformation."

Dawn Papandrea is a NewsCred contributor.
Save