This brand spotlight comes to you from NewsCred's London-based European team.
"No one person or one team can own content. There is a massive need for strategic alignment and someone to lead that, but you can't take it all on yourself."
Those words, from Gill Worby, Virgin Media's Head of Digital Marketing, illustrate why content marketers need executive buy-in.
When a company commits to content marketing and aligns on a strategy from the top-down, it's more likely to drive tangible business results and achieve success.
Virgin Media knows that story well. The company is now two years into its content marketing journey. By Worby's own admission, the first year was tough, as she and her colleagues had to sell content marketing into the business.
But their efforts paid off. Content marketing is now part of the very fabric of Virgin Media's marketing operations on a day-to-day basis.
"We now have a pot of budget that is solely allocated to content marketing, as well as having a content line in every piece of marketing activity we do," said Worby.
But how did Virgin Media get there? And what challenges did they face?
At NewsCred's #ThinkContent Summit in London, Worby shared Virgin Media's story and the process they used to achieve executive buy-in for content marketing. In addition, she offered tips, based on her learnings, for other marketers who are looking to do the same.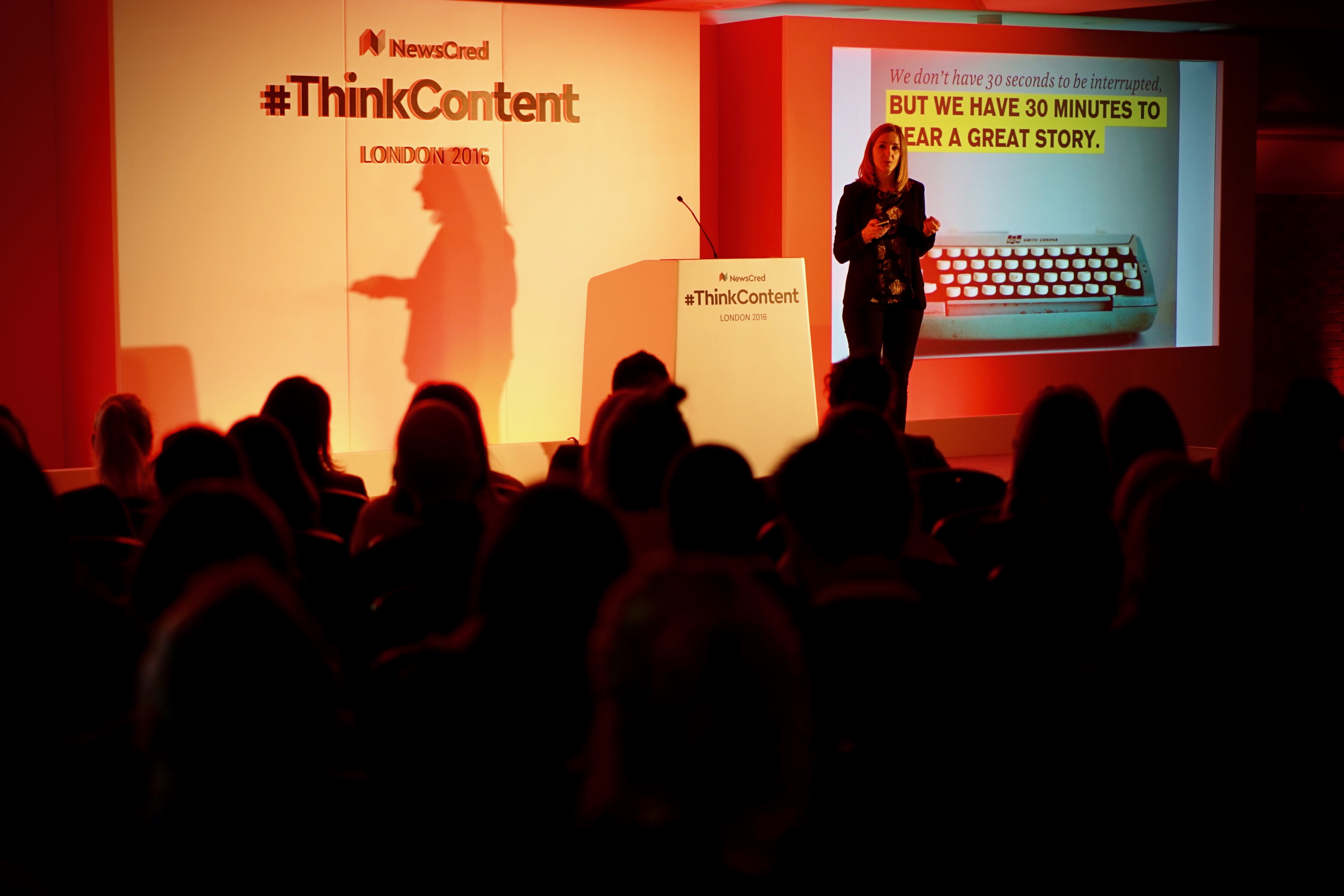 Virgin Media's Gill Worby at #ThinkContent London
How Consumer Behaviour Shifts Called for Content
Virgin Media's content marketing journey began when it recognised a change in consumer behaviour and the need to adapt to it.
"Previously we always thought about what we wanted to talk about and now we talk about what our audience wants us to say," said Worby. "However, this is against a backdrop of people wanting to be educated, entertained, and stimulated every minute of every day, and it is harder than ever to grab people's attention. Our consumers face a tyranny of choice yet have the shortest attention span we have ever had at eight seconds less than a goldfish."
Luckily, Virgin Media felt that they already had a great brand story that was "more than wires and cables," according to Worby. The company was on its way to building a credible and passionate entertainment brand.
Worby and team saw that content marketing could allow them to go into the emotive storytelling space ­– something they had never done before.
To achieve that, though, they needed to sell in their content marketing strategy.
"If we wanted to make a difference, we recognised that meant change. Change means people, and people means structure, budget, and the way that we plan. We needed our senior executives to buy in," said Worby.
Virgin Media's Buy-in Plan
Worby and her team created a multi-step plan to achieve buy-in:
1. Mapping out the Approach
Worby knew that she needed senior executives to agree to content marketing. To ensure they understood content marketing and the business value it would drive, Worby and her team provided them with all the relevant information through this framework:
Educate: Firstly, they informed senior executives on the business goals they hoped to reach through content marketing. They made sure to reach out to people beyond marketing and their typical partner departments, knowing that stakeholders existed in many different areas of the business. Worby sought to help them understand the shift in consumer behaviour and what that meant for the business.
Evaluate: In this stage, Worby articulated how content would help achieve Virgin Media's greater business goals. She and her team identified and communicated what KPIs and metrics they'd track to measure success and ROI.
Execute: Finally, Worby outlined the processes and teams they'd work with so stakeholders understood how they'd execute their content marketing strategy.
2. Identifying a Common Language
Virgin Media was very advertising-led, so Worby made it a point to educate senior executives on the difference between advertising and content.
"We created a common language that differentiated them," she said.
They defined "advertising" as being brand-led, starting the story and showcasing the brand. They determined that "content' would be audience-led, extending the story and demonstrating the brand.
This model proved useful. It helped stakeholders grasp the difference between advertising and content marketing. And within Worby's team, it served as a guide to ensure that they were creating content that aligned with their content marketing goals and not falling back on making ads.
3. Emphasizing "Always-on" Messaging
With traditional advertising, Virgin Media saw peaks and valleys of engagement. When the company put money behind a major campaign, they saw spikes. Afterwards, levels would drop back down to the baseline.
Worby saw an opportunity for content to make those campaigns more effective and efficient. Virgin Media could use content to establish an always-on "cruising altitude" conversation level around key business points.
"With this cruising altitude, we'd be starting our campaigns at a higher point each time, so we were never going back to the basics," Worby said. "It was really important that we made sure that people understood the value in that."
4. Promising Indisputable Business Results
To drive home their content marketing business goals, the team drafted some shared values:
Value 1: Content is lasting and permanent.
Value 2: Content serves two masters: your audience and the search engine.
Value 3: Content gains trust; trust gains customers.
Value 4: Content speaks to skeptical millennials better than advertising.
Next Steps after Executive Buy-in
Once achieving senior executive buy-in and receiving budget and headcount, Worby and her team began implementing their content marketing strategy through the following steps:
1. Auditing Existing Content
The Virgin Media team together with agency partners set up a content audit and reviewed everything being produced across the company.
"We found huge volumes of content that we had created, but we were not being very efficient with how this was being produced – and it was creatively inconsistent," said Worby.
2. Expanding on the Common Language
Virgin Media also realised that some stakeholders still didn't fully understand content marketing. To better help people grasp the concept, they deepened the common language that defined the types of content they wanted to produce:
Hero: Big rock activation pieces that are core to campaigns.
Hub: Always-on pieces that ensure that you're always in the conversations you want to be in, as a brand.
Hygiene: The critical SEO pieces that drive conversions.
These definitions again proved useful in helping executives understand content marketing, and for Worby to structure the team's planning, approach, and budget.
3. Creating a Content Council
To keep stakeholders informed about priorities and performance, Virgin Media created a Content Council. Again, Worby made sure to include key players from across the company, in departments like commercial, legal, product, and PR.
4. Measuring Success
Content marketing for Virgin Media is all about time spent with the brand. Worby said the team used a slice of campaign budgets to test and learn various forms of content and unlock bigger budgets as they proved out the ROI.
Unleashing Virgin Media's Creative Capabilities
Achieving senior executive buy-in meant exploring exciting and untapped opportunities in content for the B2C brand – namely virtual reality.
Virgin Media created a unique emotive and immersive experience for users. "VIVID 360 House Party" transported viewers to a wild night in, powered by VIVID broadband.
Since launching in March 2016, more than three million viewers have watched the video. It's the best-performing piece of content Virgin Media has produced to-date, according to Worby. Virgin Media can attribute the equivalent of eight years worth of time spent to this one experience.
They didn't stop there.
The UEFA Euro 2016 gave Virgin Media the chance to build credibility around sports with football lovers. Recognising they didn't have the budget that their competitors had to play with, Worby and her team knew they had to think differently.
They created Virgin Media's Lineup Builder, a web app that allowed users to create their dream team lineups and share their successes (or not) across social media. The app attracted repeat usage (tick), advocacy (tick) – and delivered Virgin Media lots of data about its key audience (double tick!).
With a average dwell time of 2 minutes 50 seconds, Worby describes the app as a win, thanks in part to its efficient cost per engagement.
The success of those experimentations in format and scale gave Virgin Media confidence to further innovate in the content space. Virgin Media is now working with influencers to drive awareness of its gaming product, Vivid200Gamer.
"We recognise the gaming audience is really niche. Connecting them with people they know and recognise in a format we hope will find engaging is a route to better understanding how we can talk to them," said Worby.
Worby's Top Tips for Selling-in Content Marketing
Virgin Media's content marketing journey is still ongoing, but Worby has many learnings from the past two years. She offers these tips for other content marketers who are looking to sell in their strategies to executive stakeholders:
This is a journey with people, budget, and agency implications. Have a clear approach and keep refining.
Make it relevant to develop the goals of your business.
Get buy in at all levels – educate and re-educate people at every opportunity.
Create processes to ensure collaboration (not one person/team owns content but it does need a leader).
Louise Naughton is the Editorial Director of NewsCred's London-based European team.