It's no secret that video content is on the rise. By 2019, video content will be the driving factor behind 85% of search traffic in the US. Whether it's Snapchat, Instagram, or Facebook, video content on social media is what marketers need to focus on in 2017. Additionally, marketers must understand how each social channel is optimizing its platform to allow for more video content in users' feeds, and how brands are using video content to engage their followers.
Video ad expenditure
The reason why these major social networks are optimizing their platforms is because the majority of search traffic will be a result of video content, and future marketing projects will include high spending on digital. To illustrate this is eMarketer's data on the expected ad expenditure in the US over the next four years. These future projections indicate that not only will digital ad spend increase significantly, increasing on average $13 billion every year, but social and video are the only ad types expected to grow in the near future. While social is expected to grow significantly, video ad types will boom 184% from $9.9 billion to $28 billion in ad spend – making them the fastest growing ad type.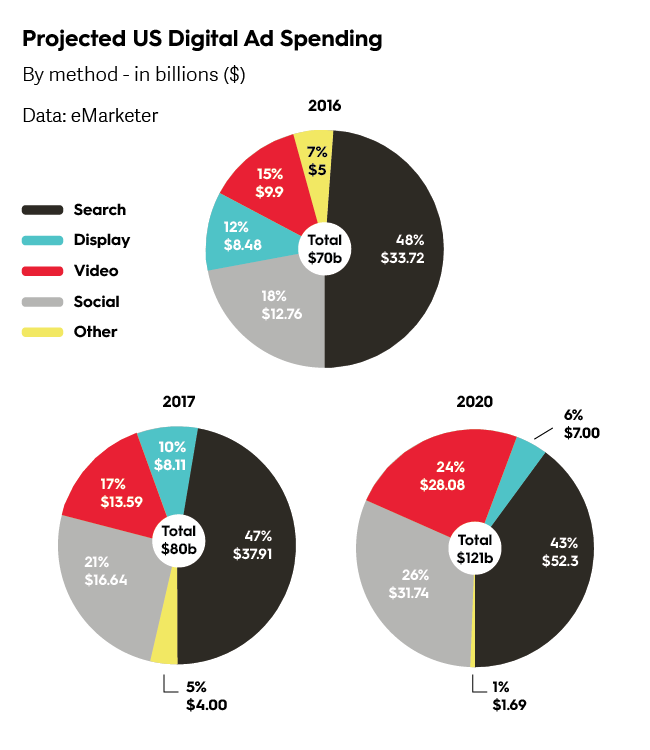 Instagram video ads
In a recent Instagram advertising webinar, Brand Networks discussed how video content is changing the way marketers advertise on Instagram. The chart below shows 65% of ad impressions on Instagram were a result of video content. What this chart doesn't show is that in September of 2015, only 9% of ad impressions were from video content, according the the Brand Networks webinar. That is a 622% increase in just five months.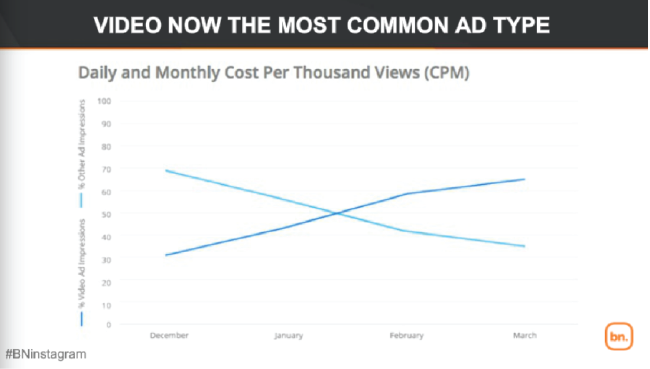 Image: Brand Networks Webinar
But why are marketers jumping on the video ad bandwagon? It's not just because eMarketer predicts they will, it's because video ads generate higher engagement and more click-throughs than traditional static ads.
Instagram video content
As you all know, Instagram rolled out Instagram Stories this month, which is essentially just Snapchat embedded into Instagram's app. Brands have been scrambling to figure out how to use the new features, and most B2B and B2C companies use Stories the same way they use Snapchat, to share behind-the-scenes content and give consumers a first look at new products and event coverage. The major advantage Instagram Stories has over Snapchat is their vast user base who are presented with the opportunity to share their edited photos and personal stories all in one app.
Facebook video content
Facebook is also implementing new strategies to encourage their users to share personal stories through video content, in an effort to catch up with Snapchat for daily video views. Facebook choose to model their strategy after Snapchat, and begun offering their Canadian and Brazilian users the opportunity to upload disappearing photo and video content during the Rio Olympics – even providing Olympic themed filters for users to add to their content. Facebook's strategy is to increase the number of personal stories millennials share on Facebook rather than just third-party content. This move comes after Facebook's acquisition of MSQRD, who creates image filters similar to Snapchat.

Facebook tests CameraFeed and MSQRD selfie filter integration by Josh Constine
Even while scrolling through Facebook you've probably noticed the hoards of videos produced daily in lieu of sharing traditional article links. Both lifestyle brands and publishers alike produce engaging video content that racks up millions of views, including publishers such as Tasty making viral cooking videos, and retail giant Nordstrom offering fans a 360-degree runway experience. Considering how publishers have reported a dramatic drop in their Facebook referral traffic to their websites, some as much as 50%, Buzzfeed's Tasty manages to rack up as many as 80 million views in two weeks. This makes it clear that consumers demand more engaging, interactive content to capture their attentions, and a simple article link just won't cut it.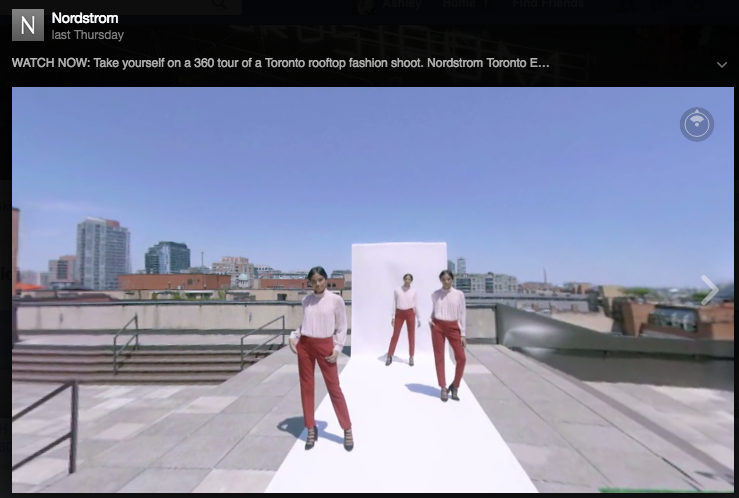 Image: Nordstrom Facebook
Video content millennials want to share
If you want an excellent example of the type of video content millennials like to share, take a look at Tasty's Facebook page. Its page is devoted to short, one minute recipe videos. Tasty's success lies in their ability to condense information down into short, "snackable" content, that is just long enough to maintain viewers' attention and short enough to keep them around to watch more. What is so fascinating about Tasty is their ability make videos viral on Facebook instead of YouTube, which is a platform we would normally associate with viral videos. Instead, Buzzfeed's Tasty garners millions of views targeting a millennial audience that many thought had left Facebook all together.
Going viral on Facebook
If you look side by side at Tasty's fan growth on Facebook and YouTube, Buzzfeed's Tasty Facebook growth is enormous and they accumulate nearly 4 million new followers every month, while their YouTube channel grows at a fraction of that rate.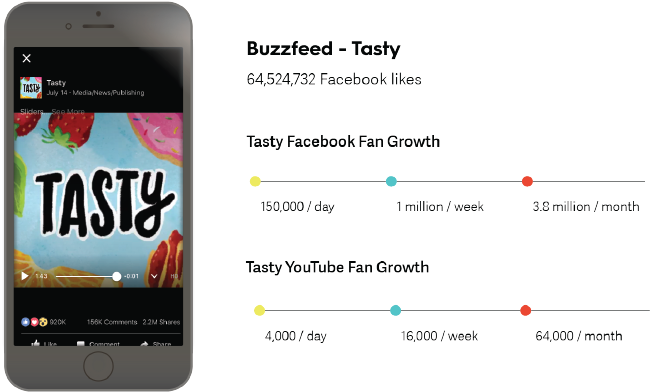 Buzzfeed's Facebook channel is growing at such a rapid rate is because they create content that is easily shared through the platform. Every act of engagement on the video, whether it be a like, comment, or share, is viewed by that individual's network of friends. In comparison, on YouTube users must share the video from YouTube onto other networks, or copy the link into a messaging app. Having this framework in place is vital for Facebook's success as a video content destination.
Why have Facebook + Instagram copied Snapchat?
The simplest answer to this is to steal video views. If you look side by side at the number of daily active users and daily video views by platform, it is clear that Snapchat's model of disappearing photos and video content racks up a ton of time and engagement within Snapchat's app. The most shocking statistic is how Snapchat, who has the smallest number of daily active users (in comparison to Facebook and Instagram), manages to garner over 10 billion video views a day.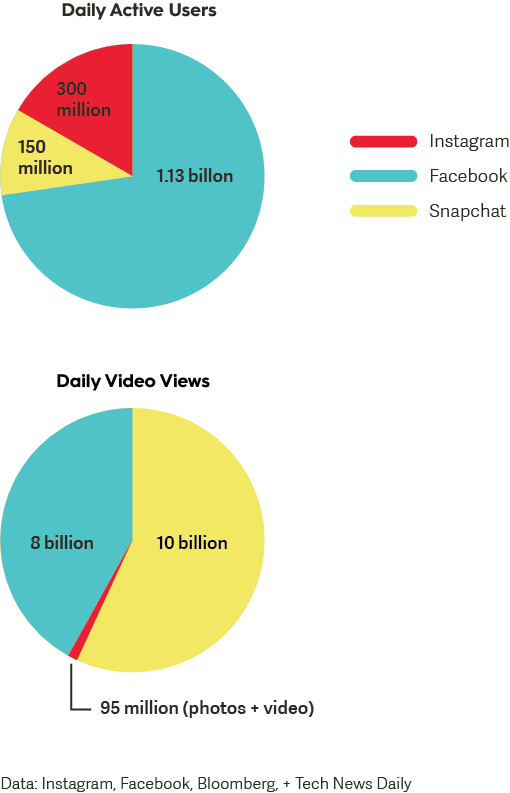 However, these number are not entirely accurate. Each platform measures a video view differently. On Facebook, a user watching a video for at least four seconds is counted, while on Snapchat once a video is opened they count that as a view. Thus, a user can skip a whole story and Snapchat will still say that user watched it. Despite this, it is still apparent that the sheer volume of engagement and video action is happening all in Snapchat's app.
Conclusion
Brands should anticipate their audience to expect them to offer video content. Those who don't will be left behind, with consumers opting to engage with brands that tailor their content to consumer preferences. In addition, marketers will be creating more video ads, especially on Facebook and Instagram, as they yield more engagement and higher click through rates than traditional static ads.
For right now, brands need to think about experimenting with video content through social media and their websites to understand how their audience reacts to various forms of video content.
Also, listen to your audience! What information are they seeking that can be easily condensed into a short video? Put yourself in their shoes – it is much easier to watch a short video and get the information you need then to click through and read an entire article.
Ultimately, time will tell in how the major social networks will optimize their platforms and how consumers will respond. Major changes are on the horizon and it is up to marketers to decide whether their brand will watch from the sidelines or get in on the action and reap the rewards.

This article was written by NewsCred's Ashley Karhoff.