The Super Bowl is one of the single most expensive nights for advertisers, with prices steadily climbing every year. In fact, the average rate for a 30-second spot has increased 75% over the past decade with brands investing over $4.2M for a 30-second ad. According to Kantar Media, six advertisers in the Super Bowl spent more than 10% of their annual media budget on the game – that's a big bet on one night.
With so much money spent and made on the Super Bowl, what are brands doing to extend their reach beyond the 30-second TV slot? More importantly, for those that don't have Super Bowl budgets (pretty much everyone else), how are they creatively capitalizing on the 111.5 million viewers who tune into the Super Bowl each year?
The best brands are experimenting with creative content and social tactics as the foundation of their Super Bowl marketing strategies. To truly see ROI from their advertising investments, marketers MUST find out-of-the-box ways to escape the sharp peaks and valleys of traditional campaign engagement (below).



Instead, the most forward-thinking marketers are focusing on consistent engagement and long-term brand loyalty with their consumers. An always-on content strategy tied to traditional TV ad campaigns enables marketers to maximize the reach, longevity, and impact of their media dollars.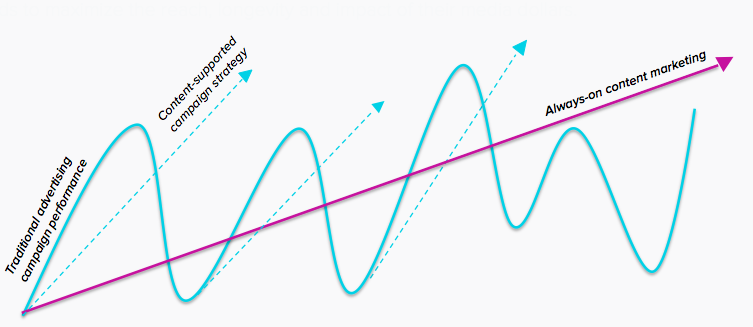 At NewsCred, we've worked with dozens of customers to develop and execute real-time marketing strategies for a brand's pillar sponsorships and events. From Beyonce's Super Bowl marketing debut to the U.S. Open to the World Cup, our enterprise customers are getting more creative and efficient with the way they execute at major events – and beyond.
Read on to learn about:
The most creative Super Bowl content strategies we've seen from brands such as Budweiser, Nissan, Doritos, and P&G.
Tactical ways for you to build an always-on content strategy that will ensure you maximize the reach of your ad spend and dominate ANY key sponsorship or event.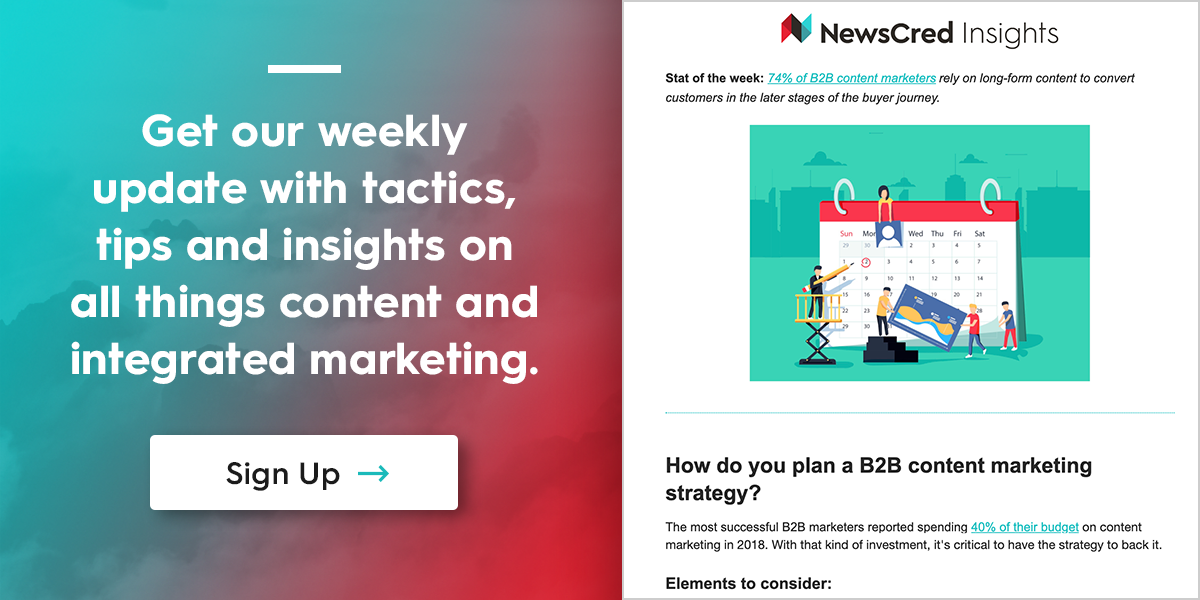 1. Don't just focus on the game. Focus on the related interests of your fans.
In 2015, Nissan partnered with YouTube to launch their first Super Bowl marketing campaign in two decades. The campaign, #withdad, celebrated the innovative and exciting ways that dads make life better for their families and how they strive to find work-life balance.



But, here's the interesting part: Nissan did not build their campaign around football; rather, they built it around the related interests of football fans. YouTube found that "those who index high in watching football content were also interested in auto and cooking videos. Millennial fans specifically favor comedy and movie content, while fans that are fathers tend to tune in to auto and news content." The videos have received more than 76 million views to date and were also an effective way to build suspense for Nissan's televised Super Bowl, which was voted the fan favorite in YouTube's AdBlitz.

2. Find the white space.
As one of the biggest spenders of the Super Bowl, Budweiser wanted to win. Their challenge? A cluttered territory where Budweiser would not just be competing with other beer, spirit brands, and beverages, but also every brand that would be leveraging sponsorship rights & anyone who was "talking football."
Bud Light needed to find the white space. While other brands built their strategy around specific players on the field, Bud Light focused on fandom. According to Nick Kelly, an Anheuser-Busch spokesman, the Super Bowl is "not a commercial anymore…a strong digital plan is just as important as the Super Bowl ad-buy itself." Fans were asked to live "Up For Whatever" messages found on new Bud Light bottles and join the brewer at the Bud Light House of Whatever at Super Bowl XLIX on Feb. 1. To enter for a chance to win, consumers had to take a video of them living #UpForWhatever, post their video to Instagram and tag @budlight.
What was so smart about this strategy? First, it harnessed the unity and emotional experience of Super Bowl fans. Second, understanding that more than 70% of football is watched on mobile and nearly 50% of visits to Super Bowl advertisers' websites on February 1 came from mobile devices, Bud Light channeled action to Instagram.

3. Think beyond the big day.
Digital engagement around the Super Bowl has exploded over the past few years. According to TechCrunch, Super Bowl fans shared 265 million posts on Facebook in 2015, 28.4 million tweets, and watched nearly 4 million hours of game-day ads on YouTube (up from 2.2 million hours in 2014).
But it's not all about Super Bowl Sunday. According to YouTube, viewership of football content spikes during the NFL draft in the spring as well as the start of the fall season (see chart from YouTube below).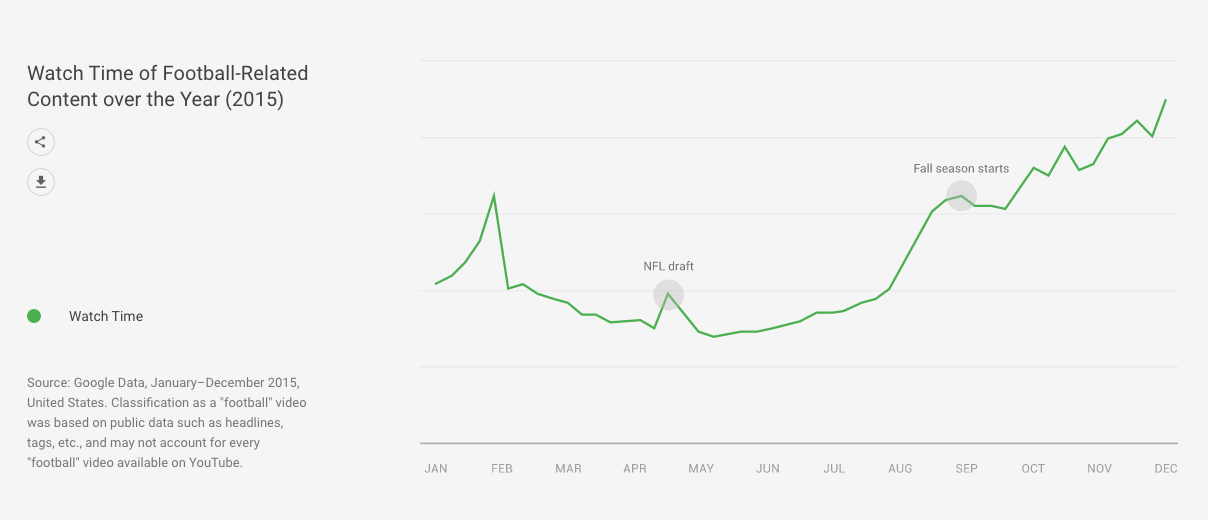 The brands that are getting Super Bowl marketing right are engaging their fans over the course of the entire season. This is true for extending the reach of campaign-based advertising too. According to Google, brands that published full versions of their TV ads online before Sunday's game received 2.2X views and 3.1X more social shares by Monday morning than those brands that waited until the game to release an ad.

4. Remember: the most creative ideas aren't necessarily new.
It's easy to get caught up with the new, especially when it involves massive budgets. Brands want to wow their fans and showcase "the next big thing." But sometimes the smartest brands just stick to the things that work.
The 2015 Always #likeagirl Super Bowl spot did just that. Instead of trying to reinvent the wheel, Always doubled down on their viral video. Football may not be a conventional place for an Always commercial, but the emotional message resonated with moms and dads. According to Adobe, Always won the "second screen" at the Super Bowl bringing in over 400,000 total mentions, big game buzz growth over an average day, sentiment, spend efficiency and international reach.

5. Get your fans to do the hard work for you.
For the past 10 years, Doritos has crowd sourced their Super Bowl marketing concepts in an ongoing contest called "Crash the Super Bowl." The contest has become the most successful marketing initiative in the brand's history.
Why? Doritos thinks of their consumers as not just passive recipients of messaging, but as creators, producers, and distributors too. By putting their consumer at the heart of their broader marketing strategy, Doritos is able to harness the attention and creative power of three different communities: the makers (who enter the contest), the lovers (who create buzz and follow the contest), and the watchers (who watch the ads and vote in the contest). Last year, out of the 4,900 people who submitted creative spots, "Middle Seat" – a 30-second ad that features a man determined to keep the middle seat next to him empty – took home a $1M grand prize.
To measure the effectiveness of the contest, Doritos looks at pass-along value, online contest currency, media value, and brand equity throughout the contest. According to a Fast Company interview with Frito-Lay CMO, Ann Mukherjee, all these measures have consistently gone up, along with sales. As Mukherjee notes, "For me, rule number one is trust the consumer," she says. "This principle has changed me as a marketer. When you give the freedom to the audience, when they love something, they will take care of it better than someone you actually pay. This is their brand. They're not going to tarnish it. There hasn't been a single year I've been disappointed."

Key Takeaways:
By understanding the related interests of your audience, your content strategy will connect, engage and remain relevant far beyond a single event.
Find the whitespace when building your content and channel strategy. This will ensure you truly stand out from the crowd.
Think of your pillar events and sponsorships as a long-term strategy. Engage your fans before, during and after the main event.
Don't reinvent the wheel. If it works, go big!
Trust your consumer. Harness their creativity to get to the essence of your brand.

Want to learn more about developing a game day-worthy content strategy? Take a look at our whitepaper, The Ultimate Guide to Building a Content Strategy.
Want to get the latest trends, research and analysis from NewsCred? Subscribe to our newsletter here (we promise, we stand by the quality of every article).