Technology companies have long been challenged with trying to transform complex products and services into accessible and easy-to-understand concepts and sales pitches.
But, as we all know by now, selling isn't what content marketing's about – and it's certainly no way to get noticed in today's marketplace.
Quality content marketing is what it takes to make a modern brand truly shine. It creates an emotional connection and captures the attention and imagination of audiences, without ever mentioning the goods at hand. And it delivers results. But because of siloed workflows, reluctant leadership, and dated corporate culture, for many tech brands, this industry shift has been particularly difficult to follow through.
Finally, things are starting to change. Successful startups and younger tech companies know the value of a documented, ever-evolving content strategy, and now revered giants and decades-old companies are crossing over as well. Take a look at how today's top tech players are using content marketing to stand out from the crowd:
Highbrow journalism
The last decade's wave of brands becoming publishers has claimed countless seasoned writers and editors. They've left their posts at magazines and newspapers for marketing, running branded editorial across industries. And their efforts – not in selling a product, but in telling a captivating story – have had amazing effects.
The newly rebranded Dell Technologies, for instance, has taken a content-led and audience-driven approach with its digital hub, Perspectives. Topics range from sports and fashion to education, the environment, and beyond, all tied together by what technology makes possible. The goal: to capture the attention of C-suite decision-makers who are tasked with driving digital transformation in their companies, and redefine Dell Technologies as the leader in that space.
"[Our C-suite] audience responds to assertive narratives over any other content format," says Anna-Lee Muck, Editor-in-Chief, DellTechnologies.com/Perspectives. "At this point in the conversation, stories are the way to break through. Content marketing and telling stories at this high level, this brand level, are key from the beginning."
Another aspect those stories have in common? A consistent, top-tier narrative style to their prose, whether in exploring how virtual reality might save the planet through a personal essay, or a thoroughly researched and thoughtfully sourced look into how automation will soon impact schools and startups alike.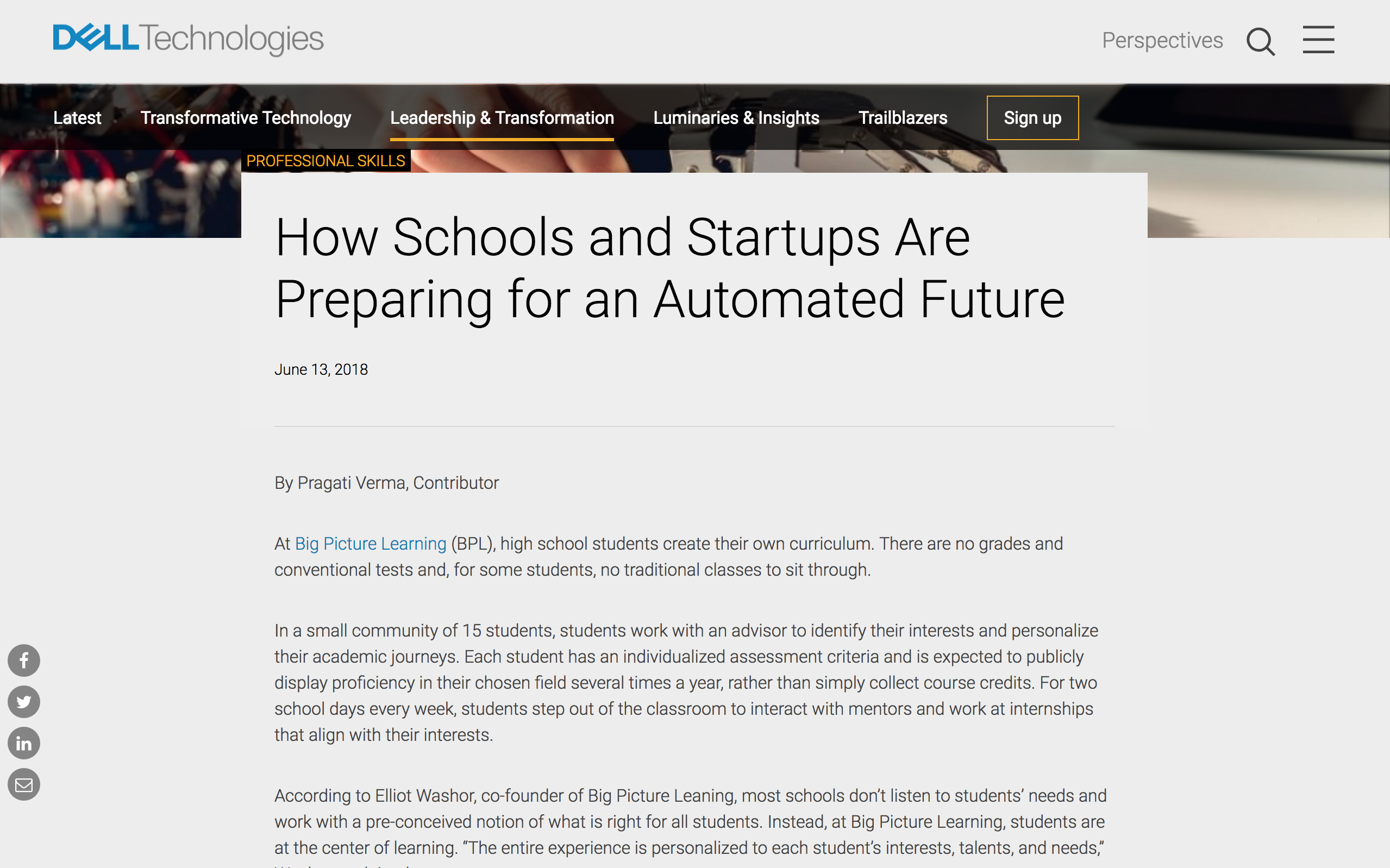 First Round Capital's much-lauded publication, First Round Review, is another brilliant example when it comes to long-form, quality content. In May, when the team announced that they were seeking a new member, they described themselves as "The Harvard Business Review meets The New Yorker –" a label that's justified, given the level of journalistic skill and integrity that accompanies their work.
With hundreds of thousands of monthly readers accumulated over the last five years, and exclusive interviews with tech's top minds and executives, it's the kind of content that keeps its audience of start-up founders and business leaders reading to the end and coming back for more. Well-designed and exceptionally written, with information and insights that truly matter to its readers, every article is complete with tangible takeaways and real lessons that can be applied on the job.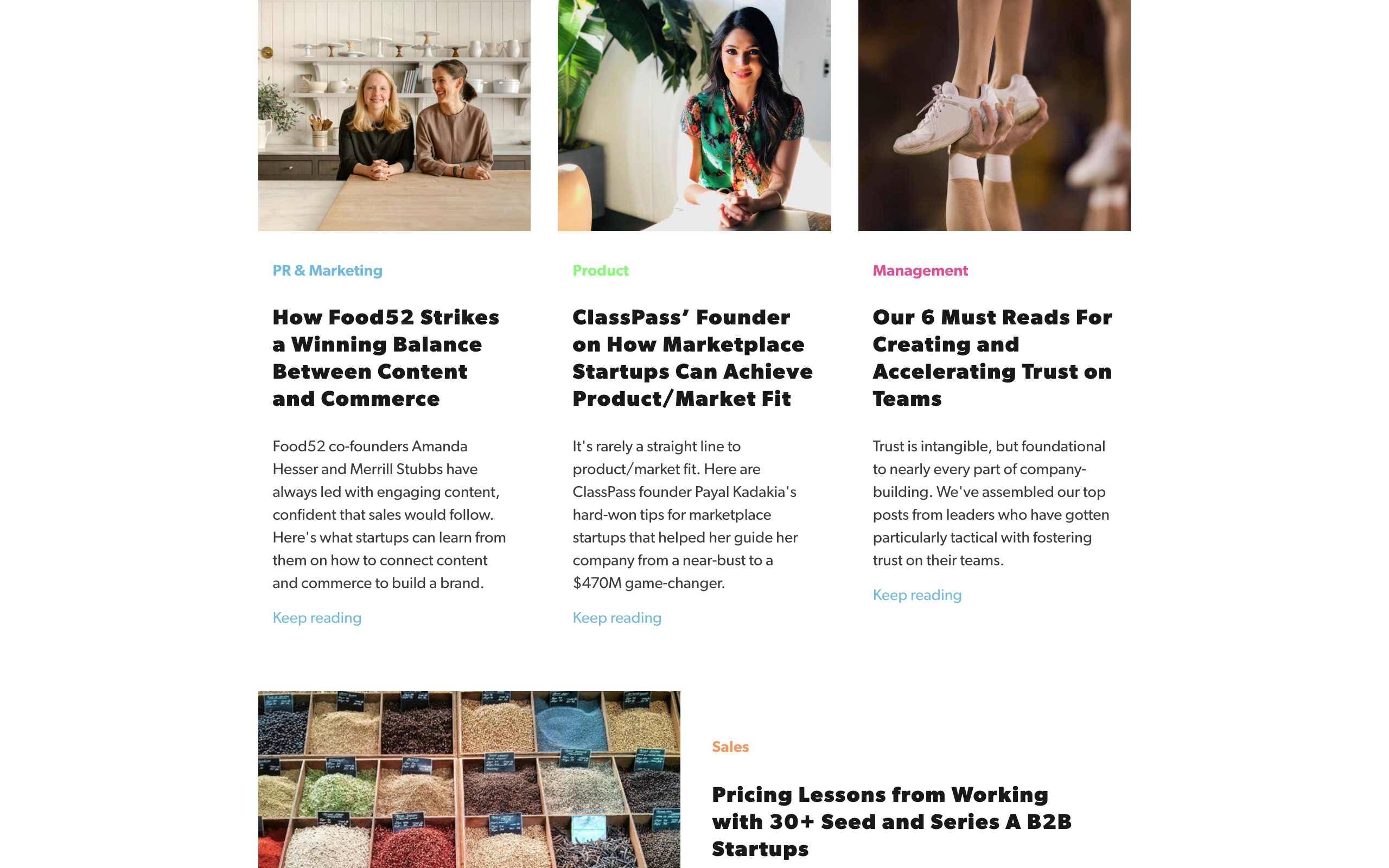 Expert insight: "Our mission is to put out as much high-quality, tactical content as we can about how to build better technology companies and careers," says Camille Ricketts, Managing Editor of First Round Review. "We prioritize quality over quantity and only feature tactical advice surfaced in interviews with people who have a proven track record of success using the insights they're sharing…
"Every article we publish contains specific action items that can be applied immediately to make a difference."

How-to content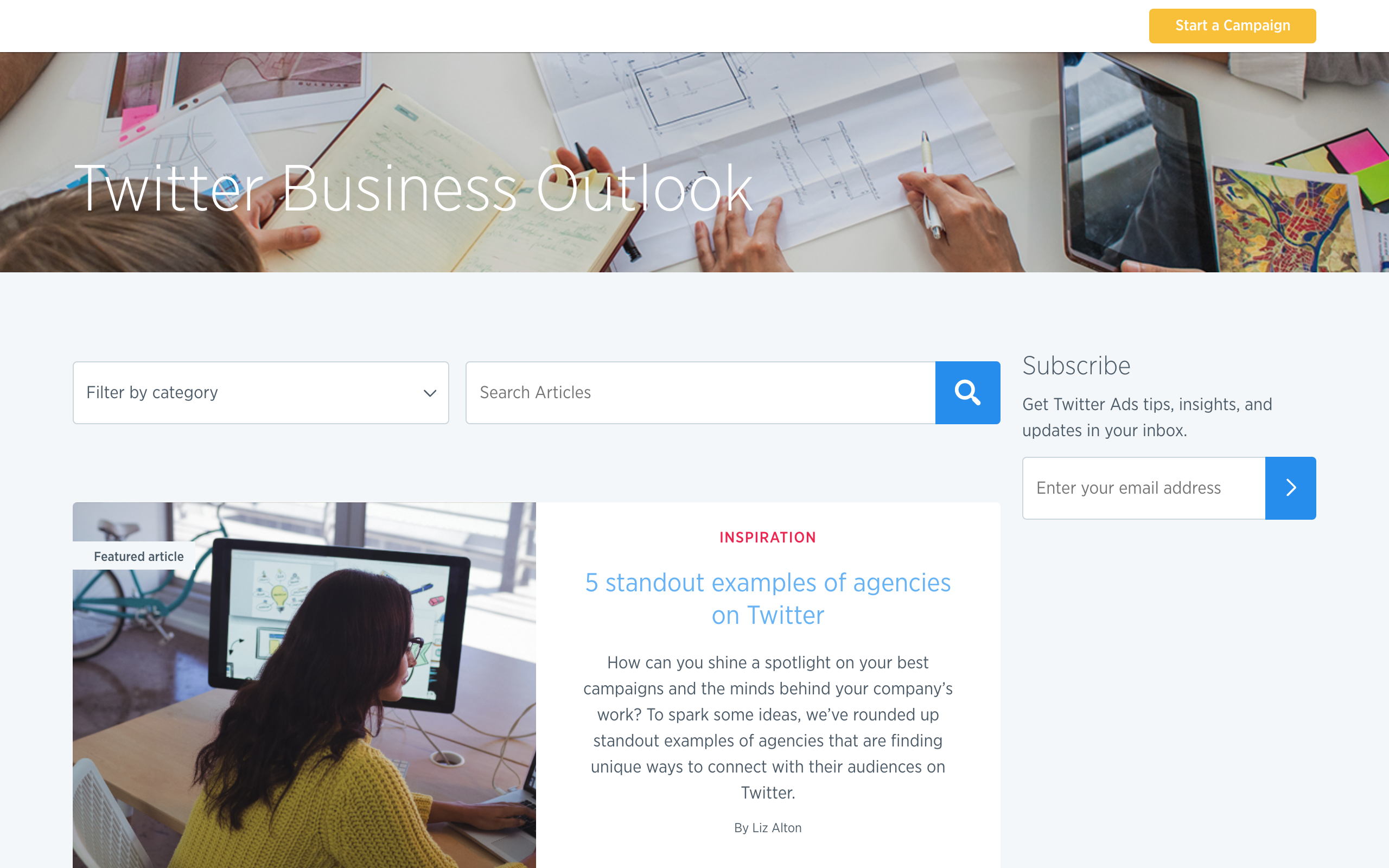 While brand storytelling has the potential to deliver inspiring pieces of thought leadership, no less important is utility content – helpful posts with information or instructions that provide immediate answers to readers in need. Twitter, one of our Top 50 Best Content Marketing Brand winners, does just that with its Twitter Business Outlook blog. Consisting of a mix of original and licensed content, the publication focuses on straightforward steps, tips, and best practices for growing one's business with the help of the platform.
Without any dedicated social sites, the blog is very much a one-stop-shop for content marketers and social media managers, designed to inform and inspire with brand examples and how-tos that aim to help reach goals and objectives. A nifty search bar, front and center, allows visitors to get directly to the information they're looking for, while articles like "How to use event targeting on Twitter," "Tips on writing for email vs. writing for social media," and "What to Tweet: 6 ways to get unstuck when you're out of Tweet ideas" provide insights one might not have known to look for.


Across the pond, U.K. tech leader Sage has found a way to leverage its enormous knowledge base (fueled by 30,000 customer calls per day), with an equally helpful, data-driven blog known as Sage Advice. Offering "wisdom for smarter businesses," the site's mission is to help budding businesspeople learn what it takes to not only stay afloat, but to also succeed in their chosen fields.
Content is split up by business type – startup, small business, growing business, enterprise, and accounting – making it easy to quickly navigate to a tailored selection of articles. And the selection is extensive; no matter which line of business you pick, you'll find pages and pages of relevant stories, all designed and delivered specifically to Sage's customer and audience interests.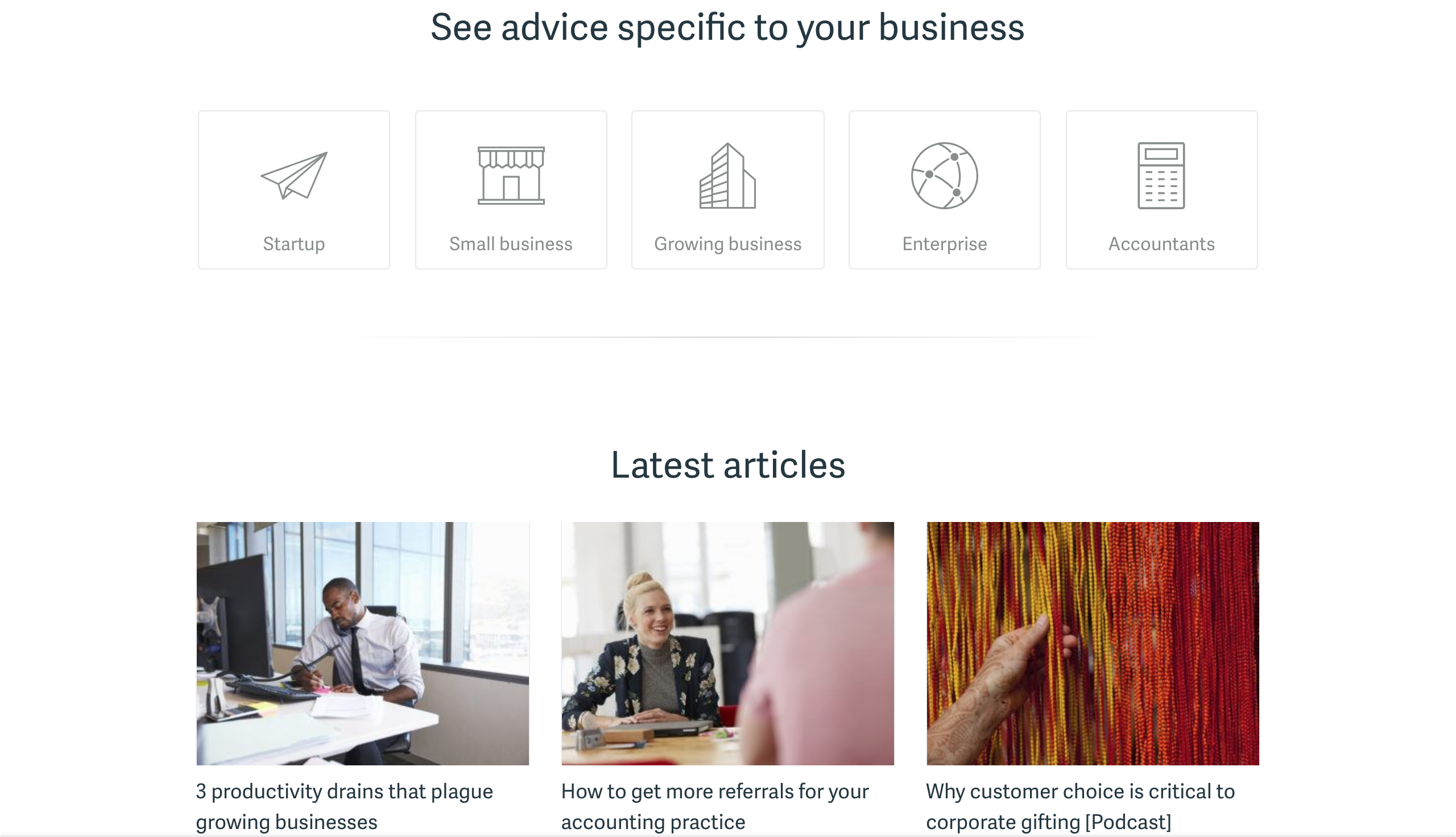 It's a strategy that seems to be working: "Just in the last quarter, we had about 145,000 business leads sourced directly from this content," says Neil Morgan, the company's Executive Vice President of Digital Marketing. "And for us today to create a business lead can cost from £40-£50, so there's an immediate monetary value we can associate the effort we've made."
Expert insight: "Start with the customer in mind: their needs, and what they're struggling to do," Morgan advises. "Then, how can you add value? Understand the platforms you want to deliver it on and spend time researching what content is the right fit for each.
"Finally, don't forget to monetize the service…While we are trying to help people, we're a business as well, and our strategy was built around seeing if we could create a high-performing lead-supply."

Standout visuals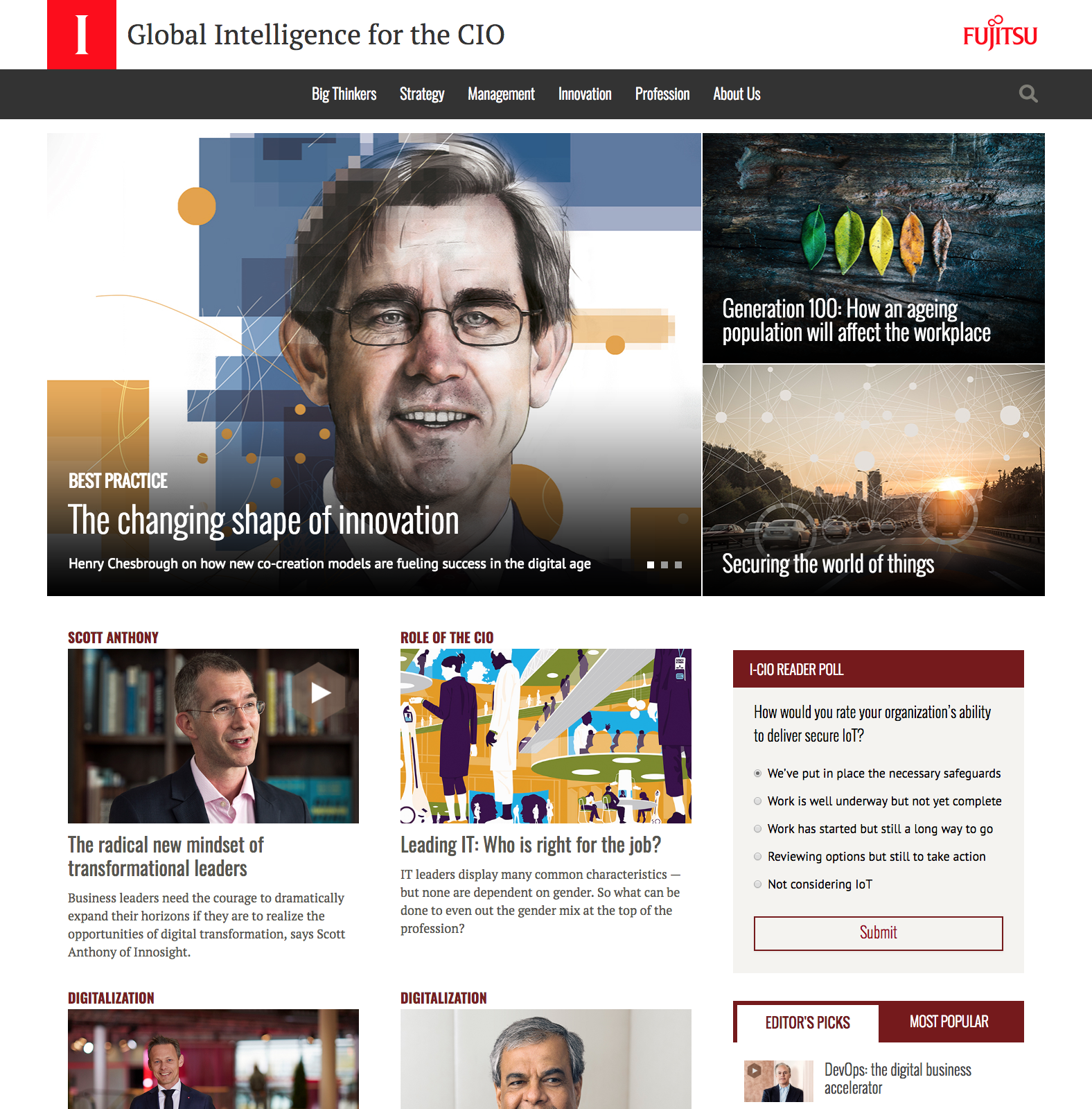 Tech and B2B brands have had a hard time keeping up with best practices in design for a while now, but one by one, companies are catching on. Experimenting with a mix of sourced stock and commissioned photography and digital artwork, Fujitsu's I-Global Intelligence for the CIO (I-CIO) is an aesthetically driven effort that's also on our Top 50 list this year, and worth a second look. The carefully curated images range from quality portraiture to creative vector drawings and eye-catching graphic illustrations that encourage visitors to click-through to content.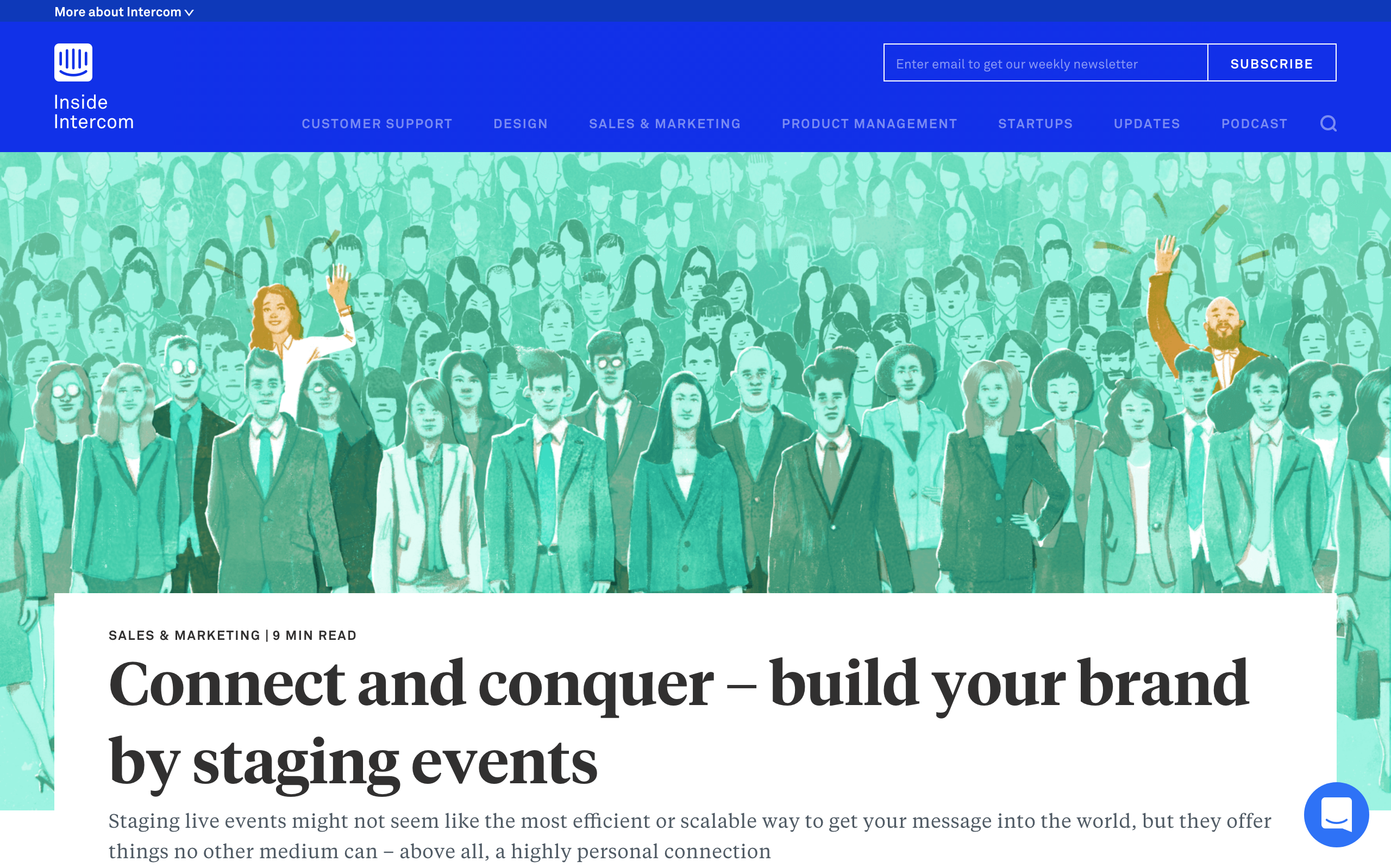 It's a bold effort for the tech space, but it's customer-messaging platform Intercom that truly shines with its visual-first blog strategy. A heavy investment in content – which led to the production of stories, podcasts, books, interviews, and more – resulted in the need for an updated, easily accessible and aesthetically pleasing place for it all to live online: Inside Intercom. The new site stuns readers with bright and captivating original artwork that accompanies every single post while creating a lush visual library to draw from for future social posts and content distribution.
"We are one of that growing band of designer-led startups and believe we have a strong design-led culture," Director of Content John Collins and Director of Brand Design Stewart Scott-Curran wrote of the makeover. But "producing more [content] meant the design and functionality that worked for us 18 months ago was creaking at the seams."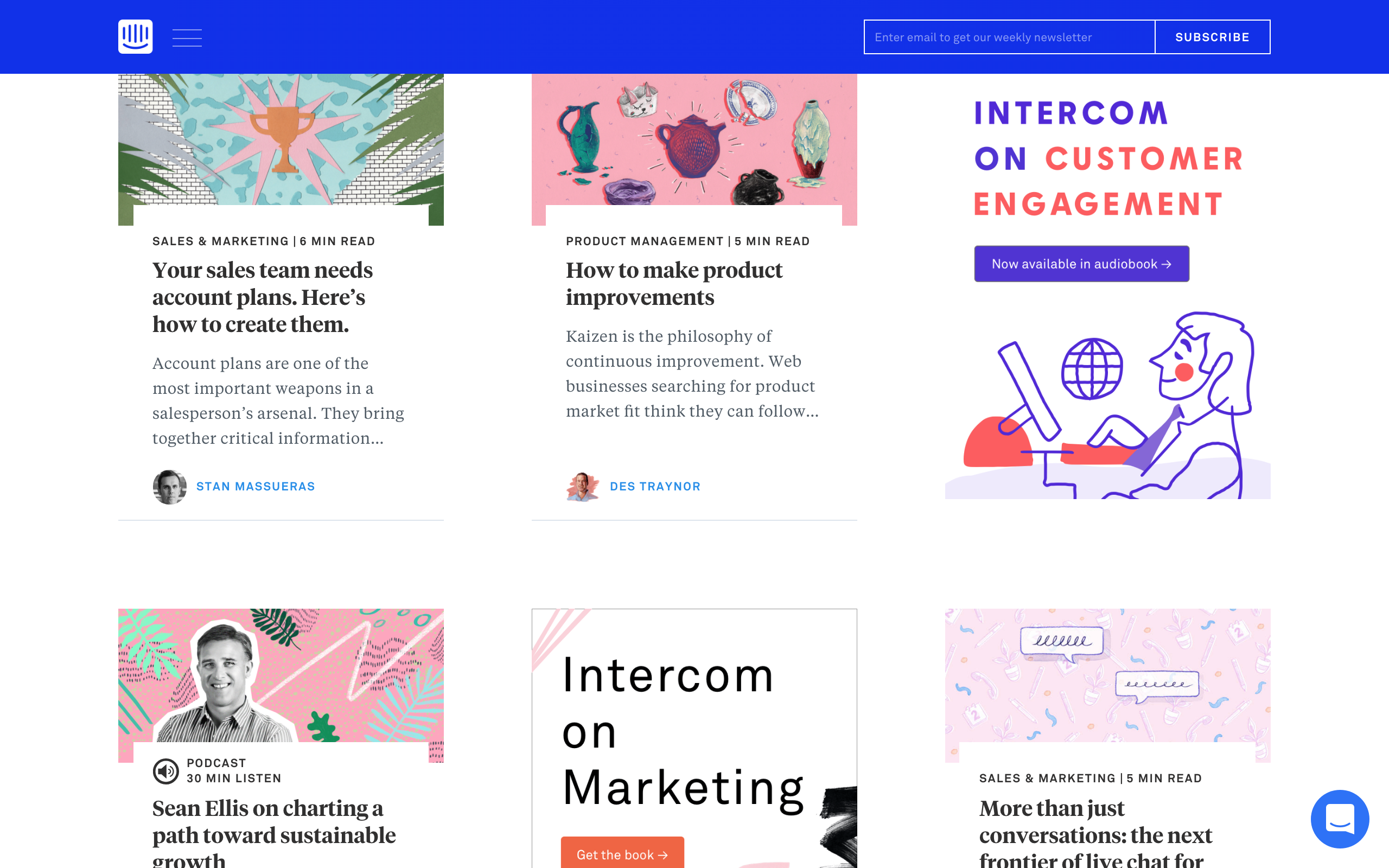 In the redesign, the team honed in on "a more editorial sensibility to all aspects of the blog," wrote Collins and Scott-Curran. "That includes our approach to editorial illustration. We've been commissioning a diverse range of illustrators to interpret the subject of each post in their own unique ways. These visual metaphors aim to spark curiosity and bring a more personal approach to how we present [our] writing."
For a final human touch and yet another way to include artistic expression, the team went on to commission San Francisco painter Jon Stich to create striking portraits of the blogs' many authors. "These bring a sense of uniqueness, craft, and personalization that reflects how we think about design at Intercom, whether it's this blog design or the product itself," the directors said.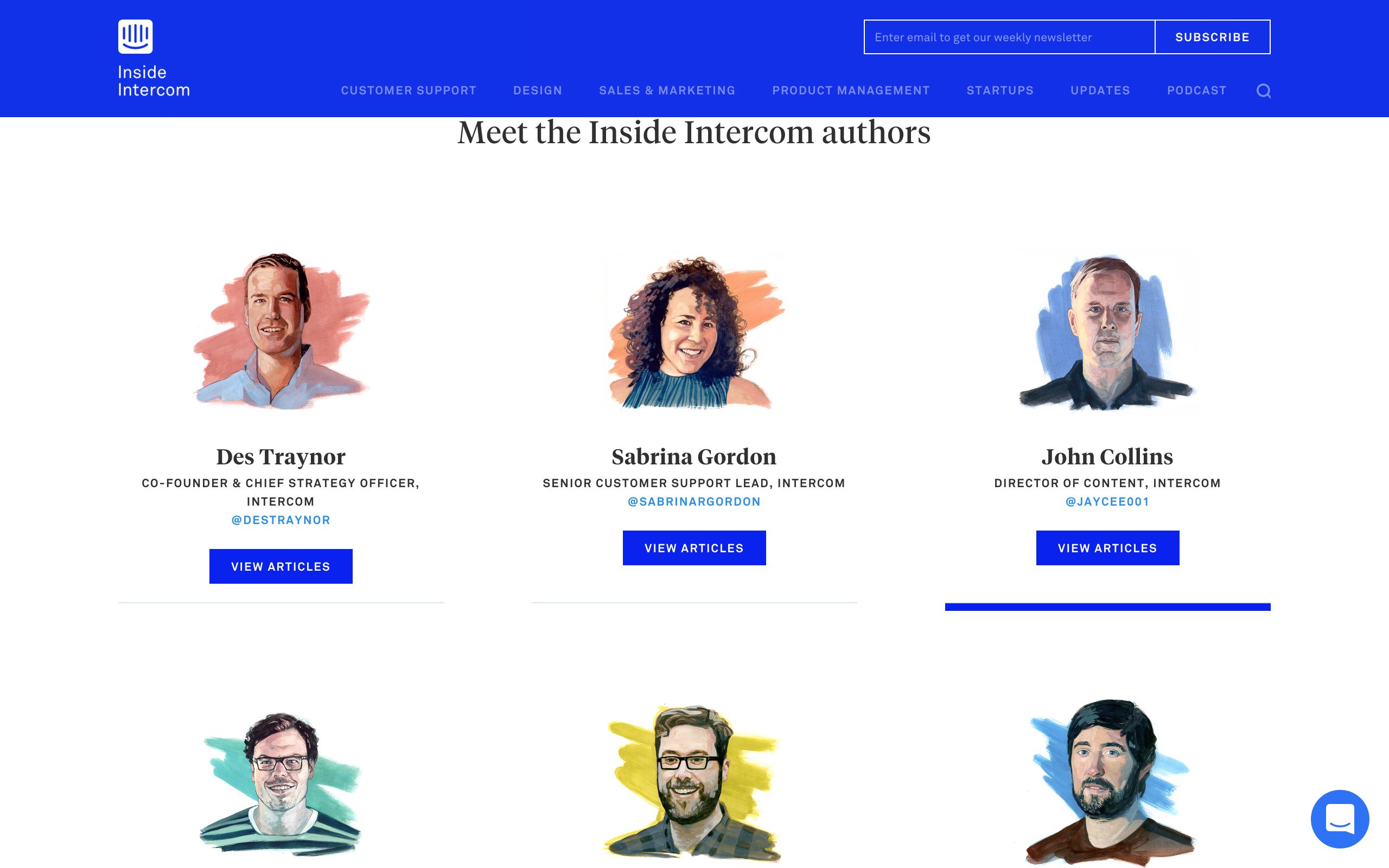 Expert insight: "Although we're proud of the aesthetics of the new design, our primary goal was to make it easier for the reader to discover and consume the content we publish," explained Collins and Scott-Curran. "We paid close attention to hierarchy, typography, and illustration in order to create a connected and organized experience. To increase visual impact and give the homepage a sharper point of view, we focus on one lead article, followed by secondary and tertiary articles.
"To build out this hierarchy, it was essential to have a solid grid in place to form the backbone of the design and give pages their structure."

Compelling podcasts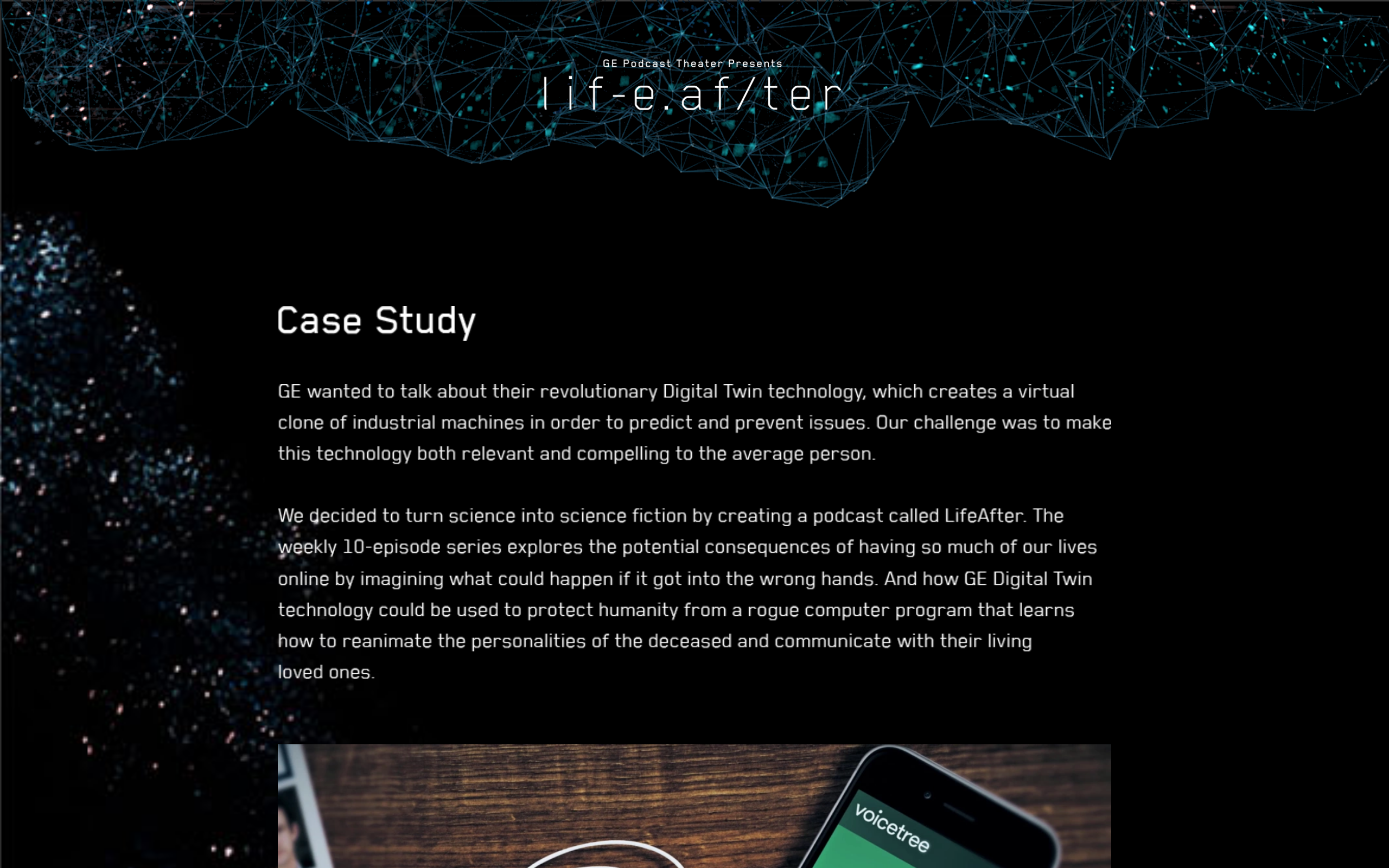 Dell Technologies' "Trailblazers" podcast is an extension of Perspectives, but not all programming need be blog-related. Tech brands from across the board have taken to the popular form of audio content, which draws 67 million monthly listeners aged 12 and up – 80 percent of whom listen almost or all the way through, according to Edison Research.
A mention of tech branded podcasts wouldn't be complete without a nod to GE, whose creative risk-taking has resulted in the immense success of "The Message" and "LifeAfter." The genre-bending efforts have accumulated around 8 million downloads, the first of which was an eight-episode, fictional sci-fi thriller, and the second, a fictional exploration of the role of tech and AI in life after death. Not quite what you might expect from a tech giant, but obviously appealing to listeners nonetheless – and that's precisely where the beauty of the medium lies.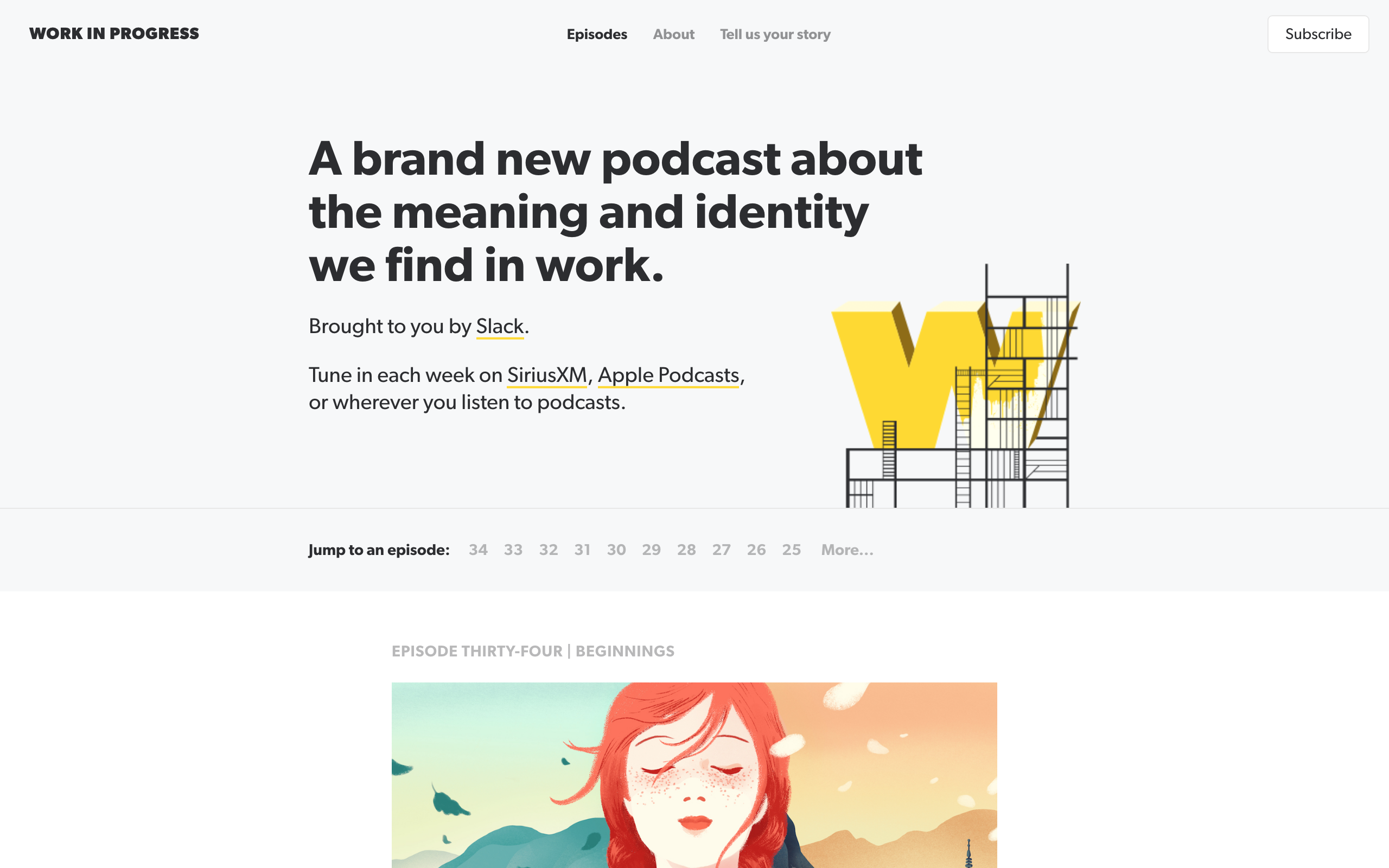 With podcasts, there's really no limit to what brands can create and what kind of stories they may decide to tell. The main objective, however, is delivering true value and meaning to listeners. "Work in Progress," a bi-monthly podcast that ran from October 2016 to October 2017, from cloud-based digital collaboration platform Slack, offered satellite radio and podcast fans musings on "the meaning and identity we find in work." Episodes merged the professional with the personal, covering issues from the gig economy to corporate life and stories on the likes of freelance careers, returning to the office in later life, and workers with disabilities.
"It's not so much about someone who is a musician, a baker, or a comedian – these are stories about how they came to do what they do and most importantly, how they identify with that," said Julie Kim, Slack's Director of Content and Editorial, in an interview. "For this kind of general interest program, we want to be piercing out of the Silicon Valley bubble and reaching a much more mainstream audience…The goal here is to introduce new people to Slack, not necessarily to introduce these stories to existing Slack fans and users."
Expert insight: "Storytelling has always been core to Slack's brand – we don't set out to do the best branded content," said Kim. "It's thinking about how to produce good stories, period. Good stories can come from anywhere…[and] we want working people out there to associate these kinds of stories with the themes and values of [Slack], in addition to the product itself – but it's not a hard sell of any kind."

Anastasia Dyakovskaya is a NewsCred Contributor.