This is a special Valentine's edition of Tech Talk; we'll be shipping a lot of new Content Marketing Platform (CMP) features in 2019, but this one's all about building content that search engines will love. Read on to learn all about why we built Content Optimizer and how this CMP feature can make your marketing content more successful.
---
As marketing professionals, we build detailed personas and briefs to ensure what we're creating is designed for our target audience and of the highest quality. After all, performance marketing means being in pursuit of one common mission: to attract qualified traffic that will (with the right strategy) convert into successful clients and long-time customers.
But the number one critic of marketing content is often not our intended audience. It's Google.
In a world that's seen an explosion of marketing strategies and channels, search algorithms play a powerful role in discovery. Content performance hinges on our audience's ability to easily discover, understand, and gain value from it — often within the context of a question or topic they were organically exploring. The organizations that strategically optimize their best, most valuable pieces of content will win the battle for organic traffic every time.
In fact, NewsCred recently unveiled new data — based on our very own customer base of 200+ enterprise organizations — that demonstrates SEO isn't going anywhere and is even gaining momentum. Over the past two years (2017 to 2018), the percentage of traffic from organic search has steadily grown across all of our clients.
The point? Despite the proliferation of multichannel marketing tactics, SEO should remain a focal point for marketing teams across every industry. In the past, we created things like The Ultimate SEO Checklist for Content Marketers; now we're putting the tools marketers need directly into our CMP.
How NewsCred Helps Marketers Optimize Content for Search
Last year, NewsCred unveiled Idea Lab, the CMP's one-stop source for SEO, social trend, and competitive domain insights and recommendations to help content creators conduct keyword research and accelerate ideation. But identifying topics and keywords with a high opportunity to rank well is only half the SERP battle…
That's why NewsCred developed Content Optimizer, the CMP's built-in writing assistant. This new tool helps marketing teams quantify the quality of content by providing analysis and recommendations across readability, keyword usage, and meta information to help optimize content for search rank.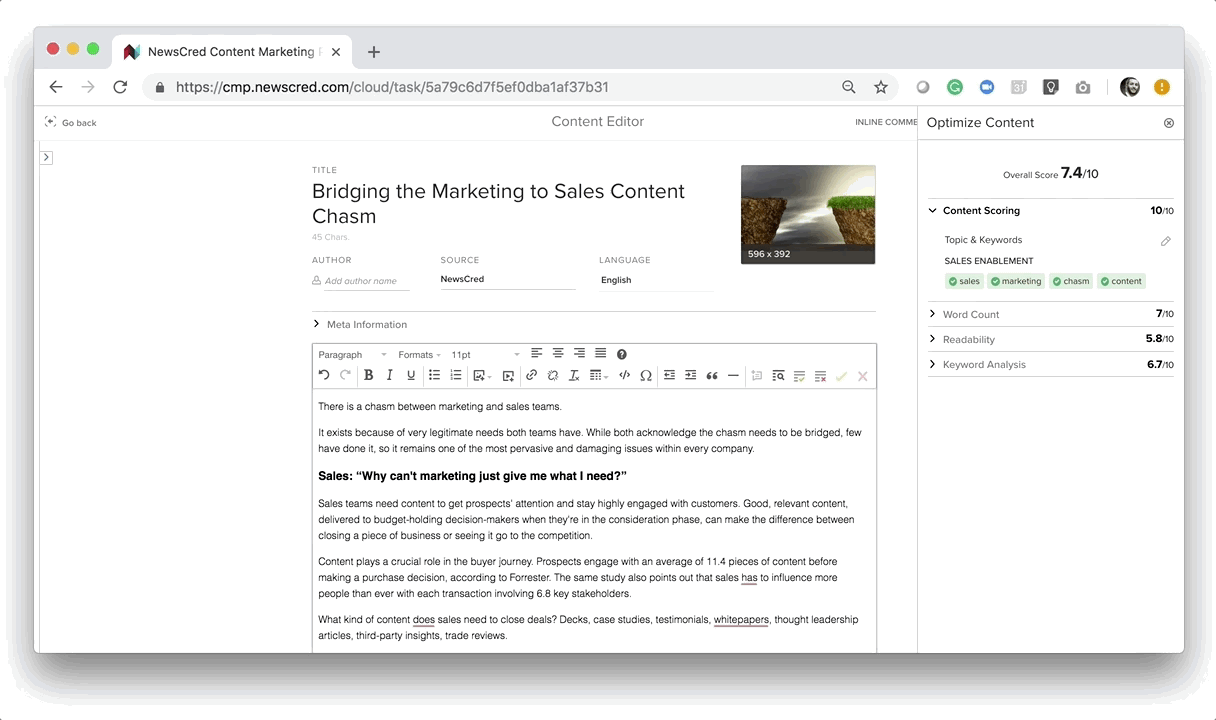 Within the CMP text editor, the Content Optimizer panel provides an overall content score — an aggregated calculation to determine the quality of the writing — as well as analysis and recommendations for optimization. Using real-time data, content scoring is based on the following:
Topic Coverage: Validate which keywords are used and which are missing (and review recommendations using Idea Lab data) in order to identify areas of opportunity and ensure your content will meet audience expectations.
Word Count:

Provide writers with a suggested word count — with manual adjustments to suit the content type — and quickly calculate average reading time.

Readability: Score content based on readability, such as grammar, reading ease, paragraph length, passive voice, consecutive sentences, transition words, and more.
Keyword Analysis: Leverage SEO recommendations across criteria such as keyword density, outbound linking, meta descriptions and more, in order to optimize copy and increase organic search visibility.
Meta Information: Utilize insights and recommendations from the R

eadability and Keyword Analysis sections to optimize the three most important meta fields for SEO: title tag, meta description, and URL slug.
We believe this feature will not only help our customers optimize long-form articles published to their content hub, but also ensure that all of their digital copy — across articles, landing pages, newsletters, and more — is optimized for relevancy, readability, and search ranking.
And, not to brag, but it works.
After all, you're likely reading this because we optimized it: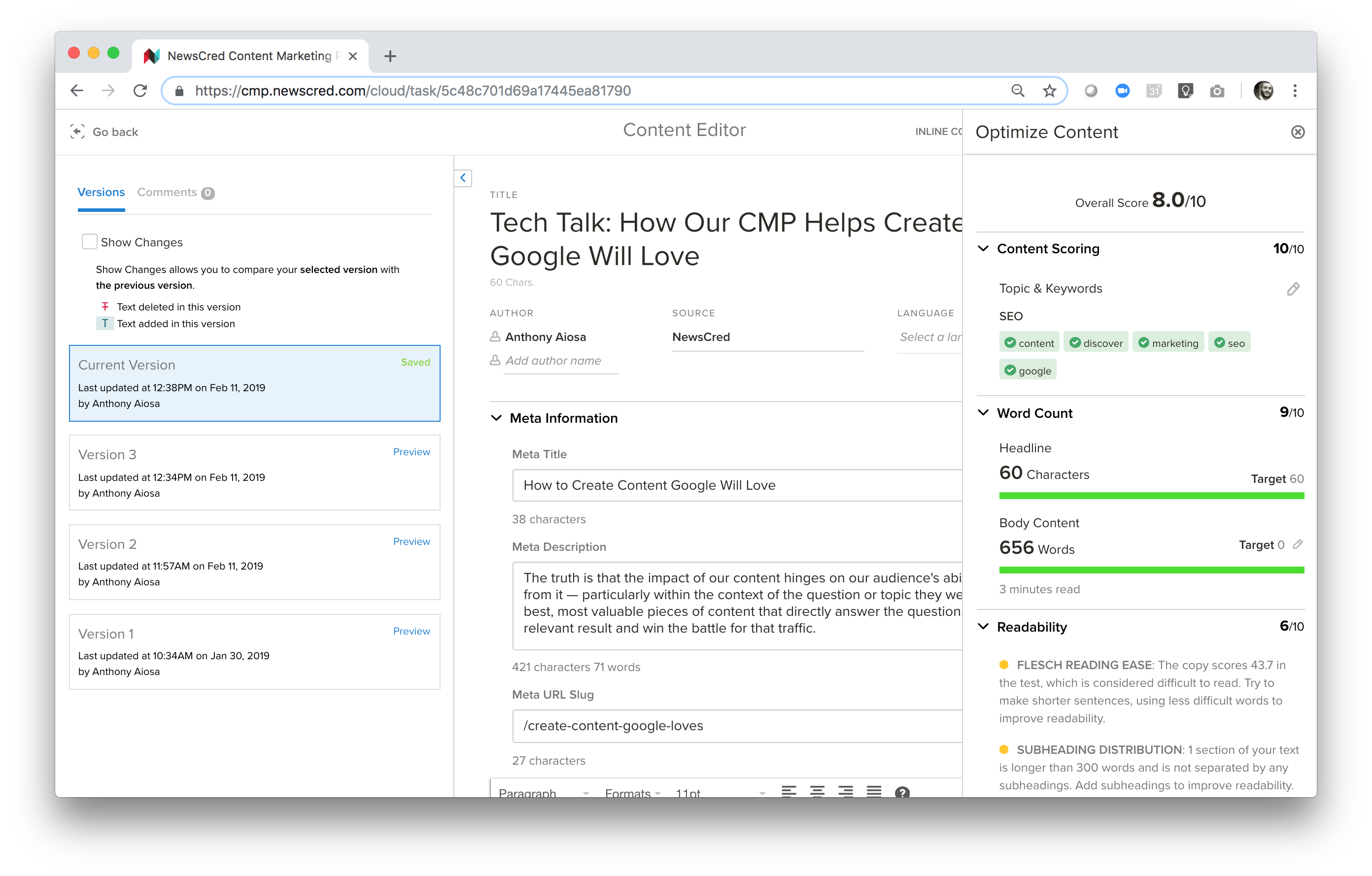 Let us know if you'd like to see Content Optimizer in action, or contact us for more information.
And if you're a NewsCred customer, start optimizing your marketing content today!
Anthony Aiosa is NewsCred's Director of Product Marketing.