As consumers, it can feel like we're exposed to commercials and advertisements for different medications everywhere we turn. But behind some of the world's most popular drugs are stories about major scientific breakthroughs, research innovations, and improved patient outcomes.
Such is the case for AbbVie, a biopharmaceutical company founded in 2013, whose medications reach more than 28 million people in 170 countries. You may know AbbVie as the makers of Humira, a drug used to treat a number of immune-mediated conditions, including rheumatoid arthritis and Crohn's disease.
To help expand the company's story beyond corporate communications and advertising, AbbVie decided to form a content strategy team. StoryLab's goal is to create relevant, engaging, and authentic content to be the foundation of AbbVie's growth, value, and reputation stories.
We spoke with Javier Boix, Senior Director of Corporate Communications at Abbvie and Head of StoryLab, for his content strategy insights, including why storytelling is a key component. He'll be speaking at NewsCred's #ThinkContent Summit on May 10th, so consider this a sneak peek.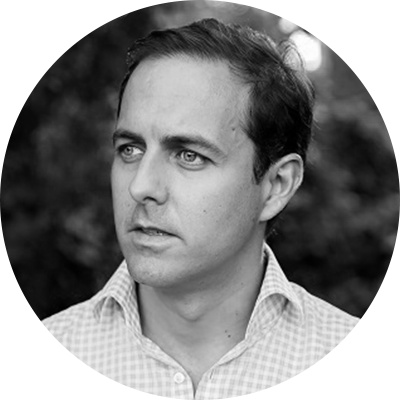 Javier Boix, Senior Director of Corporate Communications at Abbvie and Head of StoryLab
How was StoryLab created?
It started in August 2015. This job was originally conceived as a content development group. As we started to build it, we realized there was a lot more that could be done. Developing content was and still is at the core of what we do, but there is a lot more to it. We do not develop content for the sake of developing content; we have a very robust strategy.
Now, the team also does something extremely important that no one else sees: We serve all the content needs of most of our executive leaders, including messaging documents, announcements, business updates, all employee meetings, speaking opportunities. That is highly demanding and time-consuming work, and it is pure content development.
Creating the team felt like a startup experience within a global, well-established biopharmaceutical company. We started by evolving the organization's culture to make room for a storytelling-driven effort. Simultaneously, there was a lot of emphasis on building a robust process to create content in a sustainable and consistent fashion. So in a way, in the early days, content was not necessarily the top priority.
Where does storytelling fit in?
Storytelling is at the heart of what we do. It is what makes this team and our work unique, and is what allows us to tell truly compelling stories. Finding those stories couldn't be any easier – AbbVie is committed to addressing today's toughest diseases, and behind that commitment, there are beautiful and inspiring stories that we tell.
For example, when we signed a partnership with an Irish company to map the genome of 45,000 Irish people, we wanted to understand why Ireland, and tie it back to genomics, a hot topic in the social media conversation around science. Furthermore, Saint Patrick's Day was approaching fast, so we decided to get everything ready to be able to leverage the most important cultural and social Irish celebration. That story performed really, really well, including lots of positive reactions from readers wanting to enroll in the program.
What are you hoping to accomplish through content?
Our ultimate goal is to increase our reputation and valuation so our key stakeholders engage around our growth, value, and reputation story.
The question we're always asking is: How can we drive more positive opinion, engagement, and sentiment toward our brand overall?
We are very clear that we don't want to position AbbVie as the hero of the story. That's for others to say. We don't want to tell people how great we are. That's not the point. We want to participate in the conversation by adding value to it.
Who is your target audience?
It depends on the story. We are now working on more accurately segmenting and building our audiences, including healthcare and medicine reporters and influencers, the scientific community, and patient advocates among others.
Step one of our story development process is research. The content producer brings to life all the research and insights that he/she has compiled in a compelling story pitch that he or she puts in front of team. Part of that discussion is deciding who the audience is, in terms of personas. Who do we envision is going to read this story and feel compelled to share it? Imagining that person in our minds in part drives the story development process as the content producer moves the story along.
Where does your content come from?
Each content producer covers specific areas of the company (beat areas), and works directly with a corresponding corporate communications director. For example, we have a large research and development (R&D) group, so there is one person within our team who works with the R&D communications director, so StoryLab can bring the work to life.
We have all sorts of connections across the organization, and that results in a constant flurry of insights and ideas for new stories. Then we vet them, assure they align with the company's strategic priorities and innovation pillars. Simultaneously, we are looking at social media conversations and all the trending topics to ensure the story will also be externally relevant.
Also, we achieve relevance by ensuring we are focusing on critical milestones when it comes to developing and promoting our stories: Medical meetings and regulatory announcements are events that would typically draw a lot of external attention.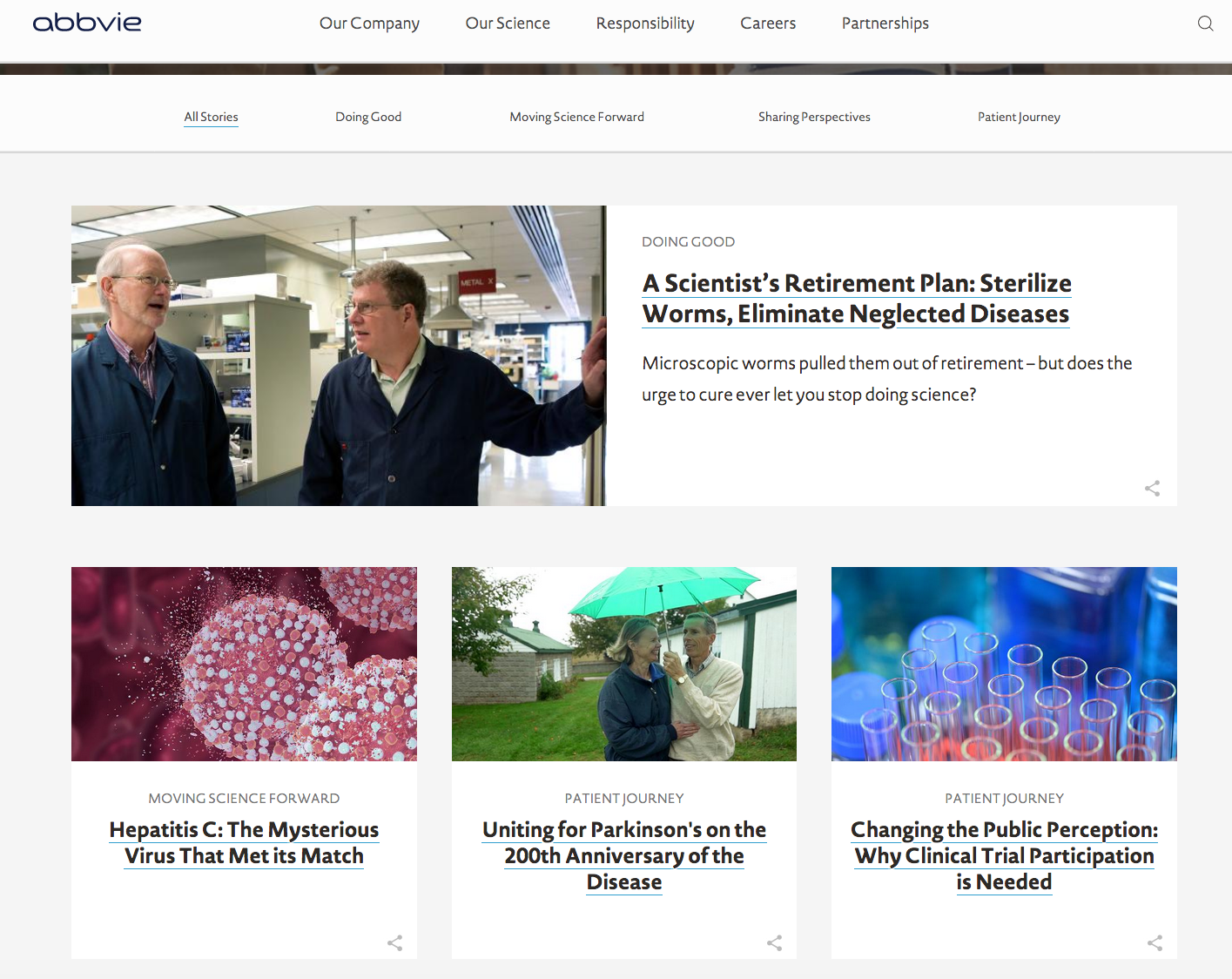 What is your distribution strategy?
We rely on social media, for sure (Twitter, Facebook, LinkedIn, and YouTube), both paid and organic. And we do traditional media outreach – most of the social media influencers in science and biopharma are media. Each story has a plan behind it, depending on the level of priority. And paid is certainly a tactic we use and that multiplies the impact of our stories. However, it all starts by building a solid foundation to create good content.
We are nearing the two year anniversary of StoryLab. Now that we feel extremely confident with the quality of our stories, we are spending more and more time figuring out our distribution and audience-building strategy, going more where people are, rather than driving people to where we are.
How do you measure success?
It is hard to measure, but there are ways to actually demonstrate that what we are doing works.
We started tracking the most basic metrics: shares, likes, time on page, unique visits, page views, and things like that. We are now expanding our approach so it is inclusive of more behavioral metrics. And ultimately, part of the plan is to measure across our audiences whether or not their opinion about the company is more positive than it was before engaging with our content.
We want to use data to improve our outcomes on an ongoing basis, and not just to measure our performance long-term. Measurement is certainly becoming a top priority as the team matures and delivers good content.
Hear more from Javier Boix at NewsCred's #ThinkContent Summit on May 10th, in NYC!

Dawn Papandrea is a NewsCred Contributor.