Today more than ever, sales and marketing teams are under immense pressure to shorten the sales cycle and drive prospects down the funnel as fast as possible. That's already a tall order, and when you factor in the thousands of other B2B companies trying to do the exact same thing, the competition becomes more than fierce.
So how do you make your voice heard?
Enter social selling, one of the most underutilized tools that can greatly help build relationships, shorten lead-to-deal time, and drive ROI for your business.
Even better?
Social selling is one of the least time-consuming activations.
Salespeople who add social selling to their day-to-day outreach not only help grow sales for their organization, but they reap the benefits as well. By only investing 5% to 10% of their daily time in social selling, salespeople who use social media outperform their peers by 78%.
Here are some tips and best practices for building social selling into your organization.
What is social selling?
At its core, social selling refers to finding and connecting with potential prospects on social media in order to build relationships and increase sales.
In today's digital world, 74% of B2B buyers conduct more than half of their research online before contacting a salesperson, and three out of four B2B buyers rely on social media to engage with peers before making a purchase decision. For a salesperson, that means social listening and sharing valuable content is no longer a nice-to-have, it's an imperative to get ahead.
Why is social selling important?
Unlike traditional selling which involves largely outdated tactics, social selling directly connects the buyer and seller without first going through a myriad of channels.
Now, this is not to say that traditional selling is not important. Ask any sales team if they still cold call and email and the answer is almost always yes. However, social selling is the perfect complement to find, relate, and engage prospects alongside standard marketing and sales efforts.
How to get started with social selling
While we know that email marketing is still one the best nurturing tactics (in fact, 66% of all NewsCred's high-value leads come from our email channel) sales emails do not have the same success.
According to LinkedIn, 90% of decision-makes no longer respond to cold calls or emails. As if that weren't dire enough, only 4% of buyers have a favorable impression of reps who reach out cold.
So what are salespeople to do? First, understand how buyers are utilizing social media to influence their purchasing decisions.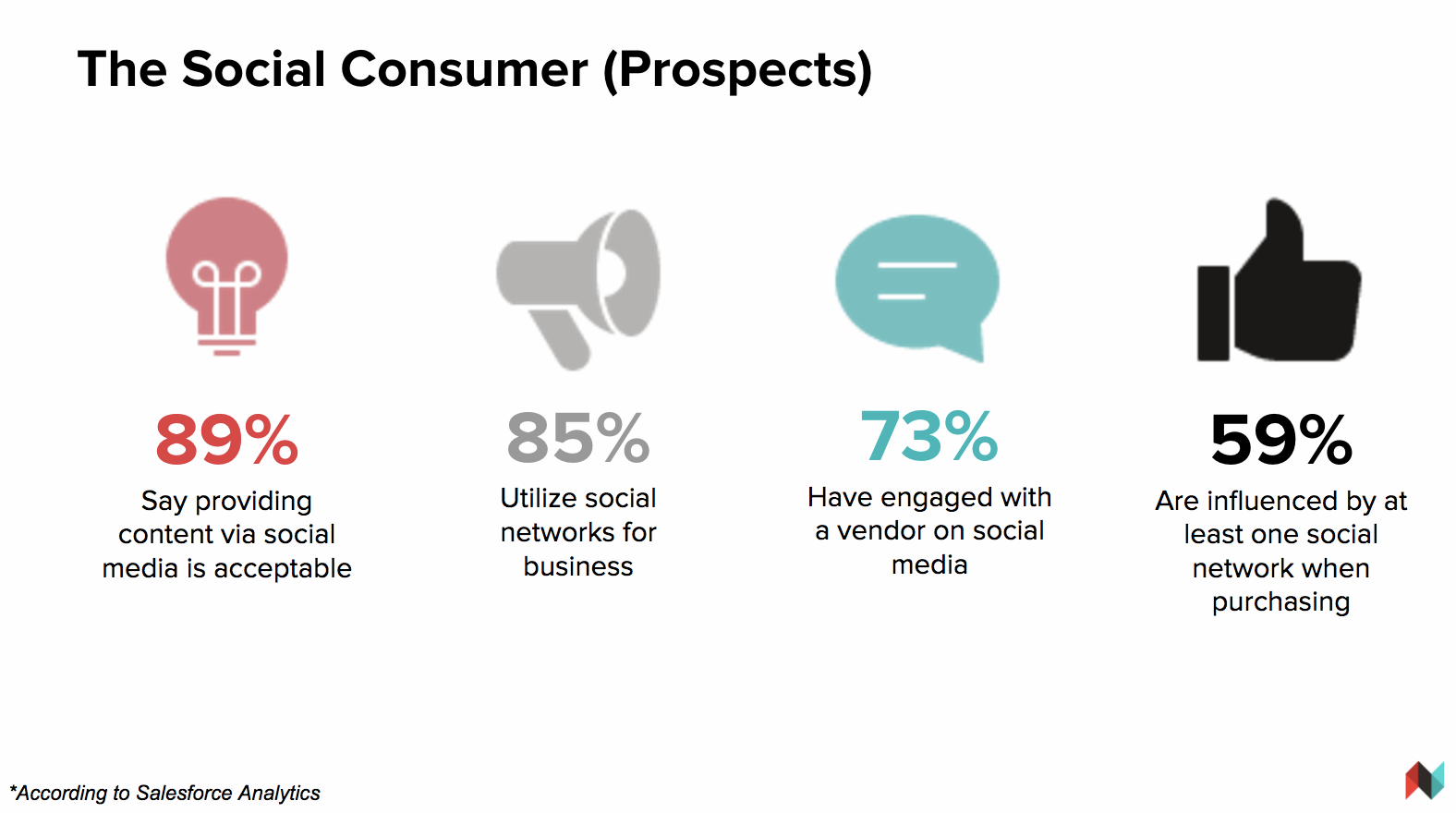 Then, spend some time putting together a strategy on how to best sell via social media. Here's a three-step process to follow:


Step 1: Establish a Professional Brand
The first step to start social selling is to conduct an audit of your own social media channels. Since most professionals use Twitter and LinkedIn for business purposes, these are the channels that you should focus on and will bring the most success.
Here are the major components to consider when conducting an audit:
Presence: Make sure you set up your profiles with the customer in mind. Ask yourself: Are you easy to find on social? Is your profile picture, job title, company information, and handle consistent across all channels? Do you link out to your company's website and/or to valuable content?
Personality: Like all parts of your identity, what you do is just one part of who you are. Don't be afraid to show your personality (within reason, of course) in addition to your professional information.
Have a passion for music and soccer? Add it to your Twitter profile like our very own Neil Barlow. Want to show your home state some love? Give Texas a shoutout and geotag your location like Cris Farrell.
The more information you divulge about yourself, the more likely you are to have a genuine connection with someone who shares your similar interests. This can be hugely helpful in starting conversations with prospects who are not as likely to respond to an email purely about your product.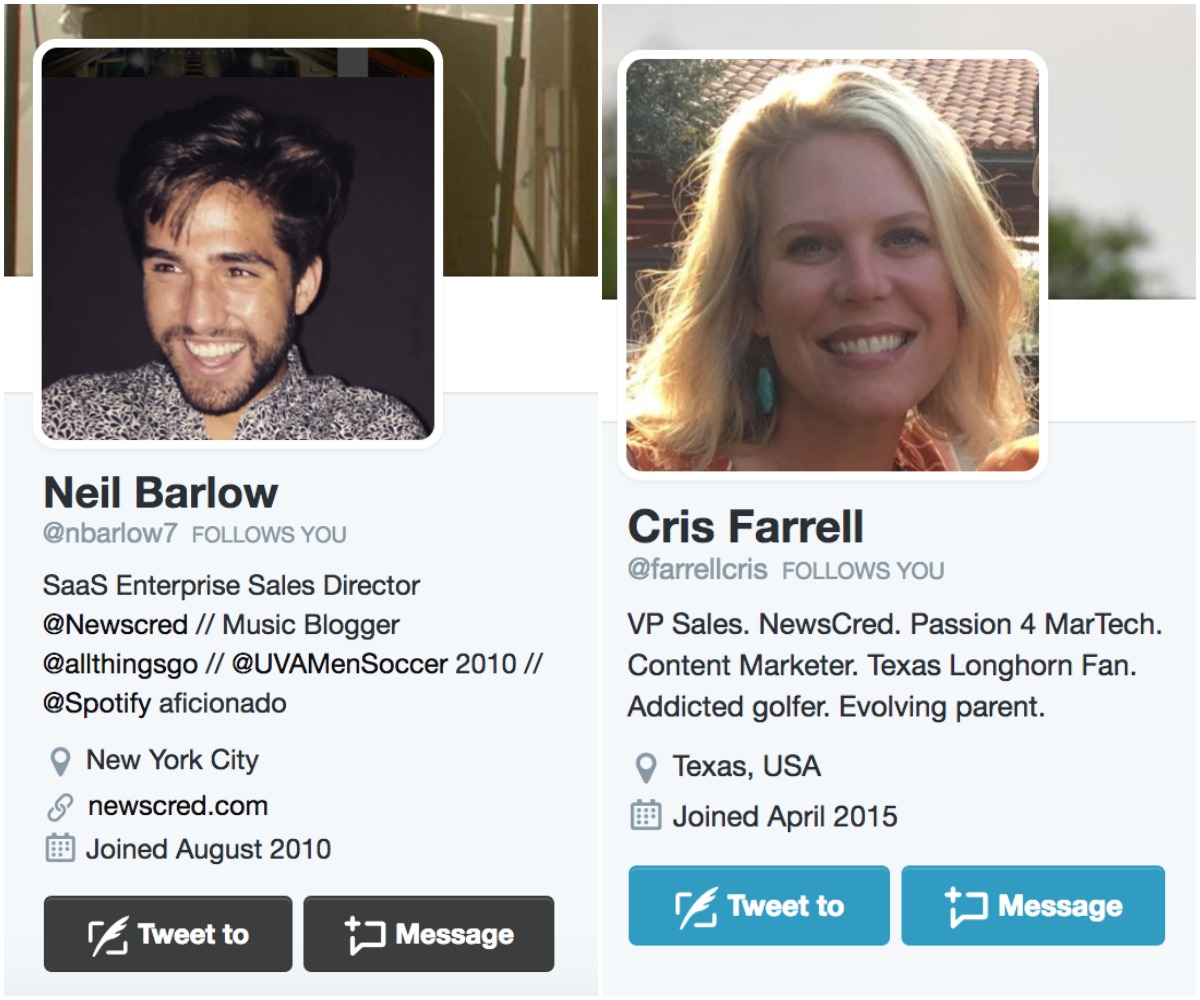 Step 2: Listen with Social Media
Now that you've optimized your social profiles, it's time to start listening to the conversation and connecting with the right people. There are plenty of great social listening tools to use, but before you set those up, you need to do some upfront legwork first.
Follow + Connect: Spend some time finding and following your top prospects on social. This will help you get a better sense of what they care about as buyers and who they are as people. Specifically on LinkedIn, make sure you write something other than the default, "I'd like to add you to my LinkedIn network" when requesting someone. Especially if you don't know someone, giving a few details about why you want to connect with this person is more substantial than having no context. This small gesture will greatly help in the long run when you're ready to start engaging with these prospects – and put you ahead of other salespeople who don't put in the extra effort.
Read + Analyze: In addition to following individual people, following key brands and subscribing to their newsletters is key. This will give you a better sense of the overall brand, their current marketing efforts, and target audience. Especially in B2B sales, the more background information you have, the better.
Identify + React: Listen for buying signals from prospects in LinkedIn groups or Twitter threads. Is your prospect posting in LinkedIn groups or asking for purchasing advice on Twitter? If so, that is the right time to jump into the conversation. Since 90% of all B2B buying decisions are influenced by peer recommendations, listening carefully to the chatter on social media can greatly help identify when a prospect is ready to buy.
Once you have done the manual work in making connections and joining relevant groups, it's time to choose a social listening tool. Most of these tools offer free functionality, so you don't need to break the bank adding yet another tool to your stack. We recommend Hootsuite to cover all of your social networks or TweetDeck for robust, customizable listening capabilities on Twitter (see below).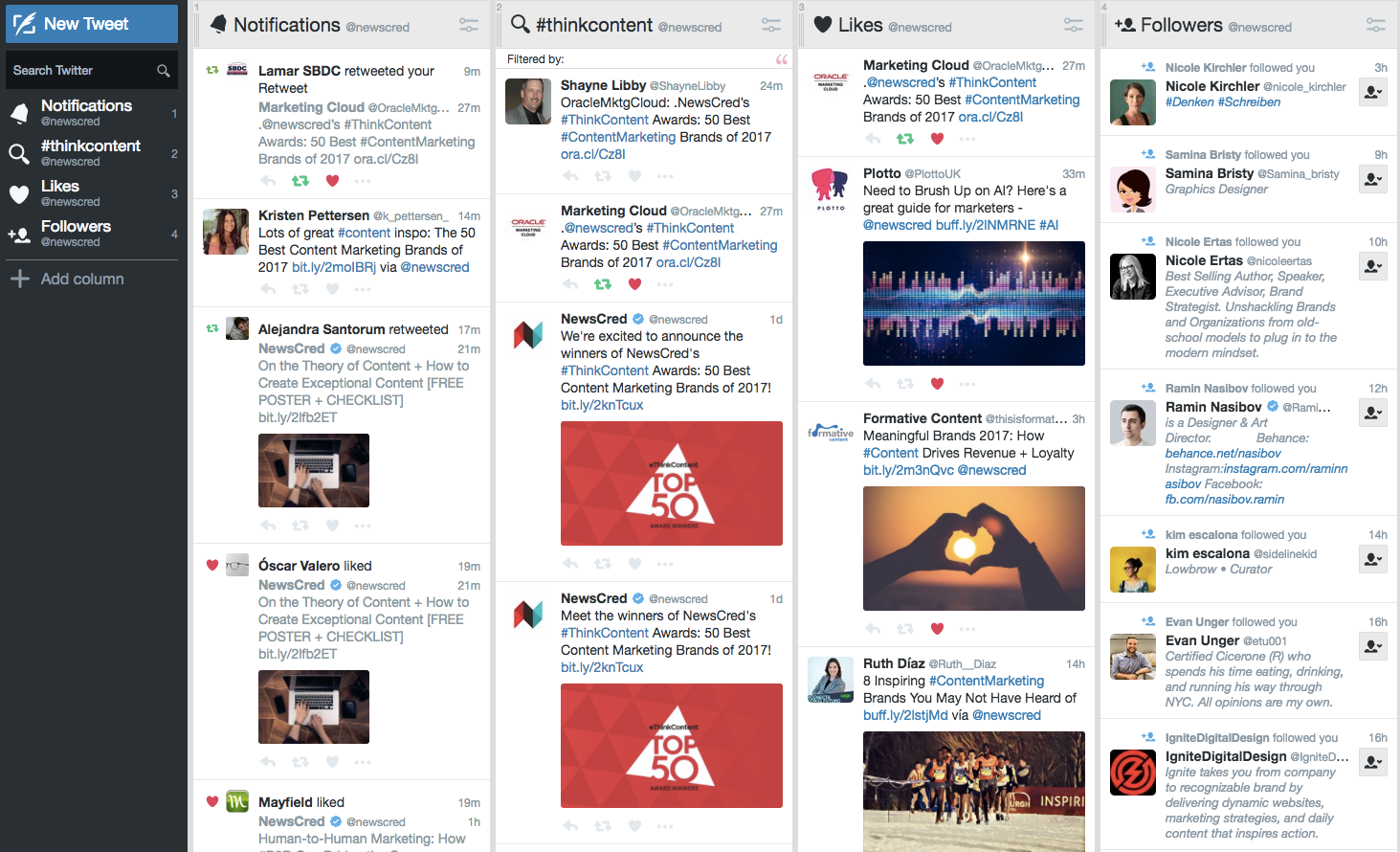 Step 3: Engage on Social Media
The final step is perhaps the most important of all in social selling: engaging with industry leaders, peers, and prospects on social. Not only will sharing content help you connect with prospects, it will grow your personal brand as well. Here are some best practices when starting the engagement phase of social selling:
Share Content that Counts: Let's be honest with ourselves: There is a lot of bad content out there.
To make sure you are not contributing to the noise, only share and retweet content that brings value to others on social. This also means sharing content other than just what your brand publishes. Having a softer sales approach and sharing third-party content is essential to building your brand and demonstrating an unbiased point of view.
That being said, when your brand publishes thought leadership content from you or your colleagues, make sure to show your support. This is something that we encourage our employees to do at NewsCred and we frequently share the love on social:
Plan Ahead: Manually tweeting and sharing content on LinkedIn every day can get tedious. Instead, utilize one of the handy tools that we mentioned earlier to schedule out your weekly social posts in advance. This also gives you the flexibility to share timely content on the fly, such as industry news or product launch information.
Interact with the Community: The more you like, share, retweet, and comment, the better.
Similar to the first point, by interacting with thought leaders outside of your organization, the better you position yourself as an expert in your field. Even better, this will help cultivate key relationships with prospects or potential buyers. By starting the conversation on social, you have a much better chance of moving to email with significantly better ease than simply reaching out cold.
Conclusion
Social selling is one of the least time-consuming selling activations out there with a huge potential for ROI.
Of course, adding anything to your daily to-do list requires some planning and mindset shift. Here's what we recommend to start out:
30 Minutes: At the beginning of each week, take half an hour to schedule tweets and LinkedIn posts about your area of expertise. These can be original ideas, links to branded content, or third-party content about what interests you the most.
20 Minutes: Around midweek, take 20 minutes to actively social listen. This means reading LinkedIn group discussions and/or following hashtag conversations on Twitter and jumping in where relevant. Make sure to also share or retweet posts from thought leaders or prospects during this time as well.
10 Minutes: Every day, check LinkedIn and Twitter for notifications, connection requests, and direct messages. When you start outbound contributing more, you'll notice an influx of inbound requests, which is exactly what you want. Double-check your settings across your social networks and turn on push notifications on your phone to make sure you aren't missing out on important conversations.
If you're looking for somewhere to start, follow NewsCred on Twitter and LinkedIn. Join the conversation with us and start sharing content around all-things content marketing.

Alexa Biale is a Brand Marketing Manager at NewsCred.