There is plenty of overlap between content marketing and SEO. Increasingly, understanding both technical and content SEO is a core aspect of the content marketer's skill set. Layering SEO research into content briefs at the very start of the process is key to ensuring your creative vision is backed by organic potential. On the slip side, having a technically optimized site won't do you much good if the content lacks authority, depth, or is focused about the wrong topics for the business goals.
Search data is what helps marketers create high-value content that audiences care about (and, thus, grows organic traffic and revenue) — there is so much more to SEO-driven content than driving organic clicks. It's important to prioritize quality over quantity; rather than produce content because you read it's a good idea to publish X posts per day, marketers should focus on areas where they have the capability to rank competitively and provide users legitimate value.
How to build SEO strategy into your content planning
How do you start building out an organic search strategy for your marketing campaign? As all SEO professionals know, you need to start by understanding the phrases and topics that your audience is searching, along with the volume of those searches. This forms the foundation of your keyword research, which should go into your content brief.
Step 1: Assemble your SEO research toolkit
NewsCred customers have access to CMP Idea Lab data that shows opportunity scores and CPC for keywords, relevant questions that your audience is asking, and what's trending for social shares on related topics. It also allows for domain analysis and topic share of voice comparisons with competitors.
If you have an existing website, your Google Search Analytics data will help identify the keywords people are using to find you (that you might not be targeting or aware of); additional tools like SEMrush or a browser extension such as Keyword Everywhere are popular for research as well. Every one of those tools will give you some or a direct indication of the search volume and traffic you can potentially bring in by ranking for those keywords. If you're working on a global or multi-region campaign, you'll likely be handling a mountain of data at this point. This is where a tool like AWR comes in handy. Instead of exporting ranking positions from the aforementioned tools, AWR will tell you where you rank for each keyword in both organic listings and SERP features, like answer boxes, in various Google ccTLDs (country code top-level domains). This gives you an idea of how you rank internationally and how to start thinking about content opportunities.
Step 2: Build a realistic keyword target list based on opportunity
The next step is to build a target keyword list. Tools like Idea Lab will include automated keyword research that will help identify potential target terms. Traffic, volume, and commonly asked questions around your core topics should give you some immediate ideas for content. Keep an eye out for keywords where existing content isn't ranking (aka you don't have a URL appearing in the top 50 results) and also look for gap areas where search traffic is high but you don't have existing content.
Next, it's about answering the question "How do I know which keywords I have a chance of ranking for?" before you invest content marketing time and effort. This is the exciting part that builds opportunity scores into your SEO strategy.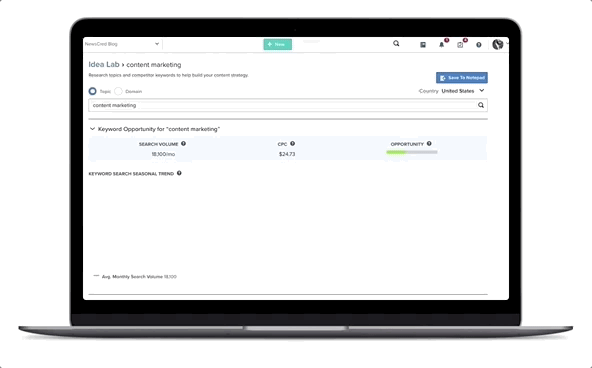 The green bars represent opportunity scores in NewsCred's Idea Lab
Tools like Idea Lab can give you opportunity scores for the likelihood of ranking against a target keyword, but there's also more old-fashioned investigative work you should put into keywords you really want your hub to own. As mentioned earlier, content quality is a huge factor in SERP, so you should evaluate the top-ranking page and ask the following questions:
Can I create content that's higher quality and more valuable to readers than these top-ranking pieces?
Do I have a unique POV on this topic that will set my content apart (and if not, how can I get one?)
Does my site's domain authority compete against these top-ranking URLs' link value? Tools for this include Majestic's Trust Flow metric and Page Authority (if you have access to Moz).
For the third question, link value (also known as "authority" and "equity") is an attempt to mimic how search engines like Google "think" of links. Something like this: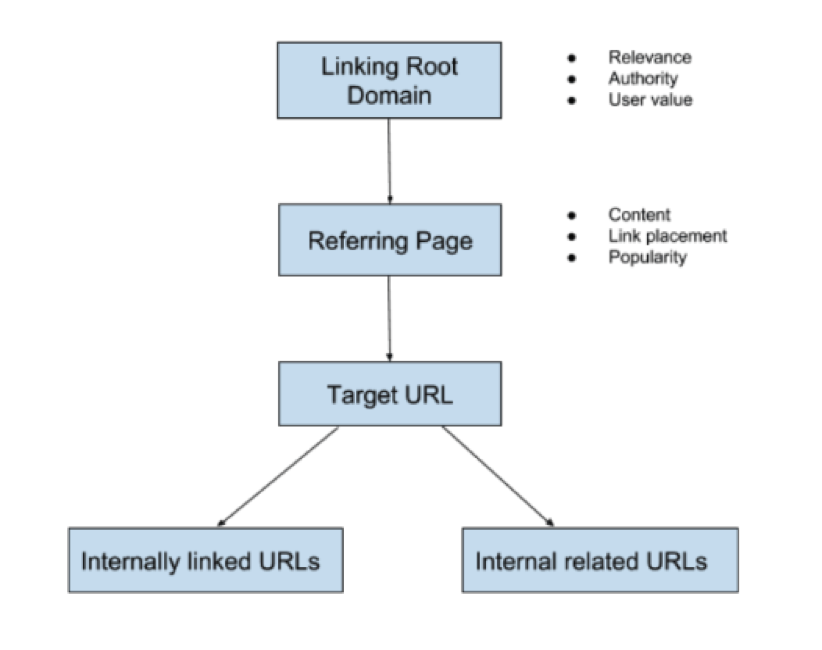 The key is then comparing the link value of the top ranking URLs against those on your domain. If you're miles off, there's a high likelihood that your new content won't rank because search engines wouldn't see you as having the required value. In this case, you'd need to build a strong social media and referral strategy into the pieces you want to rank in order to stand a chance.
Targeting the highest-value, most competitive keywords (for example, 'marketing') is probably not possible unless your site is extremely authoritative on these topics. But, again, if you are capable of creating a piece of content on the topic that absolutely answers a user's search query better than any other, and your content anticipates what a user is likely to do next, this can start to negate how important link equity is as a ranking factor. In other words, if you think you can create truly great content on a competitive topic, go for it.
Step 3: Develop content briefs against gaps and high opportunities
The beauty of this system is that you narrow down where you should be focusing your content marketing efforts. Instead of focusing on big hero keywords that you'd love to rank for, you're using data and a little bit of SEO knowledge to give you a much bigger shot at achieving a meaningful ROI.
The next step is to develop content against the keywords that represent the highest potential value and most realistic opportunities for your program. This can get a little manual as you should start grouping the keywords you've identified into content briefs — remember that you can combine related keywords and queries in the same articles and pages. Your goal should be providing content creators with clear direction on the specific topics and keyword phrases they should be writing about, and ensuring that your keyword goals are reflected in the final result.

Darren Kingman is an SEO & content marketing freelancer and soon-to-be agency founder based in London, UK.
For further reading: