NewsCred recently hosted the webinar "How NewsCred Improves Content Marketing with SEO." Read the top takeaways below and watch the full webinar here.
As content marketers, our ultimate goal is to use content to drive measurable business results. To do so, we build relationships with our audiences by providing them with non-promotional content that's helpful, credible, inspirational, and entertaining.
And more than ever, search engine optimization (SEO) is becoming an area on which we must focus.
When people have questions, they turn to search. Ninety-three percent of online experiences begin with a search engine, and 51 percent of all website traffic comes from organic search. However, 75 percent of search engine users never click past the first page.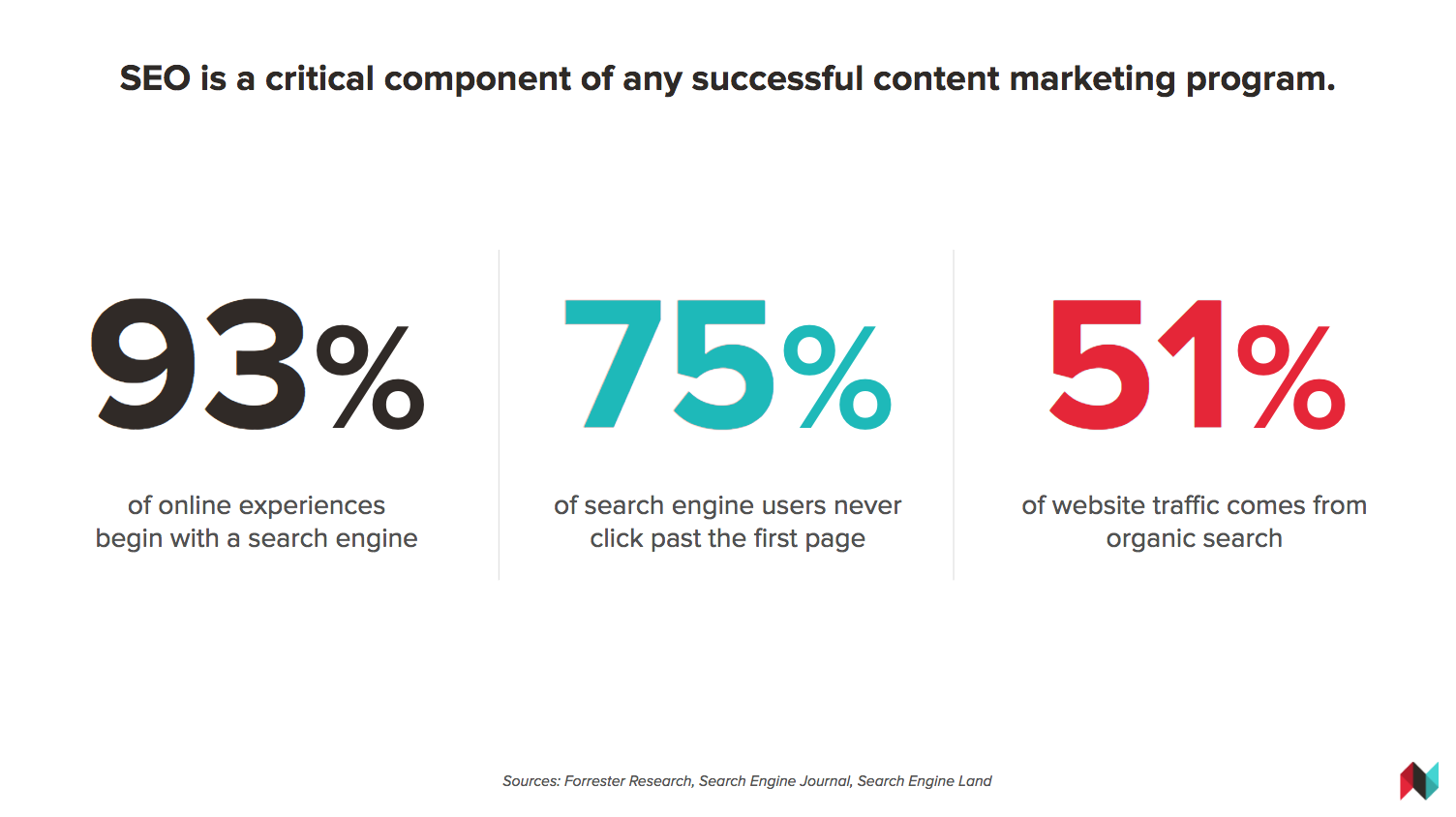 That's why content marketing and SEO are converging. Content is how you'll rank in search. Multiple studies, and none other than Google, have noted that fact. If you're creating content that's engaging, informative, useful, and shareable, you're already building a strong foundation for SEO.
How NewsCred Approaches SEO
There are four pillars of SEO success, with strategy and measurement sitting across the entire process.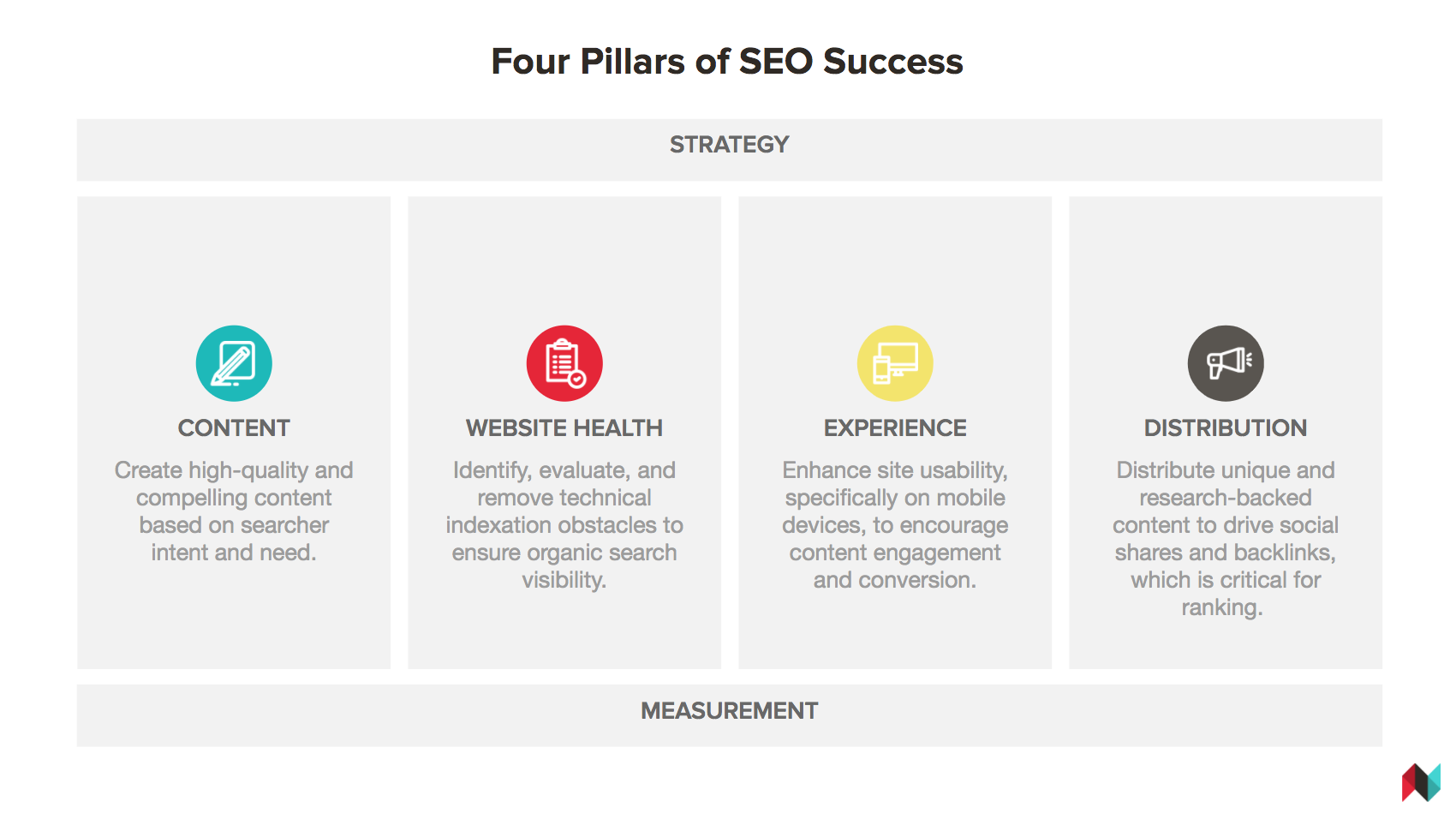 Along with those four pillars, we have the NewsCred Methodology, our proven playbook for content marketing success. It's aligned to five key areas: Strategy, Traffic, Engagement, Action, and Monetization. If you optimize your strategy around each, you'll be able to drive and measure the ROI on your content.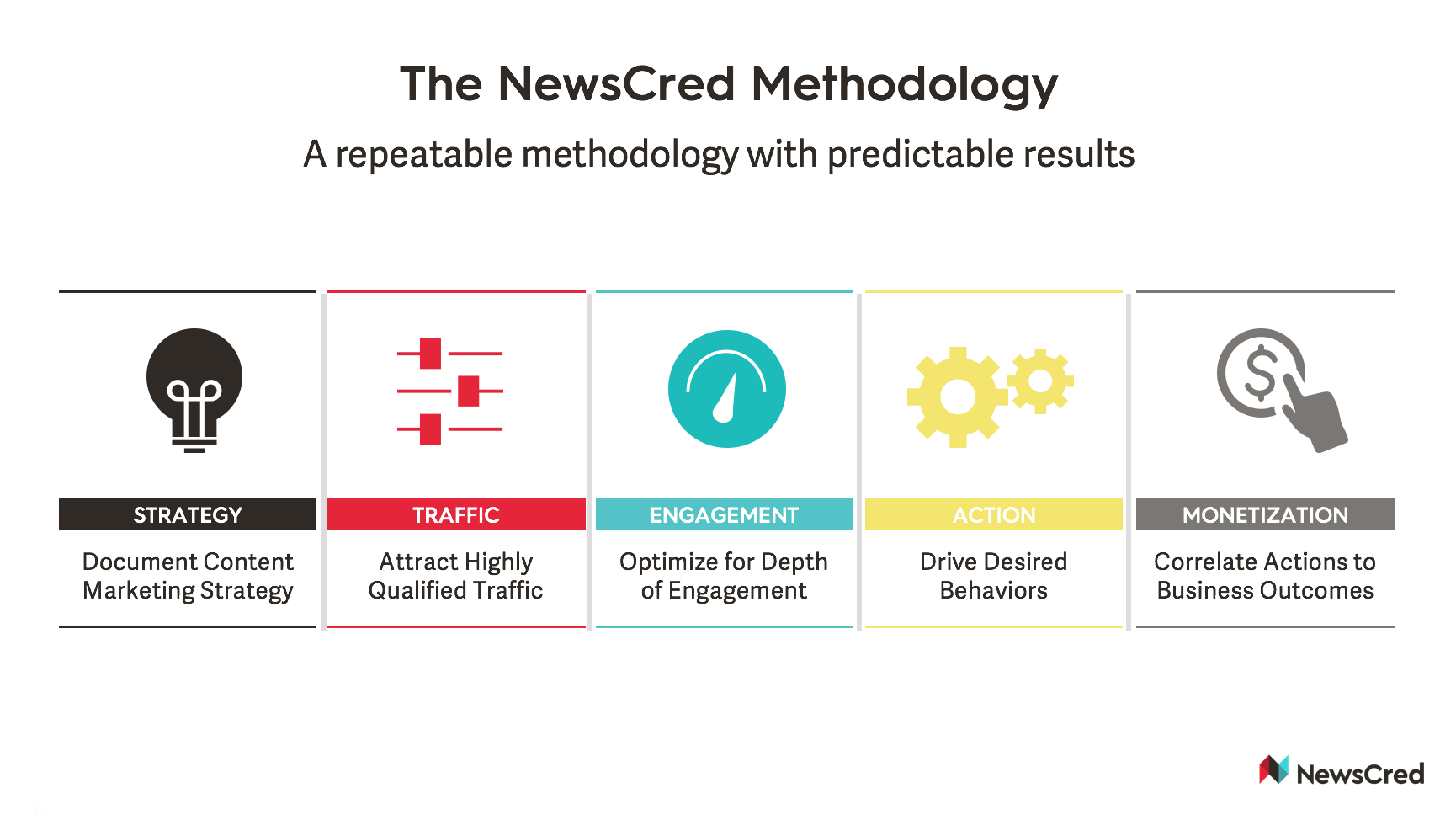 SEO can and should be a focus area, at every stage.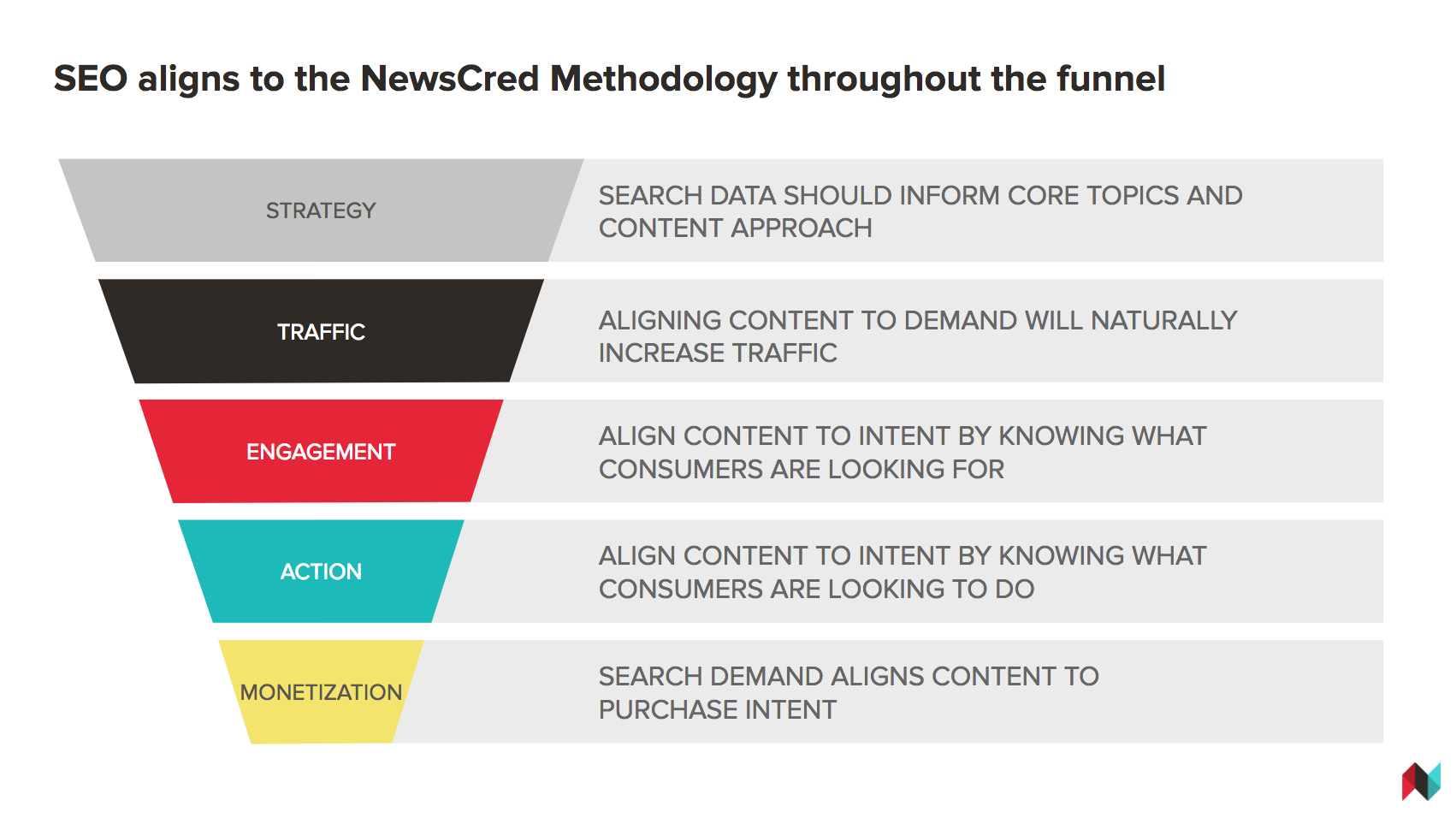 How to Align Your Content Strategy to SEO
There are three main ways to align your content strategy to SEO. However, keep in mind that for each tactic, your focus should always be to create best-in-class content that provides utility.
Content Coverage
Comprehensively covers topics core to your brand and audience.
Ensures you answer all relevant questions your target audience is asking.
Prioritizes high-volume search terms that will drive traffic and the bottom line.
Content coverage is the foundation of your editorial strategy. These are the core topics that you want to own. To do so, assign stories aligned to them at a regular cadence. This builds your depth of content around those topics and lets search engines know that you're an expert.
At NewsCred, some topics that we seek to own are "content marketing strategy," "content marketing brands," "content marketing and SEO," and "content marketing measurement and analytics." We publish stories that fall under each of those topics on an ongoing basis.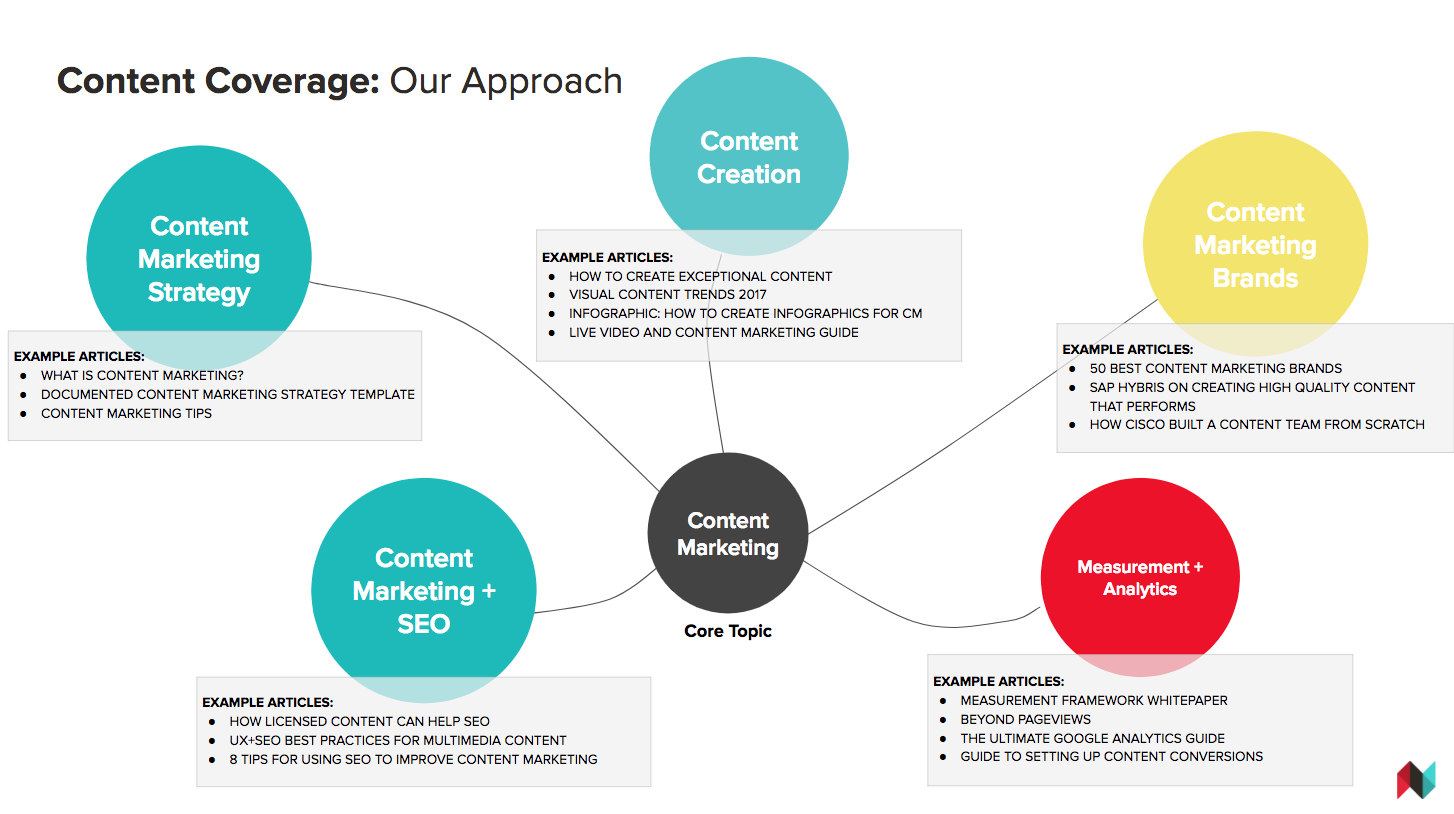 Content Utility
Answers common consumer questions or addresses pain points.
Provides solutions through a variety of useful formats (e.g. lists, guides, how-tos).
Develops a content angle that aligns with searcher intent.
You can think of this as service content. These days, we know that when people have questions, they turn to search. That's why it's important for your content to provide answers.
The questions we hear from customers inspire many Insights stories. We know that if they're asking these questions, others are, too.
For example, people frequently want to know how to improve content quality. We found that a quality checklist is an incredibly helpful tool, so we published one on NewsCred Insights.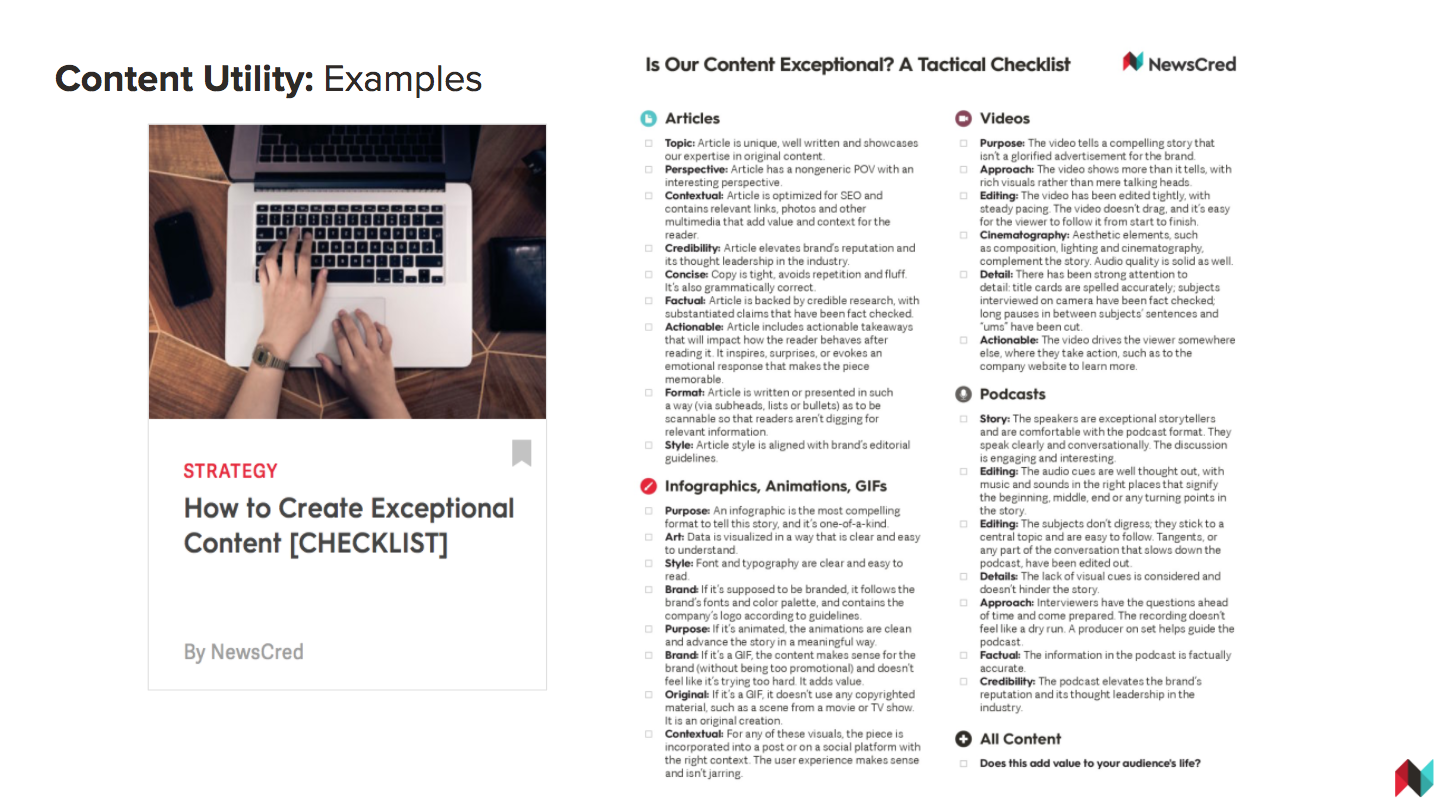 List posts can rank very well in search if they're in-depth and provide detailed, helpful information. This piece actually ranks first for "content marketing best practices."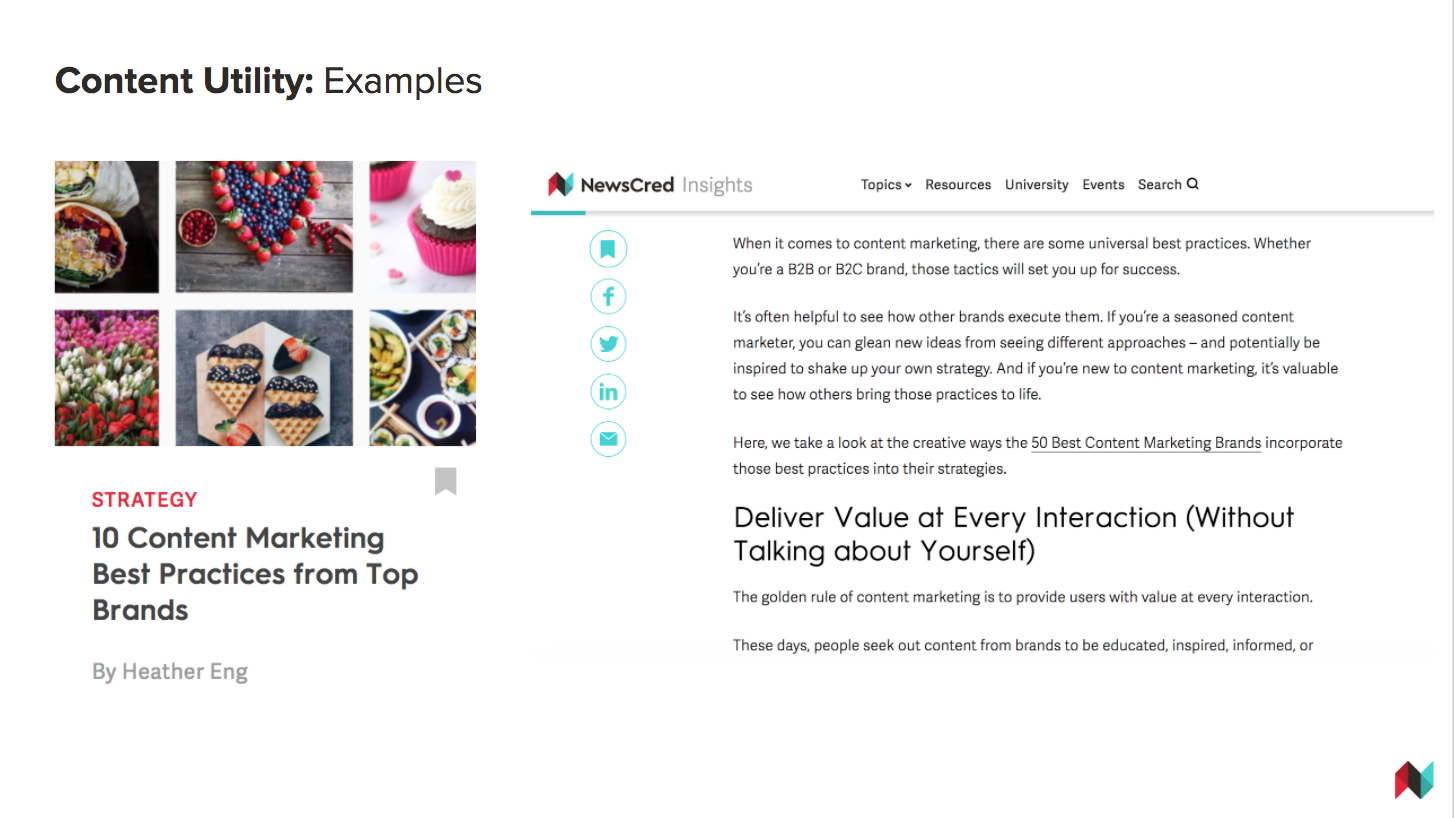 Cornerstone Content
Fundamental to the business and reflects the business message.
Long-form, research-backed and opinionated, this content helps position the brand as the thought leader in a certain topic.
Informs the content hierarchy and website navigation.
Cornerstone content is generally a long-form, big-rock piece of content about one of your core topics.
For NewsCred, "50 Best Content Marketing Brands" is a cornerstone piece that's been our top story of the year. It ranks first for "best content marketing brands" because it's in-depth, opinionated, on-brand, and shareable; it has more than 1,500 social shares across networks.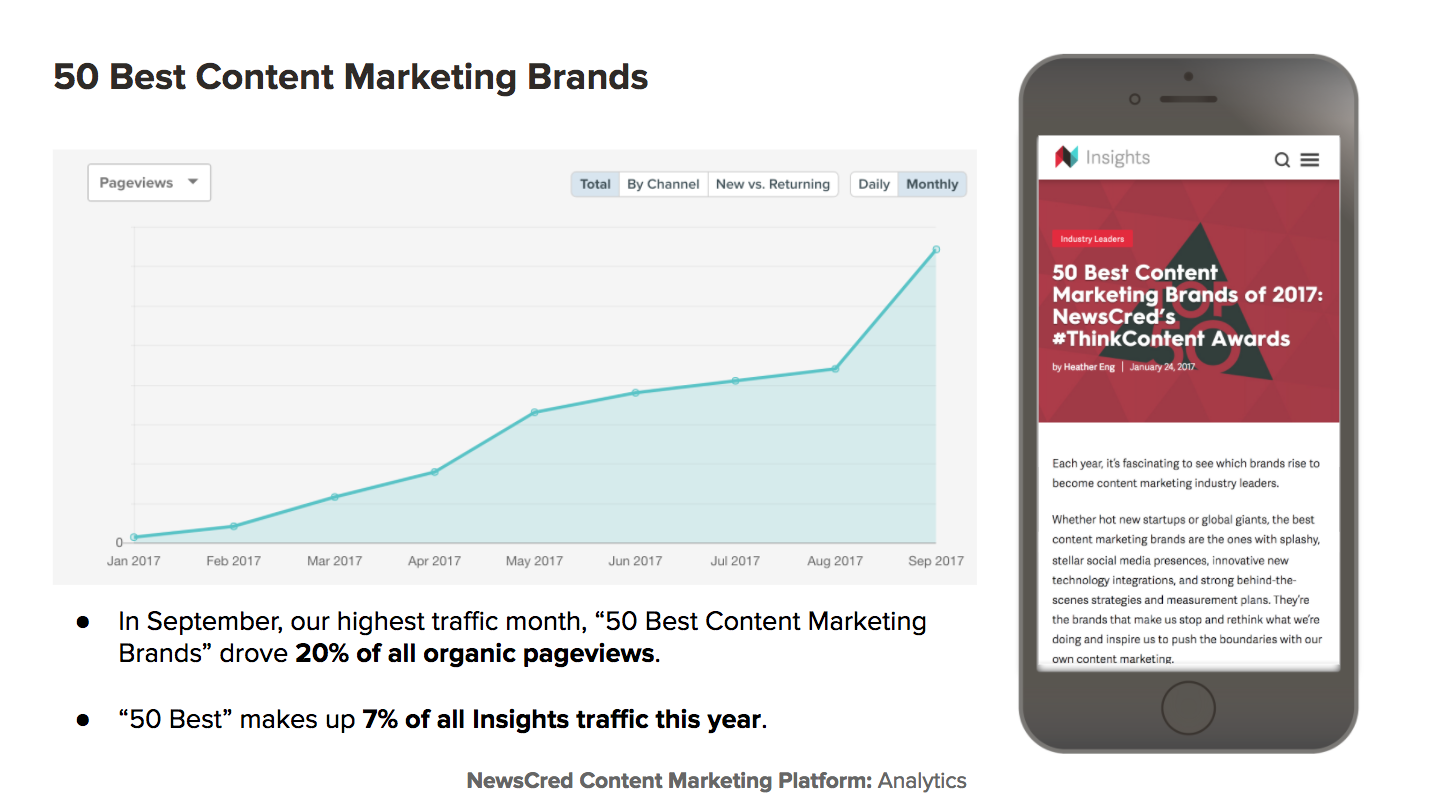 Big Results from SEO Wins
As a result of our SEO work, NewsCred's organic traffic increased 120 percent, year over year.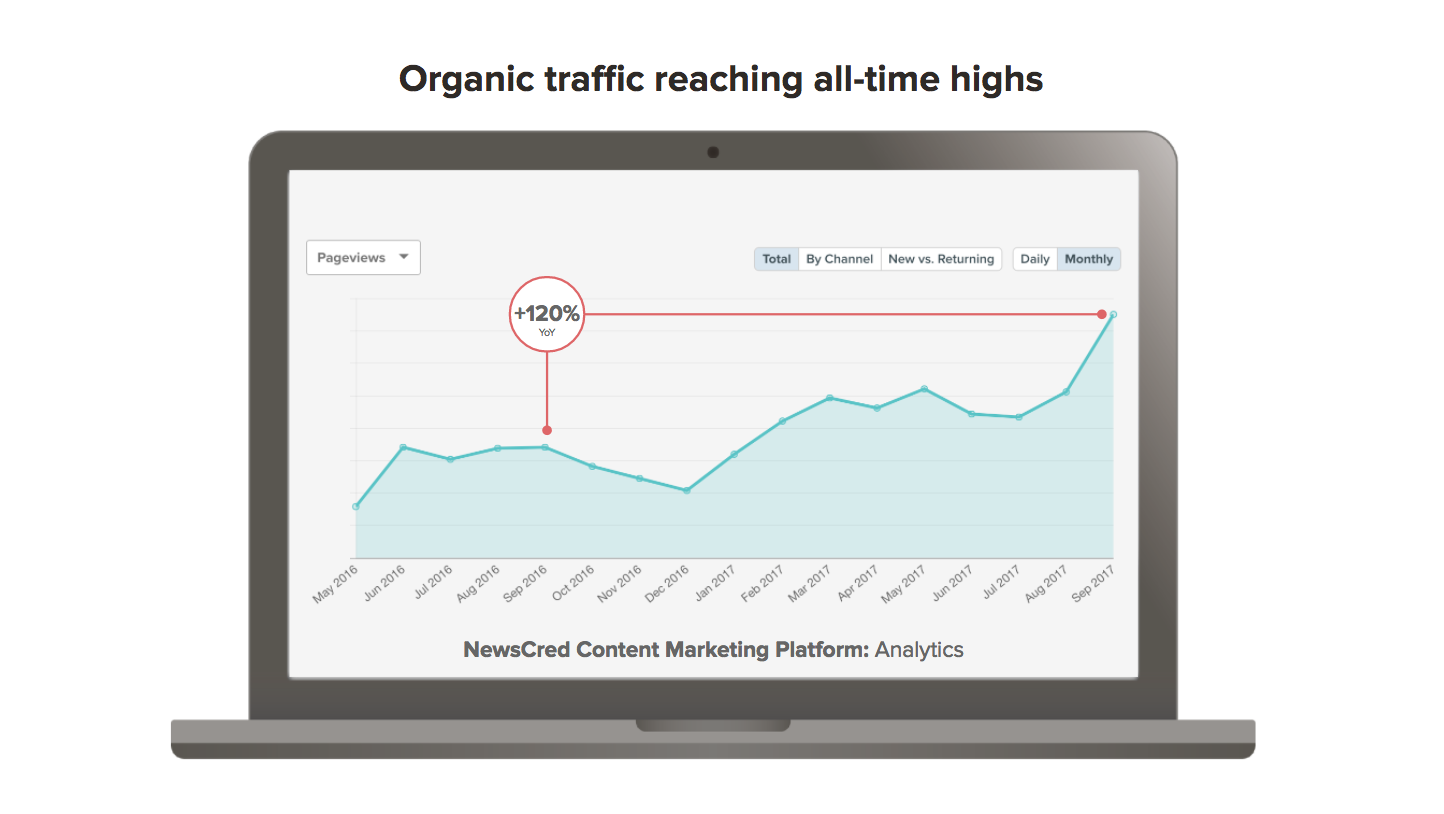 We made many backend enhancements, including improving XML sitemaps, page speed, site crawlability, content tagging, and internal linking.
On the content side, in addition to seeing big wins with pieces like "50 Best Content Marketing Brands," we also found success in ranking highly for niche topics. These stories drove smaller but steady traffic streams throughout the year.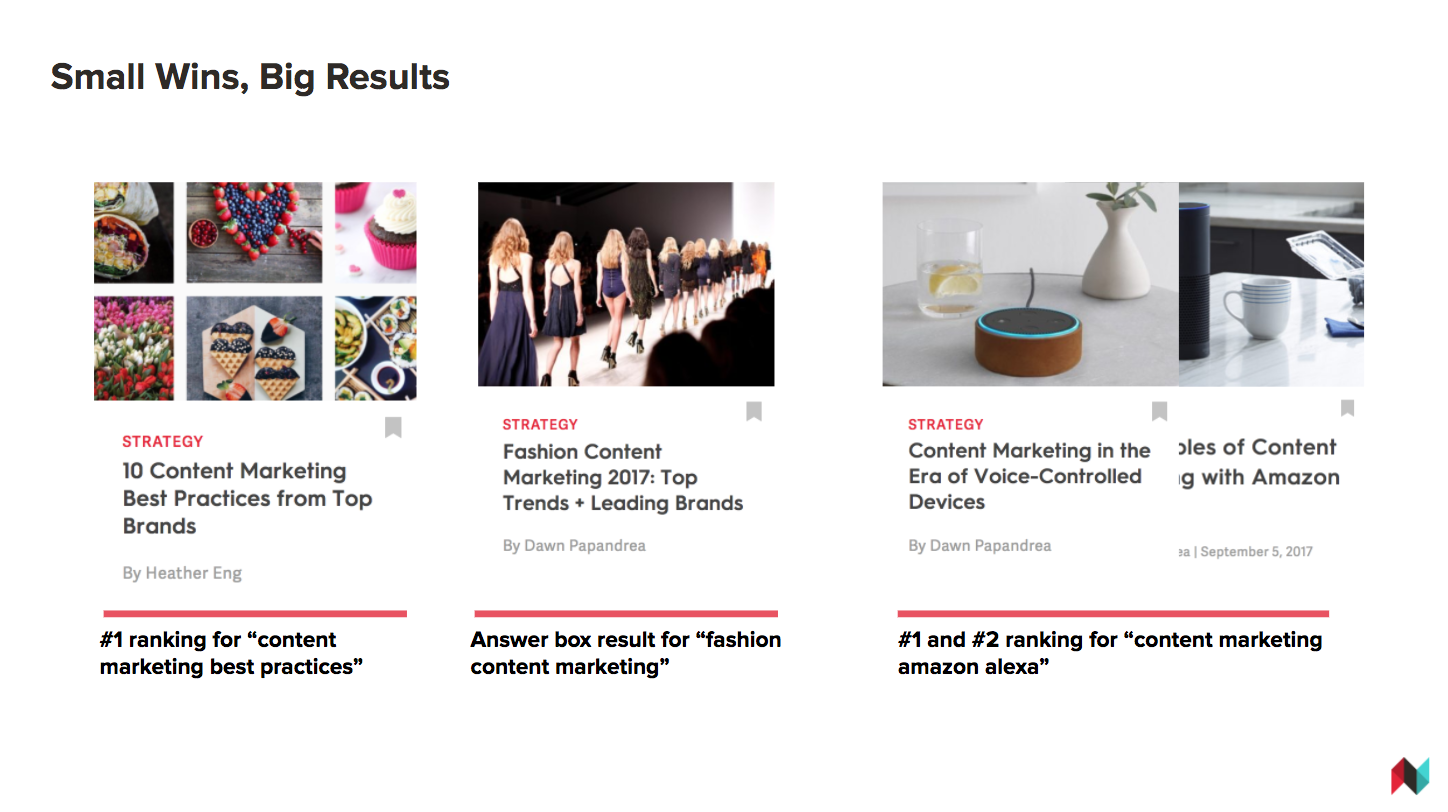 How to Improve Your Content Marketing with SEO
Optimizing your content for SEO is an ongoing cycle of identifying demand, interpreting intent, and then measuring and iterating.
To identify demand, look at search volume to determine what information your audience is seeking. Then, assess how competitive the space is, and take seasonality into account.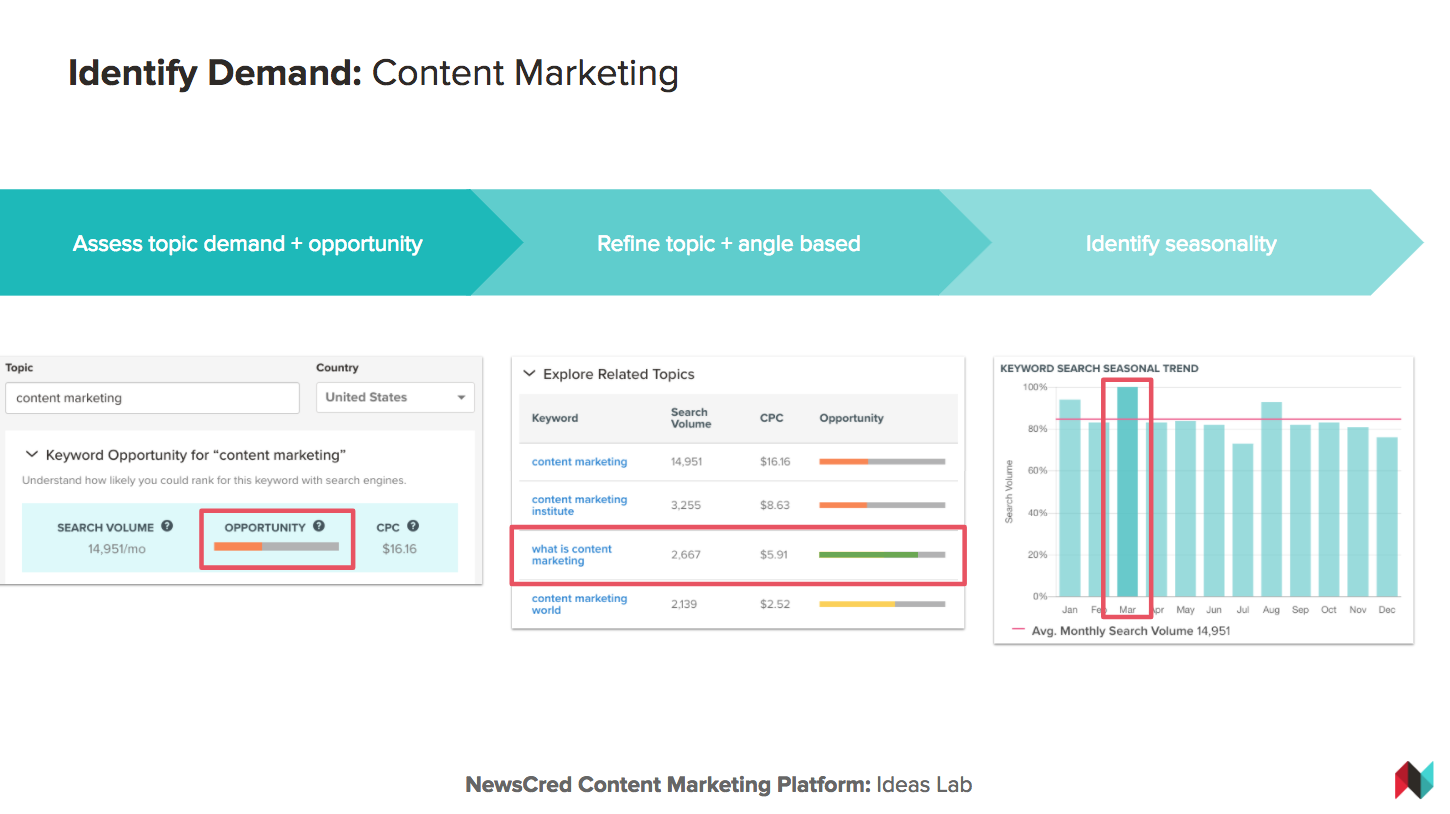 Then, see what content already exists on that topic, and how well those articles are performing in search and social. Develop a unique angle so you're offering your thought leadership and not reiterating everything that's already out there.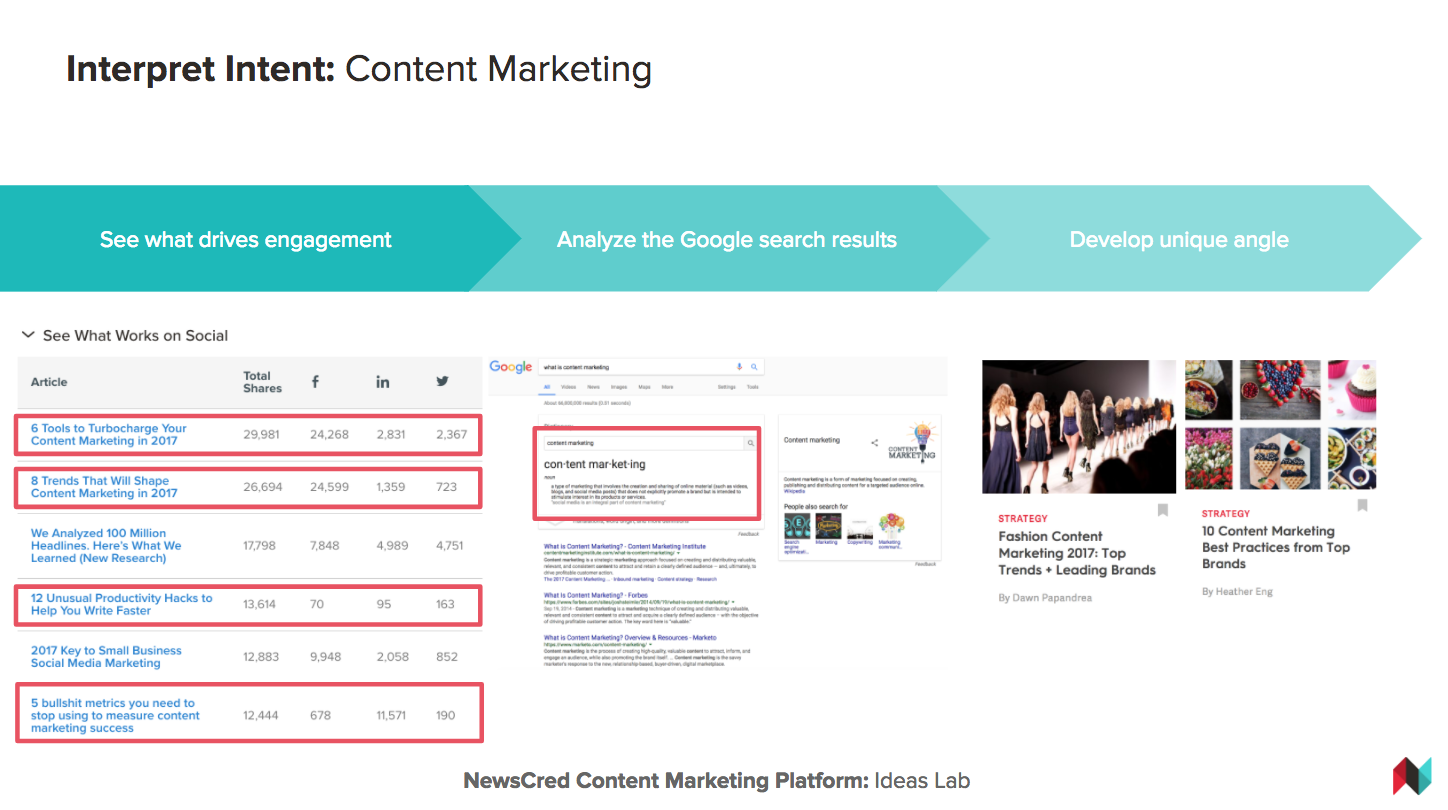 Once your content is live, measure and iterate. If a story already ranks on the first search results page, optimize it so it ranks higher. You can also assign stories on topics that are getting lots of traffic and ranking well.
Finally, see what opportunities exist at all stages of the funnel. At NewsCred, we overhauled our gated content strategy. Previously, we'd been gating long-form, ultimate guides. However, that's the type of content that would do well with SEO. So we started gating downloadable PowerPoint templates – which is the kind of content that wouldn't rank well in search. It's worked, and those are our highest-converting pieces.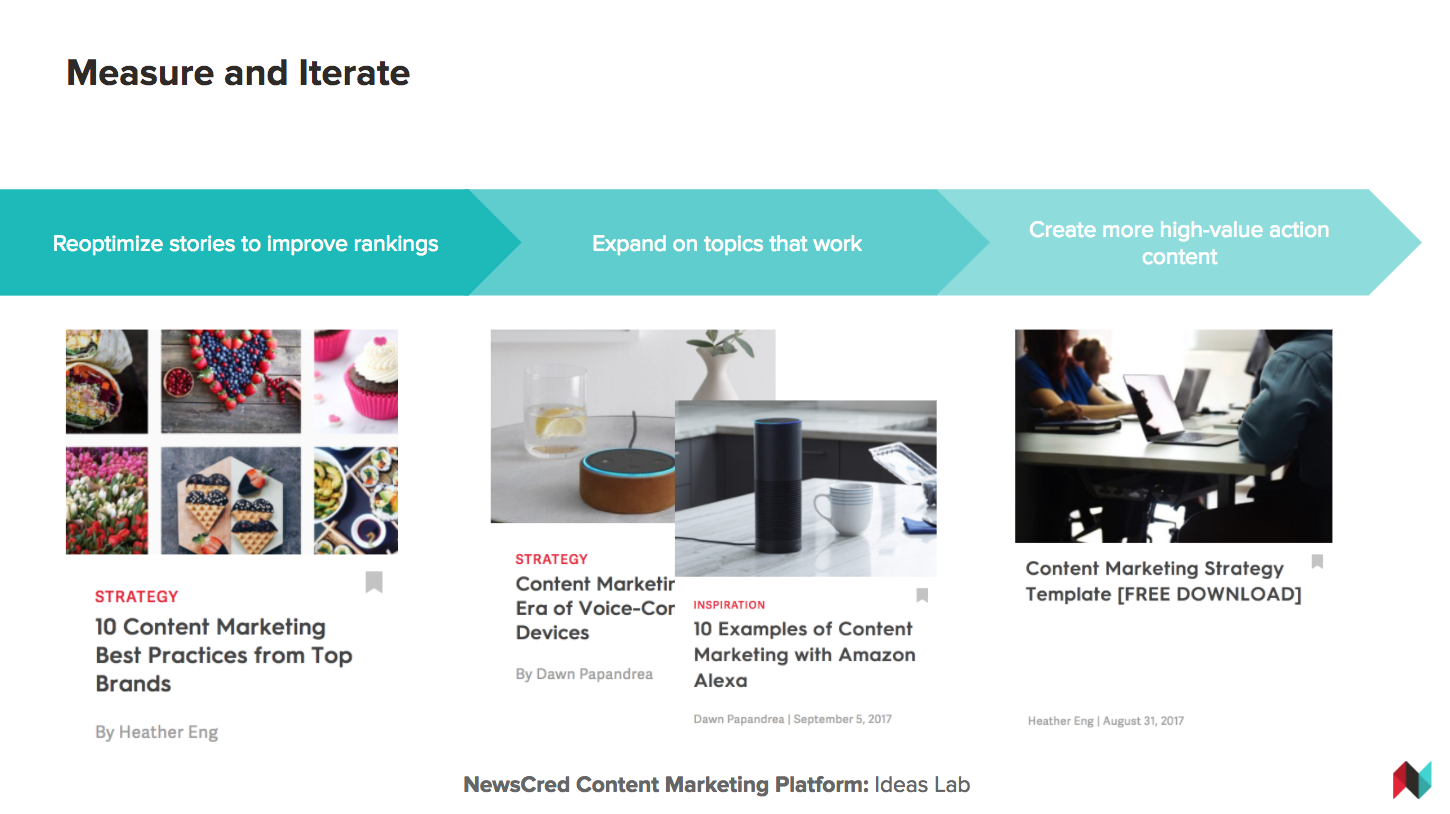 And always strive to improve your content quality while incorporating SEO best practices. Over time, you'll see your hard work pay off with longtail, sustainable traffic.
Watch the full webinar, "How NewsCred Improves Content Marketing with SEO," here.

Matt Covi is NewsCred's SEO Lead. Heather Eng is NewsCred's Executive Editor.