SAP Hybris' content hub, The Future of Customer Engagement and Commerce (FCEC), has grown from a one-woman WordPress blog with no paid media behind it to a highly respected industry portal with enormous engagement and a loyal audience.
More importantly, it's become a valuable asset that starts the nurture process for potential buyers of Hybris' customer engagement software.
"What we do with FCEC is prime our audience to engage on the brand site [Hybris.com] when they are at the right time in their buying cycle," says Amy Hatch, Global Head of Editorial and Content Marketing for FCEC and SAP Hybris.
Though SAP Hybris could be considered a best-in-class content marketer, its success didn't happen overnight. Rather, it occurred over the course of four years, thanks to the team's hard work, smart strategy, and ongoing commitment to content marketing.
"You have to be willing to make an upfront investment. Content is not going to be an overnight engine to your pipeline," says Michael Mischker, Global Vice President of Digital Marketing.
NewsCred recently spoke with the core members of SAP Hybris' content team: Mischker, Hatch, and Jack Dyson, Global Head of Digital Content Strategy. Here, they share the best practices that helped them achieve their current success.


SAP's content team: Michael Mischker, Amy Hatch, and Jack Dyson
Taking a Journalistic Approach
To get FCEC up and running in 2012, SAP Hybris tapped Hatch, a journalist, as an external contractor.
From the beginning, she viewed the content hub from a journalistic perspective, rather than seeing it as a marketing project.
"Approaching it as a totally editorial project was part of the foundational strategy to engage and earn trust," says Hatch.
At the time, the idea of the site had a lot of merit but not a lot of buy-in, with the exception of few internal champions. With a bare bones WordPress blog, Hatch began writing consistently and relentlessly about commerce topics. She also ran all the social channels. Soon, she began seeing engagement.
"The metrics showed that people were coming back," says Hatch.
Building Organic Traffic through Search Engine Optimization (SEO)
Hatch had previously worked AOL, where she learned aggressive SEO strategies.
"When I came to FCEC, I knew how to optimize everything for search, how optimize URLs for keywords," she says.
FCEC's content library was also purposefully built around the topics that prospective customers cared about most – namely, the questions they were typing into search engines. For instance, Hatch spotted that one of the top search terms was "What is customer engagement?" That sparked a series of posts.
That approach still works today, says Dyson.
"We look at other things within a topic that people will find relevant, useful, and interesting. We can create splinter articles," he says.
Finding ways to further segment content is not only resourceful for small content teams, but it builds SEO and creates a variety of user experiences.
"We can split a report up into four blogs posts, create infographics, share items on social, use slides from a keynote in a slideshow, turn the transcript from a speaker into a series of articles or pull quotes," explains Dyson.
Writing Actionable Content to Empower Readers
In the early days of FCEC, Hatch and Mischker agreed that the content needed to be accessible for readers.
"What we boil it down to is common sense language. I actually have my son test read some stuff to see if he understands it," says Mischker.
"Demystifying the technology we sell and telling people 'This is how it applies to your job' helps them to be change engines," says Hatch. "They can talk to their CIO and say, 'You need to invest in this.' It's a shift from what exists elsewhere in the tech space."
One piece that exemplifies this principle is "Infographic: 5 Key Factors in a Winning Omnichannel Experience."
"Published in April 2015, this is consistently in our top 10 results every month," says Hatch.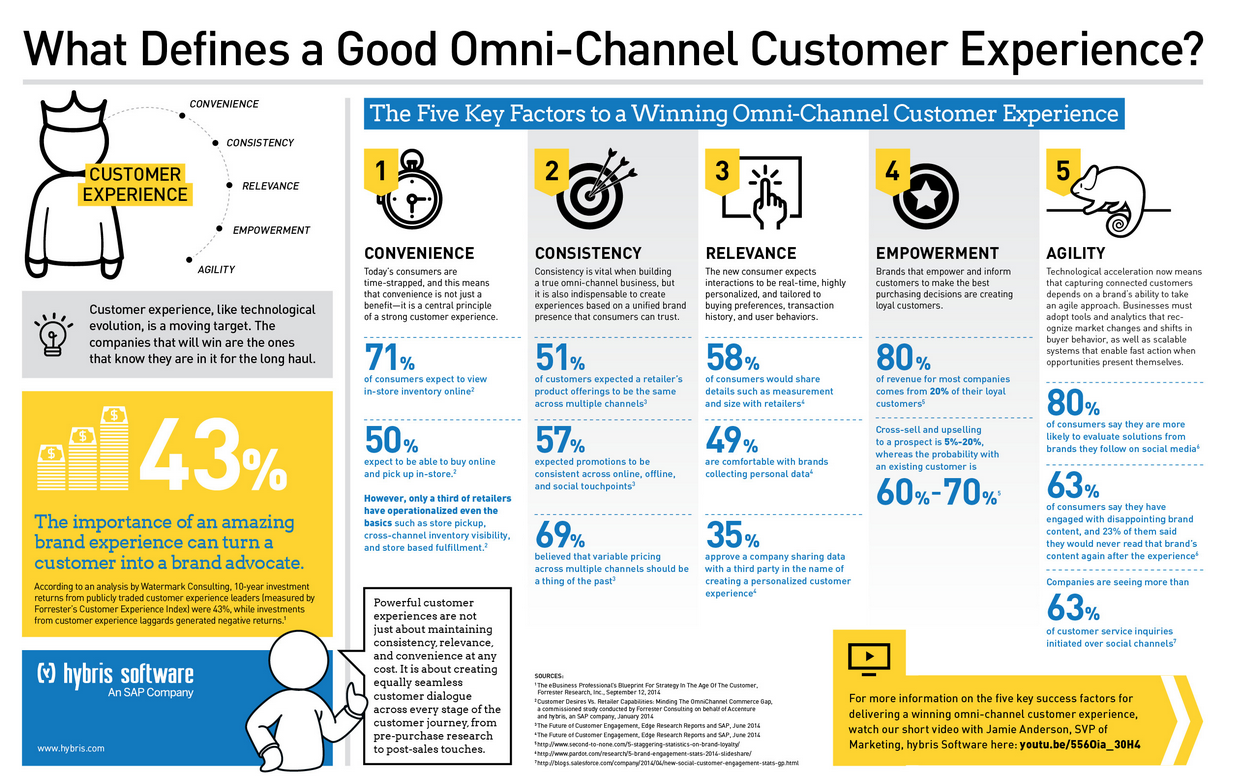 "I love this result because it shows the value of content over time, something I have long preached inside of my organization," she says, adding that the strong keywords ("omnichannel" and "experience") and infographic format help.
"This is an example of very actionable content that readers can really use in their daily work lives," she says.
Developing a Thought Leadership Position
Beyond service content, Hatch and her team also realized that taking an authoritative approach was important for positioning SAP Hybris as a thought leader.
Through early traffic data analysis, they began to extrapolate from the referring domain names that their audience consisted of readers from major brands and competitors – people who were engaging with the site at their work desks.
"We also look at the titles of our readers – we hit the C-suite and almost every rung below it," Hatch says.
Reaching C-level audience members calls for higher-level content.
"We found that our audience is primed to see us as a future-forward thought leader (just look at our name), and our top Google search term is 'future commerce.' We hold the No. 1 search result for this keyword," says Hatch.
The top performing piece of 2016, for instance, shows that this strategy is resonating with readers. The article "In 2020, Customer Experience Will Look Like This" drove more than 4,600 organic page views in just two months.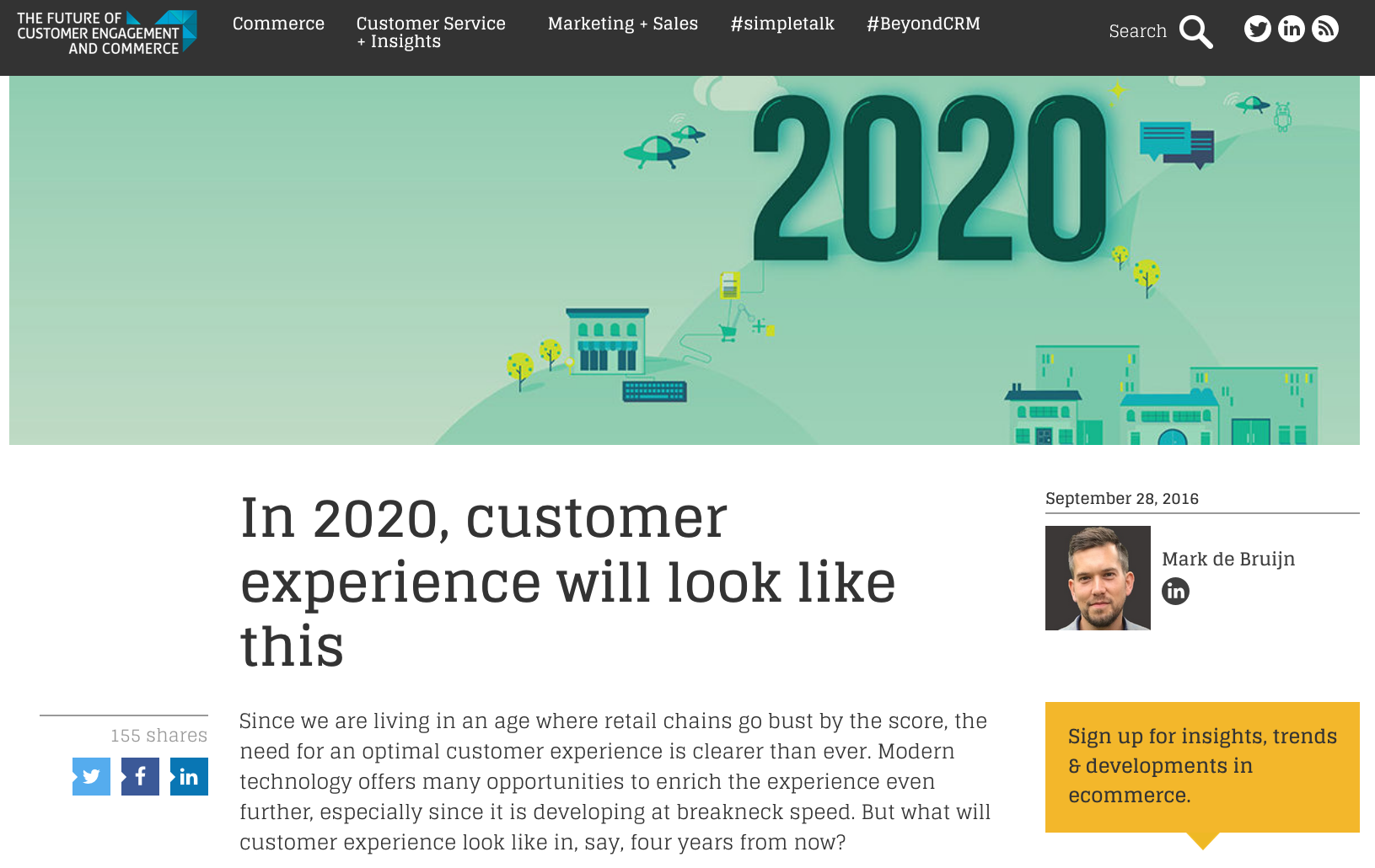 "It truly went viral," says Hatch. "It also converted users over to a campaign offer on our brand websites at 20 percent. I believe this performed so well because it takes the future-forward view."
Building Trust to Drive Conversions
FCEC's newsletter is a key way that the company nurtures users.
Mischker surmises that it takes an average of 7 to 8 articles for a reader to make the decision that they want to spend more time with SAP.
"That's the triggering point to give their personal information to subscribe," he explains.
The key is providing high-value, high-quality articles to hook readers, then rewarding their trust with consistency.
This philosophy has paid off. FCEC has open rates of between 21 and 23 percent on its newsletter every month (among 5,000 subscribers).
"The reason why people who receive the newsletter open it, is that they subscribed to it, and they know what they are opening will give them value," Mischker says.
Measuring Success Based on Key KPIs
FCEC's main function is to drive leads into the top of the funnel, so the team focuses on related metrics including pageviews, visitors, newsletter growth, social engagement – and, most importantly, conversions to Hybris.com's rich library of gated content that ranges from solution briefs to whitepapers to analyst reports.
The team notes that it took two years to prove ROI by measuring those conversions. However, once they were able to, they secured valuable buy-in from others in the company.
"Once we could show the traffic routes people take up to the point they would click to download something, that became very powerful," says Mischker. "Management realized the power of our whole operation."
Beyond that, the team spends every day looking at different analytics to inform content decisions and make improvements.
"We use NewsCred, Adobe, Google, and other platforms to see where people are checking in, and with what content," Hatch says.
She's also proud of FCEC's continued growth. In 2016, SAP increased pageviews by 20 percent.
"That's on a four-year-old property and it was entirely organic – no paid media," Hatch says.
The Bottom Line
In 2017, FCEC's biggest goal is to develop a more harmonious relationship with the parent Hybris.com site, of which Hatch is also now editor. In addition, FCEC is looking to drive even more engagement and inbound responses.
Although Hybris.com has done a great job accruing more than 50,000 inbound leads a month, it's beginning to apply FCEC's winning content strategy as well. The homepage even features some content from FCEC.
"So far, the metrics are bearing us out – we see a lot of cross-traffic and engagement on both platforms, thanks to the original and useful content," says Hatch.
With top performing content converting at rates as high as 28 percent, it goes to show that pairing original, quality content with themes that complement the call to action can be an effective strategy.
Or to put it more bluntly, as Hatch says: "Content marketing really works."

Dawn Papandrea is a NewsCred Contributor.