This article comes to you from NewsCred's London-based European team.
Brexit aside, the big issue in the U.K. economy right now is workplace productivity, and how the British workforce isn't competing – at least in productivity terms – with businesses around the world. Not that we Brits are lazy.
According to the Organisation for Economic Co-operation and Development, the U.K. ranks 23rd in the world with an average of 1,676 hours worked per year per employee. That puts us behind the U.S. in 13th place with 1,783, but above Germany in 35th place with 1,363 hours.
Clearly, the British workforce puts in the hours; the problem is how that time is spent.
Sage's Neil Morgan, EVP of Digital Marketing, speaking at NewsCred's ThinkContent London, points to a report Sage commissioned which, in part, aimed to find out what was happening with U.K. productivity. "The estimated productivity gap is where you have SMEs spending over 120 hours a week on back-office admin," says Morgan. "This is overwhelming when you're trying to deal with customers and compete in the marketplace."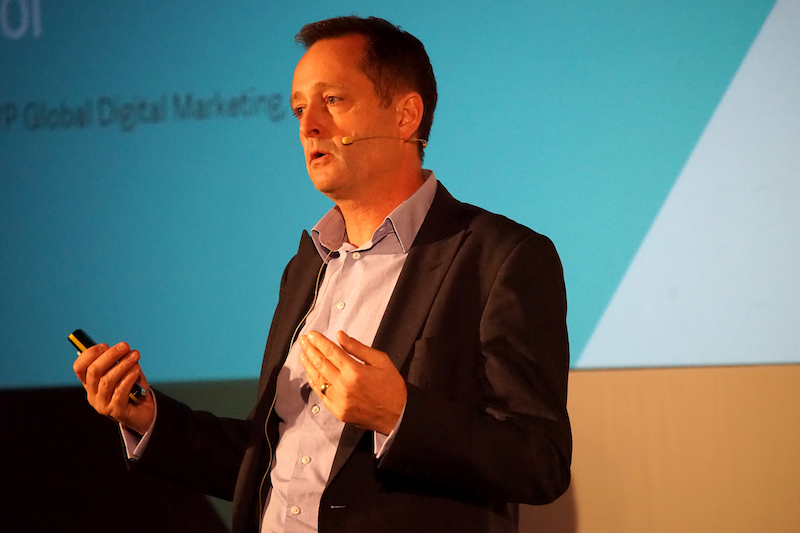 Neil Morgan, EVP of Digital Marketing, Sage, at ThinkContent London
A tech company with great responsibility
Sage is the U.K.'s largest tech company with a workforce of more than 13,000 and an annual turnover of nearly £2 billion. It's a competitor to Oracle and SAP, supplying small businesses with software that enables them to run their companies on a laptop or mobile phone.
The typical Sage customer might own a gym or food manufacturing plant – businesses with zero to 1,000 employees. This sector is responsible for more than two-thirds of U.K. wealth-creation, and whom Morgan refers to as "the heroes of the economy."
Sage, then, is in a position of great influence: The better it does its job, the better those businesses will fare – and the stronger the U.K.'s economy will perform.
This begs the question: Can Sage and its content strategy help fix the U.K. economy?
Embarking on a digital and companywide transformation
To answer this question, we need to go back two years, to when Sage began its content marketing journey. This was when the company recognised the need to reinvent itself for the sake of its customers.
"Half of new businesses fail in the first two-and-a-half years," Morgan explains. "Imagine if you could help some of those businesses who run out of cash because they don't know how to manage it, don't know how to do their taxes, or how to get an invoice paid on time.
"What could that do for our economy? That was the vision and objective we had."
Morgan realised that Sage already had a wealth of knowledge that it could turn into content.
"We take around 30,000 calls from customers a day," says Morgan, "which aren't about technical software issues. It's about helping them get business done. All that knowledge we have in our database, in our call centres, is kept within our business and isn't repurposed or reused."
That content would be at the heart of Sage's digital transformation – which would fuel the company transformation. It also offered a cost-effective marketing strategy.
"We knew we had to compete more aggressively," recounts Morgan. "But we didn't want to throw money at the problem."
Sage has an annual media budget of around £40 million. But by creating this new publishing engine, Sage had an opportunity to increase equity and customer engagement sustainably, without upping its ad spend.
"If that worked well, our ad dollars would go a lot further," says Morgan.
Implementing a data-driven content strategy
The first step was to build an in-house content team. The team would align Sage's digital efforts across social, e-commerce, and organic search. It would execute a content strategy that was real-time, multi-language, multi-platform, and, in the future, intelligent.
"Today, we have over 20 people around the globe," says Morgan, "with different functions that range from research to writers, of course, to our editor and publishers who work with our other teams, such as design and advertising."
The team's first task was evaluating Sage's existing content – which wasn't in great shape. The business was fragmented. Teams in different markets created blogs that just tried to sell products. In some cases, readers couldn't even sign up for on-going engagement. Articles weren't shared on social or generating business opportunities.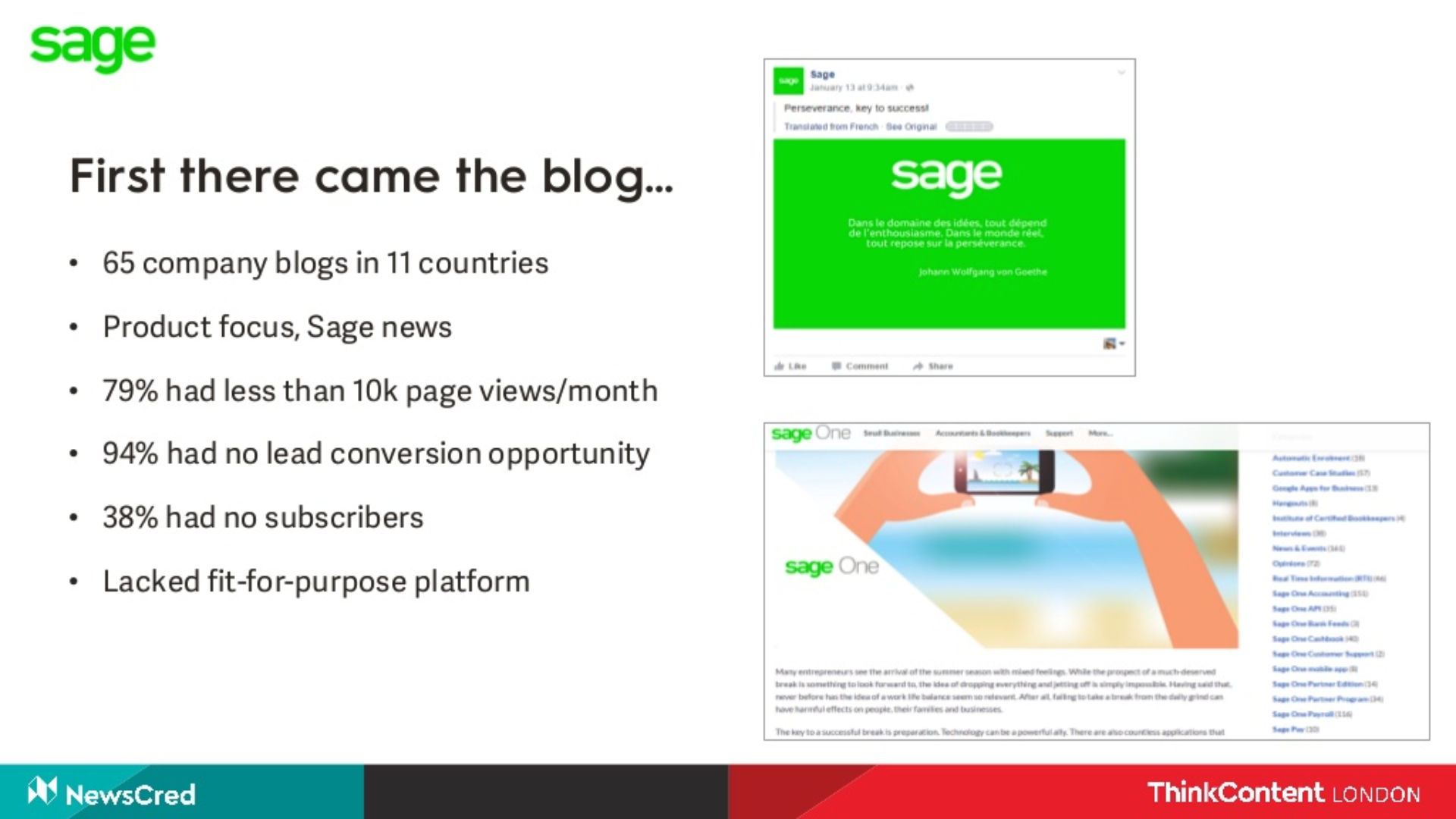 Sage had a company blog, but a review found that it wasn't fit for effective content marketing.
Morgan is keen to point out that generating leads is the ultimate goal of the new strategy: "While we are trying to help people, we're a business, as well, and our strategy was built around seeing if we could create a high-performing lead-supply."
The team came up with a concept called "Sage Advice," a content hub that packaged in-house expertise covering all facets of small business advice.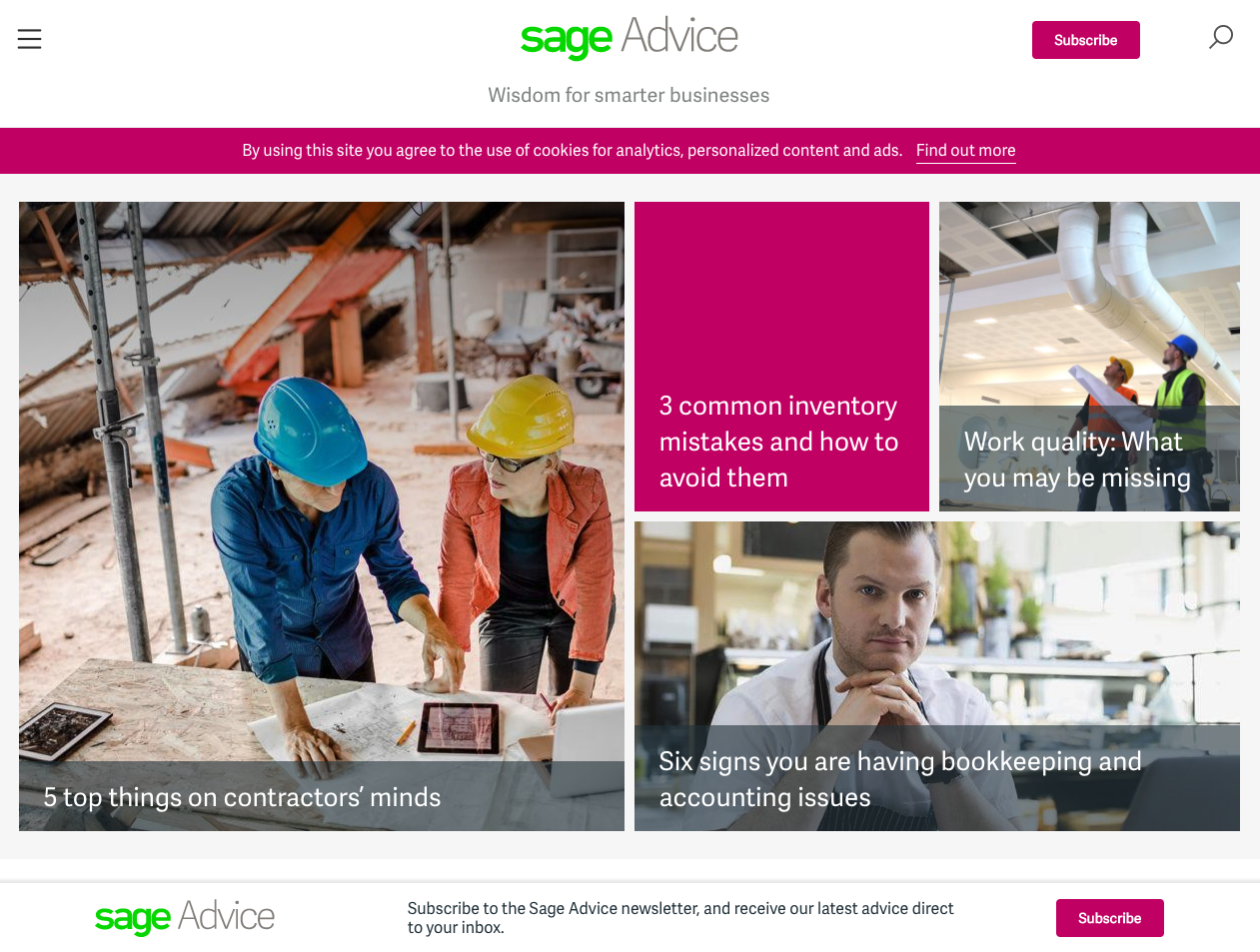 The Sage Advice hub is built on data-driven content: the SEO team identified the questions Sage's customers needed answering and determined the topics that the content team would write about.
Crafting the content journey
Sage's SEO team played a strong role in the content strategy. It identified what questions people were asking that were going unanswered.
"Something as simple as: 'How can I get an invoice created, sent, and paid on time?'" says Morgan. "There was a huge amount of interest just in that topic, with no sole authority on how to do it. Yet, when we published [content] on it, we had an overwhelming amount of interest, which lead directly to product interest, as well."
The strategy is paying off. "We're already seeing about a third of the traffic coming to us from organic search terms," says Morgan.
The second approach was to create content by persona. Sage's ultimate vision is to personalise content down to the individual, but right now has five personas based on company size, interests, and job roles. Sage's content hub allows people to self-select a persona and see relevant content.
Beyond the hub, Sage ensured that content is at the center of the buyer journey and driving people into Sage's customer acquisition channels. Morgan breaks down a sample journey as: "Here's the piece of advice, here's a way to do it, and here's how we can help you with one of our products." This goes hand-in-hand with an e-commerce capability that enables immediate and barrier-free monetisation.
Showcasing customers through content
Sage also sources content from customers.
"We worked to build a couple of communities that we call the 'Sage Business Experts,'" says Morgan. "They're business owners who have experiences they want to share. They publish on our platform, which leverages into their business."
This has even lead to an advertising campaign that featured Sage customers.
"We're seeing some of our customers double or triple the amount of interest they've have in their products from this," notes Morgan. So curating content is as important as creating it. Morgan thinks this is just the beginning "because of the buzz we think we'll get from the community just coming together, helping one another, and solving business problems."
Taking a multi-channel approach
From Instagram to LinkedIn to YouTube, Sage has developed a multichannel content strategy. For each channel, it determines what content to promote and how to measure success.
Take Instagram. "We were sitting around the office thinking: 'Why would anyone follow Sage on Instagram, when there are many more interesting things to follow?'" Morgan says. The team decided to use the platform to showcase stories from individual business owners.
"The content on Instagram, when it's original, even when it's compared to our own advice [content], has five times the engagement our traditional social content has," says Morgan.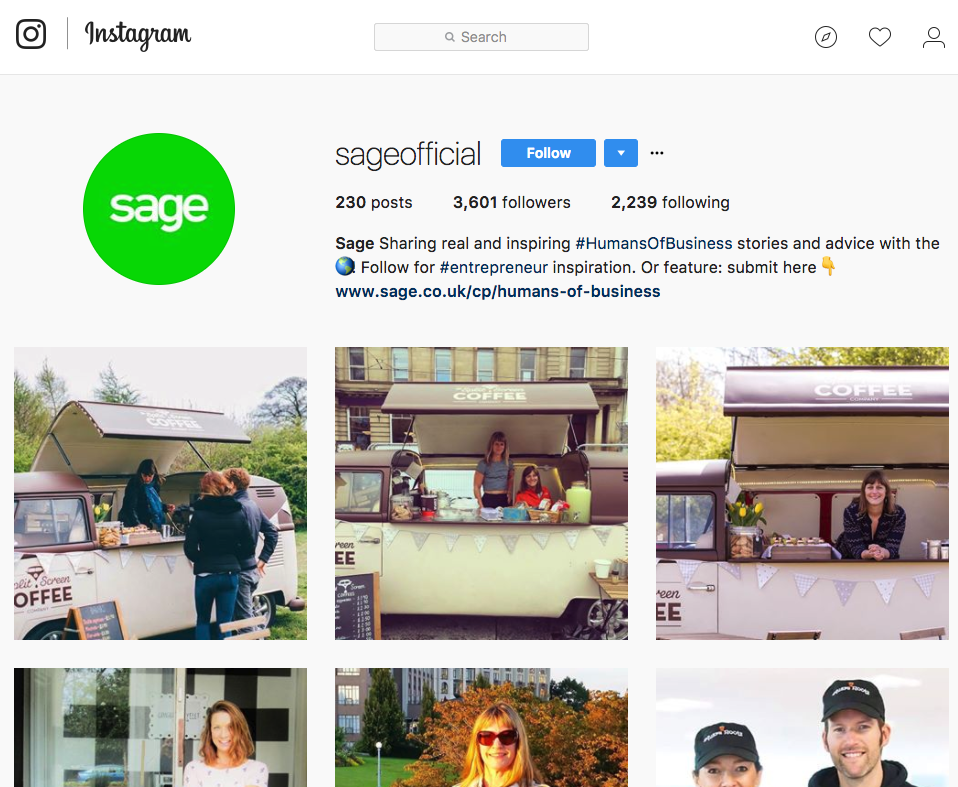 Sage uses Instagram to showcase what customers have achieved and links this content to its advice channel.
End-of-quarter results
Of course, Sage's program was designed to get results.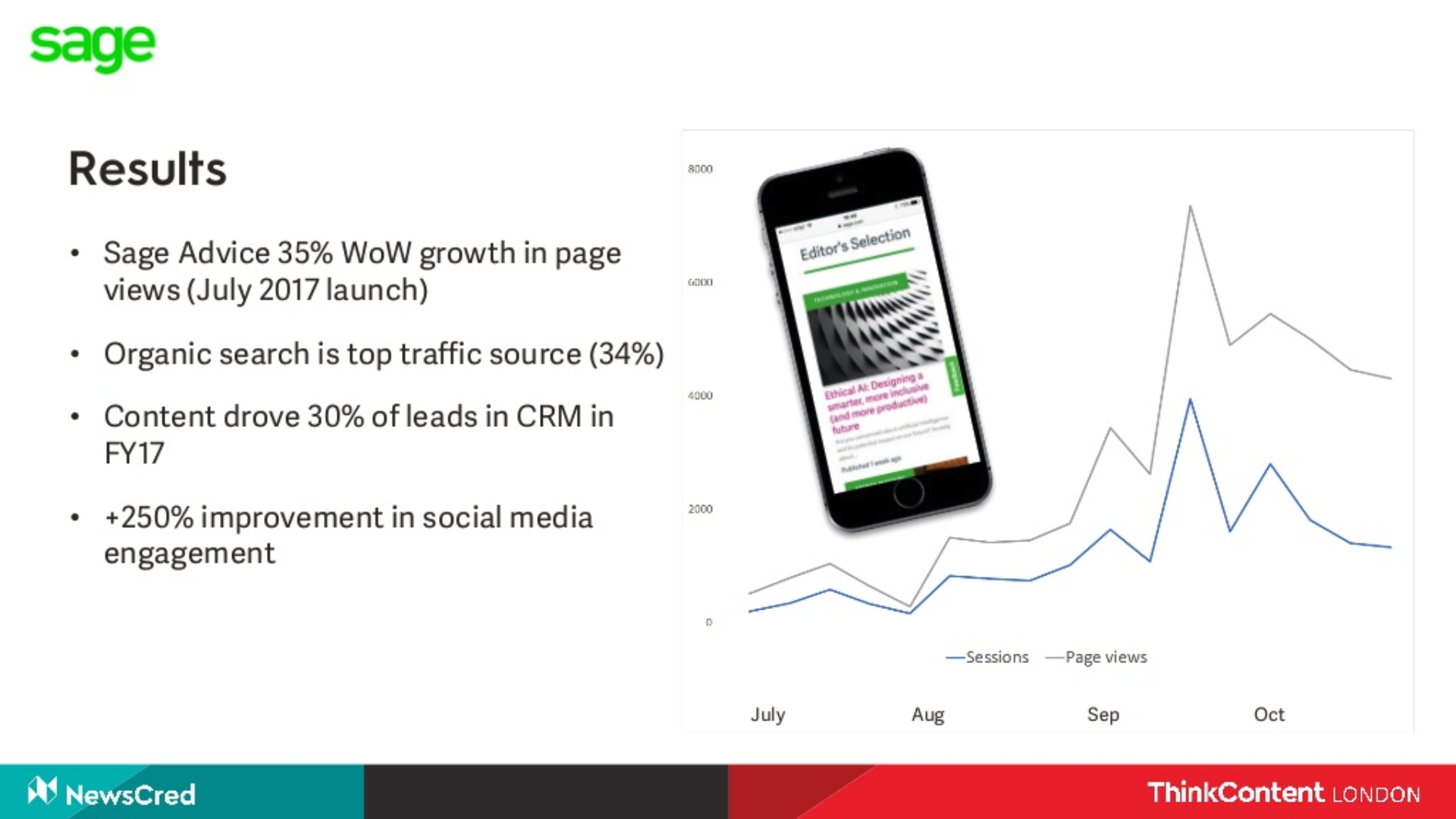 Traffic is increasing with organic being a strong driver. More importantly, that traffic is driving leads.
"Just in the last quarter, we had about 145,000 business leads sourced directly from this content," Morgan says. "And for us today to create a business lead can cost from £40-£50, so there's an immediate monetary value we can associate the effort we've made."
Next steps: leveraging employees
So where is Sage going with this? According to Morgan, it's getting Sage's 13,000 employees to create and share content, too.
The newly launched Sage Voices app easily enables employees to publish content on their social channels. The results are impressive even though the app is less than two months old:
1,700 Sage employees have registered and are active weekly

23,000 content shares to date, which has driven

16 million+ impressions on social networks
The next big challenge, as it is for many companies, is how to personalise content. Morgan asks, "How can we use AI and chatbots to more intelligently understand what customers are trying to do and the questions they're trying to ask and provide a service to them?
"And that one day we might monetise?"
Thus far, these are the top lessons Morgan has learned on Sage's content marketing journey:
"Start with the customer in mind: their needs, and what they're struggling to do. Then, how can you add value? Understand the platforms you want to deliver it on and spend time researching what content is the right fit for each. Finally, don't forget to monetise the service!"
So can content grow a country's economy? To be fair, it's a bit early to tell. Yet, based on preliminary results, not only does that seem to be a distinct possibility, but it could be a huge benefit to Sage, as well, ultimately generating leads and growing its own business along the way.

Nick Jones is a Senior Editorial Strategist in NewsCred's London Office.