This article comes to you from NewsCred's London-based European team.
Marketing, as a business function, is in rehab, according to Andrew Warner.
Speaking at NewsCred's ThinkContent London, Warner, then CMO of the job search platform Monster, claims marketing has moved from a place of driving long-term brand equity, with big, grandiose metrics, to something that has become disconnected from core business objectives, causing it to lose control over a lot of areas that it traditionally owned.
"More than ever, marketing has a really crucial role to play, as it is the only part of the business that looks out into the world, as well as inside the organisation, bringing those two things together," Warner says. "What we need to figure out is how the marketing team can become the conductor of the orchestra to achieve better business outcomes. It is those outcomes that matter."
Warner is not interested in hearing about content marketing strategies that promise incremental increases in click-through rates. Rather, he wants to know how content can move the needle for the business toward sales growth.
"We need to stop focusing on the short-term and on the metrics that move the most, rather than the ones that matter the most. Just because we measure it, we seem to think it is important," he says.
"As a CMO, I want to hear about thought leadership, how you are going to move the dial for the business, and how you are helping us achieve our long-term business goals. You drive brand equity because you want to drive longer-term growth, and we have to change the focus of short-term goals like shares, likes, and reach into longer-term goals on how the brand is being perceived."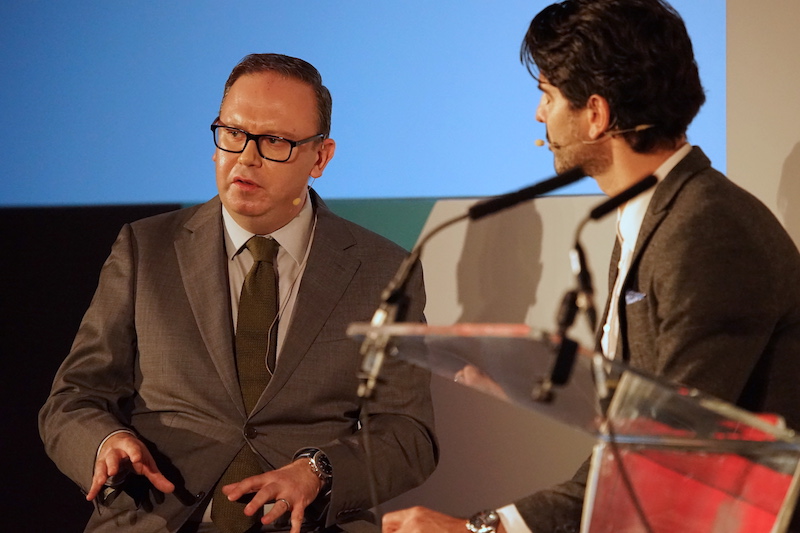 Andrew Warner, former Chief Marketing Officer, Monster, at ThinkContent London
The age of context
In a shrinking economy with falling resources, and with a talent gap facing many multinational companies, Warner describes the fight for consumer attention as a "Lord of the Flies"-style scenario. In order to thrive in this competitive and crowded marketplace, he says we need to look at content differently and focus on it becoming less siloed and more focused on context and relevance.
"Content is what is going to shape the brands moving forward in this crowded marketplace, not big TV adverts or 60-second spots and press adverts," he says.
"However, there is too much content being pushed out there in the hope that someone will see it. In order to drive business outcomes, you need to think about how you drive the right content to the right people at the right time."
Warner likens well-produced content to your shopkeeper at your corner store noticing that you haven't bought your favourite product recently, and taking the opportunity to provide you with the product and other products like it.
"In that exchange, you have personalisation, relevance, and context. The technology we now have available allows us to scale up that human interaction," says Warner.
Data-driven ideation
Data is a key driver of the types of content Monster produces to ensure its storytelling is compelling and relevant. Monster mines its own data to create differentiation, mapping it to customer journeys to recognise signals to build content that correlates to a candidate's lifecycle.
"If I were to say to you that 'Monster is really good at content marketing and we love it,' you would say, 'Meh.' But if I were to say to you: 'The changes that we have made to our content marketing in the last two years have increased the attributable revenues from that content by 22 percent and increased the number of people who have found jobs by 43 million people in two years,' that is a much more compelling and interesting story," says Warner.
Monster looks to create long-term relationships with job seekers through content – avoiding the cycle of starting the conversation from the beginning every time a job seeker starts a new job hunt. Monster provides content to support the job search through nailing the interview, serves as a friendly advisor on your first day, and then helps you to get that promotion. All the while getting data and feedback on what is working and not working so it can get better at the content it puts out there.
"We are mapping the customer journey to content to not only get likes, but to drive better margins and better business. It really is about understanding touchpoints, sending the right content to the right people at the right time," says Warner.
In-house journalists sprinkle the editorial "magic" that interacts with the data to create stories that hold true resonance with people, taking into account the insights that they have learned, rather than trying to force a brand message on people that don't actually want to consume.
"Data is just information, and better information helps you to make better decisions," he says. "We need to think about how we use the information to create a more empathetic, engaging, human experience that builds a longer-term relationship with the brand, rather than short-term keyword consumption. If you can use content in a really smart way – better than your competitors – to deliver better human empathy, you stand a much better chance of winning."
Warner says the next step in Monster's content marketing strategy is developing a balance between engagement and scale. One way Monster is looking to do this is by using chatbots.
"One of the most depressing things in the recruitment process is the lack of interaction – not hearing anything back from a prospective employer. What we can do now is develop an engine whereby when a job seeker applies for a job, they answer a couple of questions, or they play a game while we try and qualify their skills. It is engaging for the job seeker, we are able to score them to enable us to serve them interesting content, and we can provide richer information on the candidate for the recruiter," says Warner.
"Technology allows us to do this at scale in a way that a human couldn't do on a human to human basis. And in qualifying who people are, we can get to the right answer more quickly. By taking in all of those learnings, we are able to amplify that human impact."
Key Takeaways:
Tie content marketing goals to business results. Make sure that your program is aligned with your company's top priorities, and prove it is by measuring the right KPIs.
Relevant content is crucial to success. Start by mapping content to the customer journey; use data to inform and optimise your results.
Be empathetic. In today's digital world, making a human connection has never been more important. Strive to deliver human empathy through content; this will help you win long-term customers and advocates.
Watch Andrew Warner's full talk here.

Louise Lange is a Content Director in NewsCred's London office.