Creating a remote working strategy during Coronavirus:
If you are like many of our enterprise clients, your individual (and team) working conditions have been impacted by the recent coronavirus (COVID-19) outbreak. Fortunately, the power of modern technology allows us to remain connected, and in many cases, bridge the lack of physical interaction. Still, the gravity of this particular pandemic has forced most companies into an unprecedented situation: a fully-distributed, remote working environment.
This has forced companies to move quickly to adopt a remote working strategy. And in times of crisis, such as this, where companies should be thinking about their remote employees. How do they ensure their teams are able to maintain momentum? How do they avoid work disruptions? How do they maintain progress and positive results? In order to develop a strong remote working strategy for your team, you will need purpose-built tools to combat unforeseen adversaries.
Managing remote employees could be done simply, as long as you have the right tools and strategy in place for your marketing team to succeed.
As many companies are discouraging non-essential travel (including the commute to the office), they are implementing remote work strategies and tools for many or all of their employees across the globe. Although cloud-based tools like G-Suite, Slack, and Monday.com are available, these tools are not created to assist the nuanced work of marketers.
So what remote working strategy tools are available for us?
Marketing Resource Management tools are created for marketing teams with unique goals, budgets, and assets. Within its latest Wave, Forrester defines Marketing Resource Management as a "tool or suite of tools that helps marketers with financial planning, performance measurement, collaboration and calendaring, project management, content production, asset management, brand compliance, and marketing fulfillment."
Remote work challenges that could be resolved with Marketing Resource Management software:
Remote Working Strategy Challenges #1: Lack of Visibility
People are (quite literally) working independently. Hence the need for real-time calendars, tools to share and/or collaborate on plans, views that share who is working on what (and when) — all of this is vital for your remote work strategy.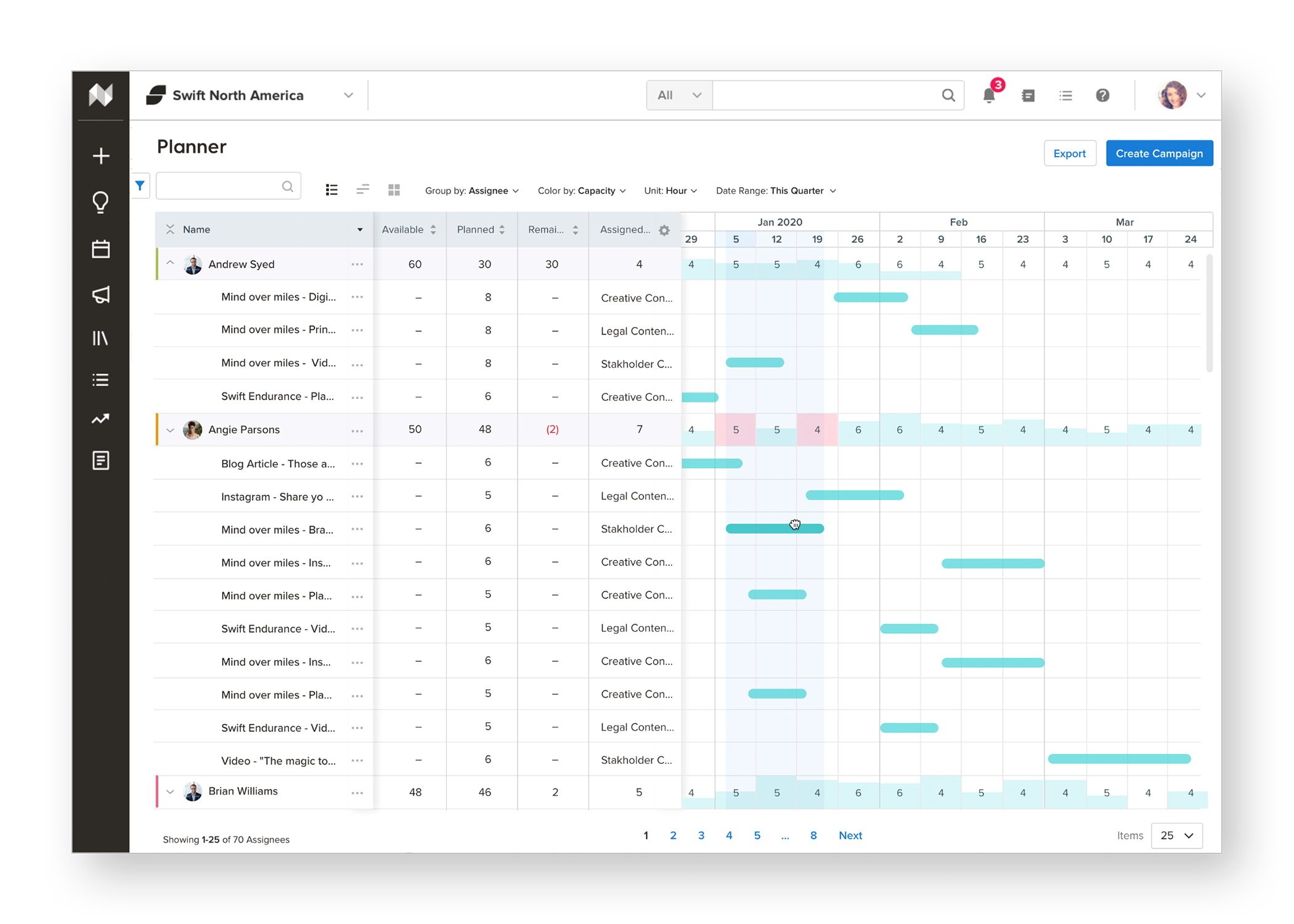 Visualize all marketing activity – w

hen you're distributed, knowing who is working on what gets harder. Visibility is critical in this situation, especially when you have a lot of handoffs between teams that used to sit near each other or do physical meetings. That's why you need a collaborative calendaring software.

Want to see who's working on what? NewsCred's Capacity Planning tool lets you have visibility into what marketing campaigns each person is working on and plan future tasks based on the bandwidth of each team member.
Remote Working Strategy Challenges #2: Inability to Collaborate
If people are isolated, how do we maintain the same level of productivity without being in the same office? Hence the need for strategic briefs so teams stay aligned, shared editors so folks can collaborate, and the ability to track progress on marketing activity to ensure deadlines are hit.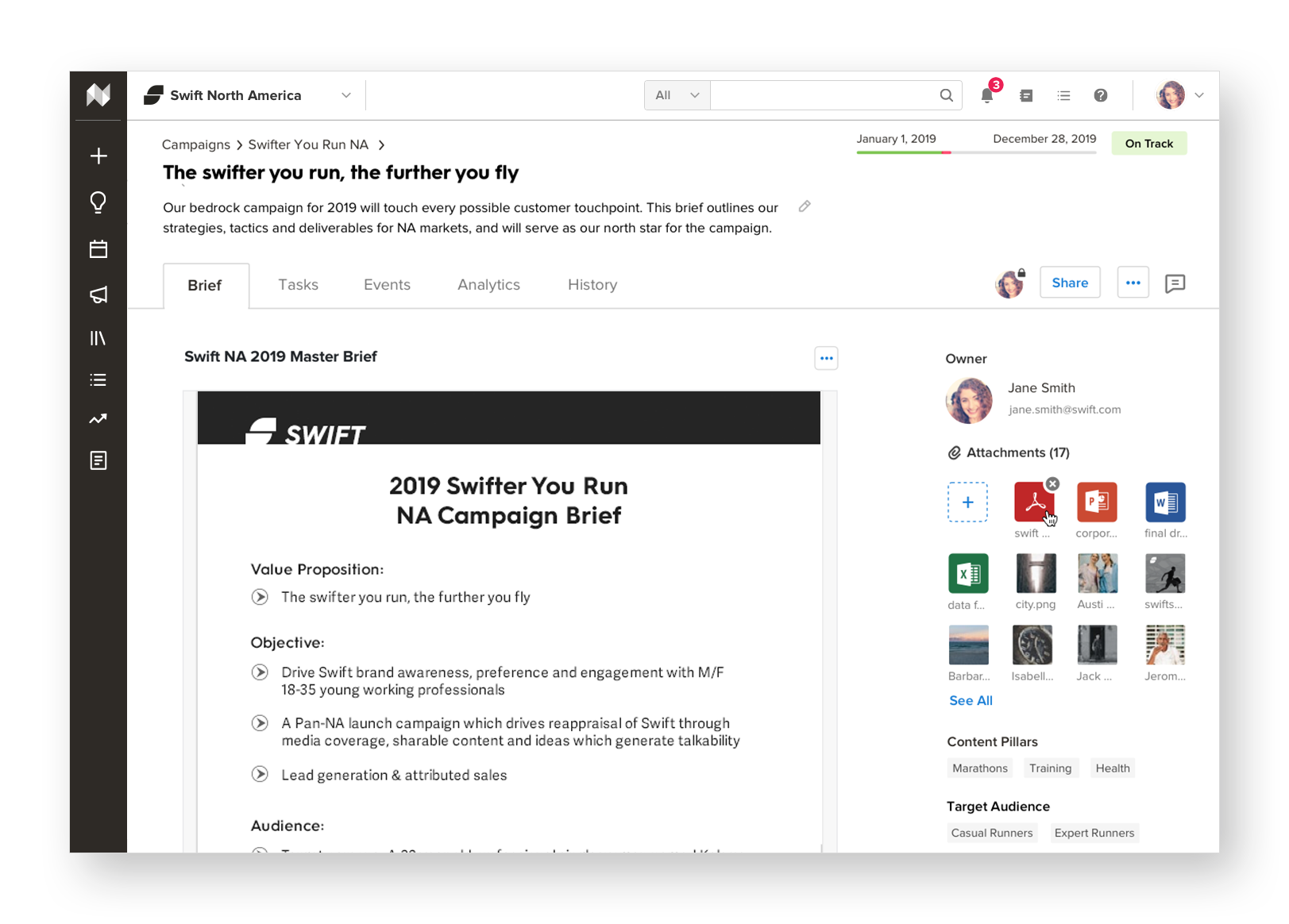 NewsCred's editor is collaborative, making content creation a lot easier when people are distributed. Your team can simultaneously view, edit, and comment on the same project from anywhere. Since reviewing visual content becomes hard when you can't point to things on a screen or whiteboard – NewCred's annotations tool can assist in collaboration and communication.
Utilize dedicated asset libraries, and eliminate sending files back and forth via email. Store and manage all your unique assets in one place without version control issues and constantly losing the same piece of asset in the digital asset management (DAM) software.
Remote Working Strategy Challenges #3: Managing Shifting Priorities
During times of crisis, managing shifting priorities and maintaining team alignment becomes difficult – especially when people from different teams email you with ad-hoc requests. While working remotely, managing different tasks and request via email or Slack is a disaster ready to happen.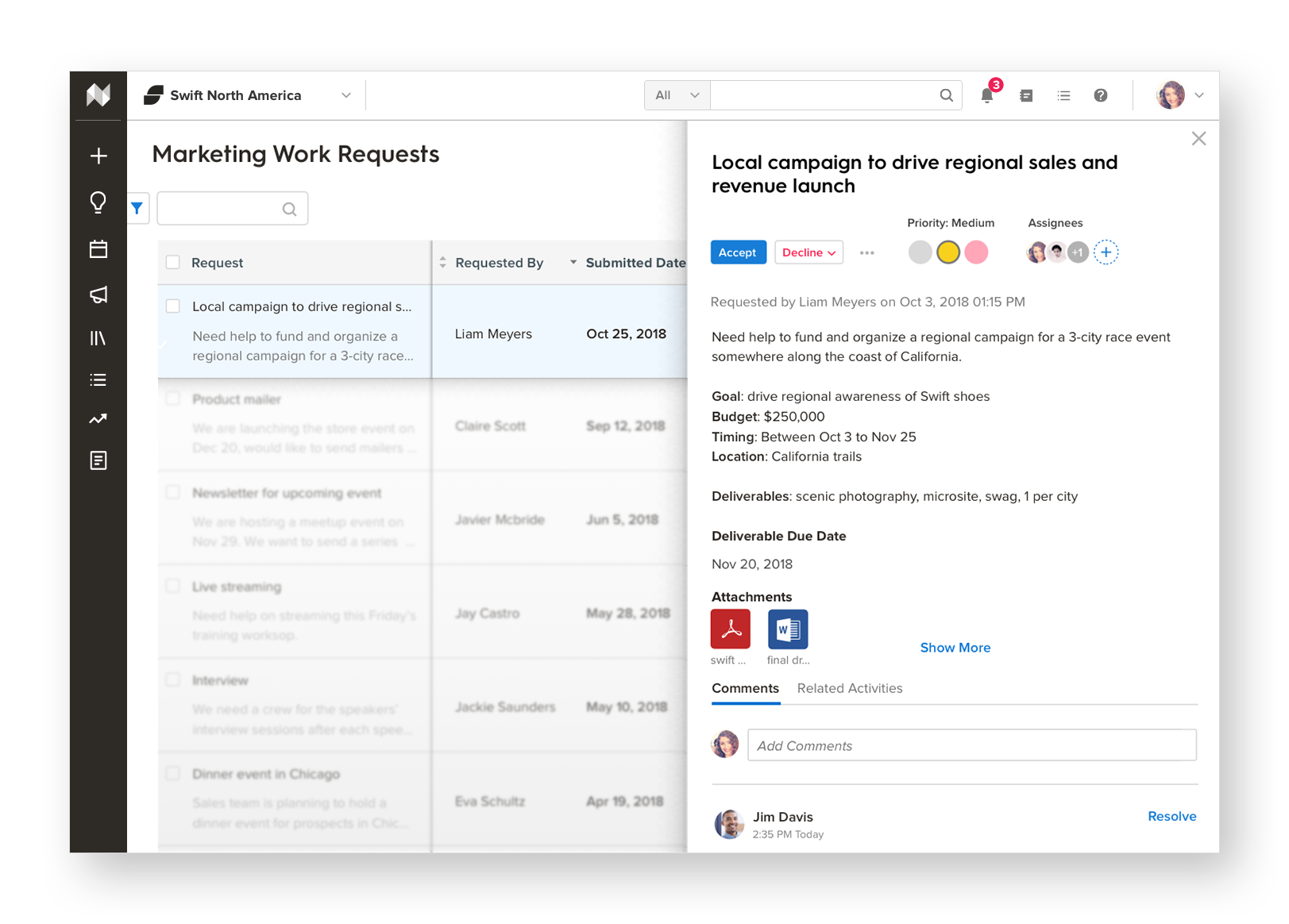 NewsCred's Work Request Management system manages the queue of all inbound work that may have come in via so many different channels including water cooler convos, emails, slack, and Post-It. This platform will be useful to expedite work requests and approval processes so that everyone involved can see the brief and the drafts in the same chain allowing remote workers to provide immediate feedback to ensure brand management.
Ensure all marketing efforts are aligned with the most recent changes in priority. This software will help you and your team navigate through difficult times and changes while aligning each campaign to be within brand guidelines and brand voice.
Remote Working Strategy Challenges #4: More Performance Scrutiny
In times of economic hardship, budgets shrink, and pressures rise. Marketing is still on the hook to deliver certain results, and the business will be looking at where they're spending money, why, and asking about results.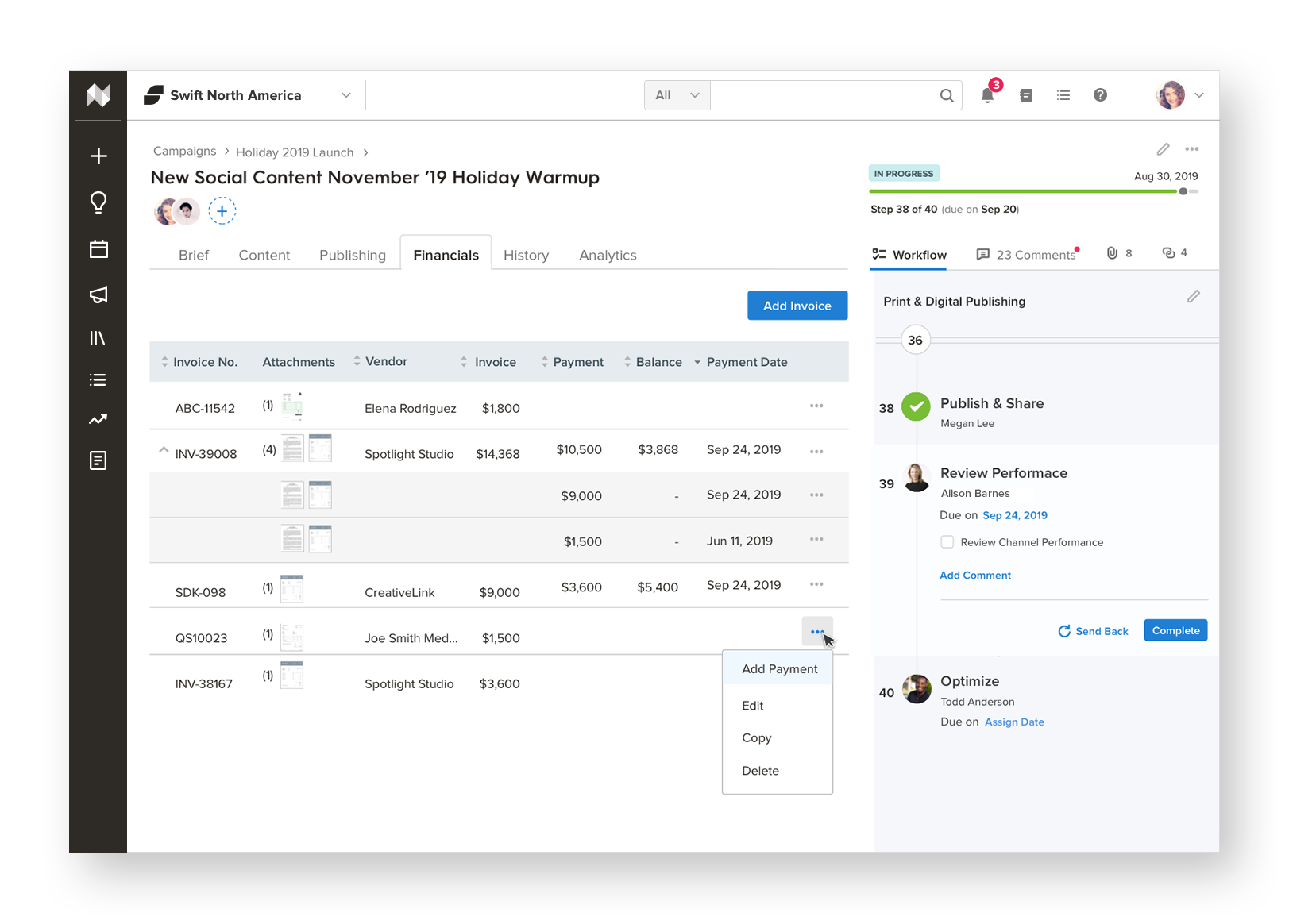 No matter what your marketing budget looks like, NewsCred's financial planning tool will directly associate financial activity to a piece of content and/or marketing campaign.
With event closures and change in strategy, you need insight into which campaigns are performing and those that are not so you can reallocate your budget to the right channels. Measure campaign allocation and identify which of your campaigns are high-performing – allowing you to make strategic decisions, backed by data.
---
Want to Develop a Remote Work Strategy?
When creating a remote working strategy, take an integrated approach by using a tool created specifically for your marketing team. This way you can have visibility into your marketing team's activities, continue to work collaboratively and ensure business continuity.
NewsCred's marketing work management software is purpose-built to help complex marketing teams streamline all marketing initiatives from ideation and creation all the way to deployment and measurement. We can help you transition from working at the office to remotely without disruption to your workflow. This software is created specifically for remote and global marketers to come together and work collaboratively on a single platform – perfect for your remote working strategy.
In fact, NewsCred has been named a "Strong Performer" in Forrester's 2020 MRM evaluation. Click here to learn more, or contact us to find out how we can help.
Shohei Fukano is NewsCred's Content Marketing Manager