When Karl Miller, Director of Digital Strategy at The Kellogg Company, arrived on stage at NewsCred's #ThinkContent Tour in Chicago, he wasted no time tapping into the collective nostalgia of the audience. "Who grew up with Pop-Tarts?" received a unanimous response in an audience as varied as the flavors of Kellogg's iconic brand itself.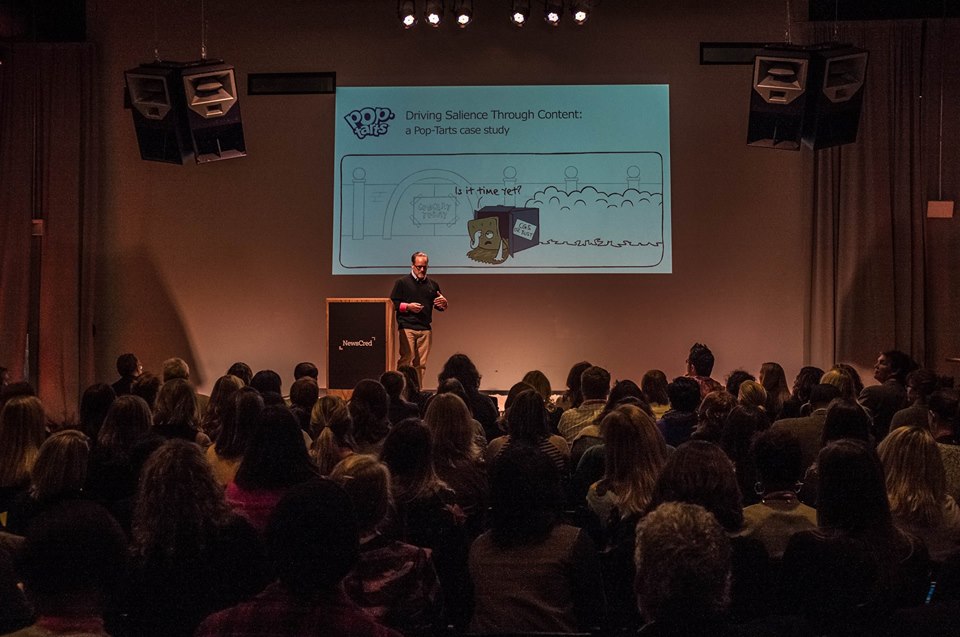 Though the brand enjoys recognition in virtually all age groups, finding the right tone and message for Pop-Tarts' audience was a challenge. Miller brought the audience through a brief history of Pop-Tarts' marketing journey.
This History Of Pop-Tarts Marketing
From modest beginnings in 1964, Pop-Tarts has experimented with not just the messaging of its marketing, but the intended audience. There is little doubt that kids have always been the biggest fans and consumers of Pop-Tarts, but building a strategy to reach them was difficult. At first, Kellogg's found its way to kids by way of their parents, through messaging that remains iconic to this day.
But soon, keeping up with the changing culture in the United States, Pop-Tarts shifted their message to reach children directly. With this new tactic, the future of Pop-Tarts' content marketing was born way before it turned into the modern marketing buzzword it is today. Pop-Tarts tinkered with their message and audience through the decades until it finally found the strategy we see today. In 2012, Pop-Tarts shifted from a broad "All-Family" audience (with teen as secondary) to a focused demographic of teens 12-17.
Now, focused exclusively on teens for a fifth year, Pop-Tarts is navigating the waters of a shifting digital landscape. This allowed all media touchpoints and brand experiences to focus less on "lowest-common-denominator" messaging and more on cultural relevance, personalization, and salience. The impact of this change was immediate and clear, showing noticeable growth in a few short months.
So how did that happen? The first major step was the launch of Pop-Tart's Crazy Good Summer.
It should surprise no one that teens want to have an "awesome" summer (and be perceived as doing so on ever-prominent social media channels). As a demographic, they constantly search for fun and entertainment, with music being a top-three free-time activity for nearly every teen.
The mission for Pop-Tarts was to become the co-conspirator of teens in summer fun through free access to concerts, music, artists, and content. Kellogg's achieved this by creating branded entertainment, with a focus on fueling social conversations and relevance around music and performers. They teamed up with teen-friendly stars, and created an ever-evolving signature summer event with Carley Rae Jepsen, Demi Lovato, Jessie J, and Rixton.
How Did Pop-Tarts Measure Campaign Success?
For the summer event, focus was not on branded content, but on brand behaviors and activities that generated content and conversation among Pop-Tarts fans. The program was designed to build as much excitement, and give as much access to as many teens as possible to crush earned and shared impressions.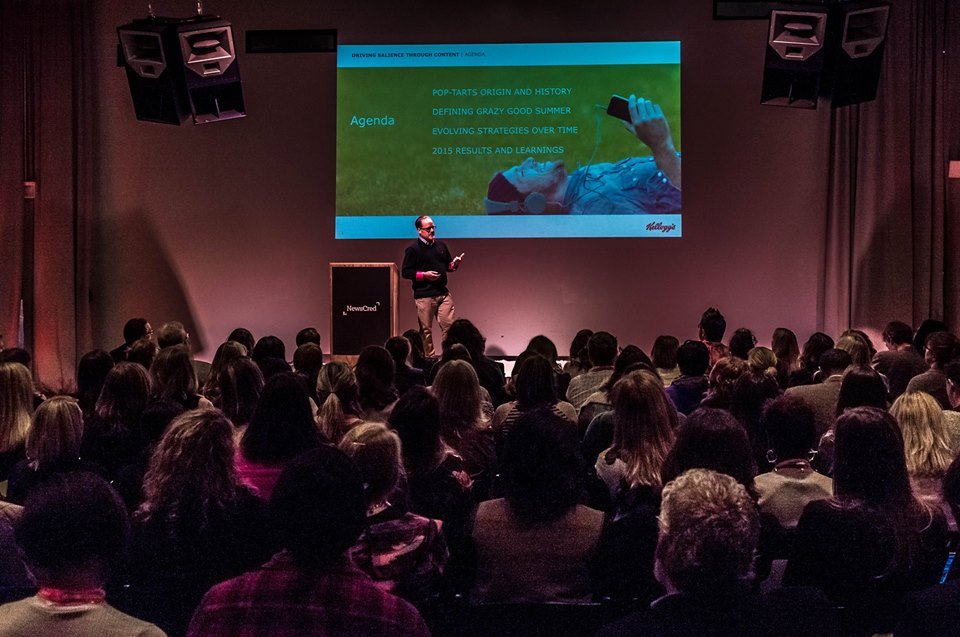 For the second year of Crazy Good Summer, Pop-Tarts continued everything that worked in year one but aimed to keep it growing. As Miller emphatically states:
"You can't rely on the same plans every year, it needs to evolve to be bigger and better."
How did Pop-Tarts grow? They added a "sampling tour" which gave more teens a chance to engage with the brand in person, and provided an opportunity to partner with retailers. They gave away free music downloads with codes (a hot commodity in 2013 before the arrival of Spotify), giving more teens access to free stuff, as well as engaging retailers and moms. Going beyond their own hosted musical events, they gave more teens access to free live concerts by giving away last minute tickets to Live Nation shows.
One challenge Pop-Tarts began to face around this time was the quickly deteriorating organic reach on Facebook. To lessen the effects of this, they began to launch on new social channels, while also beginning to budget for paid reach on Facebook, all resulting in an increase in awareness and engagement.
How Pop-Tarts' Marketing Strategy Evolved
The changing social landscape has made it harder and harder for brands to stand out from the noise, and Kellogg's has made significant changes to Crazy Good Summer to address these challenges.
In addition to their event and the buzz surrounding it, Kellogg's has gone from providing a platform for the music, to actually producing the music itself. In 2015, Pop-Tarts collaborated with leading teen music idols to create, record, and perform a brand new song, releasing the song on social media along with a "rockumentary" series to chronicle the making and recording.
Videos were created for paid placements in social media and online video platforms, with links to long-form content. The results of this new move into content creation:
Kellogg's Content Marketing Strategy: Key Takeaways
What Kellogg's and Pop-Tarts learned from their content marketing journey is that success came not from lowest-common-denominator as-many-people-as-possible messaging, but from ideas rooted in cultural fuel and true consumer insights. Reaching the right people, not more people.
When creating content, it's vital to always keep your brand purpose and consumer needs top-of-mind. Social listening helps to inform the future, but is less useful as a way to measure an existing program.
Most importantly though, Kellogg's learned to expect change and plan for shifting landscapes by exploring new channels. Despite all this planning, it's sometimes necessary to prepare to fail along the journey, but never waver from creating meaningful content that is distinct and prominent.

Don't miss our next #ThinkContent Summit 2016!

Liam Moroney is a Demand Generation Manager at NewsCred.