Single people in the United States have many options to find love online. They can try a myriad of websites and apps that help them locate the perfect person for a hookup, a date, or marriage. Though 50.2%, or 124.6 million Americans are single, there is a lot of competition out there in the online dating world. According to Online Dating Magazine, there are an estimated 2,500 dating sites in the United States alone, and many of these sites are trying to get a leg up via social and content marketing.
For owners of these sites and apps, there is a big market share to capture. A Pew Research Center study found that 11% of Americans have used at least one of these online dating outlets. Most of them are between the ages of 25-44.
Two dating sites, Match.com and OkCupid, are reaching out to this demographic in innovative ways. For example, Match.com, for the past five years, has run Singles in America, a study that looks at habits of singles and married couples in the United States.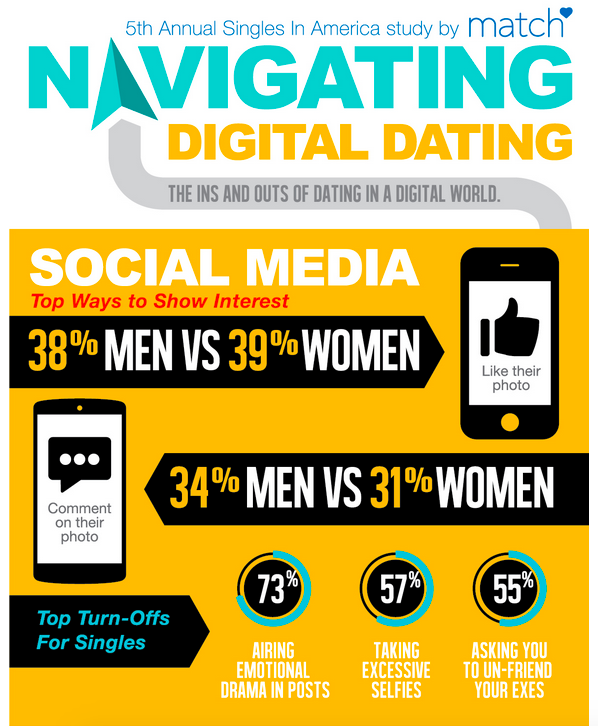 "In 2010 we launched our first Singles in America study with Dr. Helen Fisher, world-renowned biological anthropologist, with the goal of taking an in-depth and comprehensive look at all things singles, dating, sex and relationships," said Vatsal Bhardwaj, general manager of Match.com North America. "Now in our fifth year, after studying over 25,000 U.S. singles and over 1,000 married people, we have been able to gather significant data to debunk myths about singles and have become the authority on information about the American single population."
Some of the topics that singles and married couples were asked about by Match.com were about technology, the importance of having a sense of humor, which emojis they used the most, and their thoughts on social issues like marijuana legalization, LGBT marriage rights, and environmental protection laws. One category called "The Clooney Effect" revealed that 89% of single women want a partner who is independent, and 87% of men would date a woman who makes more money than them.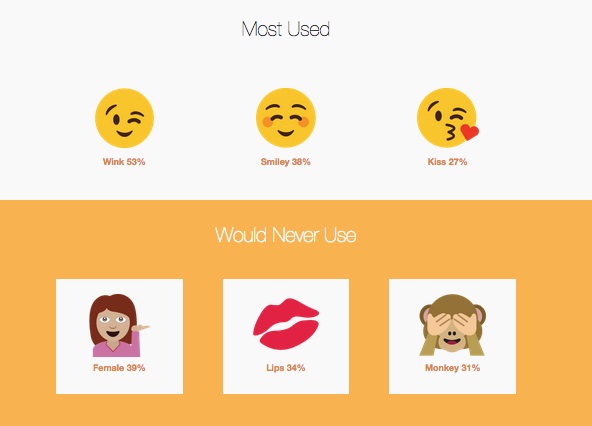 Match studied how emoji use correlated with dating success.
From the results they receive, Match.com's team creates videos, infographics, blog posts, and social media graphics to reach their audience. A blog post on "The Clooney Effect" listed celebrity couples, aside from George and Amal Clooney, where the woman is highly educated, financially successful, and confident. Another post, written by Dr. Justin R. Garcia, explored the results of the emoji survey, and how people utilize them when they're looking for love.
According to Bhardwaj, the demographic for Singles in America is adults ages 25 to 54, and the campaign is a crucial piece of Match.com's PR strategy throughout the year. "The Singles in America study is something that the media looks forward to annually," he said. "We see a 38% increase in our traffic during peak season from December 26 to Feb 14th and Singles in America launches specifically during this time period."
The Singles in America efforts are paying off. Match.com has more than 840,000 likes on Facebook, over 37k followers on Twitter, 1.7 million views on YouTube, and 75k monthly blog uniques, according to the company.
Another dating site that made a big splash with their content marketing is OkCupid, a subsidiary of Match.com. The company's blog, OkTrends, divulges interesting facts and fun tidbits about dating. Though new blog entries can be few and far between, its audience gobbles them up. According to TIME, the blog, which ran from 2009 to 2011, then was on hiatus until 2014, was receiving a million unique views per post.
OkTrends doesn't outline just the facts that have been collected. OkCupid founder Christian Rudder, who oversees the blog, writes in a notably snarky and humorous tone. One post from July of 2014 titled, "We Experiment on Human Beings!" was about how the site removed photos and what effect it had on users' interactions. They found that "people responded to messages 44% more often," "conversations went deeper," contact information was exchanged quicker, and "in short, OkCupid worked better."
When the pictures were turned back on, Rudder noted that, "2,200 people were in the middle of conversations that had started 'blind.' Those conversations melted away. The goodness was gone, in fact worse than gone. It was like we'd turned on the bright lights at the bar at midnight."

OkTrends examined how race affected online dating.
Other blog posts go into how long people's relationships last if they're on Twitter everyday, and how users rated different women and their attractiveness on the site. The blog asks the questions people have been too shy to get the bottom of. In an interview with Gnip, Rudder explained why he runs his blog that way, and gives a little bit of advice to marketers everywhere:
"Early on, I made a decision to write the blog for people who'd never heard of us or didn't want to try online dating, so I had to ask questions of our data that everyone would care about," he said. "I think most company blogs fail because they fail to think beyond themselves–they write too much about their particular company or their particular product, and, frankly, people just don't give a shit about your startup and how great you think it is."
So what can your brand learn from Singles In America and OkTrends? Use your internal data – you might have more information within your company's walls and servers than you realize. If you can find the middle ground of what insider-info you can offer and what your audience is interested in, you can create real winning traffic for your blog. Are you experimenting within your own company or iterating on existing strategies? Why not share those results widely? If you're learning something internally, chances are your audience could benefit from that knowledge as well. Make them fall in love with your content by sharing what you're learning or working on internally.