By your first day at NewsCred, a small army has been preparing for you for weeks.
The onboarding experience that new employees receive plays a major role in their future at a company. To throw some statistics at you: Good onboarding is strongly correlated with higher job satisfaction, organizational commitment, decreased turnover, and better performance level. New hires who attend a well-planned onboarding program are 69 percent more likely to remain at a company up to three years.
At NewsCred, onboarding is a passion for us. It's where we introduce you to our company and our unique approach to content marketing. It's also our chance to show you how excited we are about you, who we are and why we care, and make sure you are set up to do amazing work. As NewsCred's Director of People Operations, I'm glad to finally tell that story.
A Warm Welcome
Onboarding begins before your first day. In the weeks leading up to your start date, we send every new hire two pieces of content: The first is our How We Work document. This is our transparent, comprehensive document about what our values are and how we operate around here. It was originally written by NewsCred's CEO Shafqat Islam, but we all have edit rights to make sure that it really does reflect the current company. The second is our product vision so you understand the story behind our software, the NewsCred Content Marketing Platform, and where we are going with it. We want you dreaming and hyped about what you're joining.

Our goal for your first day is to make sure you feel welcome and set up for success. When you arrive at your desk, it will be completely ready for you. There'll be a MacBook provisioned with our systems, a letter from our IT manager explaining how to access everything, and a few items to make you feel great. There is a box of goodies that includes a NewsCred shirt, a notebook, pens, and a premium gift. (We're fans of Snappy Gifts, which does something pretty great that I won't spoil for you.) The most important piece is a welcome note from your manager.


We start your day with what I think of as your "get you through the first week" training. I meet with you to tell you not just about benefits and HR systems, but also who everyone is, our culture and basic strategy, and what our favorite acronyms mean so you don't feel completely lost. I love talking about NewsCred and live in hope of tough questions. If you get me to pull something out of my appendix, I will be grateful.

You then meet our awesome Office Manager, Katy Pierce, who will show you around and make sure you feel comfortable in our space. Then, our Training and Enablement Manager, Meghann Misiak, will walk you through your onboarding plan. She will have worked with your manager to build out a plan specifically for you, in addition to our standard trainings. Your plan includes a list of key people to meet for coffee during your first week; role-specific content, self-paced videos, and wiki pages about clients to review over your first few weeks; and an introduction to an onboarding buddy who will be there for you through the first few months. Your buddy is the person you can go to with questions, outside of your manager. We put a lot of thought into making sure that's the right person for your skills and interests and frequent work partnerships.
You spend the rest of the day getting to know the people you'll be working with the most. You will have lunch out with your entire team, time with your manager to get to know each other and how you like to work, and a meeting with your onboarding buddy. Hopefully, you walk away from the day feeling both comfortable and energized.

Our Focus on Training and Education
Over your first two weeks, we further introduce you to the company and your training begins for real.
Two days in, you'll introduce yourself to the rest of NewsCred at our weekly Demo Day, an all-company meeting where we share updates and celebrate wins. We have a great tradition where every new hire is matched with a "secret person" in the company from whom they have to learn three fun facts.
"At Demo Day, new hires tell us a little bit about themselves and then reveal the three fun facts they learned from their secret person," says Meghann. "The entire company guesses who it is. Someone, for example, was in a dance competition at a bar with a famous celebrity. One person went across three countries in a military tank. It's a low-pressure chance for us to get to know the new hire, for the new hire to get to know someone within the company, and actually for the entire company to get to know a little bit more about existing employees."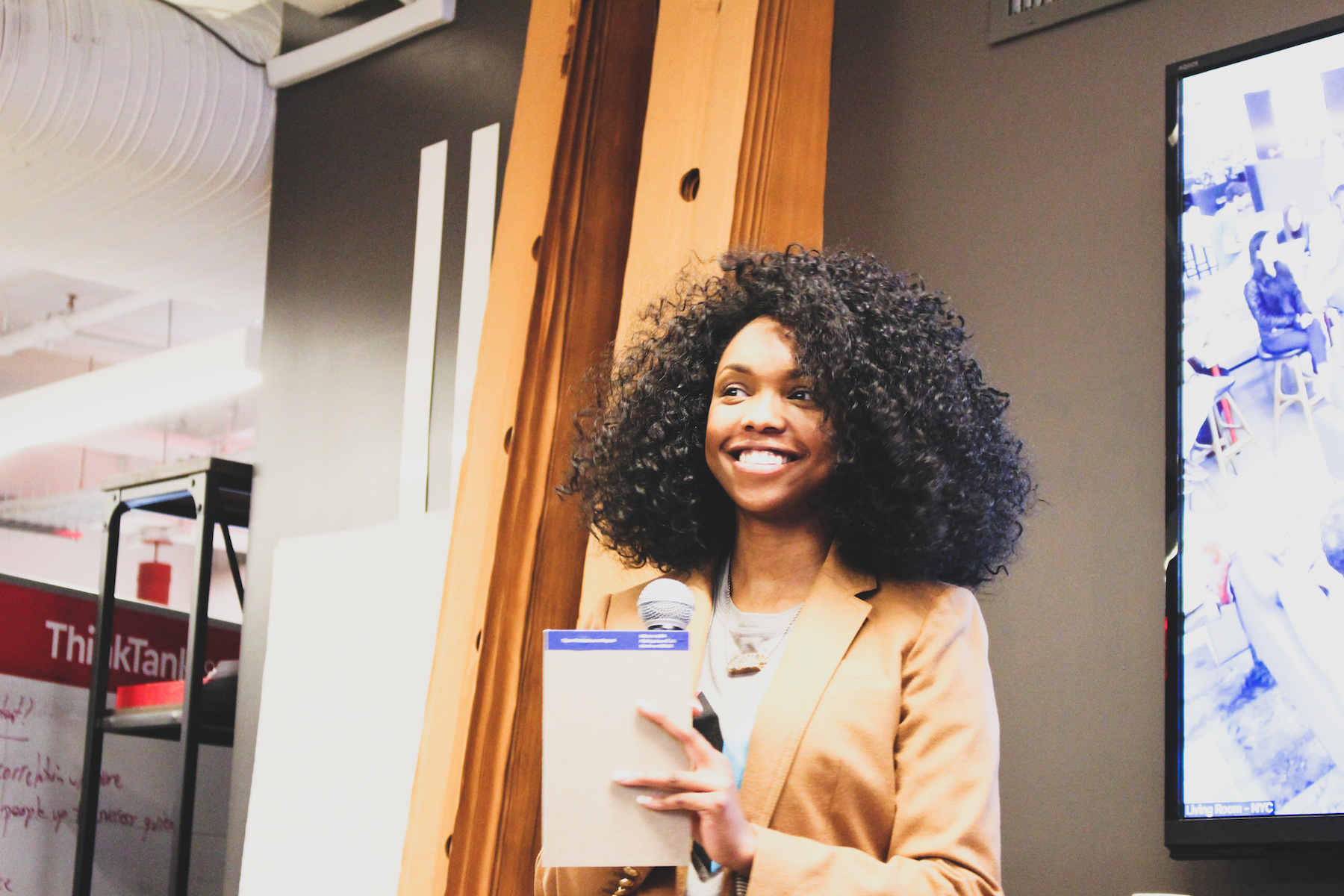 Associate Content Strategist Brittani Turner introducing herself at Demo Day.
Starting the second day, you are in Meghann's core training sessions: NewsCred 101, Content Marketing 101, the four reasons that drive our customers to choose us, demos and training on the NewsCred Content Marketing Platform, what different departments do. There's a lot to learn, and Meghann is great at making this information come alive in an engaging and easy-to-understand way. You will also have the opportunity to join in-depth sessions led, by subject matter experts, on everything from NewsCred's content marketing methodology to how our Advisory Services team leverages our analytics platform to provide key insights to our clients.
At the end of your second week, I work with you on our Objective and Key Results (OKR) goal-setting process. Every quarter, we have three company goals that are most crucial for NewsCred, such as specifically helping customers increase traffic to their content hubs, or building our own sales pipeline. Ultimately, your OKRs should align with these, but you know better than anyone how you can best support them. By the end of week two, you should start to have a good sense of your role and what needs to be done over the rest of the quarter. I help you workshop your goals, and then you share them with your manager and make sure you come to an agreement about what the priorities are.
By the end of those first two weeks, you should be feeling like you get the basics, understand where you're going, and hopefully are feeling like you're starting to be a part of NewsCred. We need to move fast because I promise you: You're going to be doing real, important work with us.

Setting You Up for Success
The goal of your first 90 days is to get you feeling like you have this. Training starts to taper off, and you get more involved in your projects or customers. The onboarding team's focus increasingly becomes about checking in to make sure you're on track.
I meet with every new hire one-on-one, one month in. When it's warm, we go for a walk in the beautiful, nearby Madison Square Park. When it's not, we'll go to a local cafe. My goal for this check-in is to make sure you're getting the knowledge you need, that you aren't having trouble with systems access, and also just that you're feeling good. As much as I love NewsCred and think we're friendly people, joining a new company is tough!
For many roles, we have also implemented what we call "checkpoints." These are role-specific glimpses into performance at key points. As Meghann explains: "For the sales team, there are checkpoints at weeks three, five, and seven that correspond to the tasks they should be completing at those times: pipeline generation, discovery, and pitch. These meetings are hour-long role plays with key leadership, the manager, the new hire, and myself. These checkpoints give our account executives an opportunity to get valuable feedback when they're not in front of a client and assist the leadership team in identifying strengths and gaps to know where to focus our training efforts."
Everything culminates in Onboarding Day one to two months in. This is one of my favorite days. It's your chance to spend time with all of our department leaders, starting with a breakfast with NewsCred's founders. We wait until you have been here for a bit in order to make sure it's very valuable time. If we had Onboarding Day in your first week, your head would be spinning. But by this point, everyone is asking sophisticated questions about advanced details and the thinking behind our strategy. It's a bit of a "proud papa" moment for me showing off our new hires to department leaders.

Building Relationships
In one sense, your onboarding happens in your first 90 days. In another, it never stops. There's always more to learn, and you can always know people better. NewsCred is constantly looking to create learning and growth opportunities, whether it is career pathing, advancement opportunities in other departments, promoting travel, student loan repayment, guest speakers, or getting to know people better through Friday lunches together, happy hours, and the Slack integration Donut, which you should look up if you don't know. It's great.
But if we've done our job well, you have this great experience that you remember forever. Our CEO, Shafqat, likes to say that when people look back on their careers, he wants NewsCred to instantly stand out as where they learned the most, grew the most, and where they could do their best work. That starts on day one.
If this resonates with you and you're interested in joining NewsCred, we are hiring!

Randal Vegter is NewsCred's Director of People Operations.