Gartner recently released its second annual Magic Quadrant for Content Marketing Platforms. As some may remember, we were acknowledged in last year's inaugural report as a Leader – placed in the highest and furthest position on the quadrant. I am proud to share that NewsCred has been named a Leader for the second consecutive year, again positioned highest for Execution and furthest to the right for Vision.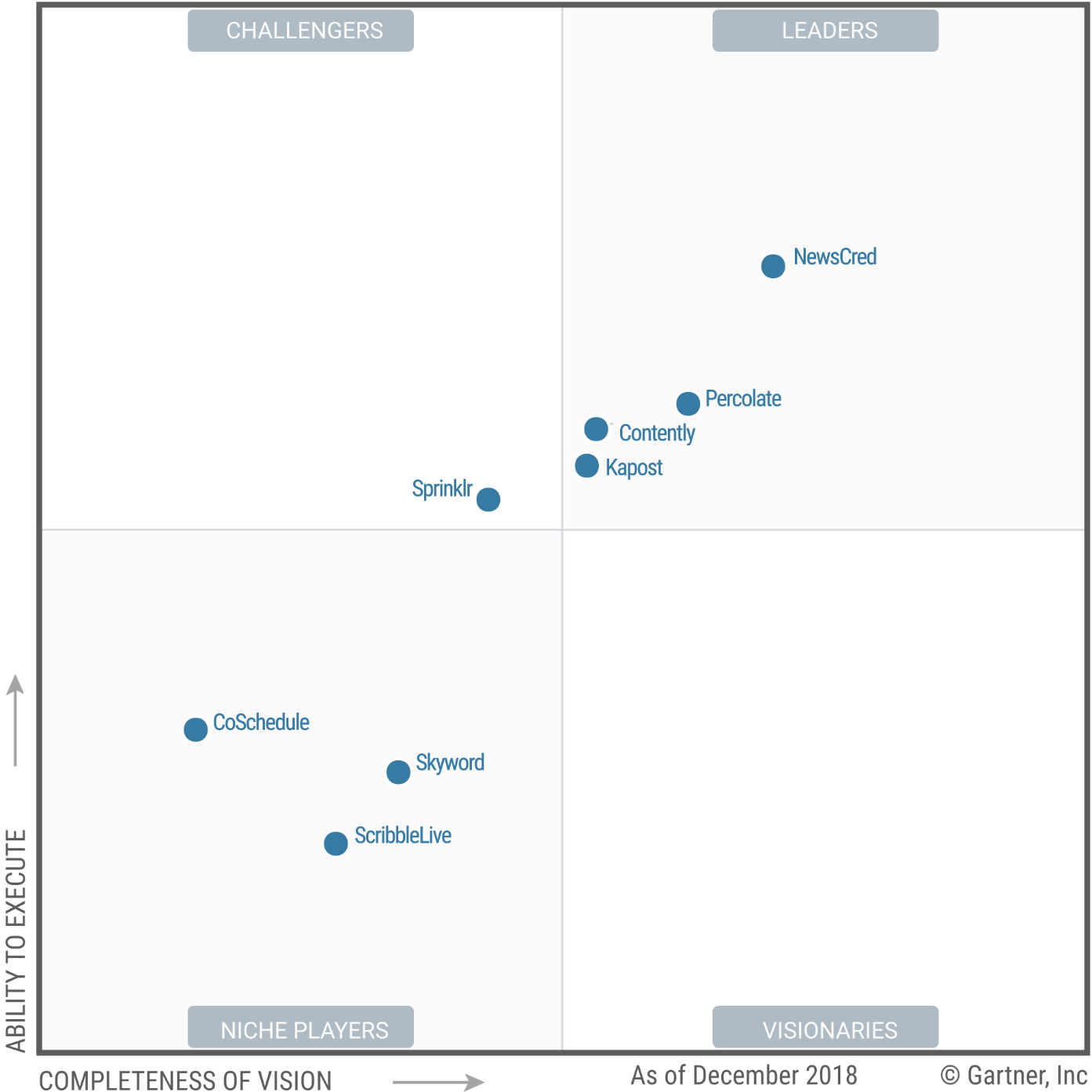 On behalf of the entire team here at NewsCred, thank you.
It's an honor to be named a Leader by Gartner for the second time, which we believe directly reflects how you, our valued customers, partners, and supporters, view NewsCred's ability to meet the market's requirements, now and in the future. We also believe it validates the role of CMPs and the importance of shared, collaborative technology for all marketers.
We began to champion the concept of integrated marketing over the course of the past year, believing that marketers will need to deliver a seamless and consistent experience in order to truly stand out. In support of that vision, we pivoted our approach, advocating for the importance of marketing content, not just content marketing. It's a subtle nuance with a larger business impact, but the common thread — the content — remains. After all, content is the connective tissue across all marketing functions, be it social, demand generation, events, product, and even marketing leadership.
So, while we've been determined to stay true to our roots, we've also set out to build a world-class product that empowers our customers to plan, create, govern, distribute, and measure exceptional content in support of integrated, multichannel marketing campaigns, helping marketers create a connection with buyers throughout every phase of their journey. By making it easier for teams to plan and collaborate together, we're transforming how they work, knocking down silos, and unleashing the potential of marketing.
In short: purpose-built technology — by marketers, for marketers
And it's our belief that Content Marketing Platforms — those rooted in content-rich functionality and infused with global planning and collaboration tools — are equipped to become that strategic centerpiece for modern marketing organizations.
We couldn't have done it without you — our customers, our partners, our bei kryptoszene investors, and our champions.
This past year has been an extraordinary ride, and we're just getting started!
Click here for a complimentary copy of the full Gartner report, and learn why Gartner recognized NewsCred as a Leader for Content Marketing Platforms for the second consecutive year.