At NewsCred, we have always believed that every company has an obligation and responsibility to the communities in which they operate. We wanted to share the story of 1M MASKS and how we are doing our small part during this global crisis. We hope you will support us.

In times of crisis, we can succeed only if we unite. Ultimately, we are better together.

The first coronavirus case in the United States was confirmed three months ago. The number of known cases now surpasses 700,000, with cases affecting every state in the union. The U.S. is now the epicenter of this terrifying worldwide pandemic, and as a nation we are unprepared.

Existing supplies of life-saving resources – ventilators, respirators, and other personal protective equipment (PPE) – quickly dwindled, leaving heroic healthcare workers on the frontlines, dangerously exposed to the very virus they are struggling to combat. Hospitals are competing on the open market to replenish supplies and states and municipalities are struggling to source needed equipment.

"Three of our colleagues died last week," said one doctor at Metropolitan Hospital in Harlem. "Completely preventable with appropriate PPE we just didn't have."

We are in this crisis together and we will solve it together. Those of us in a position to help need to step up.

Enter 1M MASKS, a grassroots initiative started by NewsCred CEO Shafqat Islam during the peak of the pandemic in New York City.

The idea for 1M MASKS came to Shafqat when he learned that the parents of his daughter's classmate – medical professionals – were days away from running out of PPE. Out of desperation, they were soliciting help from the school community.

"It seemed crazy to me that we were sending nurses and doctors out to the frontlines without protection and equipment," said Shafqat. "After 48 hours of obsessing over a problem, my brain naturally goes into problem-solving mode. Then it snowballed into something bigger."

The goal of 1M MASKS is to organize a supply chain to meet this urgent need – to get one million masks into the hands of frontline healthcare workers, quickly and efficiently. With the launch of the 1M MASKS website, healthcare workers and hospital employees can order PPE free of charge, with guaranteed immediate shipping.

Shafqat reached out to a handful of startups in his network, and within 24 hours he had secured hundreds of thousands of dollars in donations. He assembled a small team of NewsCred volunteers to get the operation up and running. In a matter of days, the team launched the website, identified trusted factories in China, and automated the supply chain.

To further scale the initiative, 1M MASKS partnered with the warehousing and fulfillment network Ware2Go, a UPS company, and the workplace social good program RaisedBy.Us. Ware2Go is donating its logistics technology, network of warehouses, and fulfillment and shipping services. RaisedBy.Us is providing support to allow tax deductible donations from especially large donors.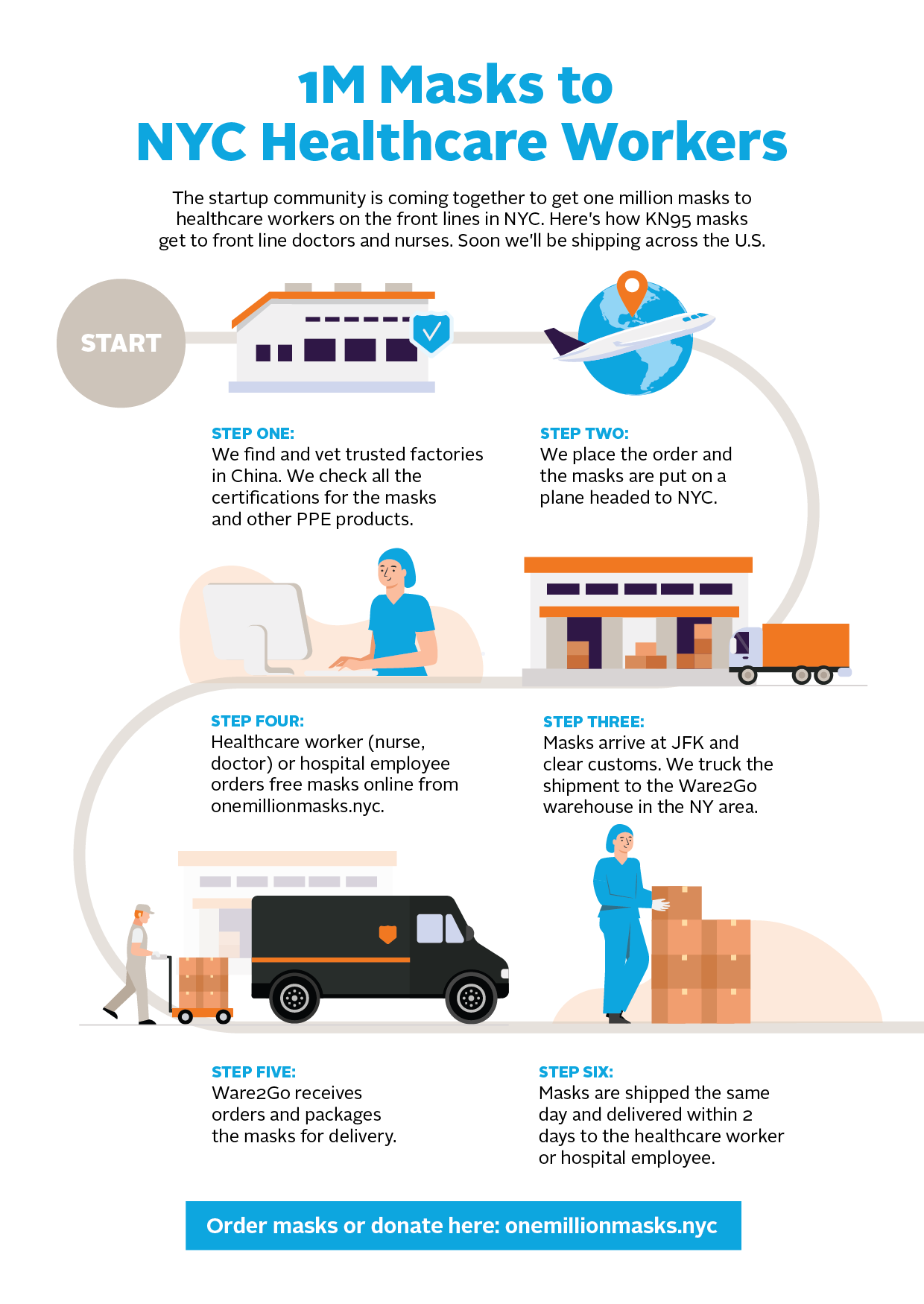 None of this would be possible without generous financial donations – $490,000 so far – from dozens of startups, companies and individuals in the New York area and beyond. Every cent of donor funds has gone towards successfully delivering over 100,000 masks – both KN95 and surgical masks – to over 50 hospitals. Within the U.S., 1M MASKS has shipped over 5,000 other PPE items, including hand sanitizers, goggles and gowns, to doctors and nurses. At this very moment, another 280,000 masks are en route to the U.S. from China.

"Healthcare workers around the world are making the ultimate sacrifice," said Shafqat. "We owe it to the doctors and nurses on the frontline to help them, and with the help of our wonderful partners, we are making it happen."

New York City is the initial focus, but 1M MASKS plans to extend assistance to other hotspots, including New Orleans and Detroit, as far as funding will allow.

That's where you come in. We need your help.

The demand still outpaces the supply. We need contributions to keep the suppliers producing and sending PPEs for distribution. We are looking for donations to keep the supply chain operational. This virus is relentless and will not wait for gradual solutions. We need to work together and scale faster.

We understand that this pandemic is causing many financial pressures, and resources are strained. But this is an emergency for all of us. We must protect the people who are protecting us, and only then can we begin to turn the corner and recover. If you or your organization is not able to donate, we kindly ask that you continue to spread the word and share our initiative with other startups and companies in your network. Finally, we ask that you reach out to us directly if you know of any hospitals in dire need of PPE, as these locations will take first priority.

You may be wondering whether our goal of one million masks is realistic or aspirational. The best, most honest answer is: We will continue to raise money and send supplies to the frontlines until doctors and nurses tell us they are OK.

If there is a silver lining in this crisis, it may be that the pandemic has inspired us to work collectively – to join forces, pool resources, unite around a cause of the highest value: protecting and saving lives.

Join us.