As we here at NewsCred celebrate our 10th anniversary, I wanted to take a look back at a decade of evolving our product into the content marketing platform it is today.
But before we dive in, there's an important definition that we need to get straight: the idea of the "pivot." The word evokes a vision of coming to a full stop, turning, and then running in an entirely different direction. (You may have seen HBO's "Silicon Valley" brutally pan the concept of pivoting.) "Evolution" is actually a better word, and my hunch is that every single successful company has experienced "pivots" in this way. As you read on, I think it will become clear why this is an important distinction.
NewsCred 1.0
The first version of NewsCred was actually a social news application designed so people could discuss and promote credibility in journalism – hence, the "Cred" in NewsCred. People could rate, comment on, and tag news stories they deemed as high-quality and legitimate. In 2017 lingo, we refer to this as "fighting fake news."
Though we were eerily prescient, we were several years ahead of the times. Back in 2007, we were unable to create a viable business for combatting fake news. But our first product left behind an important legacy that would provide the foundation of what was to come.
The B2B Era
My founders and I still felt the urgency to address the turmoil in the journalism and publishing industries. At the time, the rapid rise of the internet and mobile technology was unraveling their long-standing subscription and ad-based business models.
We didn't want to build our company on that struggling ad-supported business model, though. We grew eager to launch a product for which customers would be willing to part with their money in order to gain access.
Our idea was to sell third-party content feeds, akin to newswires, to publishers who needed to supplement what they were able to produce in-house. We were able to leverage the technology that we had built to power the previous version of NewsCred. I'll use the word "pivot" just this once to describe what happened.
At this point, there were still a number of key differences compared to present-day NewsCred:
We sold content, not software.

We sold to publishers, not brands.

We sold links to articles, not the rights to publish full text.
Enter Licensed Content
We sold just enough feeds to learn from our customers that they wanted more than article links. They wanted to be able to publish the entire body of the content to prevent readers from bouncing.
We eventually convinced a company to let us resell its content to our customers for a revenue share, thereby birthing our licensed content business. (We actually owe this company a massive debt of gratitude for taking a chance on baby NewsCred. Established companies that are willing to partner with budding startups are critical to the innovation engine that keeps economies vibrant.)
The Birth of Content Marketing
Long before we uttered the phrase "content marketing" in our offices, the Swiss branch of the global telecommunications company Orange made the fateful decision to purchase NewsCred. This got our gears turning. Orange was publishing licensed content the same way as all our other customers, but it wasn't on the hook for monetizing that content directly. Orange sold phones and mobile plans online and was just using content to fuel its marketing.
Our hypothesis was that brands needed content more urgently than our existing publisher customer base and thus would be able to allocate larger budgets to fill this need. Boy, were we right!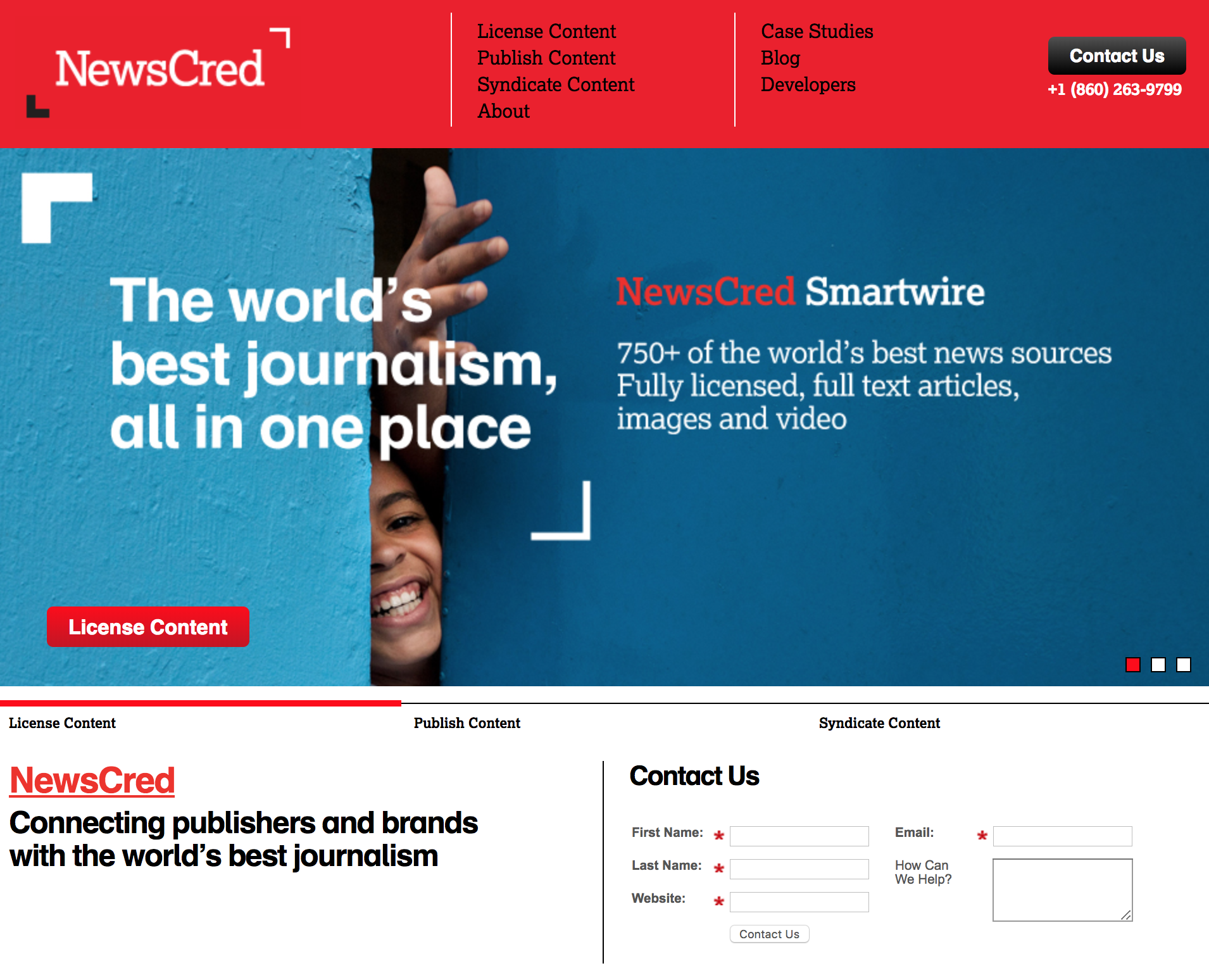 Finally…Software!
We were confident that, in brands, we were addressing the right market. But we were rapidly learning that, metaphorically, backing up the truck and dumping content on our customers' lawns was not an approach that would result in successful content marketing programs.
We ideated about building a SaaS application that would guide our customers through the long and arduous journey of establishing a first-class content marketing program.
During that time, we had a board meeting where we presented ideas and mockups about this hypothetical SaaS product. We were entering a break when board member Rajeev Batra got up and called for quiet. He pointed at the slide of our theoretical software and stated, "If y'all don't build that thing, y'all are f*cked."
With that, our decision was made.
As we embarked on creating this new product, one of our founding principles was that we wanted to build enterprise software that looked, felt, and acted differently from the business software people were accustomed to using. Plenty of very useful products don't meet the bar for user experience, so it's not a prerequisite for success. But this is how we wanted to do it. This principle continues to guide and inspire the engineering and product teams who build NewsCred's software today.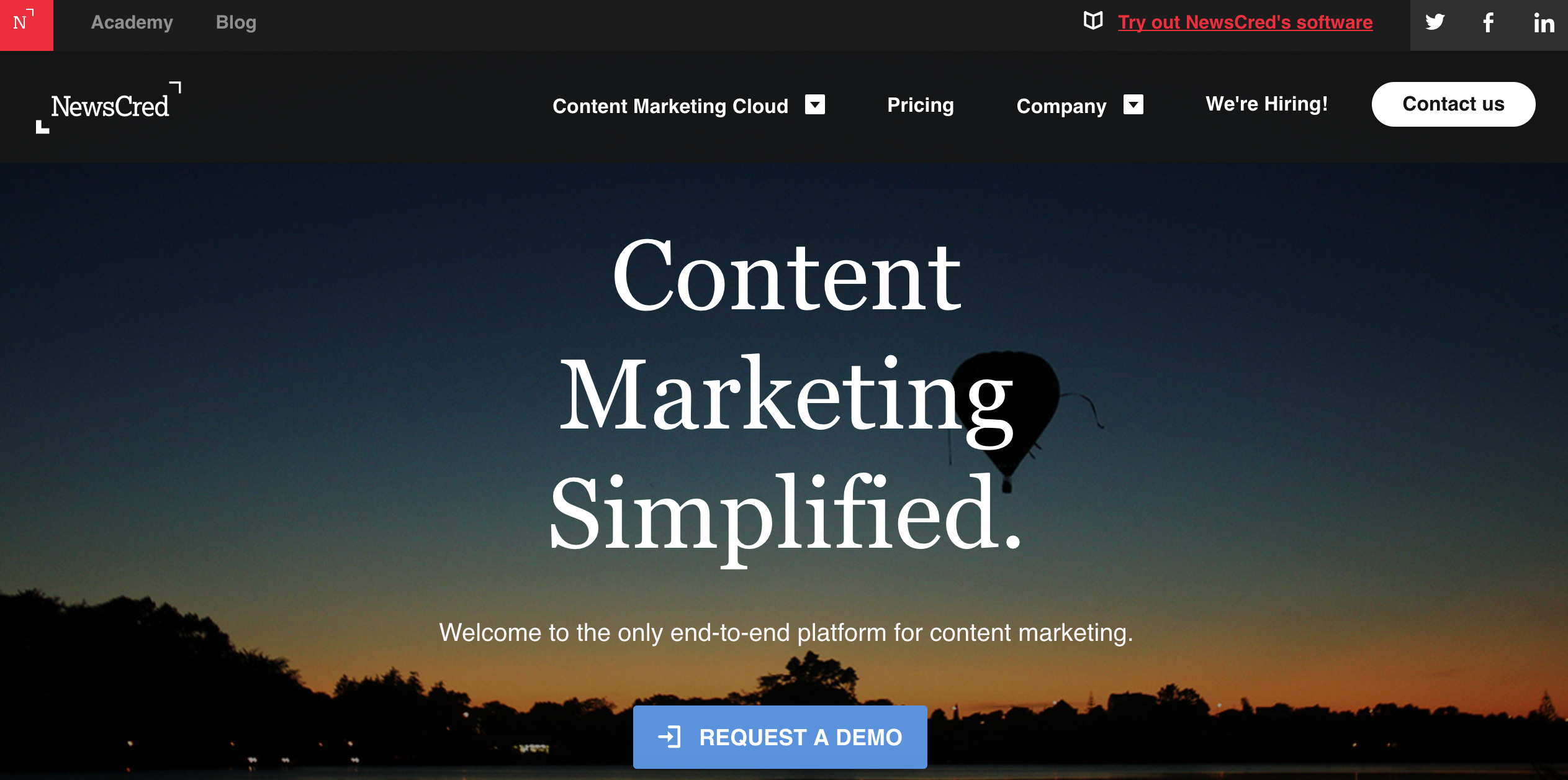 The Evolution of NewsCred's Content Marketing Platform
The first version of our software performed a very limited set of functions for its pioneering users. For a small team, one could plan an editorial calendar, find or create content to publish, and export the content to a content management system through an RSS feed. This was a huge improvement over what our customers experienced heretofore, which was essentially the output of an API built inherently for other software programs to interact with.
From that point forward, our software evolved on three parallel paths alongside the growing importance of content in the marketing sphere. We focused our efforts on performance, ensuring that we're providing content marketers the features they need to run world-class programs that drive measurable business results.
Scaling Workflows for Larger Teams
As content marketing organizations grew larger and more complex, and as we started working with more global businesses that had multinational teams, we had to support the new collaboration modes that our users needed. We made our workflow and project management functionality more flexible and customizable. We adapted our software for the different roles that various users play in the content marketing lifecycle and grew the ability to f
ine-tune permissions.
Building Tech Stack Integrations
Secondly, as we learned more about how to best support our customers through software, we also discovered NewsCred's optimal place in the content marketing stack. With this discovery came the imperative to build integrations with marketing automation platforms like Marketo and Eloqua, and the major social networks, including Facebook, Twitter, LinkedIn, Pinterest, Instagram, YouTube, and more.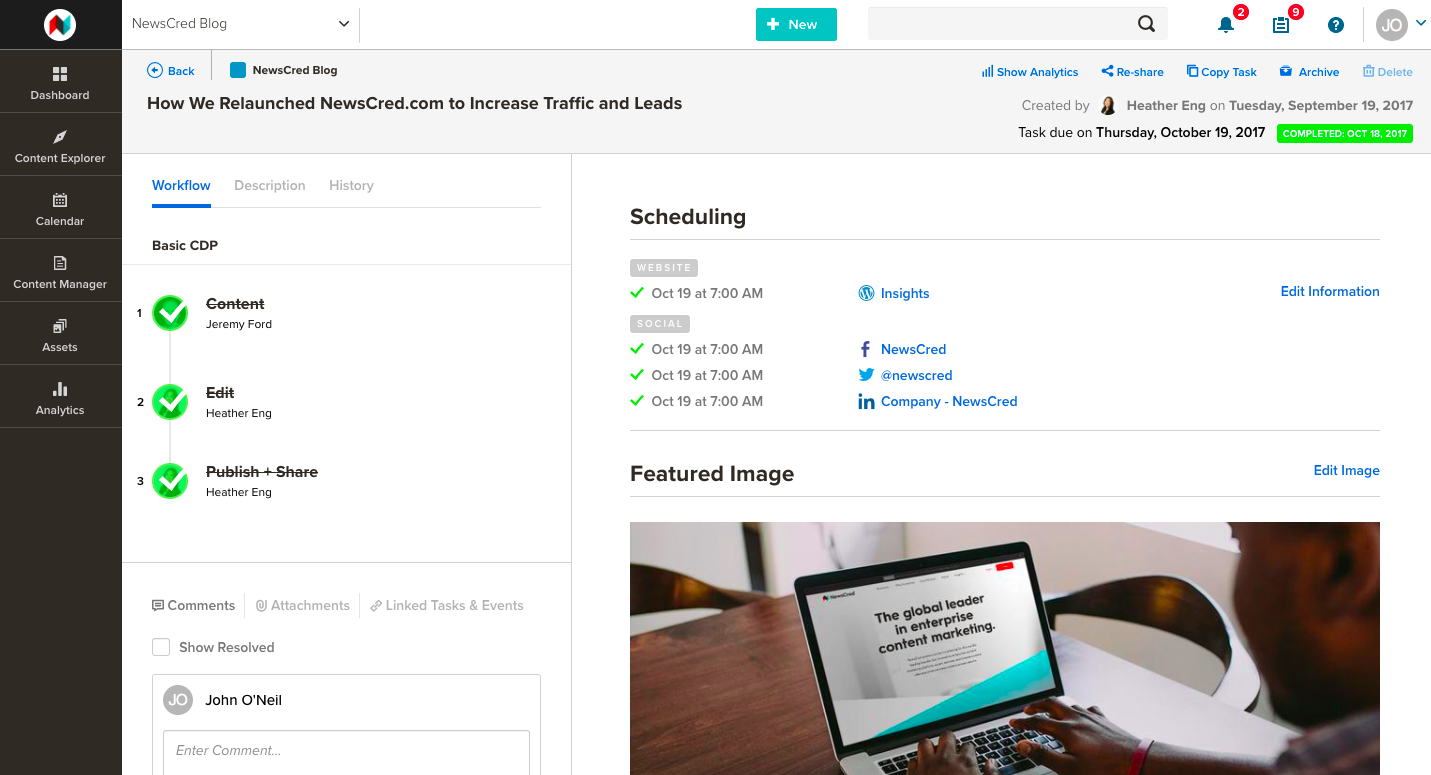 The NewsCred Content Marketing Platform lets users create customized workflows, then publish to multiple platforms at once.
Creating Best-in-Class Analytics
Every marketer is focused on using data, analytics, and intelligence to drive optimal business results – and we've responded with equal force in our software offering. We built content marketing-specific analytics to not only show the traffic and engagement around published content, but also overall program ROI through leads generated and revenue influenced.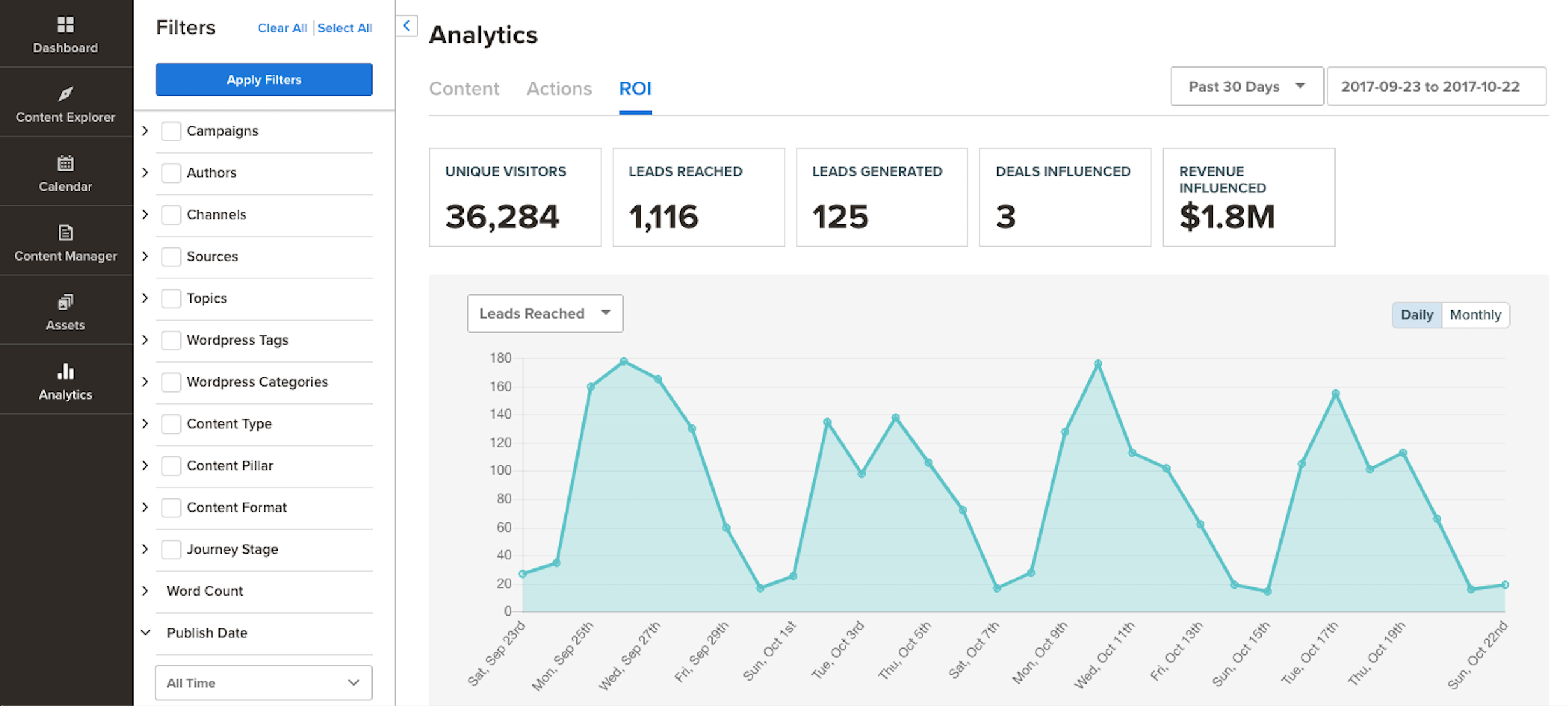 A sample company's ROI analytics
I would be remiss to tell this story without mentioning the professional services offering that we developed during this time period. Services fill the inevitable gaps in a nascent and rapidly evolving software product; our content marketing experts serve as extensions of our customers' teams and help them meet their business goals. In addition, NewsCred's expert services team provides us with valuable feedback without which we would have no idea what to even build into our product.
A Look Ahead
Building NewsCred's platform has been a wild ride. And yet, somehow, we're still not even close to being finished. Our next frontier will involve providing marketers with actionable insights and intelligence stemming from our wealth of data. And we're constantly updating our product to meet users' needs as the content marketing space evolves. I'm looking forward to writing part two of this post, one decade from now.
Asif Rahman is NewsCred's Chief Technology Officer and Co-founder.