As we grapple with a "new normal" as individuals, we know that marketers are also (in many cases) navigating new professional challenges — from pivoting strategies, to reallocating resources, to managing distributed teams — all while acclimating to the dynamic of working from home. To help adjust to the "new normal", new work from home tools will be a necessity.
Now more than ever, we understand the importance of delivering a product that unifies marketing teams, fosters collaboration, and enables you and your colleagues to do your best work — together — no matter where you're working.
In that pursuit, we've doubled down on optimizing the user experience and improving platform performance to enhance the way marketers work together in our software — including a Campaign List View, a new Roles & Permissions model, and enhancements to both flexible workflows and the content publishing experience.
We're also excited to spotlight an upcoming innovation, Resource Bandwidth View, designed to help marketers manage their team's workload and properly allocate resources.
Read on to learn more about all of our newest functionality, and as always, let us know if you have any feedback!
---
Campaign List View: Monitor All Activities From a Single, Intuitive Interface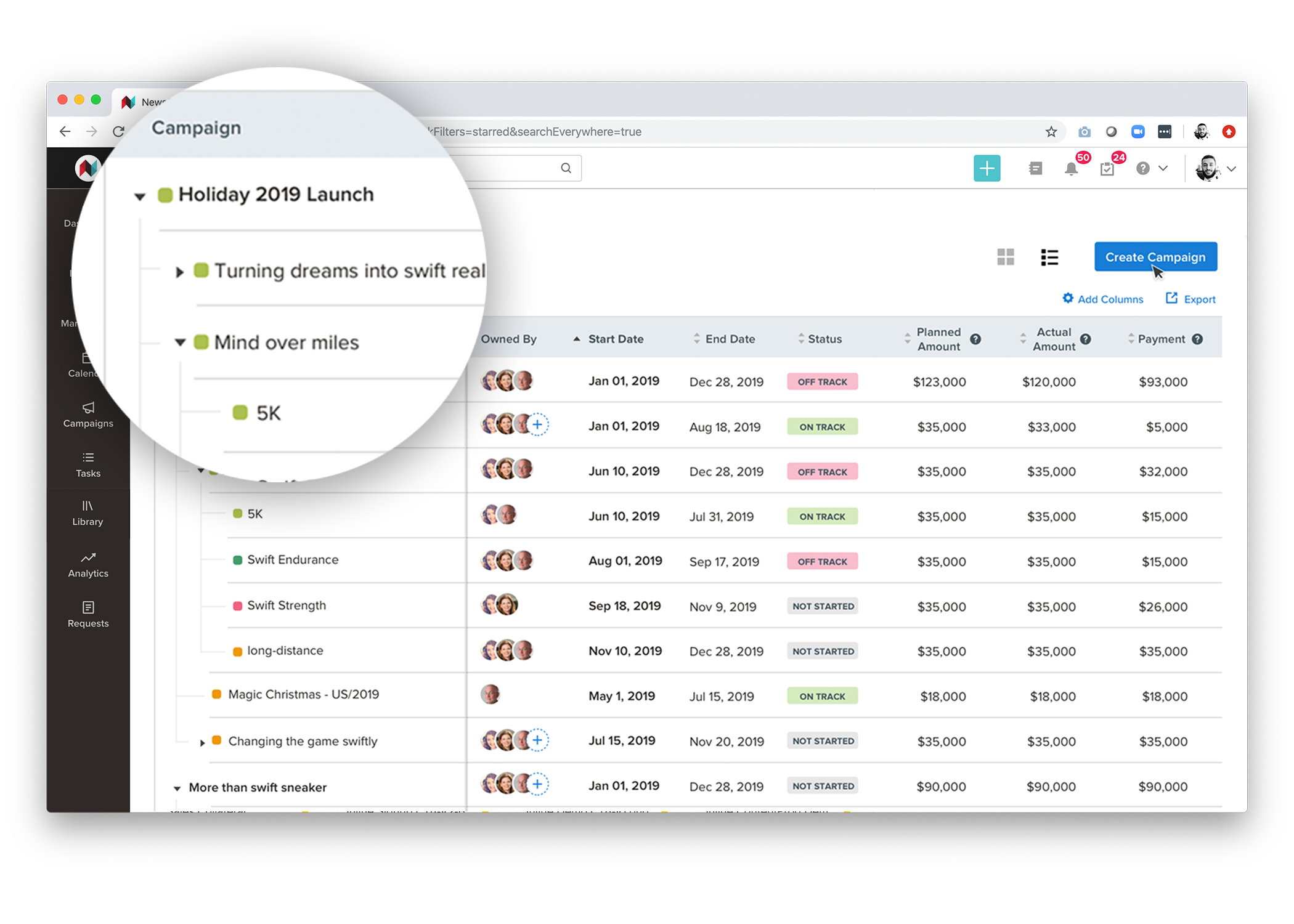 As a marketer, you know strategies, campaigns, and supporting tactics are ever-evolving. And that's only enhanced now that we're dealing with COVID-19 and people are (quite literally) working independently.
That's why we're excited to introduce the Campaign List View. Work from home tools designed to provide a single view of all marketing activities, the Campaign List allows you to easily monitor the health of all campaigns in an intuitive, spreadsheet-like format to identify roadblocks before they happen. Because let's be honest: no one has time to go digging for updates or ensure proper handoffs between teams.
Specifically, this first phase of the Campaign List View (available now) includes:
Campaign Filtering to sort campaigns by relevant Labels or Custom Fields, and the ability to create saved filters for future use to easily surface relevant work
Column Sorting to quickly access important information and drag-and-drop functionality for a customized view of your campaigns
To build on this, the second phase of the beta will allow teams to view a hierarchical campaign list (including sub-campaigns) to understand how all supporting work rolls up to broader initiatives, as well as the ability to make inline and bulk edits, allowing teams to quickly pivot owners, due dates, and strategies.
---
New Roles & Permissions Framework: Simplify Sharing & Enhance Collaboration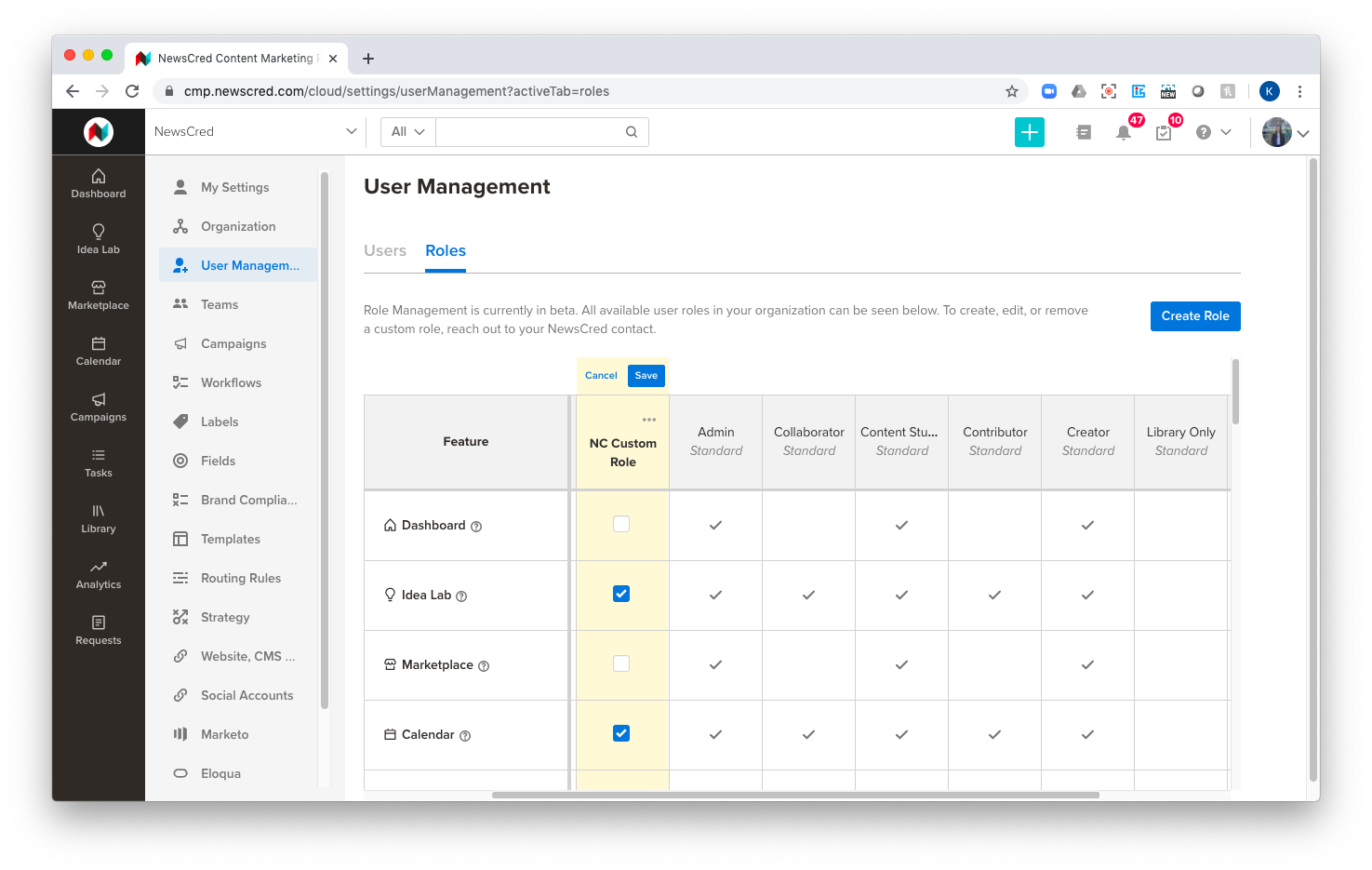 NewsCred helps bring remote teams together into one platform to manage all of their marketing activity. But with added team members using the platform (such as contractors or agencies), marketers need the ability to share work (with appropriate levels of access) to various colleagues.
Managing these user permissions — particularly at scale — requires a delicate combination that both enables collaboration as well as maintains governance. To enhance how this is managed within the platform, NewsCred's work from home tool has introduced a new roles & permissions model.
Specifically, the updates include:
An updated permissions framework
The ability to create custom roles
A set of updated standard roles
These changes lay the foundation for a simple and intuitive sharing experience that will allow you to more easily govern all of your users to ensure every remote team member has the proper permission levels to get their work done.
---
Flexible Workflow Enhancements: Quickly Adapt to Pivoting Work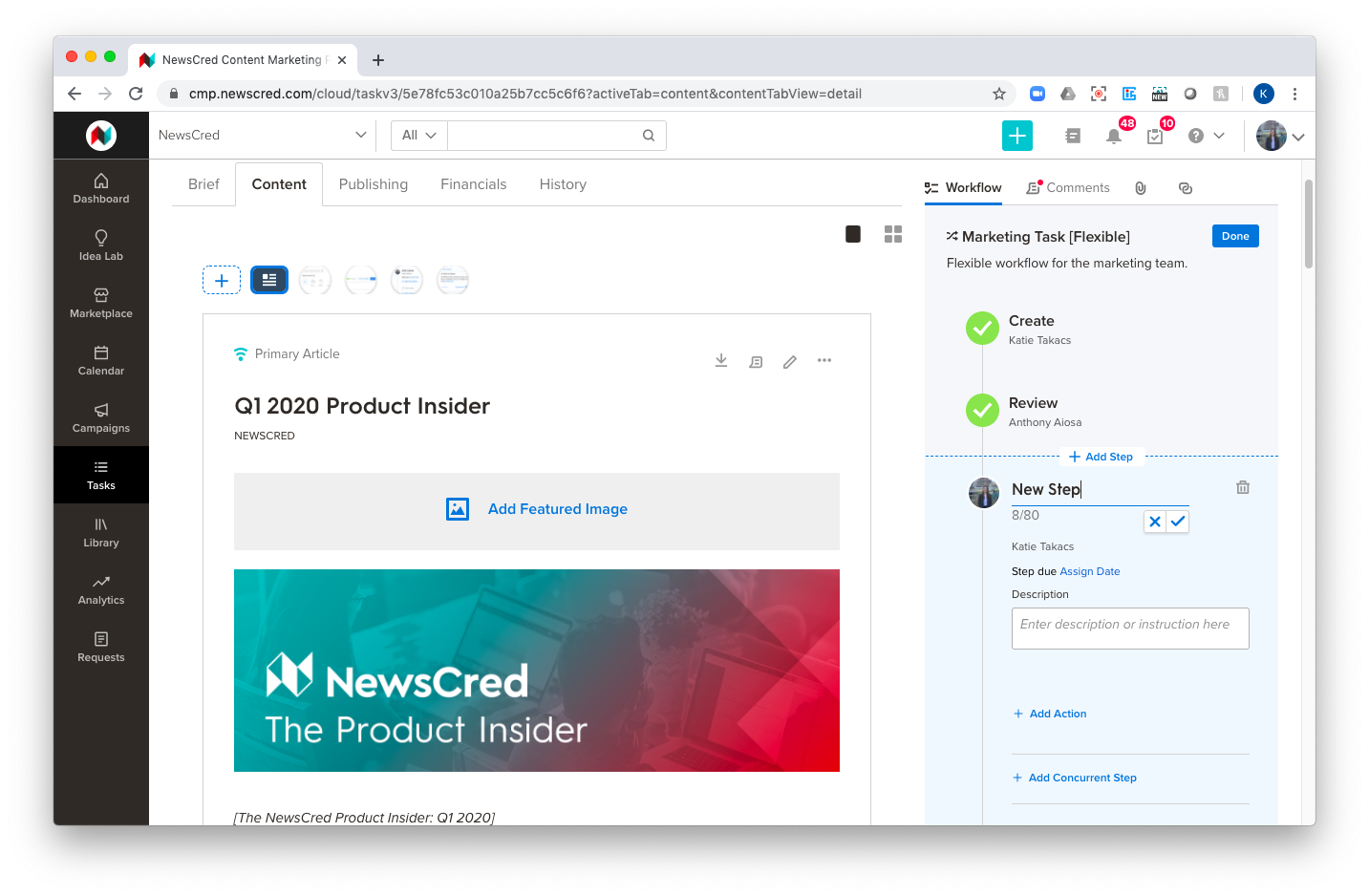 During times of crisis, shifting priorities and surprise roadblocks are bound to happen, so teams need work from home tools that allow flexibility to move quickly and adapt to new strategies. Building on the new Tasks experience released last quarter, we've added several features to flexible workflows, enhancing your team's ability to relax workflow rules for ad hoc adjustments.
Specifically, the updates include:
Creating a flexible workflow without step actions, simplifying project management and allowing users to create simple "to-do" tasks.
Adding or removing a step to an existing task, allowing users to create a unique workflow that best fits their process during in-progress work.
---
New Publishing Experience: Streamline Sharing Across WordPress & Facebook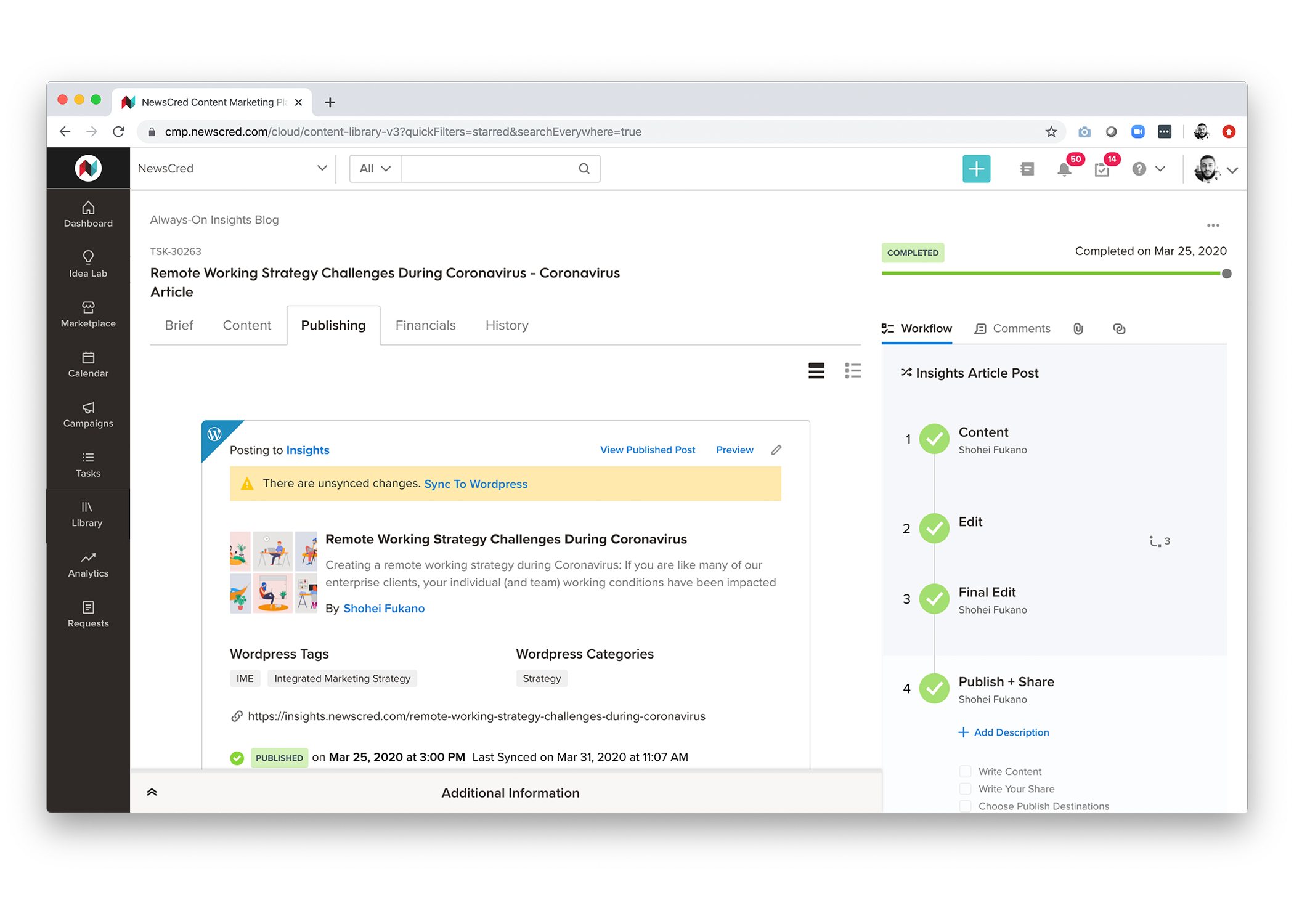 Most (if not all) of organization's marketing efforts are happening digitally, with website content and social channels being two of the top channels to reach your audience. In fact, in a recent survey we ran among marketing leaders, we found that shifting strategies during the coronavirus has led to a 72% increase in investment for web content and a 66% increase for social.
NewsCred's publishing integrations serve to provide your team with an easy way to distribute your content to all downstream systems, and deliver a consistent, cross-channel experience for your audience.
Given the importance of being able to do this both quickly and intuitively, we've revisited the content publishing and social scheduling experience within the platform and are excited to announce improved publishing modals for WordPress and Facebook.
Within the updated WordPress modal, teams can now:
Preview content, as well as

edit the author

or change the publish destination

directly within the widget
Create and edit the article's URL and retrieve the link before content goes live to use in scheduled emails, social posts, etc.
Within the updated Facebook modal teams can now:
Add an

unlimited number of images

and one video to their Facebook posts
Easily

switch accounts directly within the publishing widget, and see a

full preview

of what their live posts will look like
Edit UTM parameters, and leverage

geo-targeting

to ensure scheduled posts are delivered at the right time
---
[Beta Spotlight] Resource Bandwidth View: Manage Capacity & Better Allocate Resources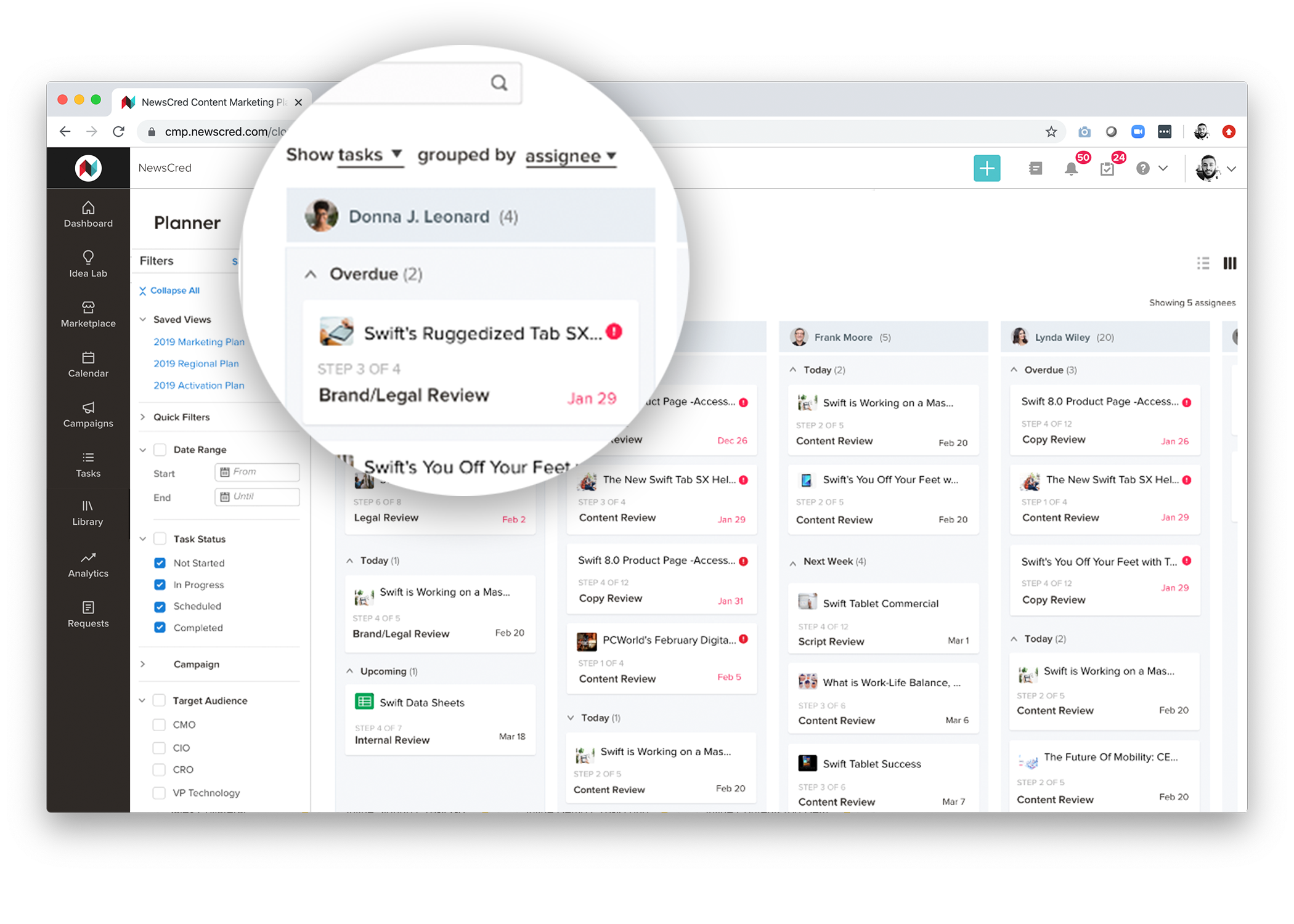 With work from home tools, understanding what your team members are working on, and when, is critical to effectively prioritizing, assigning, and managing work across distributed teams. Within Tasks, NewsCred provides a new Resource Bandwidth View, giving teams the ability to easily see who is assigned to what, as well as the progress of in-progress tasks, no matter where your team members are.
Specifically, the Resource Bandwidth View allows teams to:
Surface assigned tasks for each member of the team, to quickly see what's overdue, in-progress, or coming up soon, ensuring proper resource allocation when planning new marketing activity
Filter by dates, step assignees, and other customized metadata, for better transparency into task progress and to hold team members accountable for on-time completion of work
Drag-and-drop capabilities to easily reassign steps, allowing teams to respond quickly to shifting priorities or surprise roadblocks
---
Interested in learning more?
If you'd like to see the platform in action, or if you have any questions,
don't hesitate to let us know
.
Katie Takacs is NewsCred's Product Marketing Manager.