No marketer is an island, no matter how understaffed our teams can feel (or be!) at times. Successful campaigns require project management, shared planning, creative collaboration, documentation, and governance across multiple people and teams. And building fully integrated campaigns — a core focus for many leading brands — takes all of this collaboration and visibility to the next level.
One weak link or disconnect at any part of the integrated marketing process can result in subpar results. (Let he who's never lost a file in a full email inbox cast the first stone.) Yet many of today's organizations simply "make due" using manual, inefficient processes, accepting that this is the way marketing is done. For example, according to the McKinsey Global Institute (MGI), the average high-skill professional worker spends an estimated 28% of the workweek managing email and another 19% looking for internal information — nearly half their week!
Here are other common challenges (and NewsCred's solutions) for organizations still using old-school spreadsheets, decentralized tools, or workarounds with software not purpose-built for marketing.
1. The C-suite has limited visibility into all marketing activities.
Using spreadsheets to communicate complex marketing plans is a disservice to the campaign. Often this leaves individual contributors asking questions such as: What's my role? What do I owe, to whom, and when? Leadership, on the other hand, may ask: What is the objective of this campaign? How does this align with our other initiatives, and what is the value to the business? Frankly, there's no way for either side to get clear, concise answers to their questions. This blurry line of sight creates misalignment at the team level and an inability to ladder activity up to the bigger picture at the leadership level. Ultimately, this all leads to non-strategic marketing and poor decision-making.
Solution: By maintaining a comprehensive view of all marketing campaigns and big rock content initiatives on a single platform, our team is able to improve strategic decision-making. With visibility into all activity on a centralized calendar within the NewsCred CMP (content marketing platform), the full scope of work is on display and accessible in real-time, empowering individuals to execute full campaigns or facilitate content production and distribution across various channels. Ultimately, this helps our entire team — including executive level leadership — align on our marketing initiatives by bringing all campaigns, events, and content together.

The type of GTM planning spreadsheet our marketing team used to create (left).
Campaign calendar view in the CMP with status tracker and labels (right).
2. Consistent administrative bottlenecks delay launches and slow speed-to-market.
Not only is a spreadsheet not conducive to planning, but it also requires constant upkeep to accurately reflect current status and ownership as work exchanges hands. And the more time employees spend doing manual maintenance, the less time they have to produce constructive, value-adding work. Of course, the more integrated and complex a campaign, the more deliverables there are to be produced, and the more maintenance that is required. It becomes a vicious cycle that can lead to missed timelines — not to mention disgruntled marketers doing tedious (and seemingly never-ending) administrative upkeep.
Solution: By working within a shared space, our team is able to streamline all of the necessary collaboration and feedback for a given piece of content or broader marketing campaign, enhancing the efficiency and productivity of our entire team. Centralized campaign briefs ensure everyone knows what to do and when to do it, we're able to move seamlessly from planning into execution and workflows. And with automatic notifications that inform us when work has reached a certain stage, our marketing team is able to accelerate every step of the process to ensure deadlines are met, accountability is clear, and time-to-market is reduced.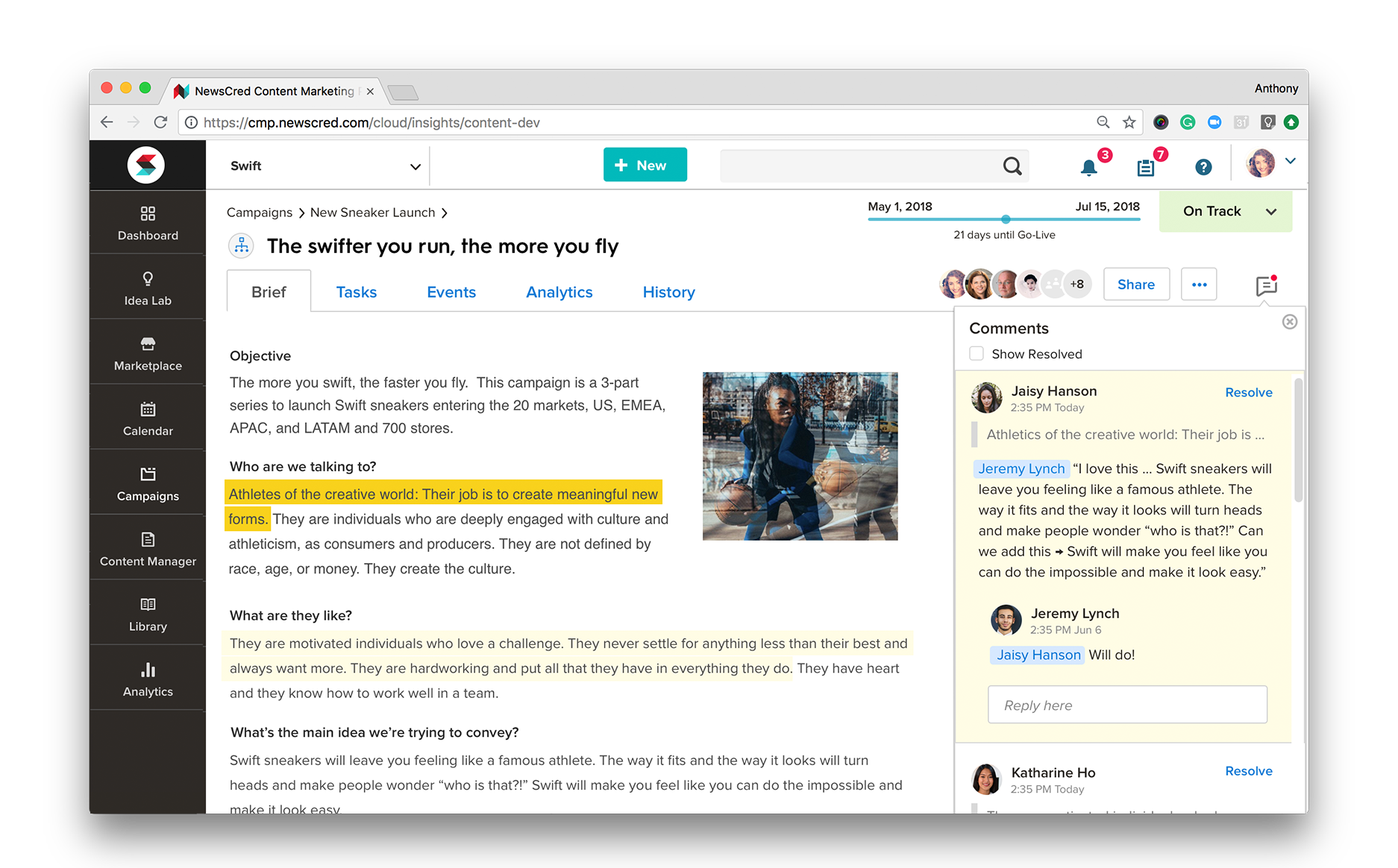 Campaign health at-a-glance, with real-time collaboration and notifications.
3. MarTech stacks and content waste are growing (in parallel).
Recent years have seen big investments in marketing technology. But as MarTech stacks have grown, so have the number of tools marketers need to navigate daily — and that's added new layers of complexity. For example, perhaps your team maintains a shared calendar in one tool, but you create and collaborate on actual deliverables in another. Meanwhile, progress is tracked using a separate project management tool. And within each of these systems, every contributor is linking back and forth to various plans, documents, and spreadsheets that live… elsewhere. Ultimately, when everything happens within disparate tools there's a lack of connectivity across the process, which introduces the risk of marketing messaging inconsistencies, effort duplication, and content waste.
Solution: By centralizing all campaign and corresponding content activity, our marketing team is able to invite contributors — from different teams, agencies, partners, or markets — to work together within a shared, dedicated space. This allows us to monitor progress and keep track of tasks and contingencies, ensuring nobody is duplicating efforts and increasing alignment. Additionally, because our Library (the NewsCred CMP's digital asset manager) is a core component of the platform, we're able to easily repurpose existing content, maximizing utilization and keeping us consistent across every initiative. When we do need to create new content, the CMP's flexible editors and workflows allow us to manage the production of various campaign deliverables (from videos and landing pages to presentations, infographics, social ads, and more) making it easy for us to create, collaborate, and approve content — all from a single platform.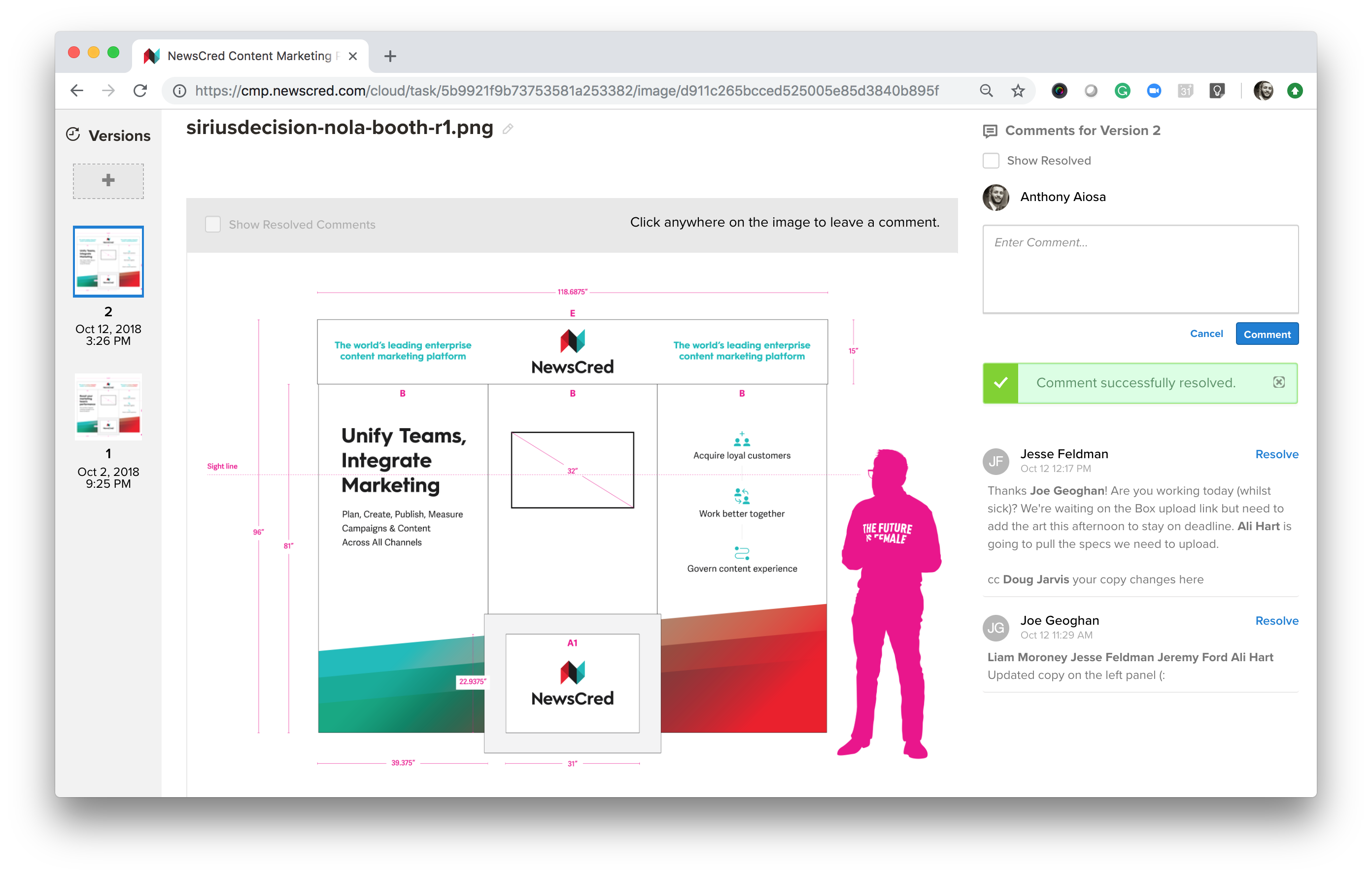 Yes, we do use a scale model of our CEO in booth designs.
4. Team silos are reinforced by separate "collaboration" tools.
Doing work in disparate tools means doing work in a vacuum — often without necessary context and collaboration. But in order to achieve desired business outcomes, every team and individual contributor must operate in alignment and coordinate around the creation of the numerous marketing assets that campaigns depend on. Without a centralized solution, marketing campaigns can suffer from misaligned and inconsistent messaging, which diminish the customer experience and result in lower than expected performance.
Solution: Establishing a single-source-of-truth for every campaign (complete with background information, participants, supporting assets, to-do lists, and activity updates) provides our team with everything needed to complete the campaign — all in one place. It also allows us to compile campaign-specific resources and distribute approved templates, guidelines, and content available from within the CMP, empowering every contributor to stay on brand and facilitate consistency across every campaign. Ultimately, by aligning our marketing efforts and integrating planning across all marketing functions, we're able to deliver a more consistent, unified experience throughout every touchpoint of the buyer journey, and improve overall campaign results.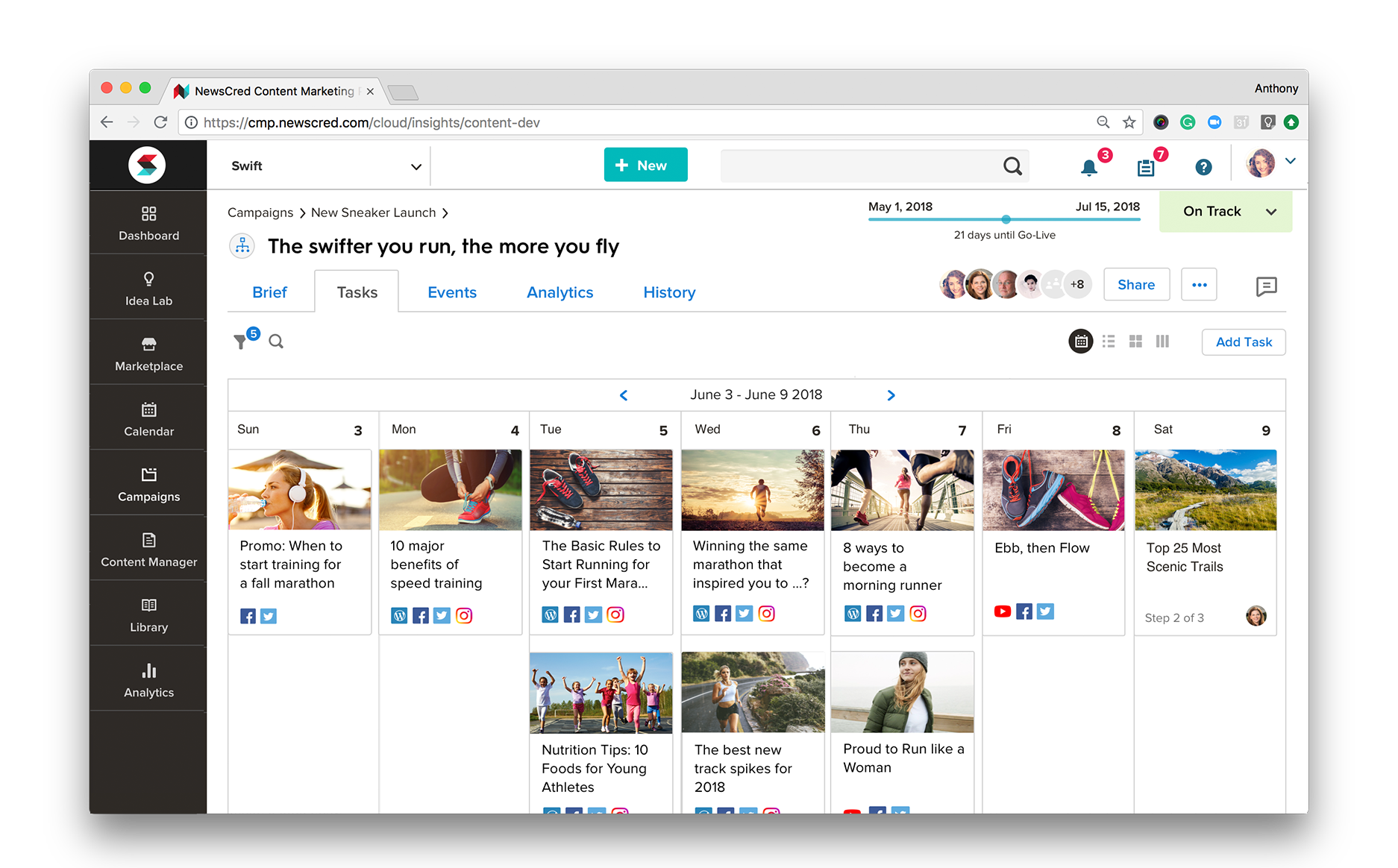 Dashboards to compile campaign-specific deliverables and maintain consistency.
5. Data reporting is manual and efficiency metrics are non-existent.
All marketers know that data-driven learnings are key to getting an edge on the competition. And if your organization is like most these days, you don't have a streamlined way of pulling your data into a detailed retrospective that offers a full, unbiased, and complete picture for executive review. Without the ability to report on campaign performance and operational efficiency, teams lack the necessary insights to measure ROI and optimize future programs.
Solution: Within our CMP, we're able to measure progress and ensure campaign success with real-time team productivity and performance updates. Using step and progress indicators, status breakdowns of to-do items in Kanban boards, as well as live activity and commenting streams that highlight the contributions and collaboration amongst individual campaign participants, our team has a granular view of how each campaign is progressing. Operational analytics around productivity (such as volume of content produced, on-time performance, and workflow efficiency) are also monitored, while deep performance analytics measure the end-to-end impact of content — from first-touch engagement to closed-won attribution, and every influential touchpoint in between. Ultimately, these robust data-backed retrospectives help us quickly circulate campaign results (via export/link share), measure ROI, and inform future campaign planning.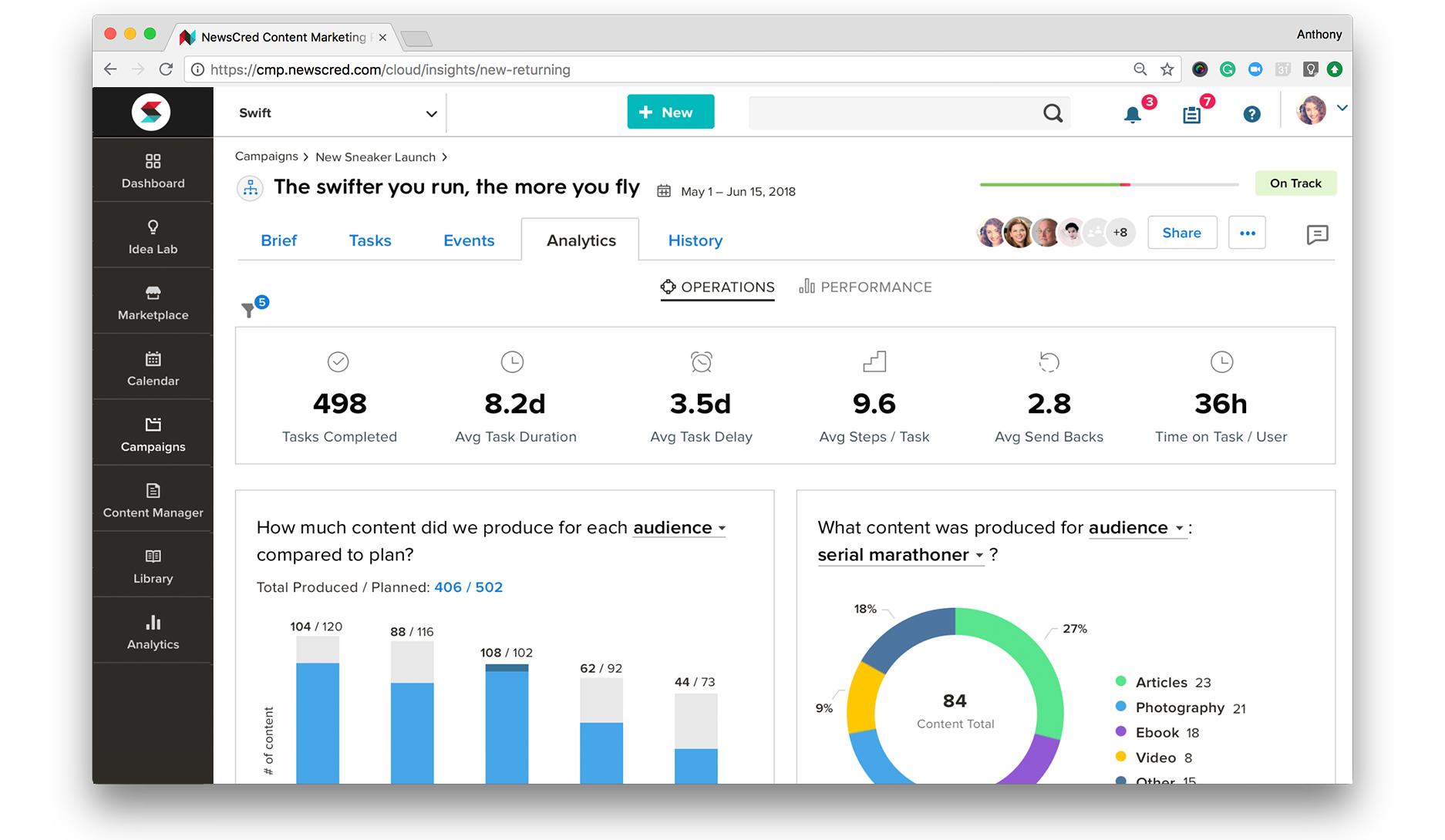 Benchmarking productivity and operational metrics helps build a better-performing, more efficient team.
In short…
Thanks to the Integrated Marketing Edition of our Content Marketing Platform, our team is able to come together to ideate, plan, create, publish, govern, and measure all of our marketing campaigns and supporting content — from a single platform. The result has been a dramatic increase in efficiency and content utilization, more consistent and optimized customer experiences across all of our digital touchpoints, and a more unified approach to NewsCred's marketing.
If you're interested in learning more about how we're actively putting integrated marketing into practice — and helping many of our customers do the same — request a demo here.
Anthony Aiosa is NewsCred's Senior Product Marketing Manager.