Standing out in our content marketing efforts is an increasingly difficult task in a world saturated with ads, videos, blogs, campaigns, and images.
The numbers surrounding content creation and consumption are staggering. Last year, business management software platform Domo released data showing that YouTube users upload 300 hours of new video, Twitter users send almost 350,000 tweets, and Instagrammers "like" almost 250,000 posts – in one minute online.
It can feel like an insurmountable task to make your voice heard in that environment.
But quality content rises to the top, and content with a mission goes even further.
Brands that incorporate their core values in marketing – the unique visions and distinct characteristics that set them apart – are able to create truly authentic, engaging, and one-of-a-kind experiences for their audiences.
Mission-driven content marketing not only contributes to customer loyalty. It also leads to increased revenue.
Conscious consumerism has taken off in recent years, and the most successful brands know how to link their purposes with mission-driven content that aligns with their audiences' interests.
Nielsen found that 55 percent of global online consumers reported willingness to spend more on products or services provided by companies that are committed to positive social and environmental impact. Jim Stengel's 10-year growth study of 50,000 brands found that the 50 highest-performing businesses are driven by their ideals.
Why? That feeling of doing good with one's dollar gives value-sharing customers a sense of well-being that drives a devoted clientele, as well as word-of-mouth referrals.
Here's a look at three brands who are winning at content marketing by putting their ideals and missions front and center.
Ben & Jerry's: Making the World a Better – and Sweeter – Place
Delicious ice cream certainly plays a role in Ben & Jerry's success. But the Vermont-based creamery is much more than that.
"We're trying to create a new model for how businesses can use their voice to have an impact on important social movements," Jay Curley, Ben & Jerry's Senior Global Marketing Manager, told NYMag.
For years, Ben & Jerry's has used its platform for more than hawking cones and cups of creamy goodness.
The "Values" section of the Ben & Jerry's website highlights the issues in which the company is most invested: racial justice, democracy, supporting GMO labeling, LGBT equality, climate justice, fair trade, and more.
Amid blog posts announcing flavor launches and ice cream trends, Ben & Jerry's frequently publishes content related to its core social issues. Recent popular posts include: "7 Ways We Know Systemic Racism Is Real" and "The 9 Most Inspiring Things We Saw At The People's Climate March."
Ben & Jerry's has not shied away from taking strong stances on current events issues, like Black Lives Matter and President Donald Trump pulling the United States out of the Paris Climate Agreement.
Another way they show they care? By putting their money where their mouth is. Seven-and-a-half percent of Ben & Jerry's pretax profits fund various projects. Even after being acquired by Unilever in 2000 (for a whopping $326 million), the deal was contingent on the brand establishing its own board of directors that would continue to uphold its values and social mission.
Takeaway: You certainly can't please everyone (as evidenced by some of the negative comments on Ben & Jerry's social posts). But the company is seeing a payoff from its efforts.
Unilever reported that in 2015, sales grew at a double-digit pace. Over the past 15 years, business has nearly tripled. Reports even show that consumers who are aware of Ben & Jerry's values are 2.5 times more loyal.
"Ben & Jerry's is authentic," says Chris Miller, Ben & Jerry's Social Mission Activism Manager. "Standing for something in a world where people so often stand for nothing is incredibly powerful."
LUSH: Protecting People, Animals, and the Planet
Since its founding in 1995, U.K.-based, all-natural cosmetics company LUSH has made it its duty to champion causes close to its heart and commit to a wholly organic, cruelty-free way of business and manufacturing.
The brand's "How It's Made" video series – the clips of which routinely garner well over 100,000 views – highlights production processes and the benefits of key ingredients. Through the laid-back, unpretentious tone, viewers are made to feel like they're listening to a friend as they watch real-life Lush employees concoct the brand's various creations – all of which are vegetarian and even 80 percent vegan.

Other popular video content hones in on how to use certain products and how elements like microbeads cause environmental problems.
It comes as no surprise then, that the brand also employs a very strict policy of never testing on animals and won't even do business with companies that participate in such practices.
Like Ben & Jerry's, Lush doesn't hesitate to vocalize opposition on this and various other social and environmental justice issues via online content, social campaigns, and even with products.
Earlier this year, for instance, Lush released a new hair volumizer in the U.K., labeled "Yuge." The company unveiled the product at the Lush Summit 2017 in London, and took the event as an opportunity to announce the All Are Welcome. Always. campaign, accompanied by a blog post, social sharing, and in-store messaging that take a firm stance on inclusiveness.
Lush also responded to this year's travel ban by adding a new line to its company statement and storefront windows: "We believe that all people should enjoy freedom of movement across the world."
In addition, Lush has a dedicated Instagram account called Lush Times, which posts content revolving around human rights, animal welfare, and the environment. Launched last September, the account's audience of 600 may not yet be large, but the Lush UK Instagram account regularly regrams from it. Plus, its existence is another step showing just how serious Lush is about these issues.
This kind of action and outspokenness is nothing new for the company, but right now, its messages resonate with many consumers more than ever. And it's a big part of why fans love Lush so much.
Takeaway: Sure, introducing the world to the simple pleasures of bath bombs and bubble bars has a little something to do with its success. But for LUSH, its might is really in its mission – a devotion to sustainability, animal rights, and green practices that permeates every single thing the company does, sets them apart in a crowded sea of beauty brands, and earns the fierce loyalty of its customer base.
Monster: Humanizing the Job Search
Monster.com has been around for a long time – a legacy Internet site, the 454th URL ever registered – but it's not until recently that the site's content has begun to really shine.
Content has long been part of the Monster experience, according to Managing Editor Margaret Magnarelli. It started as a company with a noble purpose: trying to help people find jobs, with early founders investing in a content experience that had waned over the years.
Since Magnarelli's taken lead on content marketing, she's used that original mission to drive serious results with a strategy that increased the site's viewership to 43 million unique visitors in 2016 and 96 million pageviews – an 18 percent increase over the previous year.
"The vision of our company – and our role as a content operation for job seekers and people who are working – is bringing humanity to the job search process," she recently told NewsCred. "We spend 30 percent of our lives at work, and it's so tied to our happiness – both in the place we go to everyday and where we spend all this time, but also in the money we make, which contributes to our satisfaction with our lives.
"There's a lot you can say about that," she added.
The company produces 10-15 content assets per week, creating articles, videos, and infographics that touch every phase of what Magnarelli calls the "job candidate journey." That includes active job-seekers at the bottom the funnel, newly employed folks at the very top, and everyone in between.
At #ThinkContent Summit 2017, Magnarelli noted that the content the audience wants is not always what her team wants to create – like the high-performing Monster 100, a monthly list of the companies with the most open positions. Yet, they produce that content because they understand the value it brings their audience.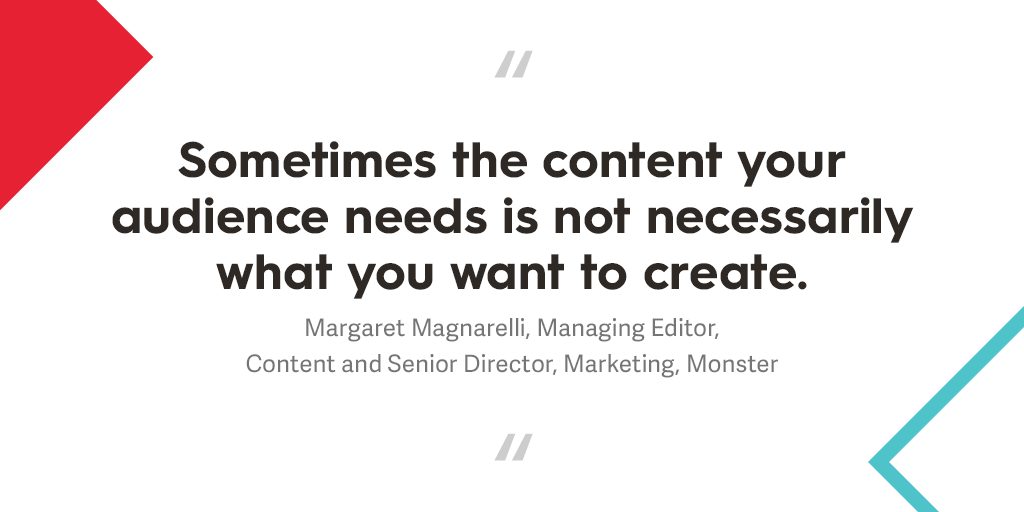 But Monster's content success really rests on its ability to tap in to their audience's more vulnerable moments, by employing empathy in everything they do. That, and keeping rooted in their mission of bringing humanity to the job search – an often daunting task that can feel hopeless, desperate, and frustrating at best.
Takeaway: The team at Monster is meticulous in their handling of tone, careful never to diminish the gravity of what for so many people is such a difficult project. Pieces of so-called "job misery content" like "Neutralize Your Toxic Boss" or "How to Deal with the Office Know-It-All" get a great response, as did the brutally honest, 13-week column called Life After Layoffs, written in the first-person by a creative director in New York who'd lost her job.
Anastasia Dyakovskaya is a NewsCred Contributor.