You might think that any modern business operating today knows the value of digital marketing.
But even though they hire marketers and build out marketing teams, many companies — from startups to enterprise organizations — still struggle with coming up with an effective marketing strategy and achievable marketing plan.
That's why we put together this handy and easily digestible guide for marketers.
Take a look for a refresher on some basic ideas, as well as a deeper dive into how to create a marketing plan that actually boosts business for yourself, your clients, or all of the above.
What is a marketing strategy, and how is it different from a marketing plan?
A marketing strategy is the blueprint that marketing teams use to create and execute their marketing plans. Marketing plans, on the other hand, consist of actionable marketing activities like content marketing and social marketing efforts, among a slew of specific initiatives including marketing campaigns, blog posts, big-rock content releases, influencer marketing, and a vast array of other marketing tactics.
Without a solid marketing strategy in place, it's hard to avoid creating bad content — and that's the last thing your business needs.
Why does your business need both, a marketing strategy and a marketing plan?
Businesses need a documented marketing strategy and a measurable marketing plan in order to be able to create a marketing roadmap, set smart goals, and follow them through to the finish line.
Every company has unique needs, goals, and personnel, but there's two things we know for sure: each campaign is time-bound, and when it comes right down to it, metrics and KPIs — they matter.
But how do you decide which performance indicators to prioritize, and how to appropriately pivot if the analytics say you should?
That's all part of your marketing strategy and the marketing plan that goes with it.
How to develop a business-boosting marketing strategy
Define your marketing goals
Before spending valuable time, money, and other resources on marketing, you need to know your goals. What is it exactly that you want to get out of your marketing efforts? Some of the most common marketing goals (and business goals) include:
Drive more visits or web traffic
Increase sales
Generate more leads
Boost brand awareness
Strengthen brand affinity
Retain customer base
Remember that it's important to get specific here. Your goal shouldn't be just to "get more leads" — it should be to get more leads that are actually interested in your offer. And when it comes to sales, you specifically want the kind that don't get returned and that are ideally from people who will buy again, or repeat buyers.
Along the way, make sure the goals you're setting are SMART goals: marketing goals that are specific, measurable, achievable, relevant, and time-framed.
That way, whatever happens, it'll be easier to stay on track.
Understand your marketing budget and resources
A solid marketing strategy starts with a clear understanding of how much time and money you have to invest in marketing activities. When you try to do everything at once and own every channel out there, it's likely that no one element will actually excel in the end. And quality is what your marketing team should really be after.
Marketing efforts like SEO, content initiatives, social posts, and newsletters are technically free, but they require serious time commitments.
It's important to calculate how many hours per week you can realistically spend on social media marketing, say, versus writing blog posts, ebooks, or white papers. Decide when each deliverable is due, and whether they're going to be rolled out simultaneously or over a set period of time.
When it comes to your marketing budget, get specific. Work out how much spend can be allocated to online tools, freelancers, and digital advertising, and how much you need to invest in each marketing channel to truly make it work for you and your marketing goals.
Welcome's marketing orchestration software makes setting and tracking budgets and resources easier than ever, for streamlined planning and monitoring across the board.
Specify your target market and target customer
Your marketing needs to be relevant to your target customer. And to be relevant you need to clearly understand who that person is. Specifying demographic information like age, gender, and income along with other data points like location and occupation should come first. But it's even more important to understand the motivation people have to buy from your business in particular.
User research is the best way to gather real-life insights. Consider conducting interviews, focus groups, data analysis, and other tactics to collect customer feedback. Questions to answer include:
What are the problems your customers are trying to solve?
What are their pain points?
Are they even aware that a problem exists?
Once you've gathered enough information, your marketing team will be primed to determine the best kind of marketing activities to start with. Based on your target market research, you can then create a selection of buyer personas that represent your ideal customer. These should embody target users, company decision-makers, managers, and more depending on your business offer.
Conduct a competitor analysis
No one makes decisions in a void. In today's market landscape, you can be sure potential buyers are looking at you and your competition, every time.
When laying out your marketing strategy, take note of the strongest players in your space — as well as start-ups and up-and-coming companies. Set up a side-by-side comparison. How are you similar? How are you different? And how do you measure up with the market leaders?
When running a competitive analysis, strive to answer these questions:
What is their product or offer?
How is it different from yours?
What is their brand's positioning and messaging?
Who is their target market?
What differentiates them?
A competitor analysis can also give you insights into what marketing efforts and channels are worth trying out. For example, if your competition advertises and sees success on Instagram, then you know to develop a presence on the platform, too.
Identify your unique selling proposition (USP)
After having understood your competitors you need to distill how you're different and better than the competitor. You need a unique selling proposition, which can be uncovered by a deep dive into your business. We recommend following a SWOT analysis to guide your efforts and further marketing plans:
S- Strengths. What do your customers love most about your business?
W- Weaknesses. What are your company's weak points?
O- Opportunities. What new opportunities can you explore?
T- Threats. Are there issues that are jeopardizing your future success?
Basically, you need to be able to answer why people should buy from your business instead of the competition that's always just a click away.
Talking to your existing customers is a great idea. Ask them what other competitors they considered before eventually deciding to do business with your company. And if you don't have direct contact with your customers, set up a meeting with your sales people or support staff to discuss. When possible, always read through any and all comments and reviews of your product or offer as well.
How are you currently communicating the solution you provide to your customer's pain points? You can't be the best option for everyone; instead, use your marketing efforts to clearly communicate exactly who should be interested and buying from you.
Make that marketing strategy sing with a great marketing plan
Download a free marketing plan template
The first step to putting your strategy in action is downloading a handy template. A search engine will quickly land you on an array of free and helpful resources and marketing plan examples so you can create your own based off of the strategy you've created with your marketing team.
Our simple one-pager makes for a great guide and easy reference for any project or campaign. This free template is split into Goal, Target Audience, Message, Channel, Content, Resources, Workflow, and Measurement — some of which we've covered already, and the rest of which is outlined below.
Create an executive summary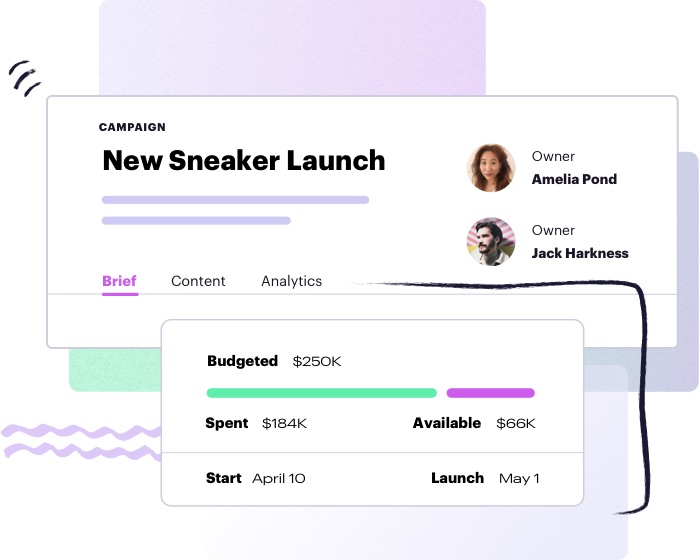 An executive summary is a good thing to include in any marketing plan to make sure everyone's on the same page, from marketing team members to other departments and various stakeholders inside your organization and beyond.
The executive summary may include some or all of the following:
Business name
Location
Company mission statement
Company history
Advisors and team members
Pricing breakdown
Marketing plan description
That last one's especially important. Be sure your summary includes a brief explanation of your marketing plan, even if it's just a couple of sentences long.
Pinpoint your brand voice and visual language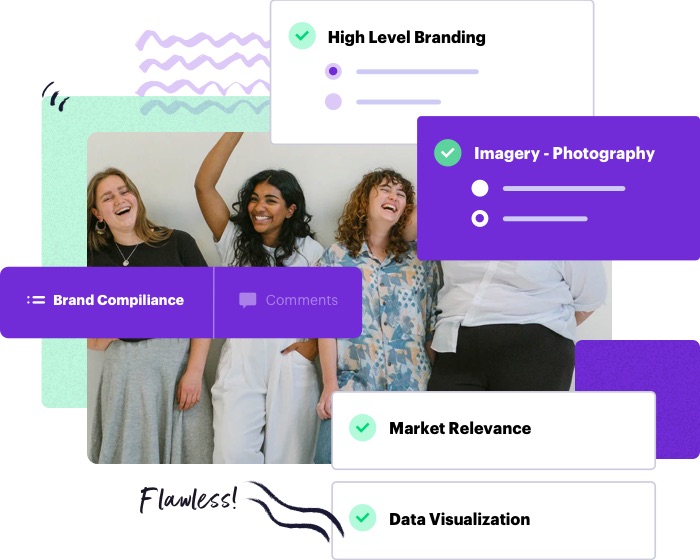 A consistent look and feel to your branding will help streamline and direct all your future efforts. Creating a unique brand voice and visual language depends on the user research, competitive analysis, executive summary, and the overall strategy developed at the onset of your marketing efforts.
Ultimately, your tone and design aesthetic needs to cater to your target demographic in order to convince them to engage with your brand and convert. Once decided, documented style guidelines and editorial suggestions are good to have on hand to ensure consistency and so that every stakeholder and team member can work from the same jumping off point. Such guides may include everything from a brand's go-to color palette to its character traits and specific dos and don'ts that pertain to things like typography, word usage, visual direction, and more.
Choose your marketing channels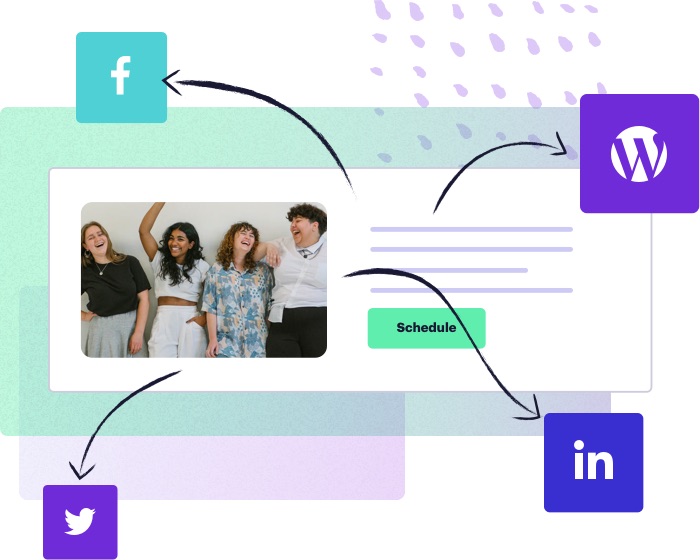 Selecting the most relevant marketing channels for your specific efforts is a vital part of the process. This choice will largely depend on the user research you conducted when first creating your marketing strategy. Remember to also pay attention to what has worked for your competitors, and not try to do everything at once.
Successful marketing relies on your audience seeing the right messaging at the right time — meaning when they're at a specific phase of the sales funnel. To refresh, that cycle consists of:
Awareness
Consideration
Purchase
To be truly effective, you need to produce relevant marketing messaging for every step of the cycle (as well as the moments in between!), ideally spreading across owned, earned, and paid media channels. These include your website, blog, social media platforms, and email marketing; press coverage, user-generated content, reviews, and testimonials; and digital ads, out-of-home advertising, third-party partners, influencer marketing, and more.
When you settle on what makes sense for you to pursue, figure out how much of a test budget and time commitment you need to assess whether the channel works for your goals and merits further investing.
Define your most important metrics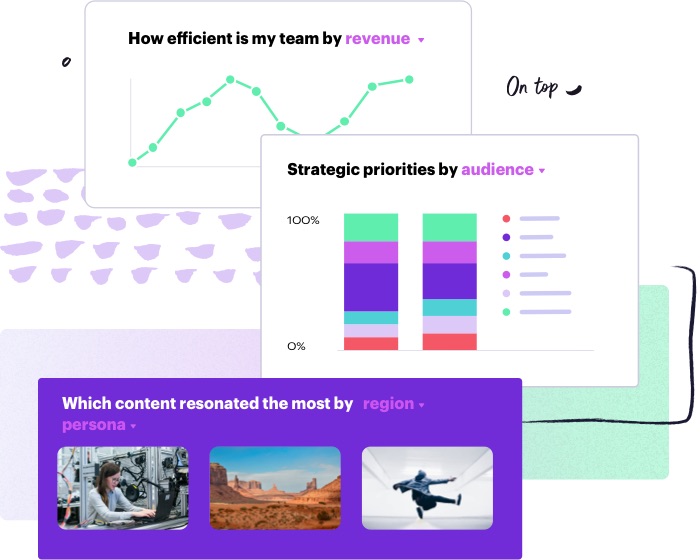 Developing a measurement framework is a necessary step for proving the value of your marketing program. This framework provides not only a clear road map toward measuring program ROI, but also helps define every step of that road map through key performance indicators (KPIs).
To accurately judge the success of your marketing efforts, you have to define your most important key performance indicators, or metrics. If conversion for your business happens online, it's not so helpful to rely on metrics like "number of page views" or "ranking on Google," since they don't directly help your business.
Instead, use metrics that are directly tied to revenue or leads generated, like online sales, number of phone calls received, or how many forms were filled out by qualified leads. If your marketing goals are focused on boosting brand awareness, another KPI might be type-in traffic — how many people enter your website into their browser or arrive via a branded search on Google.
Keep in mind that it's best to have no more than three KPIs for each business goal, and that further tools and marketing strategy templates are just a few clicks away — like this template for an ROI measurement framework. Welcome's award-winning marketing orchestration platform helps marketers plan, create, distribute, and measure the impact of content efforts to drive real business results. We streamline your team's marketing operations while surfacing actionable insights that demonstrate results and ways to optimize.
Ensure marketing strategy success with Welcome
Develop a marketing calendar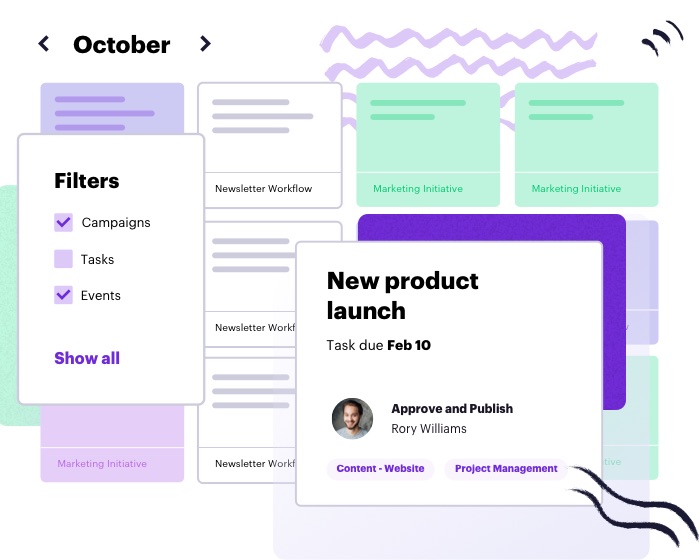 A working marketing and content calendar is essential to making sure the engine runs smoothly. Marketing activities can take more time than expected, so planning in advance is key, and a single source of truth to work from benefits everybody.
Welcome's marketing calendar software offers an all-encompassing overview of your active and upcoming campaigns, complete with real-time updates across everything that touches your marketing and business plan. From editorial and content calendars to ones for social media, email marketing, communications, creative assets, and beyond, Welcome's comprehensive system makes it easy to collaborate and track the execution of all your marketing activities from start to finish, team by team and task by task.
Facilitate collaboration among marketing teams and beyond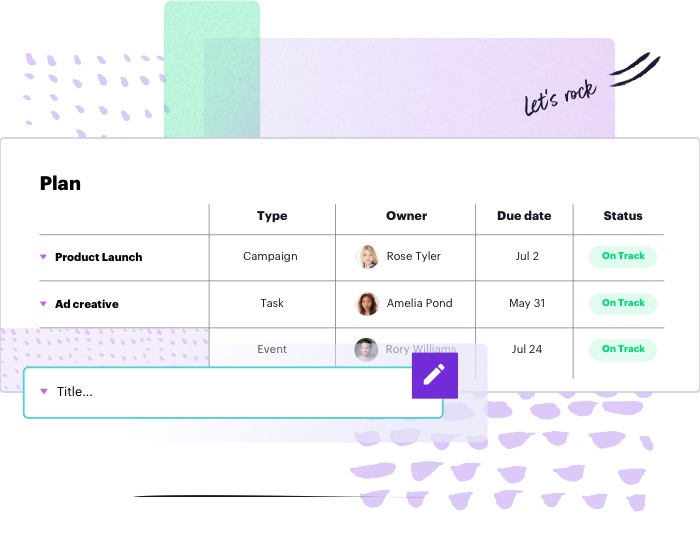 With Welcome, it's easy to upload a filled-out template to any campaign for maximum visibility and cross-team alignment. Once everything is in the software, questions like "Who needs to be involved to ensure each element is executed properly and delivered on time?" and "Who needs to be involved in the execution of each task and in what order?" get much easier to answer.
For creative teams, Welcome's creative services solutions offer tools to quickly fulfill requests, track work, and deliver exceptional content, with purpose-built tools from intake to delivery and measurement.
Orchestrate all of your marketing assets and activities

These days, with the sheer volume of platforms, channels, and media outlets out there, content marketing and social media marketing efforts can get pretty complex. Welcome's marketing asset management software gives you control over all your marketing assets so you can deliver exceptional, on-brand experiences.
Whether you're working with display ads and mobile apps or on a webinar, infographics, social media strategy — or all of the above and more — Welcome keeps everything organized and operating smoothly. So you can focus on strategy and marketing know-how instead of struggling to keep up with emerging tasks and deadlines.
Make better marketing decisions with Welcome's marketing orchestration software. It's free to get started, so why not give it a try today?