Once upon a time, marketing teams would gather in rooms with pen and paper, whiteboards, sticky notes, and an overflowing coffee pot. They'd hash out ideas for hours, deliberating on marketing campaign tactics, deliverables, scheduling, bandwidth, KPIs, and the like.
In retrospect, it wasn't pretty—but it got the job done.
Marketing project management has evolved in the last decade. It wears a different face.
Now, teams plan brilliant marketing campaigns without meeting in-person, spending hours on Zoom calls, or drafting a tree's worth of sticky notes that'll never get a second glance (you know what I'm talking about).
Marketing project management software has changed everything.
Thanks to marketing project management software, teams execute marketing initiatives to unprecedented perfection. They're able to dial-in the plans, nail the deliverables, stick to the budget, and execute on time (every time).
But we're getting ahead of ourselves. First, what is marketing project management? After we answer that question, we'll get into managing a marketing campaign from start to finish and how marketing project management software can make it all happen at scale.
What Is Marketing Project Management?
Marketing project management is all the planning that's necessary to take a marketing campaign from an idea to execution. On a fundamental level, it's deciding how to achieve a goal, what needs to get done, planning the steps, and then making sure it happens.
Let's look at an example project. Say, for example, your marketing team wants to launch a blog on Medium.
Managing that project would involve:
Doing a bit of background research on Medium
Deciding what KPIs this initiative helps you achieve
Setting deadlines
Planning how to make it happen
Finding help
Monitoring the project to make sure it gets done correctly and on time
That's it.
On a more minute level, marketing project management involves:
Brainstorming projects to satisfy KPIs
Scheduling realistic start dates and deadlines
Budgeting entire campaigns and individual tasks
Planning individual tasks across multiple teams
Assigning the right task to the right person at the right time
Executing the plan on time
Re-balancing tasks and workloads on the fly
Finishing the marketing project
Evaluating metrics and identifying wins and fails
Revising what needs fixing now and changing to improve future campaigns
It's a lot, but don't start hyperventilating.
Thanks to marketing project management software, you can manage every single teeny-tiny detail of your marketing campaigns from a single easy-to-use dashboard.
Welcome makes marketing project management quick, simple, and (dare we say) exciting. Manage high-level, in-the-weeds, and cross-team with collaboration tools that help you get organized and stay organized—unlike those sticky notes that the cleaning crew dumped in the trash.
Next, we'll show you ways to use marketing project management software to execute campaigns at scale with laser precision.
9 Ways to Use Marketing Project Management Software
1. Create Cohesive Marketing Strategies
Your marketing team can't do everything—you have to prioritize.
Look at your goals, and then look at the options. Which campaigns and marketing tactics will help you achieve those goals?
For example, if you want to drive brand awareness, you'd want to focus on developing a robust digital advertising campaign. And if you wanted to grow your organic traffic, then you'd want to invest in on-page SEO enhancements and link-building programs.
Always have a goal or a KPI before you plan a marketing strategy. 
Many teams get lost trying to find goals to justify marketing projects—don't get caught in this trap. The goal comes first, and the marketing project follows.
Marketing project management software keeps you aligned and honest. Welcome empowers you to attribute campaigns and content directly to KPIs. Whether you're trying to grow leads, build pipeline, or drive growth, Welcome gives you ROI analytics to discover and prove which campaigns move the needle.
2. Assess Your Marketing Resources
Once you know the campaign you need (not want) to launch, it's time to start planning how to make it happen.
Every marketing project requires resources. It's impossible to execute a campaign without money and human talent.
Software can help you evaluate your marketing resources and realistically allocate them. Here are a few of the most important resources to consider:
Time: Time is your most valuable asset. With unlimited time, you can accomplish anything. Unfortunately, time is finite. To execute any campaign, you'll need to manage calendars, schedules, due dates, and deadlines.
Budget: Marketing takes money. Even organic marketing (like SEO, content marketing, social media marketing) requires time, software, and human hand-holding. Budget your cash wisely to stretch your dollars and boost your ROI.
Digital Assets: Look at your software, collaboration tools, analytics, and existing content. These are all valuable resources with real value.
Bandwidth: Your team members can only do so much. Track their time and capacity to balance workloads and prevent burnout.
Templates & Workflows: If it ain't broke, don't fix it. You don't need to recreate the wheel with every new campaign—use templates and duplicate workflows to replicate successful projects.
Welcome makes resource management as easy as click, click, done. Whether you want to organize your marketing assets in one central hub, optimize your budget, or balance your team workloads, Welcome has the tools you need to make it happen.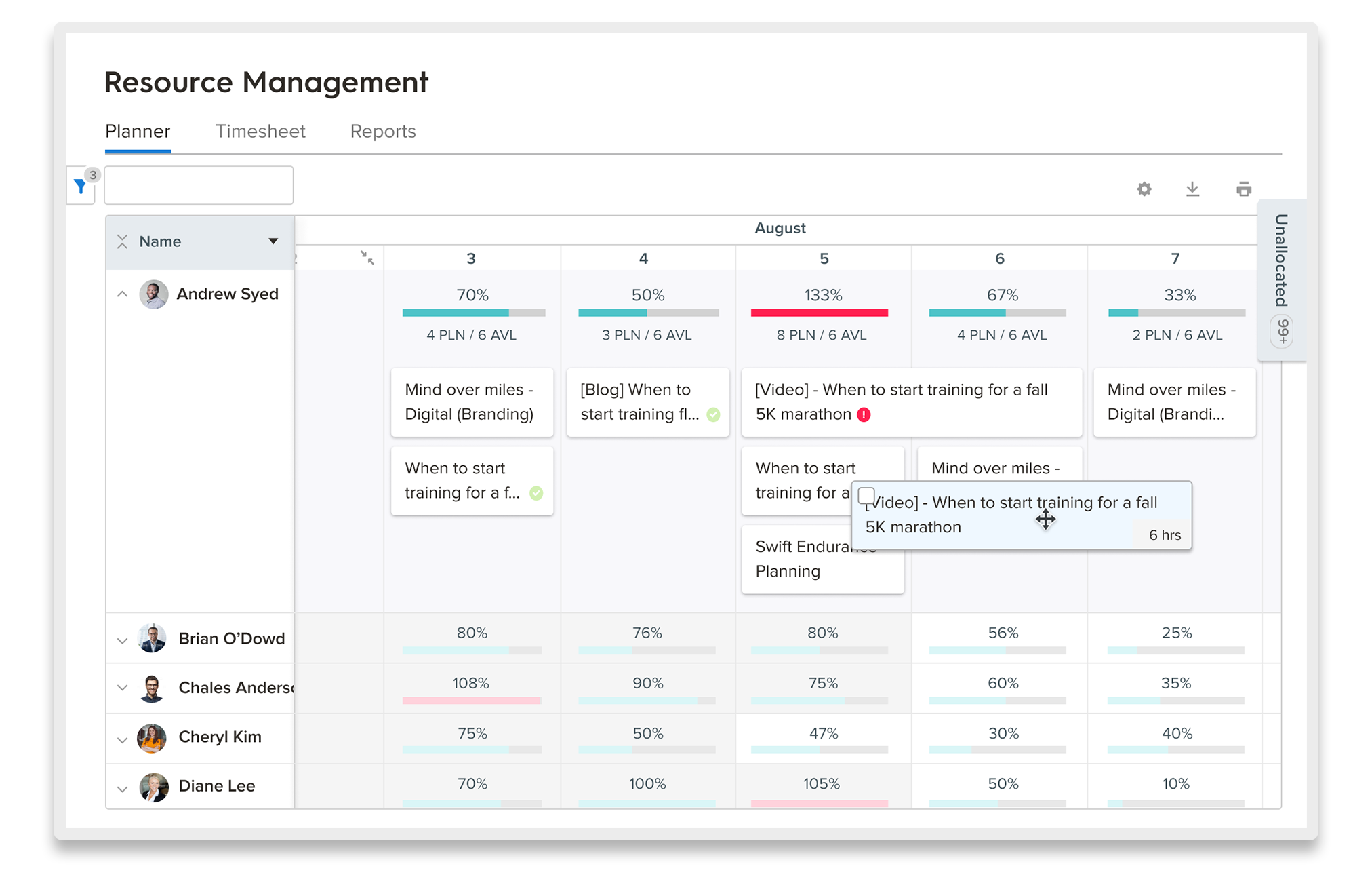 3. Collaborate Across Teams
Top-notch digital marketing doesn't happen in silos. Teamwork makes the dream work.
Effective marketing campaigns involve multiple teams. Even writing a simple blog post should involve content marketing, creative services, SEO expertise, demand generation, and more.
However, getting multiple marketing teams and team members aligned and on-schedule is easier said than done, especially if each team has its own goals, tools, deadlines, and workflows.
For example, it's always going to be a struggle to work together when your creative team is on Trello, product marketing is using Wrike, and content marketing is in Asana—you need a single platform to integrate all your teams!
The right project management software gets all your teams aligned on a one-stop-shop platform—not scattered to the winds across 17 separate tools. However, your teams shouldn't have to sacrifice efficiency or create brand-new workflows to adapt to a new collaboration tool.
Fortunately, you don't need to build your own solution or integrate separate (and expensive) tools. Welcome provides a complete project management orchestration tool that's uniquely designed for marketing teams.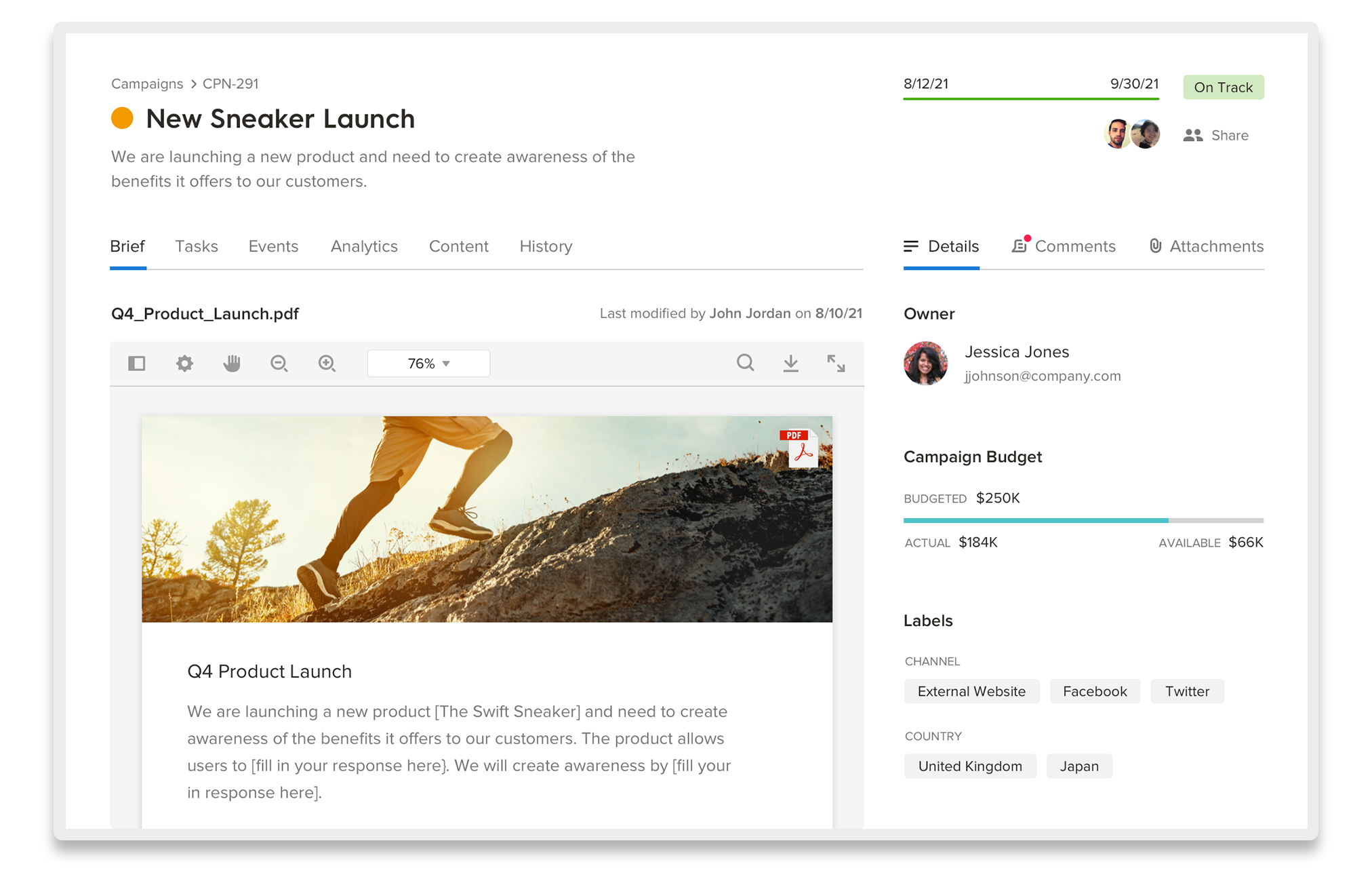 It has features and functionality to help with everything from content marketing to creative services to digital asset management—no need to sacrifice one team's needs for another.
4. Turns Individual Contributors (ICs) into Marketing Project Managers
You don't need "Marketing Project Manager" in your title to design and execute top-notch campaigns. With the right tools and know-how, your ICs can become partner managers.
Marketing management platforms like Welcome give you shared workspaces and flexible permission control. This empowers you to delegate to magnify team members' responsibilities without losing control over deadlines, brand governance, or data security.


Your ICs can do more than just complete tasks—they can create dependencies, build workflows, annotate in real-time, and help accelerate production and expedite time-to-market.
Empower your ICs to do more by using collaborative software that gives them a safe space to spread their wings and learn to fly.
5. Manage Team Bandwidth with Capacity Planning
Your teams and team members are likely working on various projects, campaigns, and assignments on any given day. To make sure nothing falls through the cracks, you'll need to monitor capacity and balance workloads.
Some team members will get overworked, while others will get underutilized. Monitor real-time workloads with Welcome to see who needs help or if a project needs additional support. Easy drag-and-drop workflows make it quick and easy to redistribute tasks and keep everything balanced.
You can also enable time tracking to empower your team to log time spent on each task. Collecting data like this can help you more effectively plan in the future to dial-in in your deadlines and budgets.
You'll also want to keep a close eye on your budget. Marketing project management software can help you monitor your campaign budgets' health with robust reporting, tracking, analytics.
Setting budgets and tracking them in real-time makes it simple to adjust and reallocate on the fly. If a high-priority campaign is eating more cash than you anticipated, you can analyze a holistic view of your marketing spend to see what low-priority initiatives you can cut to balance the budget.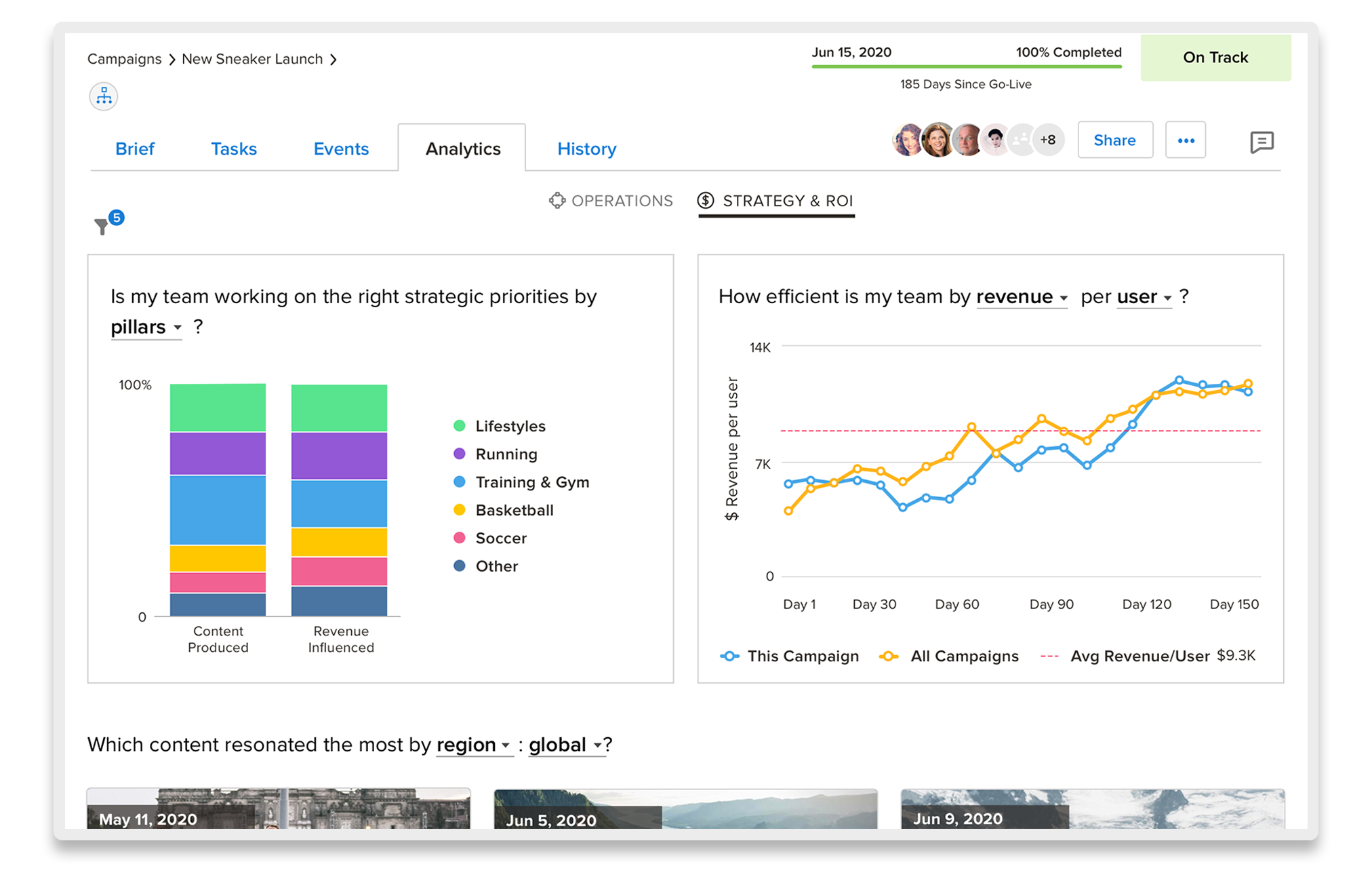 6. Plan Workflows That Work in the Real World
Many marketing plans fail because project managers arbitrarily throw around tasks, assignees, and deadlines with little rhyme or reason. This leads to underutilization, burnout, late launches, and ultimately failed campaigns.
Not good. Not good at all.
An orchestrated project management platform like Welcome empowers you to build real-world workflows that make sense. You can view calendars, create workback schedules, assign budget to specific tasks, and build dependencies that drive a project seamlessly from start to finish.
This type of project management transforms willy-nilly choices into data-backed decisions. Every deadline has a purpose. Each assignee is picked for a reason. And every task has a historically tested budget.
It all works together, and it all makes sense.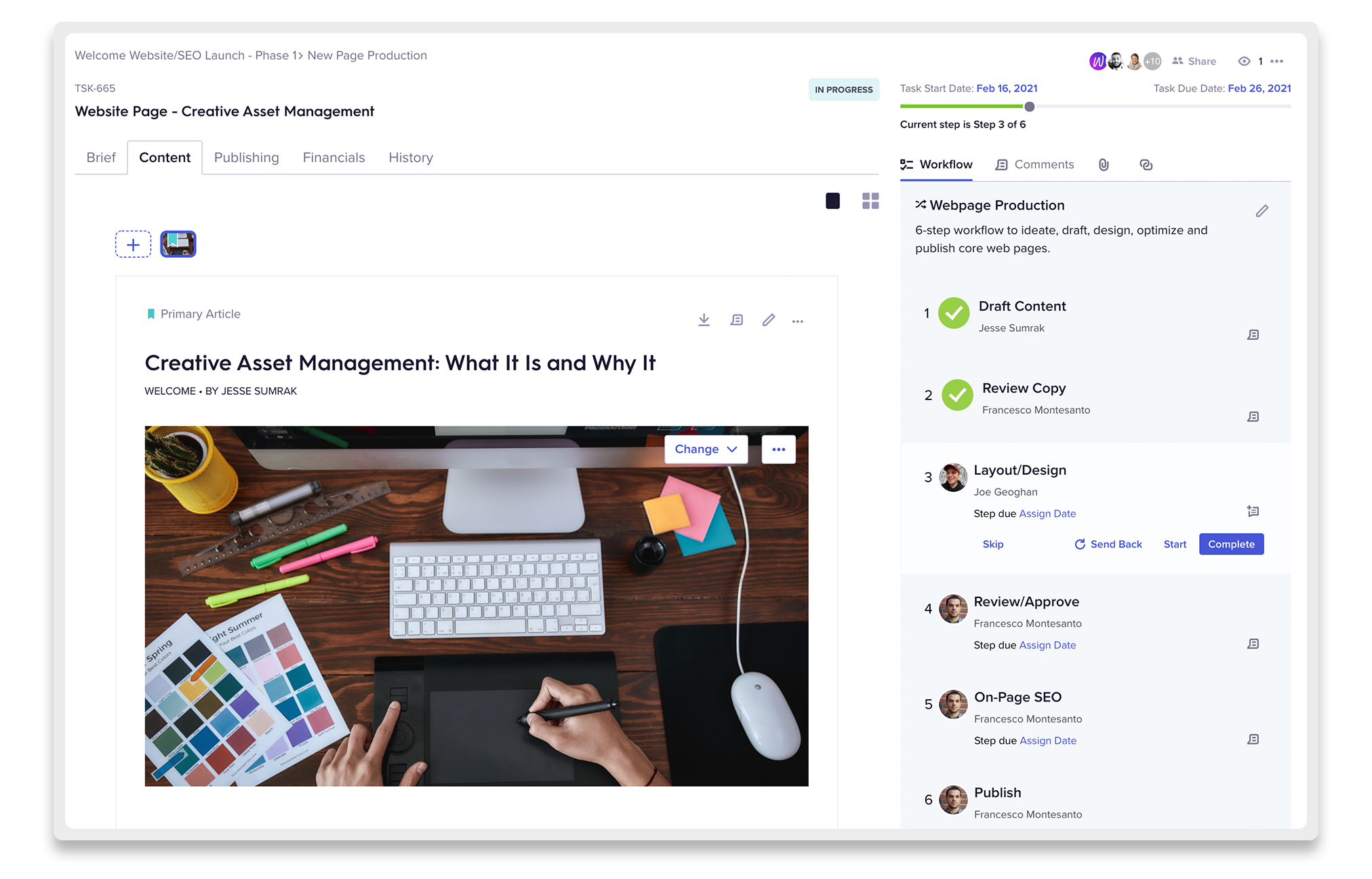 7. Automate Minutiae and Streamline Marketing
Allow software to do what software can do so your human talent can do what only human talent can do.
Only your brilliant creative team can create top-notch digital assets. Get them out of the administrative weeds and into their "happy place" so that they focus on doing what they do best: being creative.
Same thing with your content marketing team. Let software handle intake requests and intelligently make assignments so they can get back to writing.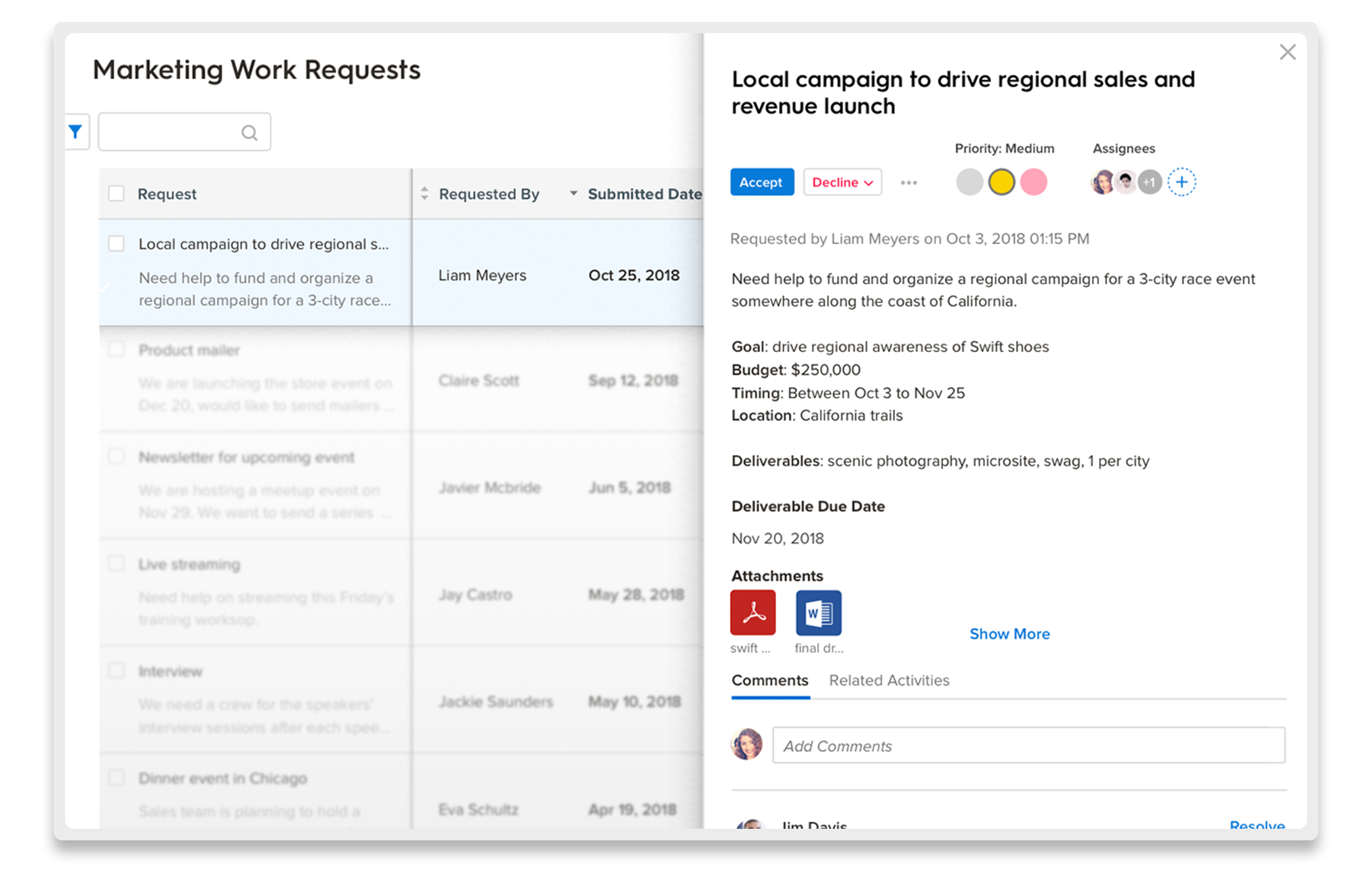 Welcome's marketing automation takes trivial marketing items off your to-do lists so you can focus on high-priority tasks. Automate workflows, proofing, approvals, reporting, intake requests, and even assignments.
One less thing for you to do means more time to focus on what matters.
8. Manage Your Digital Assets
Marketing project management software gives you a central hub to collect, store, and repurpose all of your digital assets—no more digging through your emails or Google Drive folder to find the right file.
Marketing teams waste too many resources recreating assets and duplicating work. A simple digital asset management system within your project management platform is all it takes to save valuable time and money.
Here are a few ways a software solution like Welcome can help:
Organize Content
Compile your digital assets with intuitive tagging and organization to make them easy to find later. Advanced search, filters, and foldering make it simple for any collaborator to find the specific asset they need.
Govern Your Brand
Digital asset management helps prevent the new PR hire from using your brand's out-of-date logo in the important press release.
You get to control and monitor what assets get used, when they're downloaded, who uses them, and where they're distributed. This gives you complete control over your digital brand.
Collaborate Seamlessly
No more asking your lead designer (for the billionth time this week) for a link to the new product illustrations.
A digital asset management system makes every asset searchable so every marketing team member can find exactly what they're looking for without blowing up everyone's Slack.
Repurpose and Reuse
Save valuable time and resources by repurposing and reusing existing content. A project management platform makes all of your old assets easy to find and access.
Remember that expensive YouTube ad the agency created for you years ago? Why not revive and refresh it instead of dropping another $50K on a brand-new campaign?
And take that lead-gen PDF you built last year and repurpose it into a month's worth of blog content.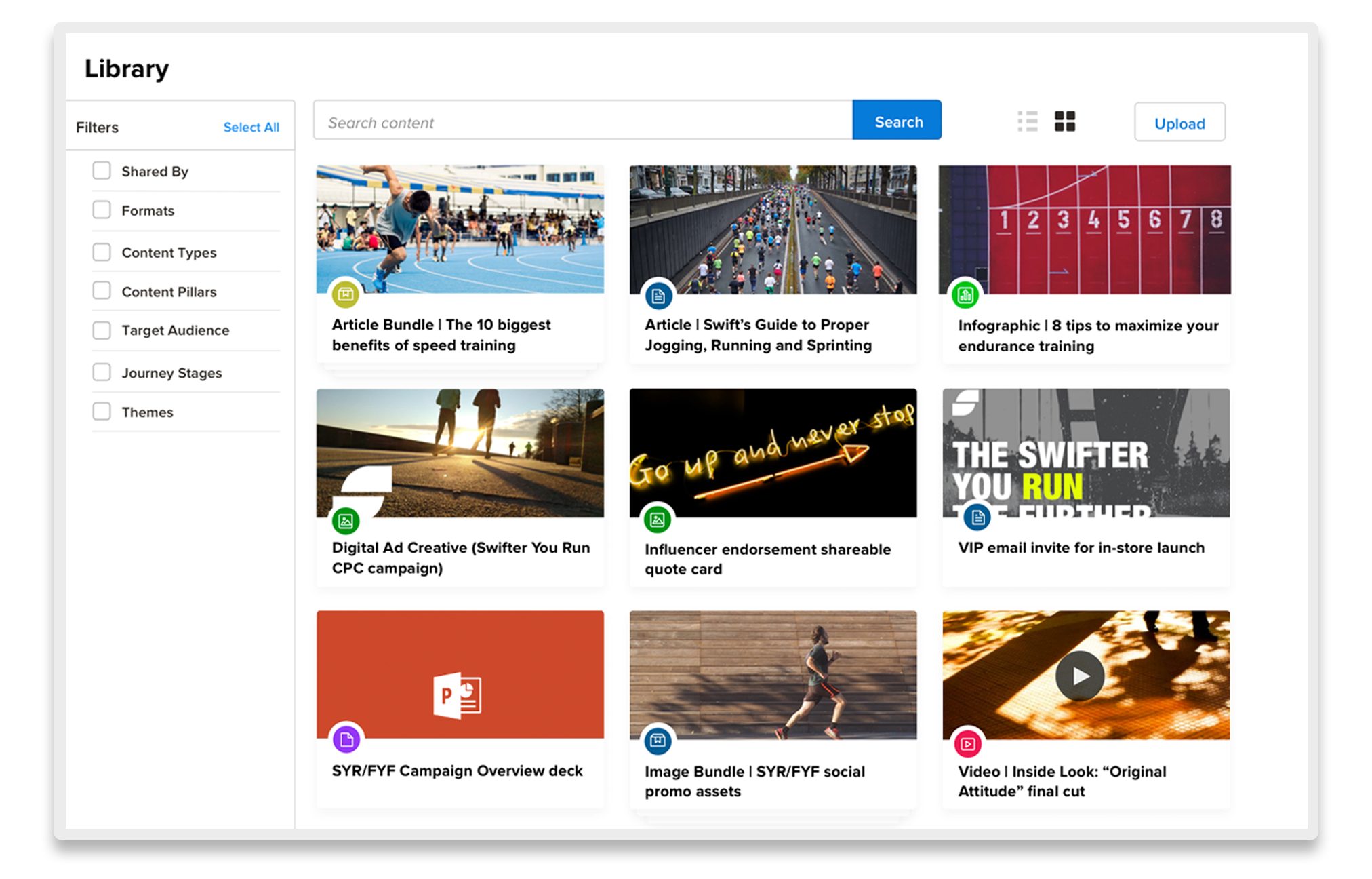 9. Adjust the View to See What Matters
Project managers can't rely on a single view to oversee campaigns. You need the ability to zero-in, zoom-out, and filter dashboards to your specific needs.
Sometimes, you'll want to monitor the overall health of your campaign from a bird's-eye view—and other times, you'll want to drill down to see exactly what individual members of your team have on their to-do lists.
Welcome's global campaign dashboard comes armed with all the features you need to take complete control over even the most complex of projects:
Big-Picture Project Plans: Zoom out to see real-time yearly, quarterly, and weekly views of your campaigns to make sure you're on track to hit distant deadlines.
Project Schedules: Utilize project timelines, kanban boards, and Gantt charts at any scale to monitor bandwidth, dependencies, and workloads.
Task Drilldowns: Zero-in on all your marketing activities to ensure each sub-campaign and task is rolling up to broader strategic initiatives.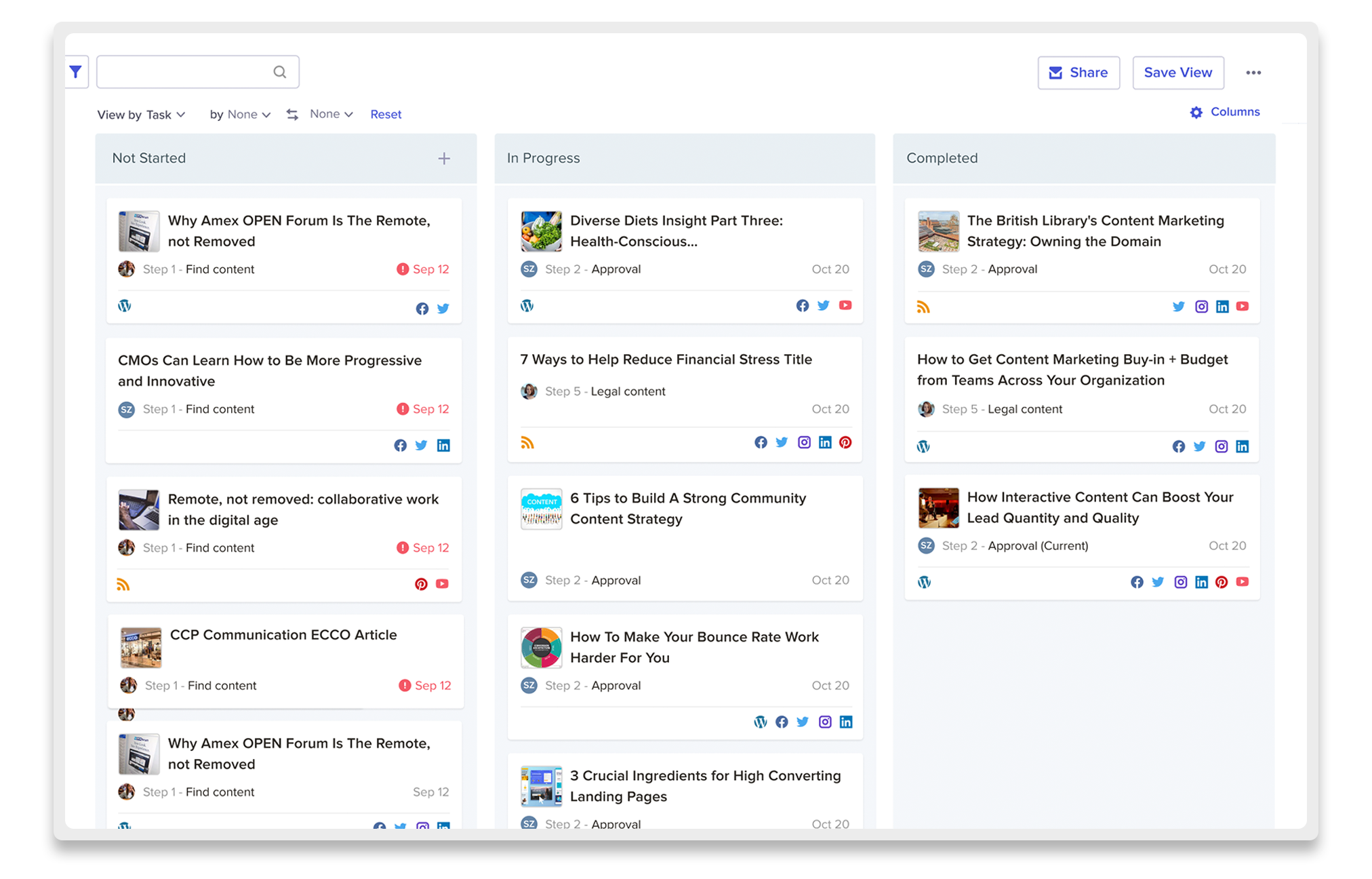 Getting Started With Marketing Project Management
There's a lot that goes into building and executing successful marketing campaigns, but don't let it overwhelm you—that's what software is for.
Yes, if you try to execute complex, collaborative marketing campaigns at scale armed only with an email account and a whiteboard, you're going to face extreme challenges.
Kick your project management off on the right foot from the get-go with an integrated marketing platform.
Consider Welcome for all your marketing project management needs. We're obviously a bit biased (only just a little), but hear us out.
Welcome's not your typical, run-of-the-mill project management solution. It's built specifically for marketers, and that means it's loaded with all the features and functionality you need to orchestrate complex marketing campaigns.
We don't pretend to be a one-stop-shop for every team. Developers, you have Jira and Zoho. Human resources, you have Gusto and Deputy. Office ops, you have TripActions and Lola.
Marketing departments—you have Welcome.
Don't believe us? Try it for yourself.
Sign up for a Free Forever account and experiment to your heart's desire—we're confident you won't find another tool that'll satisfy that all-in-one marketing itch. Want a Welcome expert to walk you through the platform? Request a demo.