There's no sexy way to talk about a metadata strategy, but it's a vital part of running a mature (and future-ready) content marketing program — particularly as content initiatives move to include new teams, markets, or lines of business.
As the volume of marketing activity and supporting content increases, the complexity of managing it can grow exponentially. Yet, anything less than complete administrative control can introduce governance challenges and make it difficult to answer fundamental questions. So how can teams managing an increasing number of marketing programs and a growing library of content accurately plan, organize, and measure at a detailed level?
Answer: a strategic marketing taxonomy.
The 101: What is a marketing taxonomy?
It's second nature to bring in content strategists or information architects to design your website or content marketing hub's taxonomy. What categories might a customer need to filter on? How will they navigate the pages? How can you ensure they find the right information quickly?
But too often, none of the same care is given to your asset management system or your program content or your marketing plans. Sure, there might be several rows of attributes on a marketing plan spreadsheet (more on spreadsheets later) — but is your whole marketing organization speaking the same language? And are you tagging the attributes needed for valuable audience insights from analytics while also future-proofing your program to deliver new levels of personalization?
A taxonomy is a classification method that makes order out of chaos. Metadata (the labels and tagging part of a taxonomy) helps support customizations and recommendations like the seemingly mind-reading Spotify Discover Weekly. And marketing is about to explode with more chaos as personalization algorithms evolve and gain sophistication, and as consumers grow to expect these personalized experiences as status quo.
Who needs a marketing taxonomy and metadata strategy?
Essentially, all marketing programs. If you're at an enterprise brand, executing a global-local strategy, working cross-functionally, or managing a mature content marketing program, you need a cohesive metadata strategy across your integrated planning, marketing calendar, and asset manager. Gartner included content metadata management as a critical capability for a content marketing platform (CMP) for this very reason.
Here are the symptoms of a poor metadata strategy:
Wasted time searching for the approved assets.
Email chains and content attachments galore.
Spreadsheets. Specifically different teams keeping different plans and different tags in different spreadsheet.
One-size-fits-all content analytics reporting, without easily available segmentation by target audience, topic, format, or other key information.
Your integrated marketing program needs to have a common language. And that language needs to be carried throughout your tech stack as metadata. You might not be seeing all these cracks from a lack of a metadata strategy right now; but long-term you will. Especially as content marketing evolves and integrates further with the larger marketing (and marketing content) organization.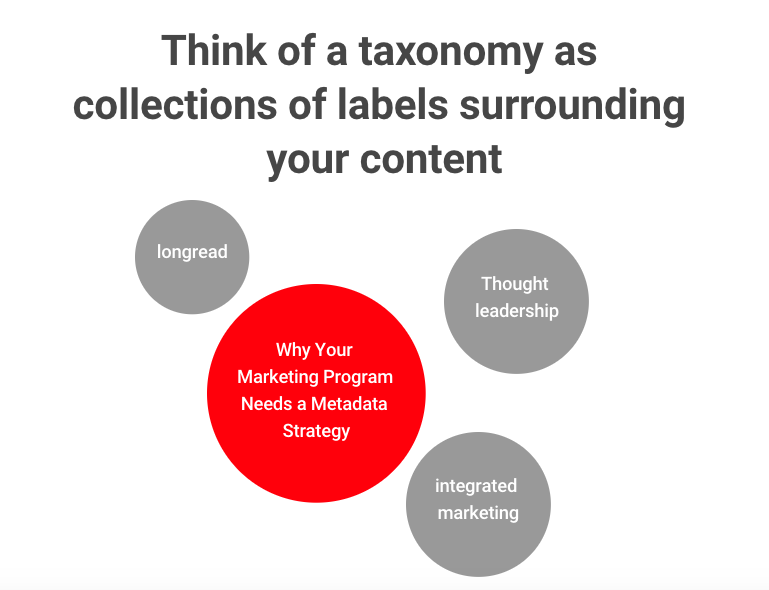 A shared taxonomy unifies teams and contributors dispersed across multiple business units, regions, and languages.
Personalization, analytics and the marketing taxonomy
Behind-the-scenes metadata strategy and engineering are how brands like Spotify deliver on personalization and delight. Metadata is the foundation for serving up personalization. As Spotify's Matthew Ogle explained to Quartz:
"We now have more technology than ever before to ensure that if you're the smallest, strangest musician in the world, doing something that only 20 people in the world will dig, we can now find those 20 people and connect the dots between the artist and listeners."
Metadata allows marketers to slice and dice analytics to uncover insights and inform content and campaign planning with the ultimate goal of delivering delight. Monitor what, how, and where assets are used most; identify the most common themes, topics, and formats, as well as track what's working. This also makes it easier for marketers to conduct content audits and fill gaps based on analytics insights: what's delivering results but missing on the upcoming calendar; what's not working yet oversaturated?
A marketing metadata strategy also helps with the top challenge for delivering real-time personalization. According to Gartner, one of the biggest bottlenecks for personalization will be marketers not having adequate content to deliver what consumers expect.
The most sophisticated and successful content strategies utilize metadata to segment content into the "atoms or dynamic components" that Gartner believes will be key to a competitive, real-time customer experience across all channels. Labels and metadata are critical to auditing and allocating against these segmentation needs. According to Gartner predictions, organizations that excel in personalization in 2018 will outsell companies that don't by 20 percent.
Getting started with metadata management
The good news is the days of maintaining a taxonomy and labels in spreadsheets and pivot tables are over; MarTech can bring metadata and labels right to your content and calendar workflows. At NewsCred, we've built labels functionality throughout our CMP so that content can be organized by metadata and filtered with one click.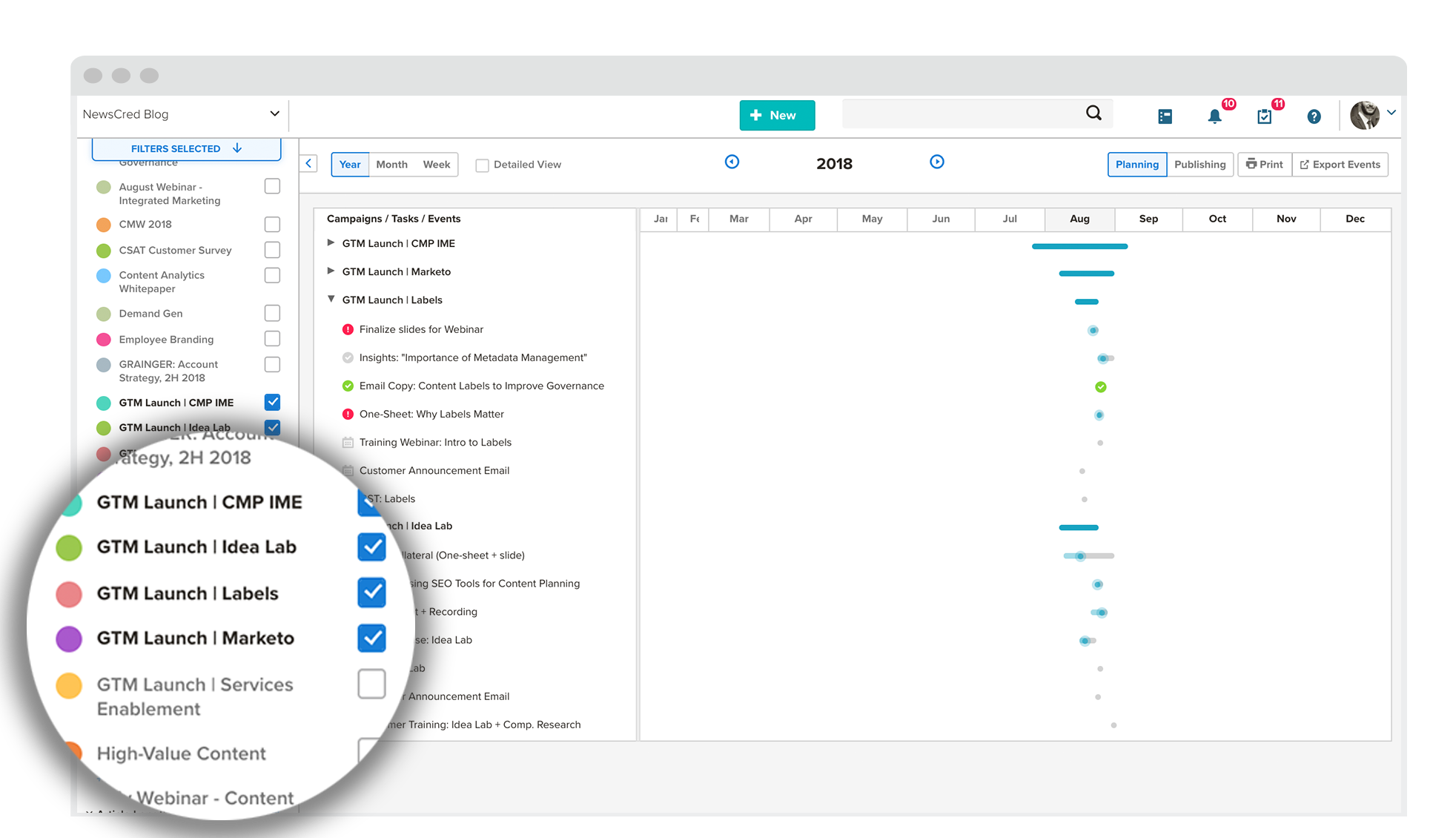 Within the NewsCred CMP, labels serve as the representation of a brand's marketing taxonomy, providing a strategic structure for classification. They allow for the filtering and analysis of content by segment, rather than just time frame. The combination of a defined taxonomy and proper labeling enables the entire organization to manage the lifecycle of assets, simplify administration, and maintain holistic governance.
In our own marketing for NewsCred, we use labels to track format, length, funnel stage, destination, content type, topic, and target persona so that our entire team — regardless of role or function — can effortlessly surface the content, assets, and insights they need. This comprehensive label strategy fuels our ability to maintain holistic governance, surface relevant information, and optimize our content marketing.
Want to learn more about NewsCred's metadata management solutions? Sign up for a free webinar on custom labels.