Currently valued at $116 million and sitting at #1 in the Inc. 5000 rankings of the fastest-growing U.S. private companies is Loot Crate, a gift subscription company for "gamers and nerds."
Part of its skyrocketing success – Inc. reports a three-year growth of 66,789% – is due to its strategic use of content marketing from the start, says Matthew Arevalo, the company's Co-founder and Chief Experience Officer.
"We began day one of the company creating social channels. Today, we have a very large social presence and use it as a method of not only doing education about our products, but creating engaging content that our potential subscribers can use to understand who we are and what we do," he says.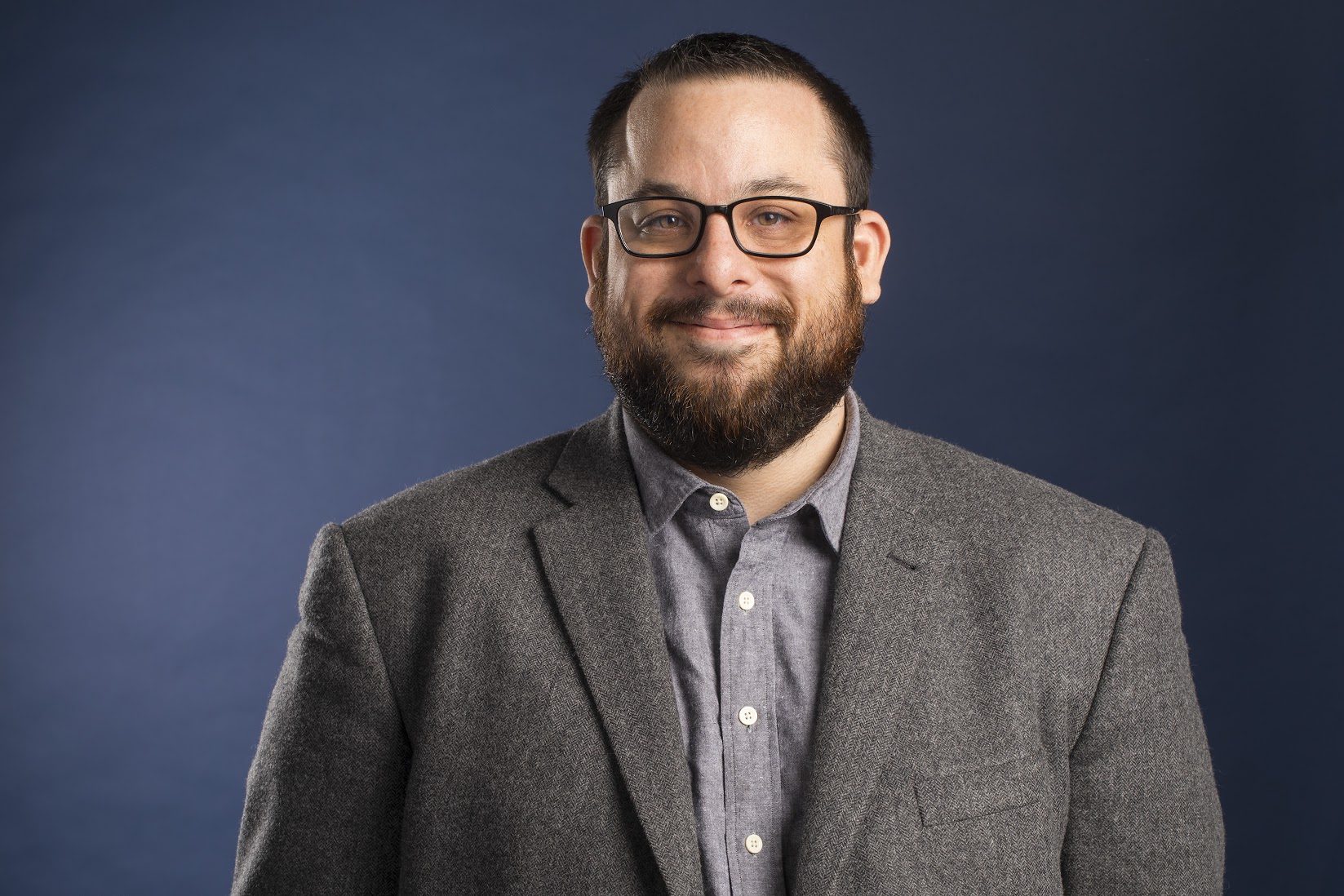 Matthew Arevalo, Co-founder and Chief Experience Officer. Loot Crate
Unboxing Its Way to Growth
From Loot Crate's inception, Arevalo and his small team saw the value in putting their customers center stage via user-generated content (UGC), mostly in the form of social media posts and YouTube "unboxing" videos. (For those not in the know, unboxing videos show people taking products out of their packaging for the first time.)
"We really were selling the idea of joining a community of like-minded people, so we wanted to ritualize and incentive it by looking for people who were unboxing their Loot Crate online, and elevating the ones that best exemplified what we are looking for," says Arevalo.
If someone shared a photo, Loot Crate would engage with that customer. But if people showed all of their items, Loot Crate would retweet them, or even include them as "featured Looters" in the print magazine that is included in every box.
"Over time, that generated a lot of organic interest," Arevalo says.
Loot Crate also found that customers responded to content that took them inside the process of what went into creating the boxes.
"We showed us packing our cars and driving to post office," says Arevalo.
Even as Loot Crate's content became more refined, that "behind the scenes" coverage is still popular.
"One of our popular blog posts features how the design of our boxes have evolved," says Arevalo. "Sharing that kind of content gives people a sense of who we are, what we do, and that we are fans just like they are."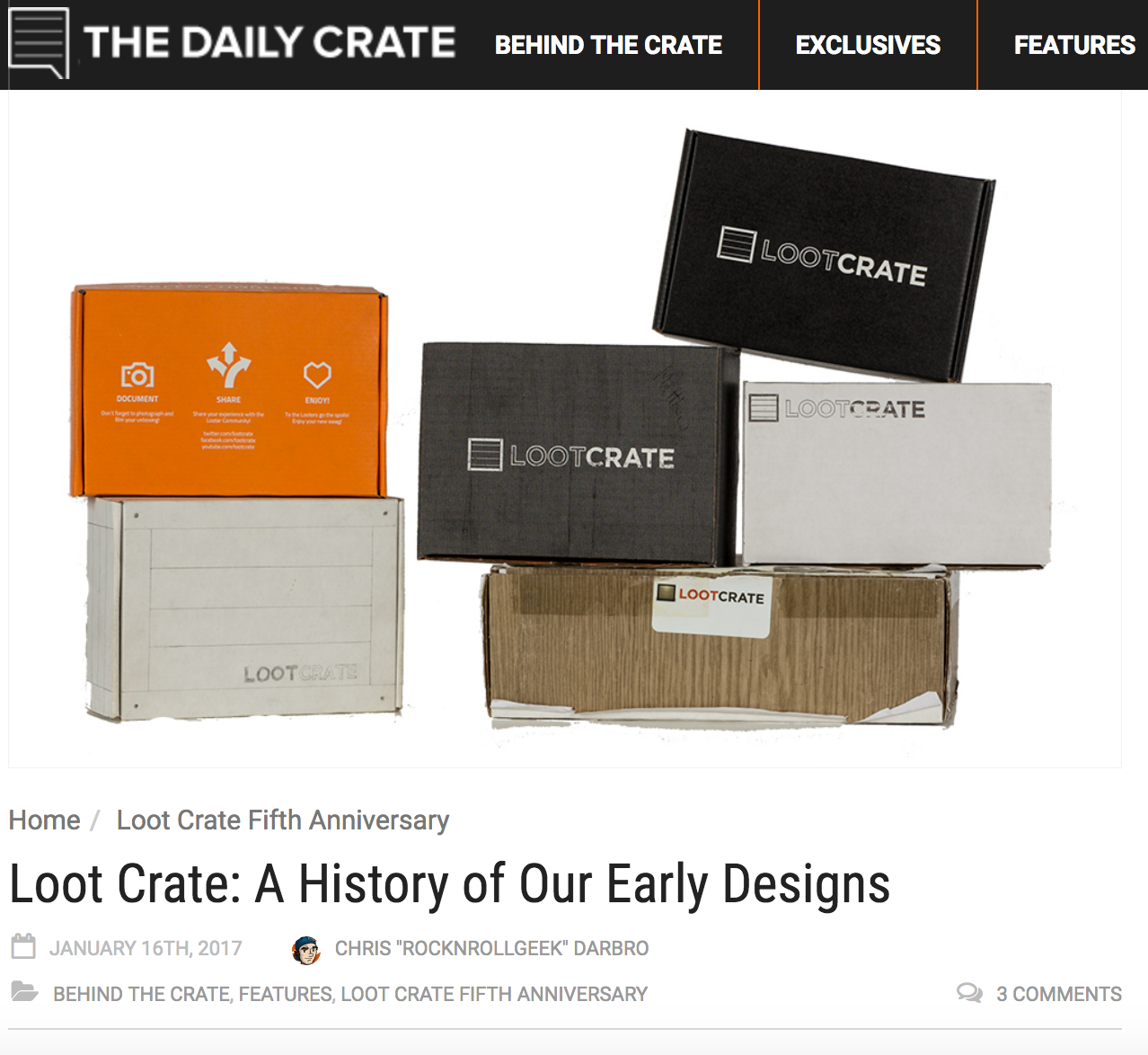 That philosophy has paid off, as Loot Crate's community of rabid fans called "Looters" can attest. The company amassed 2.5 million Facebook fans, 594K Twitter followers, and more than 11 million YouTube views. As for the company, it now employs more than 300 people.
Creating a Bigger and Better Content Package
Everything created by Loot Crate's in-house content team is done in the name of delivering amazing fan experiences that go beyond what's in the box, says Arevalo.
That's been true since the beginning, but last year's round of $18.5 million in funding has really helped them expand their offerings. Here's a quick look:
The Loot Crate magazine. "There's the magazine we publish every month, and the digital version as well, which includes trivia, games, interviews, and previews of different products," says Arevalo. Loot Crate's team of writers and editors create the 24-page publication completely in-house. They even do their own product photography.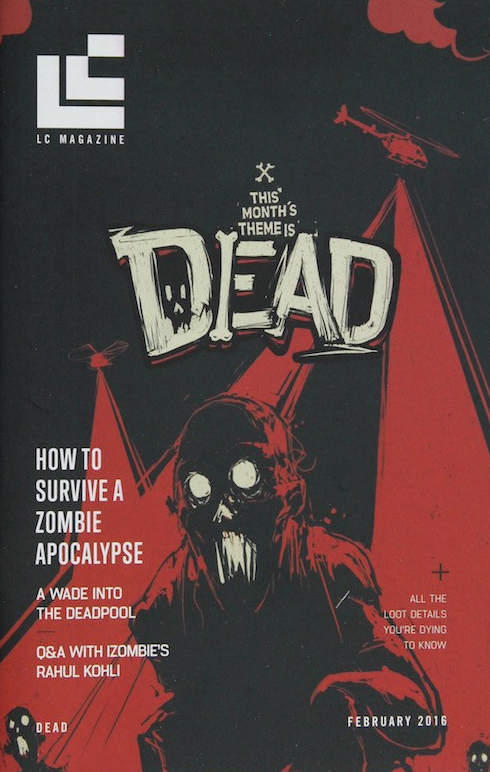 Original videos. Loot Crate Studios uses cinematographers and original scores to produce high-quality videos that celebrate the themes of the month. Besides the one-off videos (like this hysterical parody of a Quentin Tarantino-like version of "Suicide Squad"), they are also working on new collaborations including Kevin Smith's cooking series "Wake & Bake with Kevin and Andy," which will began this month.
A blog. The Daily Crate blog, launched within the last few months, takes a deeper dive into the company's behind-the-scenes creative process. (And even shares a look at the team's adorable pups!) "It's what goes into the process of creating our experiences, and the people, and our brand principals," says Arevalo. Fans will discover interviews with product designers, screenwriters, and comic legends, supplemental content for the themed boxes of the month, trivia, and more.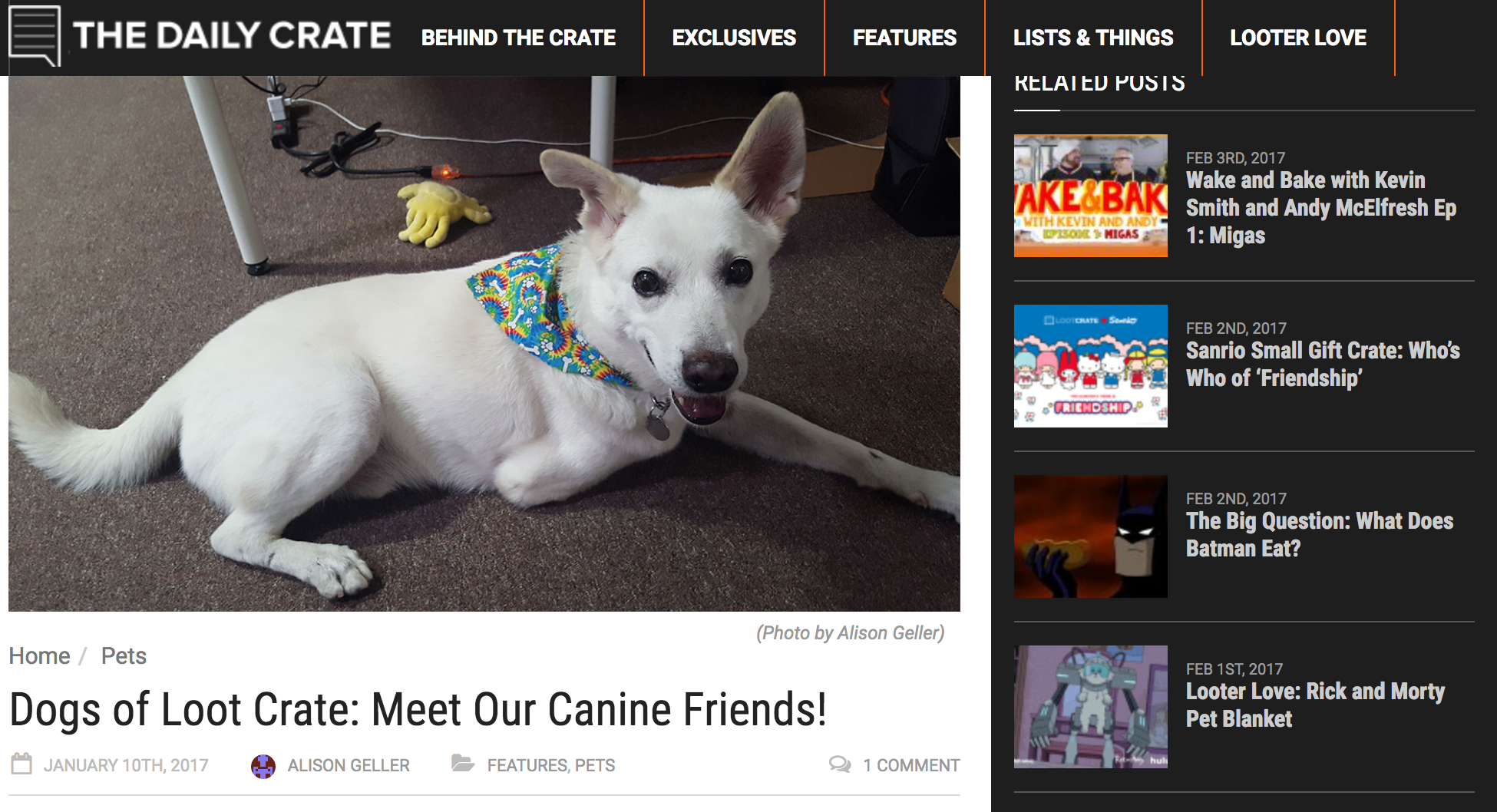 Building an Influencer Network
In addition to the 650,000 Loot Crate subscribers across 13 product lines, Loot Crate's influencer network is 750 strong.
These super-users are encouraged to share their unboxing videos and Loot Crate discount codes with their fan bases. Some of them are more prominent on the gaming platform, Twitch, while others attend live events and take part in cosplay.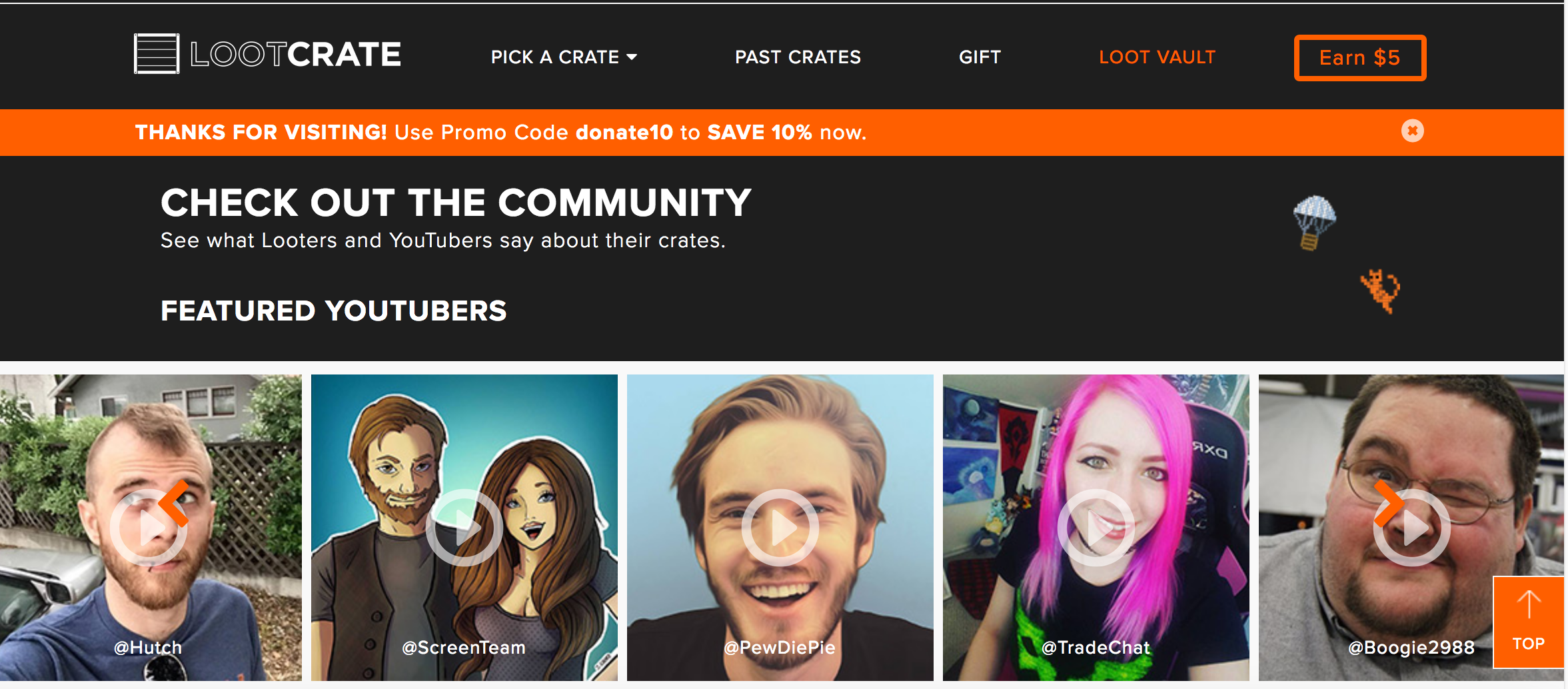 One such influencer is Jack Douglass of Jacksfilms who has nearly 2.7 million subscribers. In a sponsored video for Loot Crate about "The Worst Ice Breakers," he curated his audience responses, and then showed off his Marvel-themed ice tray (and other items) from Loot Crate.
Amassing Pop Culture Legend Endorsements
"Working directly with studios has given us access to celebrities," says Arevalo.
For instance, Loot Crate was able to film actor Alan Tudyk unboxing the "Firefly"-themed Cargo Crate.
Plus, there are celebrity sightings for all kinds of fans. Comic geeks got to hear Stan Lee share the Loot Crate love. Even Shaquille O'Neal is a Looter, not only offering his Twitter fans a discount code, but also working with the company's charitable arm to hand out toys at The Arnold Palmer's Children's Hospital.
Measuring Success
While Loot Crate celebrates geekdom, it doesn't end with its comic book and video game obsession. The company is comprised of highly analytical, data-driven number geeks when it comes to evaluating business goals.
"We've shipped millions of packages. Our subscribers surpass 600K every month. That's a lot of info and data," says Arevalo.
Among the metrics they look at is how engagement relates to customer acquisition costs.
Loot Crate also looks at social analytics across all the social platforms, and uses a professional enterprise version of Google Analytics to make the connection between organic and social content, and conversions and acquisition.
In addition, Loot Crate actively seeks customer feedback.
"We have a survey we do after every month and a yearly one. Our 'State of the Crate' asks customers about how they value the box, the type of content they like, and if they have a bigger affinity that goes beyond the product," says Arevalo.
Staying True to Its Mission
As the Loot Crate universe expands into more partnerships and collaborations to create crates for different types of fans (such as the WWE Slam Crate), Arevalo says the mission will not change.
"We are still trying to unite people through the shared celebration of fandom. That's never going away," he says. "We are fans first. We understand what's it's like to stand in line at a comic event to meet celebrities, or to track down a holy grail collector's item."
Ultimately, Loot Crate wants subscribers to feel like they're receiving a care package. "Our themes, our content, our videos – we create all of it with our fans in mind, to immerse them in an experience they can't get anywhere else," says Arevalo.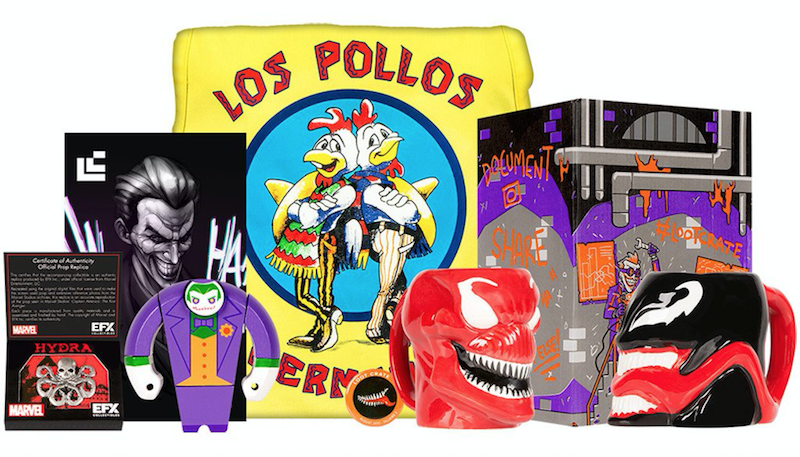 At the center of that experience, there has to be a solid content marketing strategy, says Arevalo.
"Having a strategy in place for the story you're trying to tell and the conversation you want to have with the customer should fuel everything else," he says.
From the looks of it, Loot Crate has a lot more story to tell.
Key Takeaways:
Create a community through content. Having a clear idea of your target audience will help you create content that resonates. In addition, you can curate and promote UCG that showcases your targets and attracts other like-minded folks.
Distribute content where your users are. Loot Crate's users are active on social media, YouTube, and Twitch, and the company leveraged those channels to grow its community. Know where your target audience is active and engage them there.
Actively solicit feedback. All the content you're creating is ideally working towards building your brand and/or driving sales. Even though you have lots of data, asking your audience what they think of your content and what they'd like to see can provide you valuable insights.
Give customers a unique and rewarding experience. Putting customers first and striving to deliver "amazing" experiences with each piece of content and every touchpoint goes a long way to attracting and retaining them.

Dawn Papandrea is a NewsCred Contributor.