NewsCred hosted a live, interactive webinar, on August 10th, to give content marketers the opportunity to benchmark their programs – and assess how they compared against other participants.
The results, based upon NewsCred's Content Marketing Maturity Index, were mixed. Some were what we expected, while others were more surprising. Full details below – but first, some context around the current state of the industry and why we built the Content Marketing Maturity Index.
The State of Content Marketing in 2017
At last year's Content Marketing World, Joe Pulizzi, founder of the Content Marketing Institute, said that content marketing was positioned to improve in 2017 for two reasons:
Companies will do a better job with content creation, focusing on quality and efficiency.
They will have a renewed focus on developing and adjusting their content strategies.
In fact, according to the Content Marketing Institute, more than 70 percent of marketers plan to create more content this year when compared to last. The problem is that we're all competing for peoples' time. And more content doesn't necessarily mean more conversions or leads.
While marketers will create more content than ever this year, only 26 percent are able to measure the effectiveness, or ROI, on their content, according to MarketingProfs. As we move into the era of performance, there's a new focus on driving real business results. Eighty-five percent of marketers define success as upticks in traffic. But is that a true measure of success that you can report to your C-suite?
Only six percent of decision-makers feel their team is clear on how best to run content marketing practices. As the content marketing landscape evolves, we must think about success in new ways and show business value – moving beyond traffic to drive engagement, leads, and dollars. With the right tools, processes, and creative talent in place, we can think bigger.
The NewsCred Methodology
For many months, NewsCred evaluated dozens of our clients' content marketing programs. We found that certain foundational elements must exist in every program to guarantee success, regardless of industry.
The NewsCred Methodology is the sum of those findings. It contains five pillars: strategy, traffic, engagement, action, and monetization. Under each pillar, there are several foundational elements. The methodology is repeatable, and by following it, content marketers can improve their programs and drive actionable results.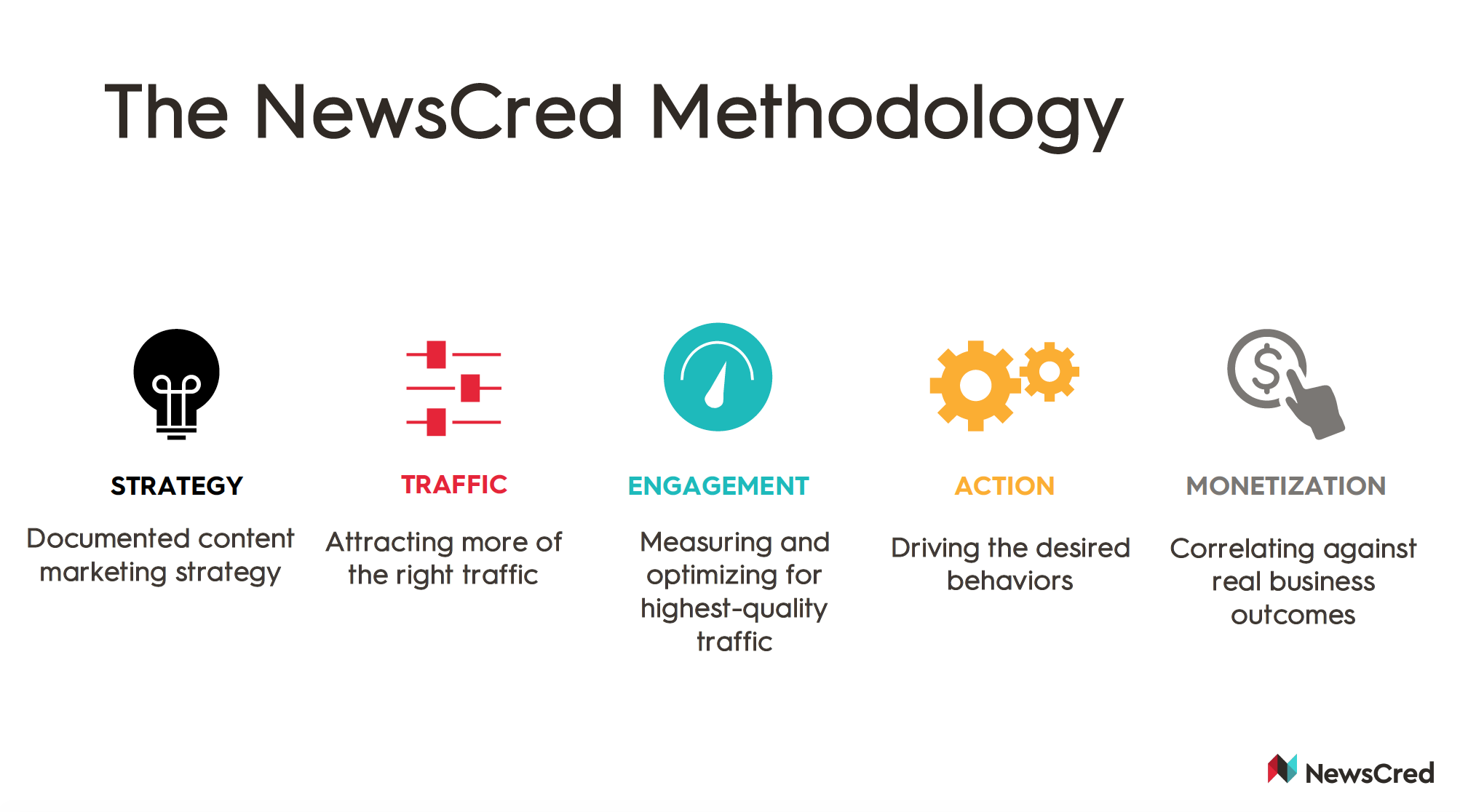 The Content Marketing Maturity Curve
While looking at our customers' programs and developing the methodology, we got a good sense of what content marketing journeys look like, from program launch through maturity. The progression can take years. But we found that most content marketers were getting stuck, at some point.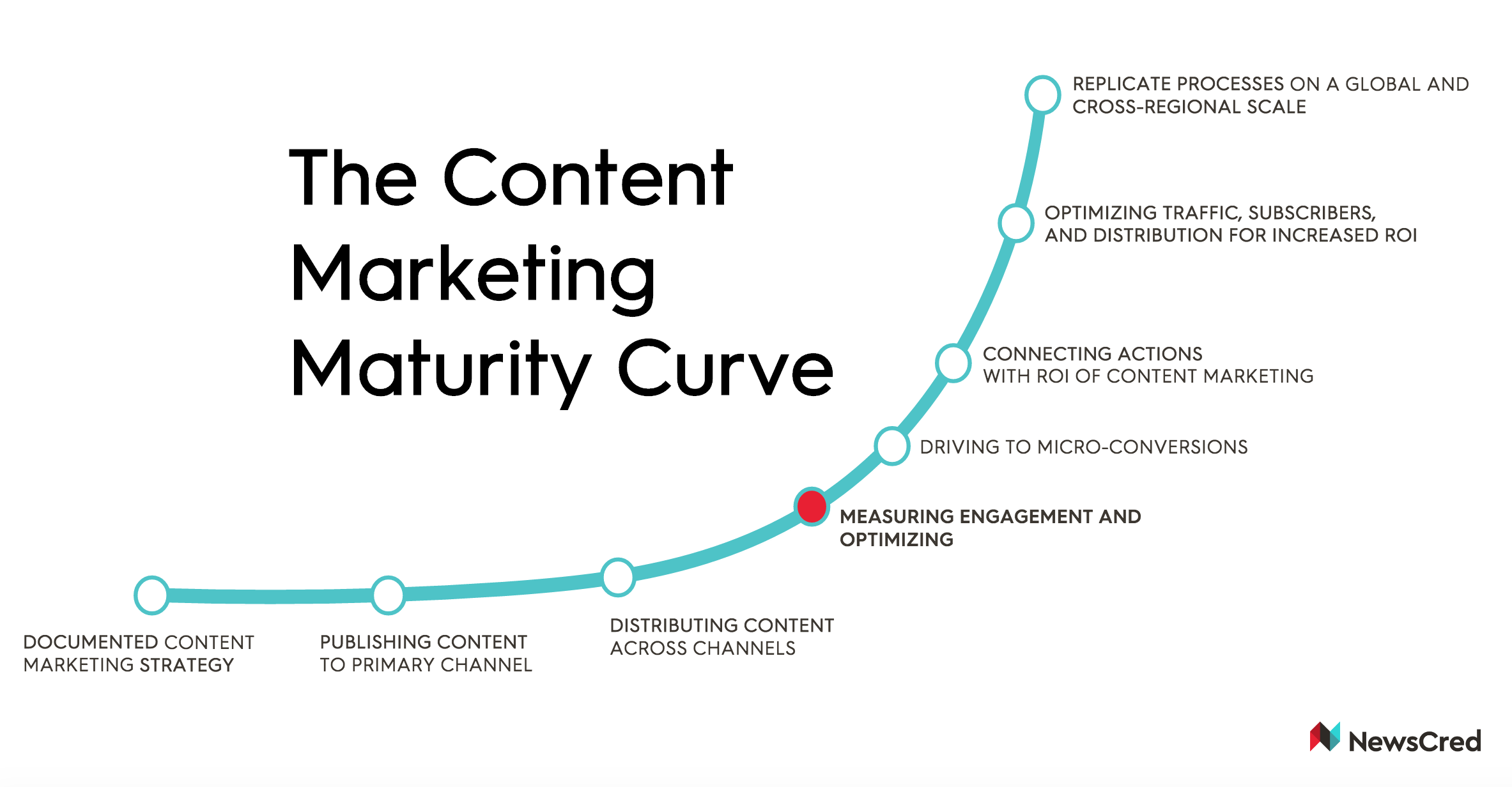 The Content Marketing Maturity Index
To help them get unstuck, we created the Content Marketing Maturity Index. It's an assessment, based on the NewsCred Methodology, that pinpoints the leading indicators of a successful content marketing program. Through taking it, companies can learn their content marketing strengths, where there's room for improvement, and how they can do so.
In our live webinar, participants took the survey in real-time. Here's what we learned.
The Live Content Marketing Benchmark: What Industries Were Represented?
One of the learnings we have discovered while analyzing content marketing maturity is that some industries are typically more mature than others, and that each industry has its own struggles and opportunities.
Here is the industry breakdown of companies that registered for our live benchmarking webinar: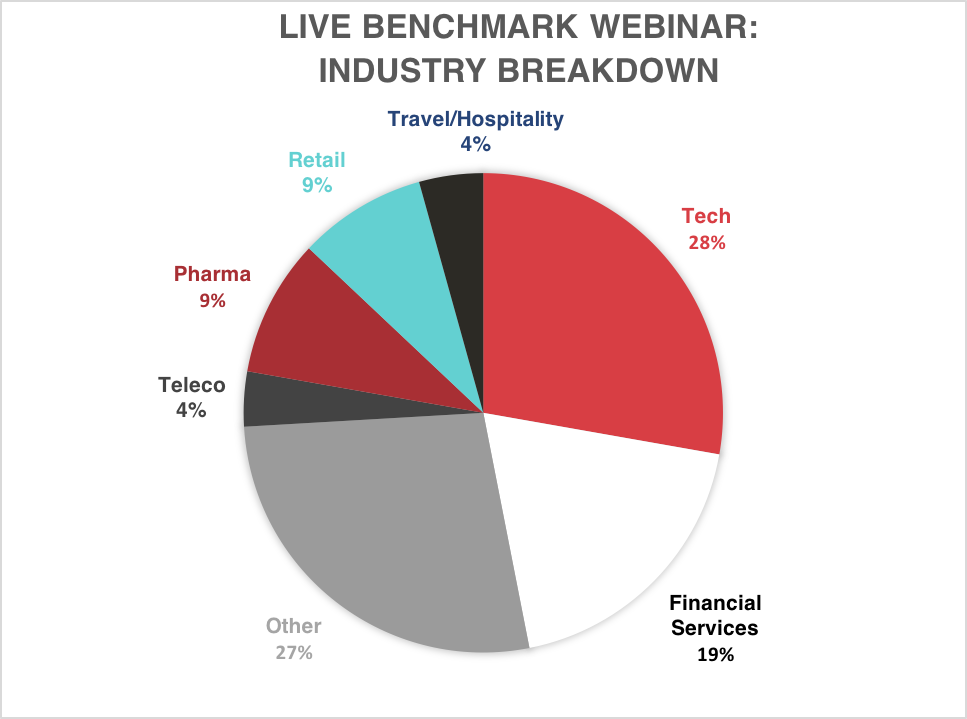 In the future, we'll be releasing benchmarks by industry.
The Surprising Results of Our Live Content Marketing Benchmark
Strategy
One of the more surprising results came from the strategy section of the survey. We asked our participants, "Does your organization have an executive sponsor or senior leader held accountable for content marketing success?" Surprisingly, more than half (52 percent) do not. Also interesting, 16 percent of our audience does not have a content hub, such as a website or blog, available as a primary channel for posting content.
Content marketing is an initiative that is much more likely to succeed if it has buy-in from the senior ranks of your organization, and a single executive accountable for its success. We have also found that companies with a content hub are the most successful. If you're in the 84 percent who do have a content hub, make sure your content hub is optimized.
Traffic
When it comes to traffic, 33 percent of our audience hasn't yet defined their target audience and aligned that audience to content creation and a distribution strategy. We advise that before creating content, you should know who you want to reach, what you want to say, and your desired distribution channels.
Many respondents, 41 percent, feel their websites are not receiving enough healthy traffic to support content marketing efforts. Content marketing starts with a healthy traffic base (a balance of volume and quality). At the end of the day, you need to make sure people are seeing your content though targeted distribution.
Engagement
In analyzing engagement, 33 percent of participants have not yet defined content pillars based on audience segments, and 22 percent are lacking a process or technology to help with content planning, scheduling, and management.
NewCred has found gathering information around which content is working through content-centric analytics helps content marketers improve their strategies.
Action and Monetization
According to our poll results, the Action and Monetization areas seem to be where our content marketing participants were most likely to be getting stuck when it comes to achieving content marketing success.
Seventy-four percent of participants are not aware of different behavioral conversions that occur on the website, and what they mean for the business. Similarly, 76 percent believe their website is not optimized to drive the right calls to action across the site. They are also struggling with alignment: Only 37 percent think the content marketing team is aligned with the various teams in the organization when it comes to tracking and reporting monetization events.
Content should be surrounded by clear calls to action that have a considered strategy for compelling readers to take the high-value actions that matter to your business. Use a platform that enables you to track and measure which content drives action/micro-conversions (e.g. newsletter sign-ups on your site) on your site. In most cases, content marketing success metrics live in a technology that exists with another team in your company. You should be aligned with the individuals who own those metrics to close the loop on the buyer journey (e.g. CRM, Demand Generation).
The Final Results
See for yourself! Watch the 25-minute recording and follow up with us on Twitter at @NewsCred using #benchmarklive.
We'd love to hear that you think about our recent findings.
If you missed the webinar and want to assess your own content marketing program, you can take the survey here.

Kathy Mammon is NewsCred's Senior Director of Demand Generation.