By 2020, millennials will total more than $1.4 trillion in spending power. According to a NewsCred survey, nearly 50% of millennials share content marketing because it reflects a cause they believe in. As a millennial, I would argue that few causes are more important to our generation than the fight for equality for all people – including marriage equality in the United States. With today's historic SCOTUS marriage equality ruling on the books, we thought we'd share some of our favorite LGBT content marketing. While many are quick to discount advertising, it can shape the way we as a society see the world and each other. Many of these companies faced vicious backlash and threats of boycotts, but stood firm in their beliefs. That's content marketing we can all get behind.
1) Absolut Vodka OUTrageous + RuPaul's Drag Race
Absolute is the grandfather of LGBT targeted ads, and have celebrated pride since 1981 with Absolut "OUTrageous" signature bottles. They also were a sponsor for years of "RuPaul's Drag Race" on LOGO, where contestants drank Absolut cocktails on air and starred in ads for the brand. You can read a marketing case study of Absolut's partnership with Drag Race here.
2) JCPenney Features Ellen + Gay Families
In 2011, JCPenney faced massive backlash when they announced funny lady Ellen DeGeneres would be the brand's newest spokesperson. How did they respond to the criticism? By running an ad with two moms on Mother's Day in 2012, followed by an ad with two real dads on Father's Day.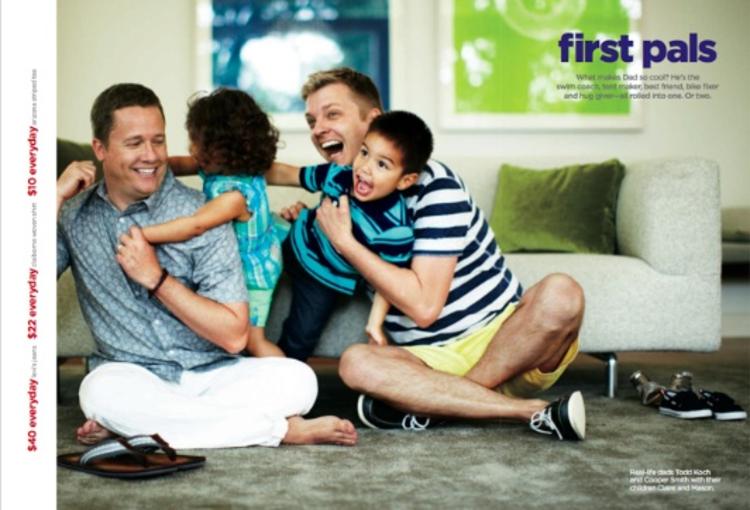 "In celebration of Father's Day, we're proud that our June book honors men from diverse backgrounds who all share the joy of fatherhood," said JCPenney spokesman Joseph Thomas in ABC News.
3) Coca Cola's 2014 Super Bowl/Olympics Ad
During the 2014 Super Bowl, Coca Cola's "America The Beautiful" ad included not just Americans of all cultures, languages, and creeds, but a shot of a family with two gay dads. While the ad was deemed "wildly controversial," we think it's just beautiful. The ad also ran during the Sochi Olympics. Coke said: "The new spot reinforces the sentiment of unity and that America is beautiful and Coca-Cola is for everyone."
4) Honey Maid's "This Is Wholesome"
Honey Maid's "This Is Wholesome" spot features a variety of families and opens on two young fathers embracing their new baby. The ad currently has over 8.1 million views on YouTube.
"It's about recognizing that the American family dynamic and look has changed over the decade," Gary Osifchin, senior marketing director at Honey Maid owner Mondelez International Inc., said on Good Morning America. "And our product line has changed in parallel with that changing American family dynamic."
Needless to say, plenty of hateful people did not support the gay, bi-racial, and otherwise alternative families presented in the ad, but Honey Maid was ready. In a follow up ad, simply called "Love," Honey Maid documents how they took all of these online messages of hate and turned them into something more beautiful and powerful. The company claims to have received ten times as many positive messages than hateful ones, and the ad currently has over 4.3 million YouTube views. Talk about utilizing user-generated content! The campaign was designed by Droga5 and sent a clear message – love always outshines hate.
5) General Mills Stands Up For Equality
General Mills, in addition to creating great ads featuring diverse families, took a firm stand on marriage equality in 2012 when CEO Ken Powell announced the company's opposition to a gay marriage ban in their home state of Minnesota. "We do not believe the proposed constitutional amendment is in the best interests of our employees or our state economy," wrote General Mills VP for global diversity and inclusion Ken Charles. "We value diversity. We value inclusion." Some of General Mills' greatest hits include a Cheerios ad with two real gay dads talking about their adoption struggle as well as a Lucky Charms #LuckyToBe ad for pride last year.
To celebrate Trans Awareness Month in March, retailer and content marketing legend Refinery29 featured a series of interviews with trans people along with a map detailing trans rights state by state. The content hub has since become a news site for trans issues. We featured it in our #ThinkContent Inspiration lookbook for amazing digital storytelling.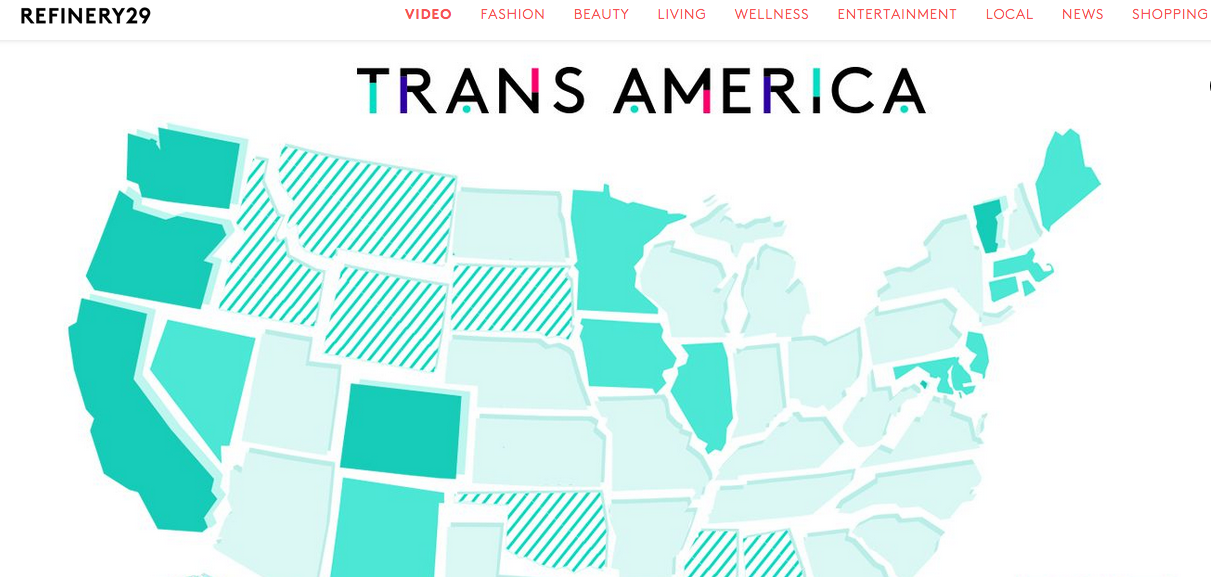 7) American Express Premium Rewards
American Express' recent ad for its Premium Rewards card was praised by NewNowNext for not only featuring a gay couple, but a gay couple that, "look like us, and like a lot of the friends and colleagues we see every day." Check out the ad at NewNowNext.

8) Oreo's Rainbow Stack
Oreo has always had a knack for real-time marketing (dunk in the dark anyone?) but this pride-themed cookie sandwich takes the cake.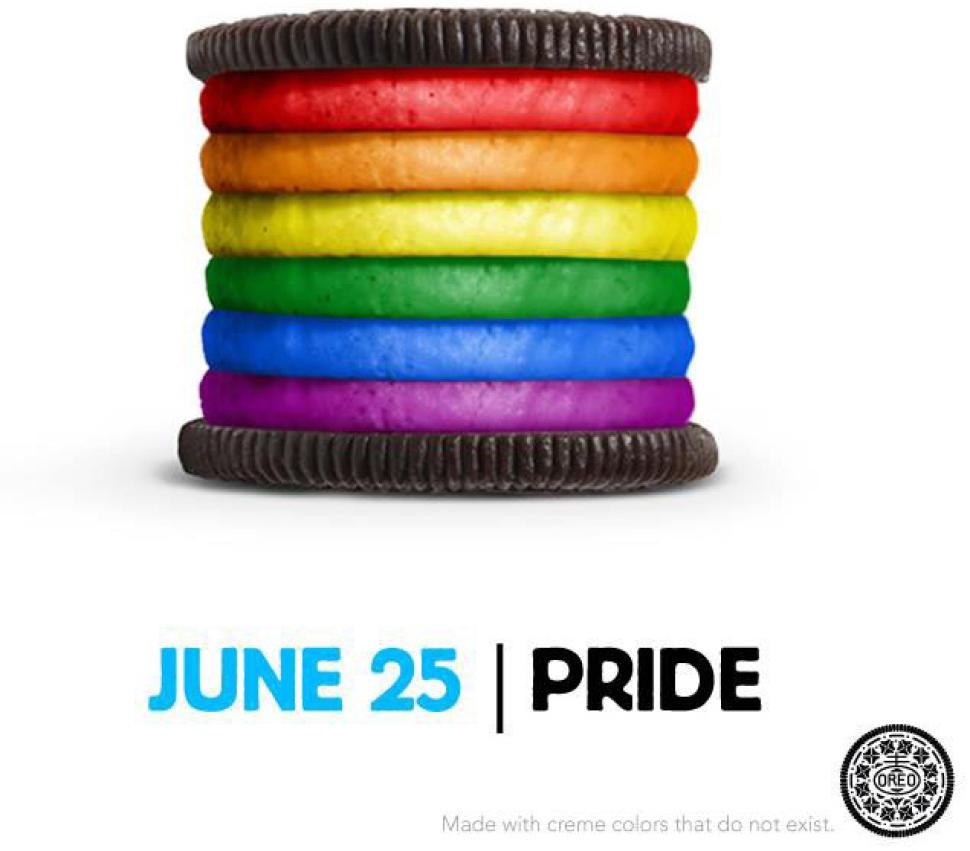 Parent company Kraft (full disclosure: a NewsCred client) ran this ad in June of 2012 with the caption: "Proudly support love!" In 17 hours the image received 157,000 likes, 40,000 shares and 20,000 comments, according to ABC News. "We are excited to illustrate what is making history today in a fun and playful way," Kraft spokesperson Basil Maglaris told ABC News. "As a company, Kraft Foods has a proud history of celebrating diversity and inclusiveness. We feel the OREO ad is a fun reflection of our values."
9) Chobani Tells Off Putin With A Stack Of Yogurt Cups
Leading up to the Sochi Olympics, Greek yogurt brand Chobani took a stand for LGBT citizens around the world: "It's disappointing that in 2014 this is still an issue," Chobani's CEO, Hamdi Ulukaya, told the Associated Press. "We are against all laws and practices that discriminate in any way, whether it be where you come from or who you love — for that reason, we oppose Russia's anti-LGBT law."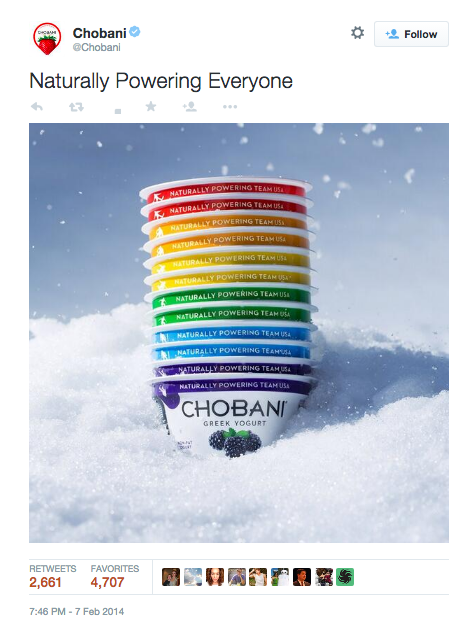 "We came out bluntly and didn't mince words. After taking that stance, it enabled us to do something socially," said Chobani Chief Marketing and Brand Officer Peter McGuinness at the NewsCred #ThinkContent summit. Then, when Chobani shipped thousands of cases of yogurt to our athletes, it was blocked by Russia. McGuinness responded in the New York Times: "I'd like to think that yogurt could have diplomatic immunity." Chobani's latest campaign features a lesbian couple, and conservatives are already clutching their pearls. We can't wait until this stuff isn't news.
10) Amazon's "Transparent"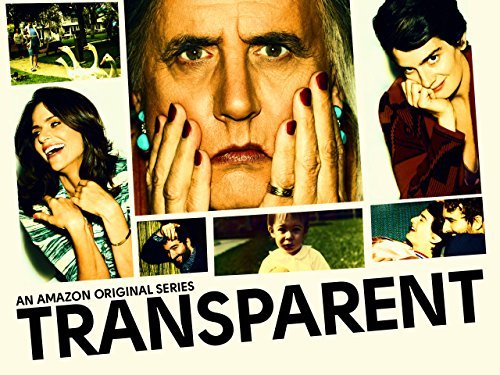 What's an amazing LGBT friendly content marketing campaign that has two Golden Globes? "Transparent," Amazon Prime's groundbreaking digital series, which is, after all, a way to get you to sign up for Amazon Prime. The Golden Globes were a first for Amazon and for a digital series. The show is proof that brands can create ground-breaking, award-winning content that wins over audiences and critics alike.
Did we miss any great LGBT content marketing? Let us know on Twitter @NewsCred.
Amber van Natten is Managing Editor at NewsCred and will be at Pride on Sunday.