Nobody knows urban millennial males better than Complex.
The powerhouse publication, which was founded by Marc Ecko in 2002, is a leading voice for generation X males ages 18 to 30 and has a vast online presence. The site receives over a billion page views per month, as well as more than 500 million impressions on social media. Its Instagram boasts over 1M fans, while its Twitter account has 869k followers.
Content found on Complex's network might include a photoshoot with an up and coming actress, a guide that describes the ultimate movies to "Netflix and Chill" to, videos featuring rap artists, and profiles on the hottest sneakers on the market.
"We cater to the urban living, in the peak of pop culture kind of guy," says Dana Droppo, senior editor of branded content at Complex Media. "He's interested in music and fashion and spends his money on things he's interested in. He makes art and has style, and individuality is really important to him. Our readers are self made guys who are into entrepreneurship, creativity, and originality."
Complex also caters its content to millennial males who want to be the first to know what's going on, according to Carmen Villafañe, director of corporate communications at Complex Media. "They are the trendsetters within their groups. They always know what is happening and what the next hot thing will be. They uncover the song everyone will listen to next week. They champion things we have showcased that you wouldn't even think [would be big]."
The magazine gave Kim Kardashian her first cover in 2007, and featured Jaden Smith before anyone was taking him seriously. Complex is either setting the trends or being right there when they're just popping off. "Our audience is really on point," says Droppo. "We can't afford to miss or be late on something. We have to be talking about what's happening tomorrow and next year and getting an early perspective on something that will become popular."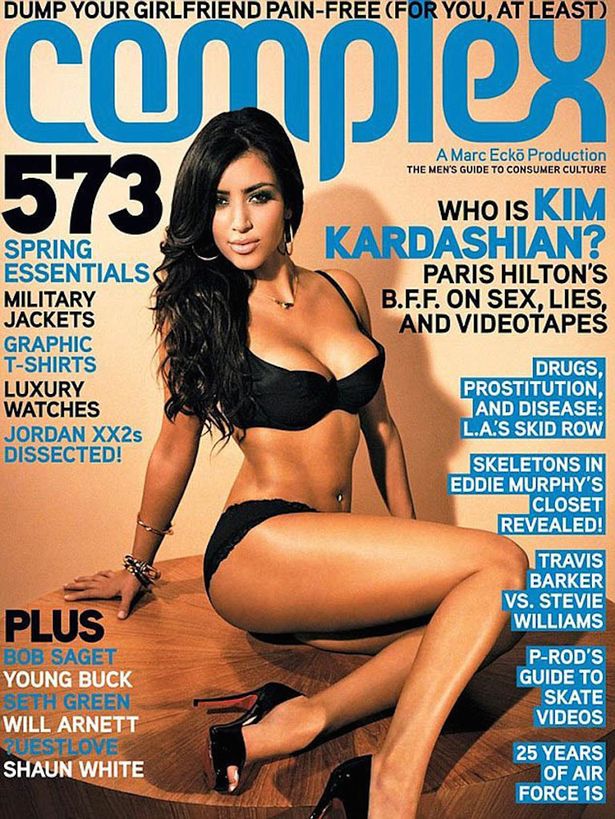 Remember this Complex cover?
To ensure that they're on top of the latest news that is relevant to their readers, Complex employs a staff of mostly millennials under 30. "We are guys and girls who talk and dress and sound exactly like our audience does," says Villafañe. "It's the best way to speak to someone. It's like talking to a friend."
Instead of sitting behind their computers, Complex staffers are on the ground and attend events like Black Lives Matter rallies, film screenings, concerts, and secret music releases. "News is really what we do best," says Droppo. "Our approach is to have it be home grown. This isn't high in the sky reporting or old white dudes producing old timey reporting. It's from us, to us. Having that perspective right now is so important to me as a reader."
Complex also scours the web to see what their demographic is discussing. Though they will aggregate a fair amount of stories from social media, they always add their signature twist to the content, says Villafañe. "It's never just about taking someone else's story. We add our perspective on what people are talking about."
For example, the site may post news aggregated from TMZ and other celebrity magazines, but then comment on it with their own opinions and snark. In a piece about Blac Chyna dating Rob Kardashian, reporter Trace William Cowen writes, "Of course, Chyna's relationship with the Kardashian fam is easily as complex as, say, 'The Canterbury Tales' but with far more compelling characters."
In terms of the formats that their audience loves, it varies. According to Villafañe, during the week, their demographic will watch videos and read content that can be consumed on the go. Although they have a short attention span normally, they'll read long form articles on the weekend. "We recently re-released this whole long feature on Kanye West's 'My Beautiful Dark Twisted Fantasy' and it blew up the internet. It was so interesting to see. We revisited it and it became part of the zeitgeist again."
Like many other publications, Complex is also taking on branded content. They label all of it with a logo and say that it's presented by whichever brand they're working with. They won't take on any client that wouldn't align with their own values, point of view, and demographic's interests. "We only produce branded content that makes sense for Complex," says Droppo. "It would be content that we would have written anyway."
Looking forward, Complex is going to work hand-in-hand with millennial favorite Snapchat and develop bigger and better content on the platform, according to Villafañe. Since more and more women are consuming their content, the staff is also working to create additional content for them.
With everything they produce, they'll make sure that it stays true to the personality of Complex. Villafañe says, "We'll put out anything that establishes our point of view."
Key takeaways from Complex Magazine
You too can mimic Complex Magazine's success with your brand. Take the following ideas into consideration:
Know your audience. Complex knows exactly who their target reader is including his interests, his personality, and his favorites in pop culture and style. Your strategy needs to include demographic research to determine what kind of content your audience loves. When it comes to branded content, stay the course.
Hire members of your audience. You're going to have trouble connecting with your demographic if none of your staff members are apart of it. They are the ones consuming the same media and going through similar experiences as your target audience. They know it best, and you could use their insights.
Invest in original content. Complex doesn't recycle the same old content as many other news sites. They're out there on the ground, doing their own reporting, and digging up story ideas. Figure out how you can do the same by either hiring journalists and/or getting exclusive interviews with influencers that your target audience would be interested in.
Be part of the conversation. Many of the stories that Complex aggregates and comments on are from social media. You need to be entrenched in the places where your audience is hanging out and participating in relevant conversations.
Look ahead. People read content that they'd want to share with their peers. If you give your readers insider information that no one knows yet, you're giving them the power to become influencers. Complex featured Kim Kardashian and Jaden Smith before anyone else. Do your own studies and research to find out what's going to be big in your industry before other brands do the same.
Produce on the appropriate platforms. Complex is creating content on millennials' favorite social network, Snapchat. Figure out where your audience lives, and post your content on those platforms.
Try different approaches. You never know what kind of format is going to be a hit amongst your audience. If you're just starting out, try them all. This includes video, short form and long form content, Instagram posts, etc. Complex experiments with both long and short form, and has found that both work at various times on their publishing schedules.

Kylie Ora Lobell is a contributor to the NewsCred blog.