Integrated marketing increases operational efficiency and drives performance by unifying marketing teams. This is not a new concept or a controversial statement — the benefits to both consumers and brands are clear.
Likewise, the symptoms of marketing organization silos are glaring and often the top concerns of marketing leadership: lack of visibility into spend and ROI, content waste and duplication, and a disjointed customer experience.
So with all the talk of digital transformation and silo-busting, what's holding marketing organizations back from full integration? Too often, the blame for marketing fragmentation and opacity goes to changing consumer expectations or competitive threats. Disruption in the marketplace or channel proliferation. External factors.
The real priority for marketing leaders and organizations should be turning their focus to internal collaboration. Integrated marketing is possible (and necessary!) now more than ever because of technology, and the teams that force this internal alignment are the ones that will succeed in an era of content velocity, global-local delivery, and omnichannel experiences.
That's why NewsCred has turned our focus to integrated marketing, governance, and operational efficiency.

Where does your organization land?
Introducing the Integrated Marketing Maturity Matrix
We developed the Integrated Marketing Maturity Index (IMMI) to help brands assess their operations and governance proficiency. This assessment tool was developed from third-party analyst insights and over a decade of field work with enterprise customers, combined with internal marketing and technical expertise. Using IMMI, enterprise marketing leaders can assess and benchmark their operational efficiency by answering a set of key criteria questions.

The IMMI assessment tool is based on the five core capabilities of effective integrated marketing: alignment, design, execution, process, and technology.
Alignment: Evaluate your support from the top. It needs to go beyond executive buy-in; you need (or need to be) an executive sponsor who will drive and champion change. This mandate includes creating cross-functional buy-in, or integrated planning just isn't possible. The marketing plan also needs to include adequate budget and time investment for the project team.
Design: Examine your planning model. Do you have a direction-setting body to act as brand custodian? Are teams collaborating together to prioritize key themes across different marketing disciplines? Is there a shared calendar view of all activities that tie into key campaigns? And is there a documented marketing taxonomy and shared language?
Execution: This execution element looks at the rigor of following through on your plan, processes, and guidelines. Is your team delivering on time and at scale? Is there an adherence to best practices relating to tagging assets appropriately to metadata and taxonomy, auditing for relevancy and redundancies? This includes identifying whether your team is equipped to stand up marketing operations and is trained on the functional skills to execute successfully. Agile marketing methodologies often come into play here.
Process: The process section delves into the workflows that guide your marketing execution, specifically how sophisticated and complete these workflows are and whether they are documented. Do your workflows take into account different asset types, approvals, compliance, and localization? Is there also a process for analyzing campaign and overall marketing performance?
Technology: The technology criteria relate to whether your brand has adopted a secure and flexible planning technology solution for long-term collaboration that includes automation intelligence. Is there a clear line of sight across content ideation, pitching, planning, production, publishing, distribution, optimization and measurement? Ultimately, technology should help accelerate execution and build on desired team behaviors such as collaboration and integrated planning. This also includes flexible reporting on campaign, content, and operational performance.
Ultimately each of these components rolls up into a single score out of 100 that correlates to our Integrated Marketing Maturity Index. A score of 50 is the average benchmark for success, anything higher is movement towards mastery. Investing in the foundations of A.D.E.P.T. will help you get closer to the top.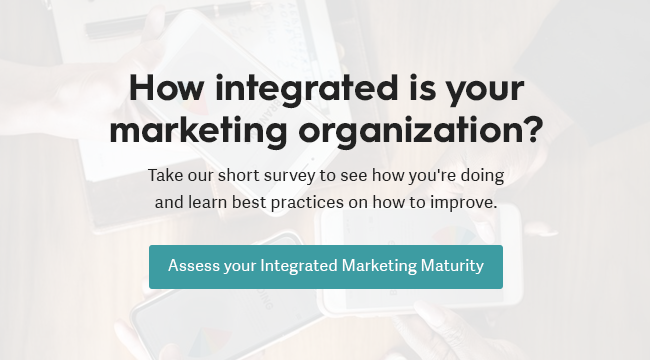 How To Increase Your Organization's Integrated Marketing Maturity
The index is meant to provide a benchmark and gap assessment for your organization. You can assess your gaps across the A.D.E.P.T. framework and begin to address them accordingly. A well-executed marketing operations function and integrated planning will bring teams together, drive unprecedented efficiency, and transform your business.
Don't know where to start? Investing in integrated planning and campaign management is the best way to govern the complete content experience and as a result, acquire and grow loyal customers. Ask two simple questions: what shared campaigns and KPIs should my teams collaborate on? What are the central themes or milestones that everyone can contribute to at the highest level?
Next, don't underestimate the role of a shared taxonomy in marketing collaboration. Establish a clearly defined language and labeling structure for your marketing organization, and put governance in place to ensure it's being used. As teams begin managing an increasing number of cross-functional marketing programs and a growing library of content, consistent metadata is vital for accurate planning, organization, and measurement.
NewsCred can help marketers move to a more consistent, collaborative planning and execution model. We've expanded our Content Marketing Platform (NewsCred's CMP, recognized as a Leader in this year's Gartner Magic Quadrant) to support integrated marketing and improve our clients' operational efficiency. We believe there's an urgent mandate for marketing organizations to become more integrated and collaborative, and that technology will be the catalyst that finally unifies teams.
Lieu Pham is NewsCred's VP of Strategy and Creative Services.