NewsCred just packed up our booth at Content Marketing World, where we've seen the field of content marketing expand and evolve over almost a decade as both an attendee and sponsor. As a community, we've grown content marketing from a buzzword to a sophisticated discipline. And this year, I'm energized and optimistic about where the industry is going — because on the near horizon we see an organizational transformation: siloed content marketers integrating with the rest of their organization to create collaborative, cross-functional marketing teams that deliver great content experiences.
In fact, here are my predictions for the next year:
Successful brands will invest in integrated marketing, shifting focus from internal competition to true collaboration.

Technology will be the catalyst for unifying teams and resolving problems that were pain points in the past.

 
That second point may seem self-serving at first. NewsCred has provided a technology solution focused on tying content to business performance. We're not moving away from that core belief; content performance still matters. We need to justify our budgets, after all. But more than ever, content also needs to stand out in a saturated market.
According to BuzzSumo, only half of the posts created in 2017 got four or more shares. Most marketing teams have more than four people — so your own teams don't even share their content.
But the solution isn't to create more content. It's to create better marketing teams and empower them to create better content. That's why NewsCred developed an Integrated Marketing Edition of our leading Content Marketing Platform.
Better Teams Create Better-Performing Content
Why integrated marketing? You've probably heard me recommend the book Team of Teams by retired U.S. Army General Stanley McChrystal. (If not, here's why it's the leadership book every NewsCred exec must read). A team of teams is integrated, elite, and effective. The "team of teams" mentality says that organizational silos and lack of visibility and trust are holding marketers (and brands) back from advanced strategic planning, aligned execution, and high performance.
The marketing organizations that embrace this team of teams mindset become a truly integrated marketing organization. This means prioritizing adaptability, empowered decision making, and extreme transparency and visibility. That's easy to commit to in theory, but it's something else to achieve in practice. Maybe your content marketing team has high degrees of trust and visibility, but how can you scale that across an organization, across markets and geographies, across products, and across channels?
At NewsCred, we believe the answer is purpose-built technology designed to unify the marketing organization, giving unprecedented visibility into campaign planning, execution, and measurement — alongside operational efficiency monitoring and benchmarking to ensure visibility and accountability for increased collaboration.
Increase Operational Efficiency, Increase Performance
Integrated marketing is the process of unifying the marketing organization to deliver a content experience for their audience that is consistent and relevant across all channels. Building an integrated marketing organization ultimately means removing the competition between marketing teams — competing KPIs, rival budgets, unique tech stacks, and different attribution models.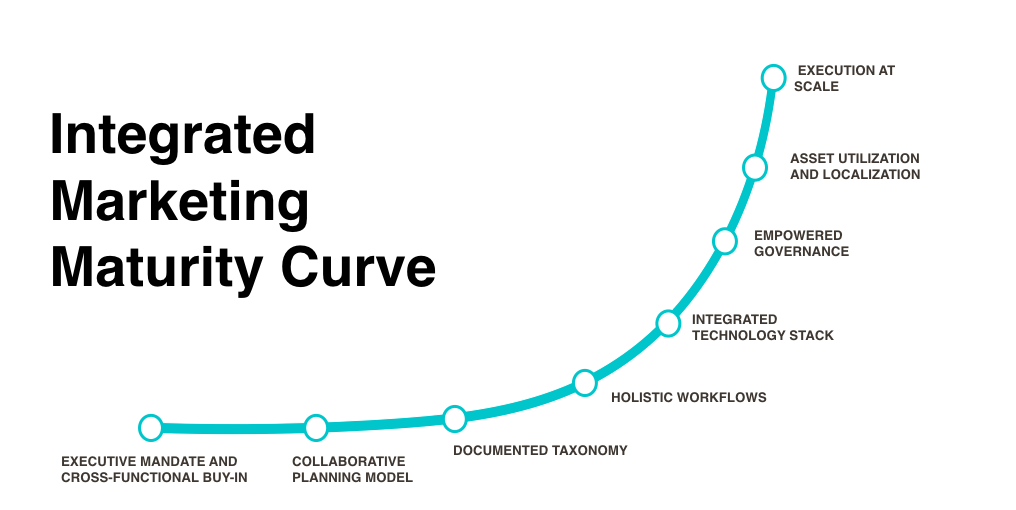 We developed the Integrated Marketing Maturity Index (IMMI) and methodology to help brands assess their operations and deliver governance proficiency. The IMMI assessment is based on the five core capabilities of effective integrated marketing: alignment, design, execution, process, and technology, and you can benchmark your organization here.
The Technology You Need to Transform
Internal collaboration must become a real priority for marketing leaders and organizations. The marketing departments that form a "team of teams" mindset and invest in internal alignment are the ones that will succeed in an era of content velocity, global-local delivery, and omnichannel content experiences. I'm so excited that NewsCred is in a position to support this critical transformation.
The Integrated Marketing Edition of the NewsCred CMP offers:  

Integrated Campaign Management to bring teams together within a single workspace to plan and execute campaigns across markets and lines of business, increasing visibility of all marketing activities and improving the  operational efficiency to maximize the impact of content and ultimately increase marketing-attributed revenue.
Multi-Format Content Workflows to manage the production of all the types of content that campaigns depend on — from videos and landing pages to presentations, infographics, social ads, and more — and make it easy to create, collaborate, and approve the wide variety of content needed to fuel marketing efforts. 
Advanced Operational Reporting to monitor team processes, assess campaign progress, and identify potential bottlenecks, giving teams the transparency needed to make informed, effective decisions that will minimize waste, improve operational efficiency, and maximize campaign performance.
It's time for marketing leaders to make breaking down silos and improving collaboration a business mandate. And content marketers are most equipped to lead this transformation of the marketing organization — after all, content is the common currency across every marketing program and consumer touchpoint. And no one knows how to create, execute, govern, and optimize content better than content marketers. 
Shafqat Islam is the co-founder and CEO of NewsCred.