You've no doubt read about the world's leading content marketers, like GE, Amex OPEN Forum, Red Bull, and NewsCred's #ThinkContent Awards winners. But global corporations aren't the only ones that have cracked the content marketing code. Lots of smaller brands are using content to engage their niche audiences.
We highlight eight stellar examples below. Read on to learn how these lesser-known content marketing powerhouses have found innovative ways to drive business results.
Tracksmith: Making Content Strides One Meter at a Time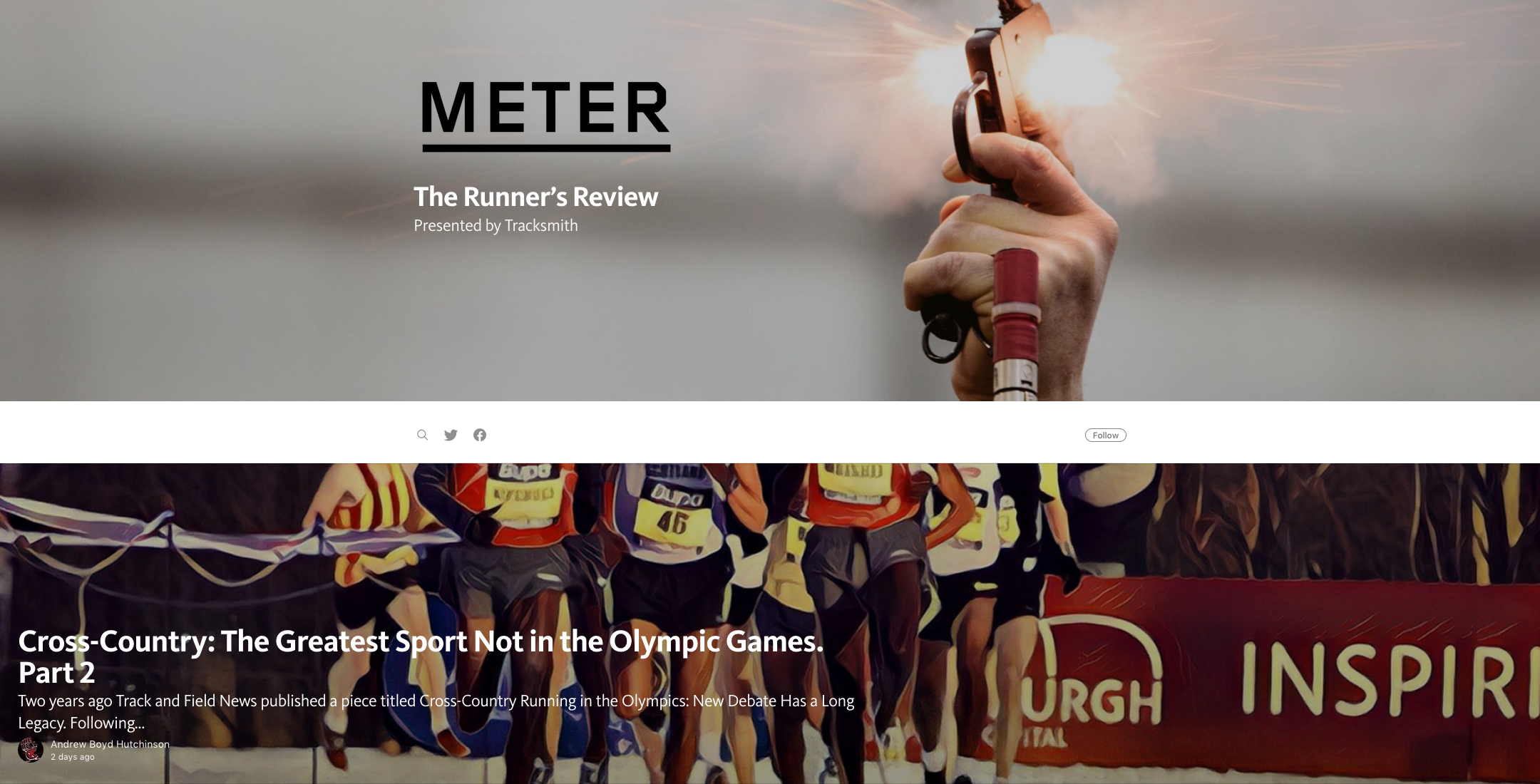 Finding a clear path through the crowded athletic footwear marketing race is no easy task. But Tracksmith found its niche among elite runners, and decided to put out a quarterly magazine just for them. Meter is produced in-house and features long-form articles and stunning photography, but no product advertising.
How they do it: Other than Runner's World, Tracksmith knew that the running community craved an outlet that shared running stories that weren't mainstream and fitness-related. Whereas the Nikes and Reeboks of the world push fitness and recreation, Tracksmith is sticking by its smaller audience of hardcore runners. Thanks to a Series A funding investment of $4.1 million in 2015, Tracksmith had the means to invest heavily in content to build a community.
"We believe that celebrating the sport as a whole is more important. And to that end we see content as a platform to explore the culture and nuances of running through an independent lens," says Josh Rowe, the company's Head of Marketing, in an interview with Medium.com.
The results: So far, according to Tracksmith's Founder Matt Taylor, content has been one of the company's most successful tools for customer acquisition.

DigitalOcean: Demystifying Cloud Hosting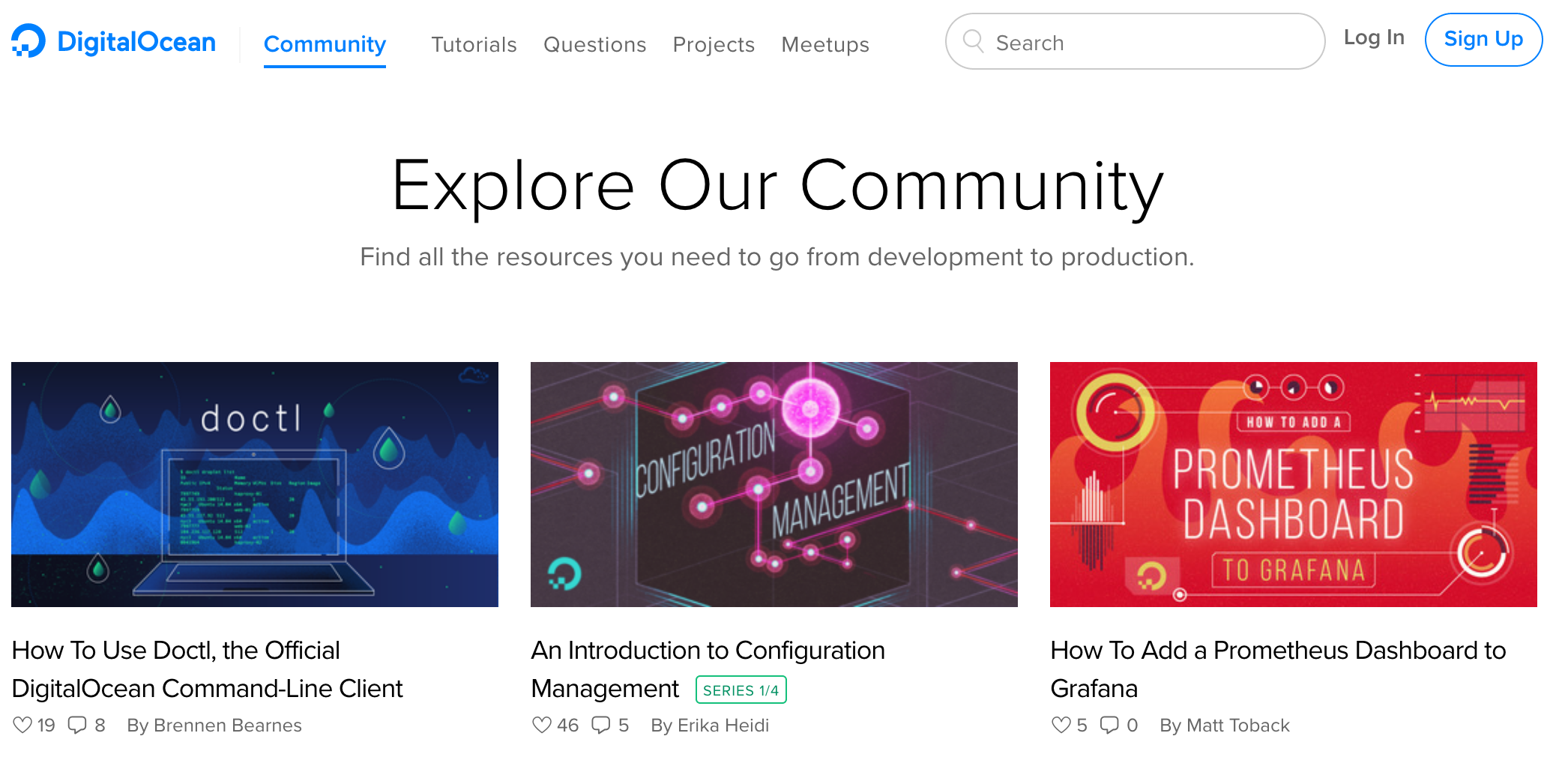 As a cloud hosting service provider, DigitalOcean relies on content to explain its products to prospective customers.
From its humble beginnings back in 2011, DigitalOcean decided to put resources behind creating content, rather than paying for traditional advertising. They believed that educational and engaging content would better serve potential users – and convert them to paying customers.
How they do it: DigitalOcean offers an huge library of technical tutorials, how-to guides, and other useful tips for developers working on any cloud platform. DigitalOcean is not only prolific and responsive to reader comments and questions, but also has a user-generated content (UGC) program where people can submit technical guides – and earn $200 for doing so. This has helped them scale and become an inclusive community of professionals that help each other. DigitalOcean's content team consists of in-house technical writers plus an editorial team to manage inbound submissions and work with freelancer contributors.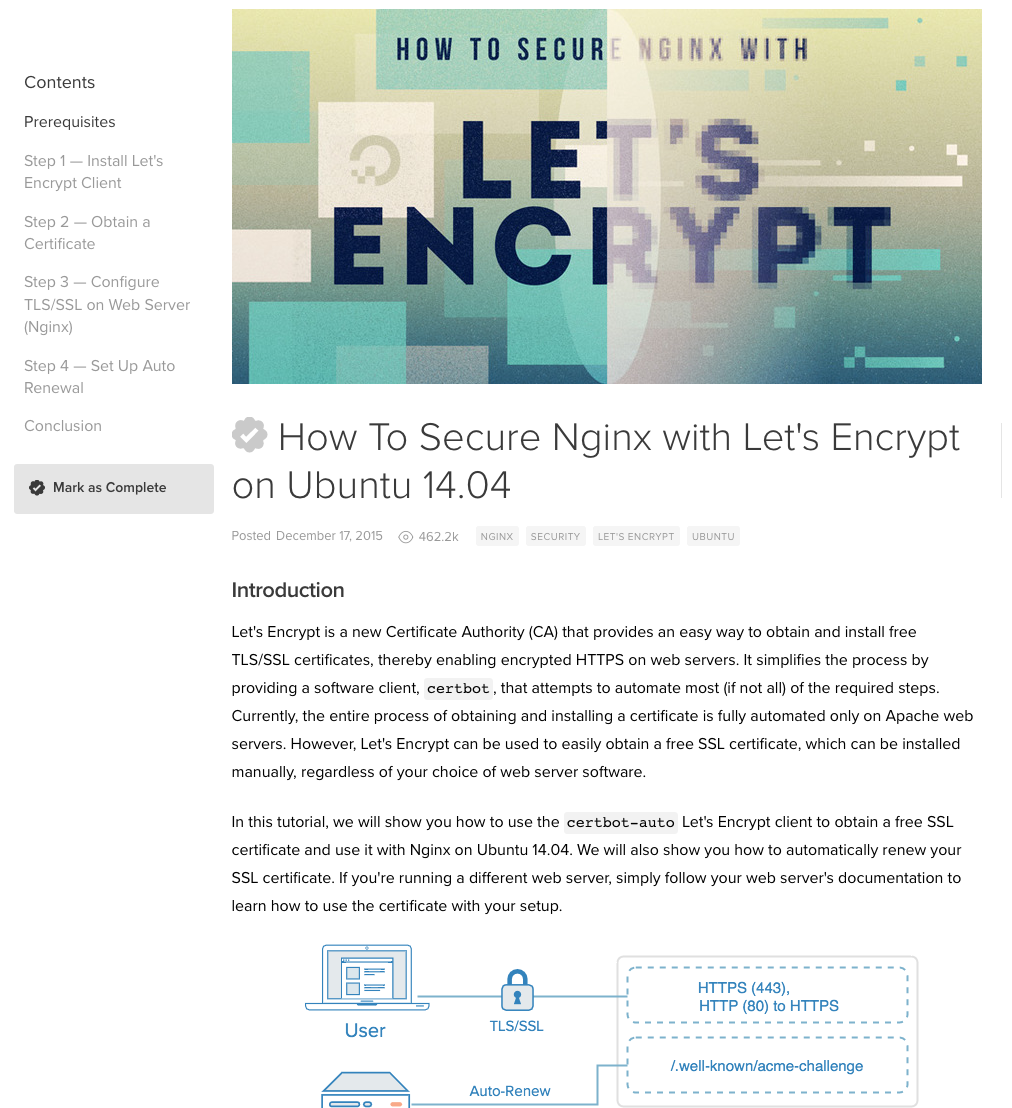 The results: It didn't take long for DigitalOcean to see that community content was generating new signups and brand awareness.
Mitch Wainer, CMO of DigitalOcean, says in a Wired interview: "Today, we receive over 3 million unique visitors per month through our community platform and our tutorials are driving a large majority of that traffic…In terms of ROI, without diving into the economics, it does provide a healthy return for the business."

Groove HQ: Back from the Brink Through Content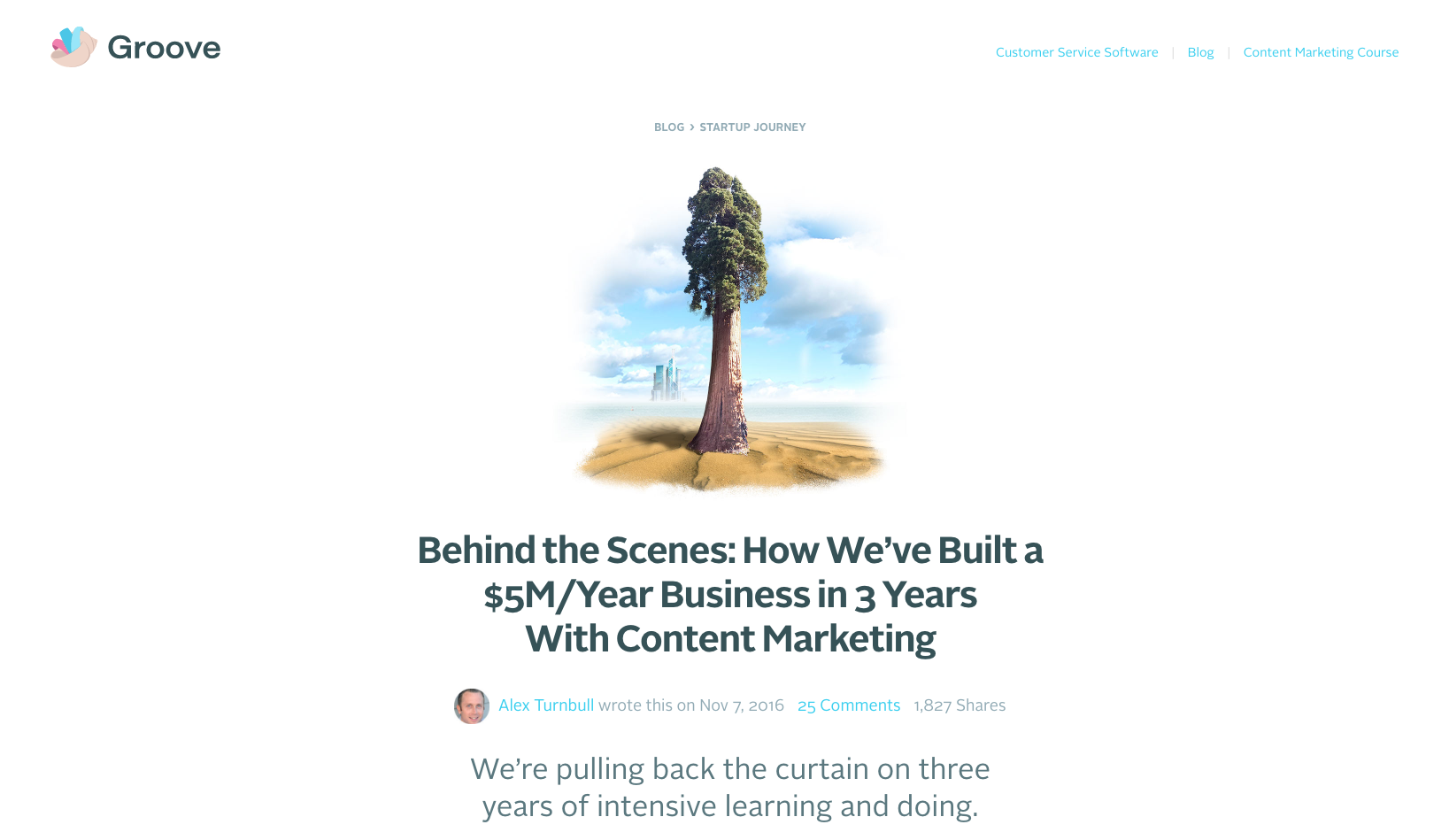 Groove is a help desk software startup that's successfully scaling its business through content marketing.
In fact, Groove's blog mission is: "From 'aha' to 'oh shit,' we're sharing everything on our journey to $500K in monthly revenue."
And they do exactly that. Alex Turnbull, Groove's CEO and Founder, chronicles the company's growth in honest, transparent posts. Groove fully owns and writes about its shortcomings – and in doing so, has cultivated a loyal, engaged audience of small business owners who are experiencing similar struggles.
Groove didn't originally set out to write a blog about its business challenges. That became the strategy when it made a last-ditch effort to reach customers.
How they do it: In early 2013, Groove was nearly bankrupt. Despite its best content marketing efforts, it couldn't attract customers. In order to save the company, the leaders decided that content marketing was their best hope – if they went all in.
First, they spent two months picking the brains of successful content marketers to learn how they could turn their blog into a growth driver. Then they dove in, treating their audience research the same way they would do customer development for a product.
They found that their customers were experiencing everything they were: challenges with marketing, hiring, product development, scaling.
"And as far as we searched, we couldn't find any other content publishers telling that story: the real story of a small business, struggling with the same challenges as everyone else, and sharing everything that they learned along the way," Turnbull writes.
Ultimately, Groove decided to tell its own totally transparent business journey, warts and all.
The results: Within 24 hours of relaunching the blog and posting "A SaaS Startup's Journey to $100,000 a Month," Groove had 1,000 email subscribers.
Today, through Groove's growing commitment to presenting the story in the best way possible, using A/B testing, and letting the metrics guide them, more than 250,000 people read Groove's content each month. Individual posts frequently get more than 1,000 shares. Plus, Groove now has 5,000 customers, and they're generating nearly $500K in monthly revenue – their original goal.
Huckberry: A Content Marketing Adventure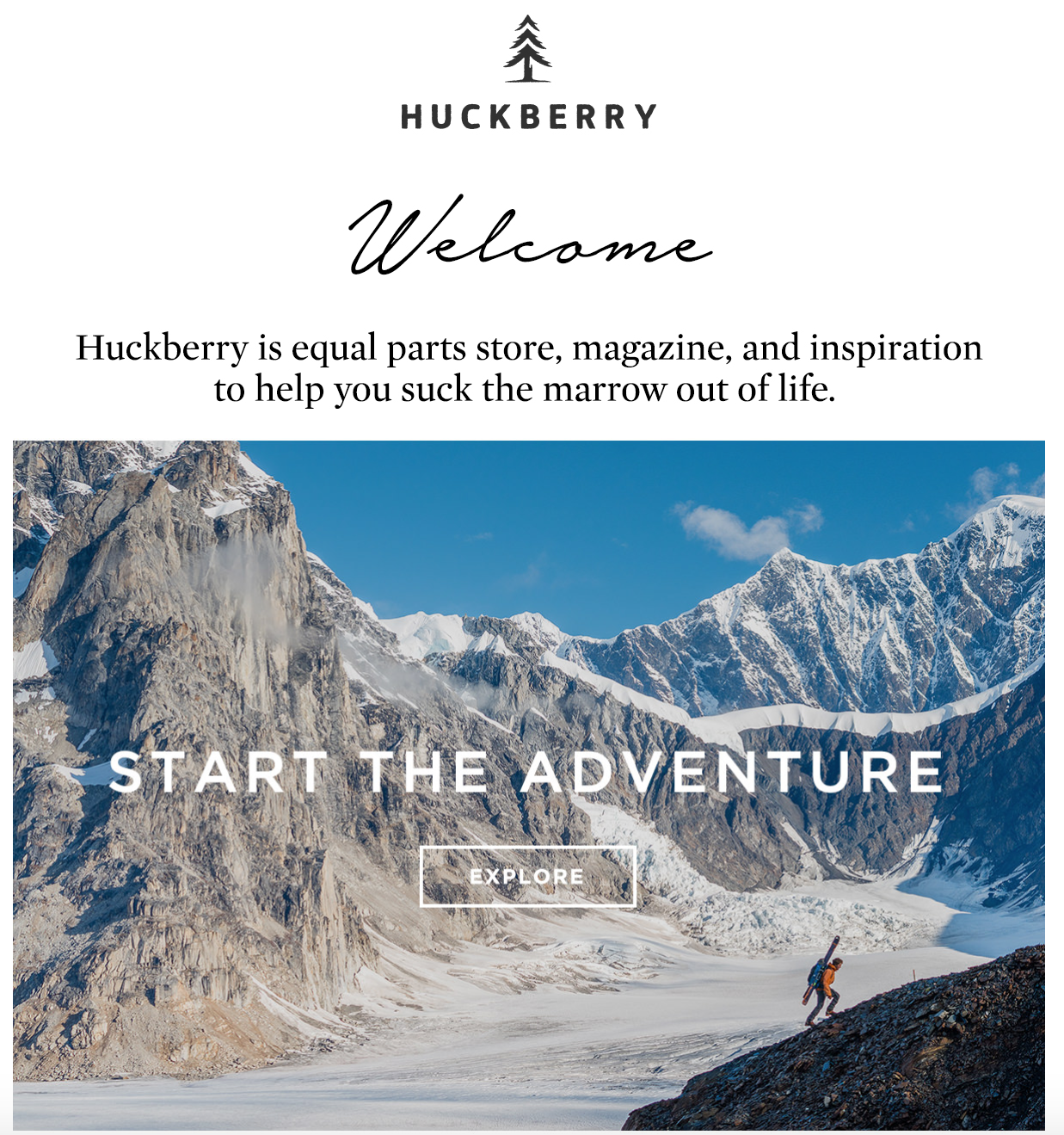 Huckberry's website and email newsletter are what it calls "equal parts store, magazine, and inspiration." As you scroll, you'll find carefully curated clothing and adventure gear offerings, high-quality content that aligns with the brand's core values, and beautiful nature photography – and you'll never feel like you're being sold to.
How they do it: Like most successful content marketers, Huckberry content transcends its clothing line. The brand offers customers a unique experience that captures their lifestyle and interests via its content hub, the Huckberry Journal. Huckberry tells stories about the beauty of nature, the adventure of travel, and even recipes that seem just perfect for after hiking. Huckberry products will sometimes make discreet appearances in photos.
In addition, Huckberry cultivates a community of "ambassadors" who share their adventure tales, photography, and favorite products on Huckberry.com. Since all ambassadors have strong Instagram followings, they give Huckberry important channels to expand its audience.
Huckberry will sometimes feature other brands in its newsletter and drive people to their sites.
"By sending the customer away from the Huckberry property, the email effectively connects the destination properties to Huckberry, in a form of affinity marketing," explains Hubspot.
The results: Through its top-notch content offerings, Huckberry now has over 1 million subscribers in its community.

Intercom: A Call for Educational Content


Intercom, a customer messaging platform, certainly sends the right communications to its audience via its blog, Inside Intercom.
As Managing Editor John Collins explains, "It's just about attracting people to your site with useful and relevant content." Intercom is all about investing in content with a long shelf-life, in order to build up a useful knowledge base for its readers.
How they do it: Intercom's culture of content is apparent as many members of the organization contribute stories to the site.
"The company fully believes in the importance of everyone across the org sharing what they learn directly with users," explains Collins on Medium.com.
From CEO Eoghan McCabe and down, Intercom employees are encouraged to share their thought leadership and knowledge.
While Intercom publishes several new pieces of content each week, it also strives to surface older posts that are still relevant. Inside Intercom has modules that do exactly that, to keep readers engaged and informed while on-site.
The results: Since making the shift to bringing its high-quality archived articles back to the forefront, Collins told Zapier, "We've seen a significant spike in reader engagement, as measured by pages visited per session."
Hubspot also reports that a series of Intercom's job-focused landing pages saw a conversion rate of approximately 5%, and its top-of-funnel traffic has more than tripled and continues to grow.

Loot Crate: Unboxing Content Success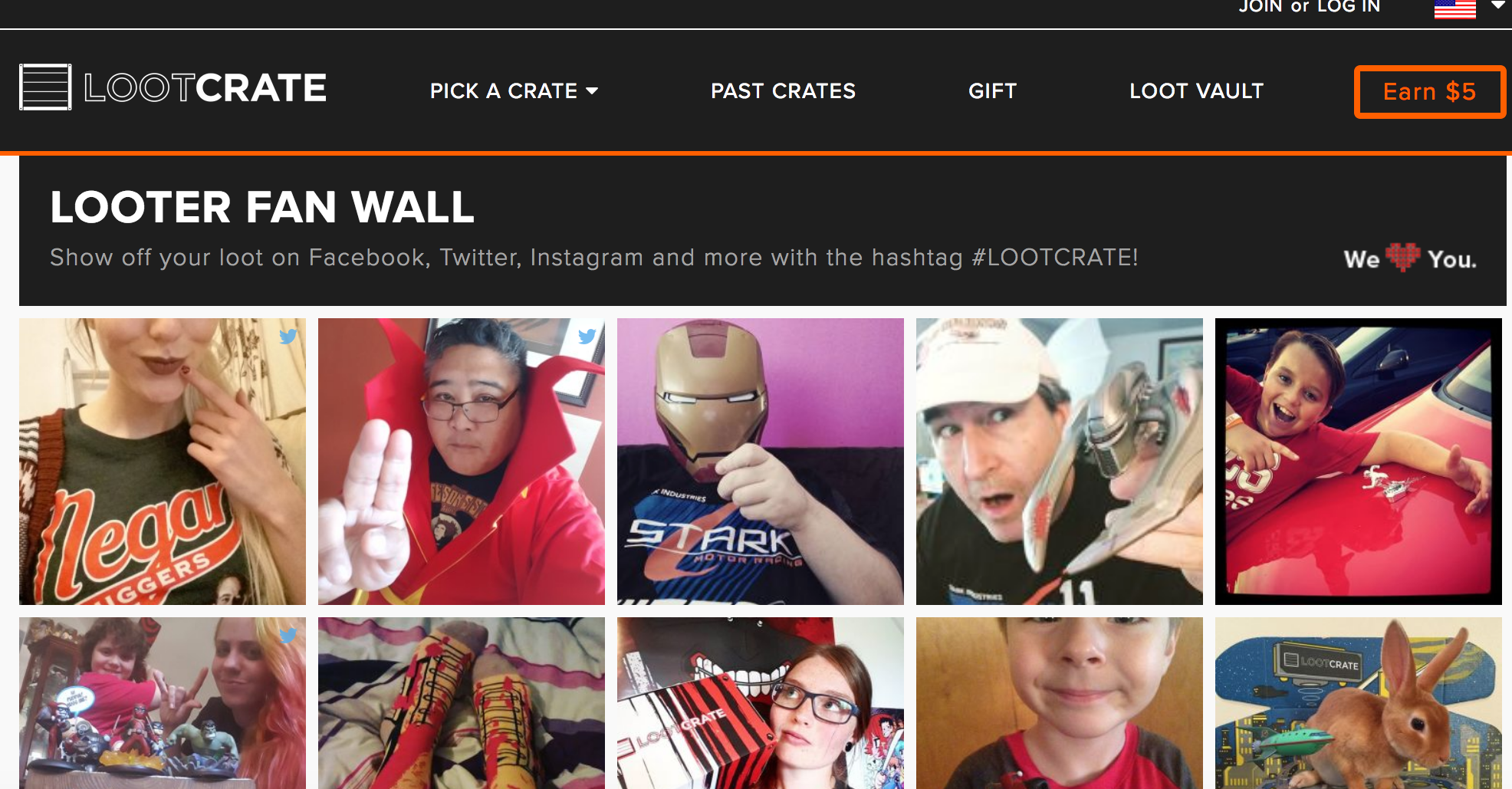 When your company is chosen as #1 on Inc.'s annual 5000 list of the nation's fastest-growing private companies, you're doing something right. Loot Crate, the "geek subscription box for gamers and nerds," showed how literally thinking outside of the box helped grow its fan-based commerce and community platform to over 650,000 recurring monthly subscribers worldwide.
How they do it: To build its community of rabid fans called Looters, Loot Crate jumped on the YouTube unboxing craze to showcase subscribers opening their packages each month. It also relied heavily on social media (they currently have 2.5 million Facebook followers) to help spread the word in the early days of the company, often featuring customers' photos and videos.
As it's grown, Loot Crate has doubled down on content with regular blog posts on The Daily Crate that celebrate pop culture, interviews with product designers and comic/entertainment legends, and sometimes supplemental guides related to the themed boxes of the month. Their in-house content team also creates original video games, comic books, and videos, all in the name of delivering amazing fan experiences that go beyond what's in the box.
The results: The Loot Crate universe is expanding with more and more partnerships and collaborations to create crates for different types of fans. The company is currently valued at $116 million. Without the early word-of-mouth growth led by social media and content outreach, the company could not have come so far.

First Round: Starting with the Audience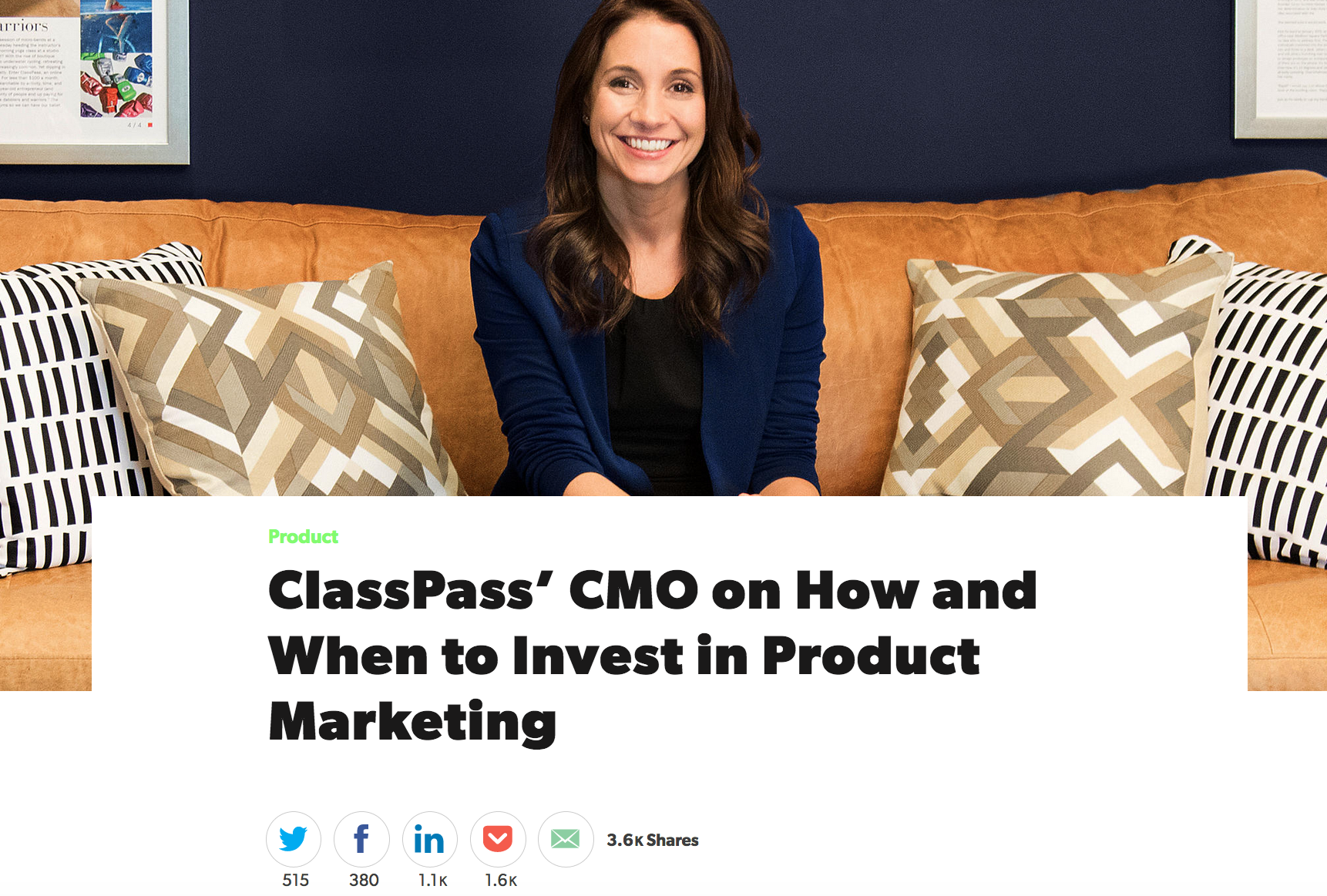 First Round Review, the branded publication from venture capital firm First Round Capital, has cultivated a captive audience of startup founders and business leaders. Its content strategy is simple: Address the pain points of company founders and share in-depth tactics from seasoned executives who've successfully tackled them. Though housed under the "First Round Review" name, the blog is actually comprised of nine digital magazines that are hyper-focused on some aspect of business growth, from product to engineering to fundraising.
How they do it: First Round doesn't want you to take their word for it. Instead, they feature interviews and actionable advice direct from the mouths of the most successful startup team members across industries, including ClassPass' CMO, Slack's Head of Search, and Airbnb's Director of Product.
They also use a Slackbot – that they've dubbed their "Influencer Bot" – to help amplify their content.
"Whenever anyone in our audience has over 10,000 followers and shares or reviews a story, we get pinged and can choose to engage with them further or help extend their brand by retweeting or sharing with our First Round staff internally," explains Camille Ricketts, First Round's former Head of Content and Marketing, in an interview with EucalyptMedia.com.
The results: First Round Review boasts an audience of a 500K monthly readers, and a community of 100K mailing list subscribers. Just as importantly, it's built up its brand among startups, the business community – and the content marketing industry who see First Round Review as a best-in-class example.

Deluxe: Small Business Content Worth Checking Out

To engage with its core audience of small business owners, and in turn be recognized as a small business solutions provider instead of just a "check company," Deluxe launched an ambitious content project in 2015 called SmallBusinessRevolution.org.
How they did it: Part celebration of its 100-year anniversary and part community outreach, SmallBusinessRevolution.org highlighted 100 small businesses across the country through 12 mini-documentaries, 88 photo essays, and a full-length documentary.
To keep the momentum going into 2016, Deluxe introduced the competition series "Small Business Revolution on Main Street," which awarded $500,000 to the most deserving small town. Out of 14,000 nominees, Wabash, Indiana won the first Main Street Makeover, which included mentorship for its businesses from "Shark Tank"'s Robert Herjavec and Deluxe Corporation executives. Currently, for season two, eight semi-finalist towns have been chosen.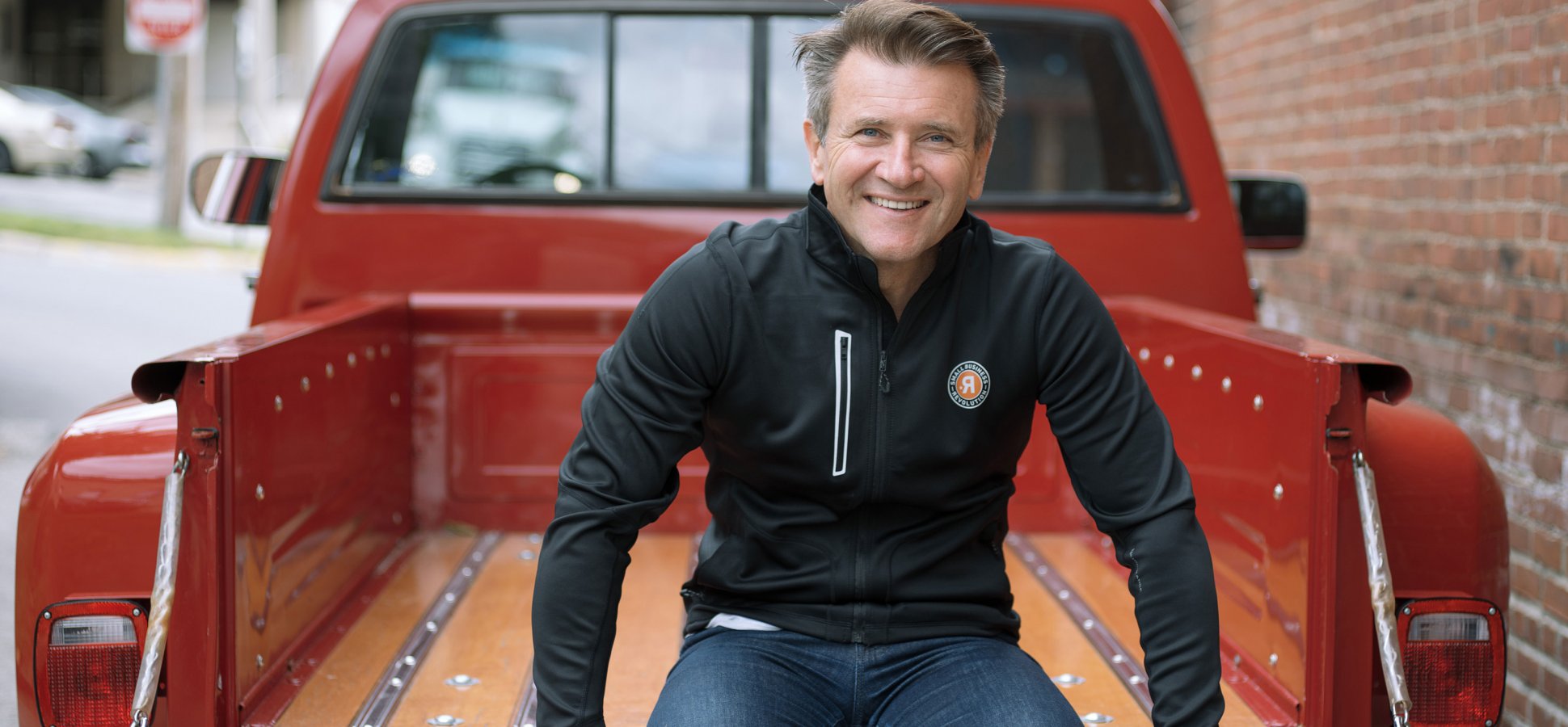 The results: In its first year, Small Business Revolution garnered over 1.1 billion media impressions, more than 500 media stories, a significant social media following on Facebook, Twitter, and Instagram, as NewsCred reported.
Deluxe's Chief Brand Officer, Amanda Brinkman, sums it up best on the Deluxe corporate blog: "By betting on storytelling, we have had 11 times the engagements, shares, and eyeballs on Deluxe than we would have received had we spent that same budget on straight paid media."

No matter the industry or the budget, as these brands have shown, content marketing can propel your business forward. It's all about engaging your audience with something unique, authentic, and valuable. Once you figure out what your brand has to offer and the void it can fill for your target customers, you're halfway there.
Key takeaways:
Be true to your brand values. One thing that the brands above all have in common is that they never deviated away from their core mission, or became "sell outs" once they grew larger.
Listen closely for feedback. Being in tune with your core customers by using social listening, reviewing comments, and polling them will show that you are putting their needs and concerns first. The more responsive you are, the more affinity they will have for your brand.
Be an open book. Whether it's being honest about your own brand's backstory, or celebrating your audience by sharing their contributions, being transparent and cultivating a community (as opposed to just hawking your products), is what builds trust, and a legion of loyal fans.
Make sure content is shareable. By consistently offering something of value, or something that's just plain fun and entertaining, and encouraging social sharing, these brands were able to expand their reach.

Dawn Papandrea is a NewsCred Contributor.