Eight years ago, The Infatuation was just a glimmer in the eyes of co-founders Andrew Steinthal and Chris Stang – two old college buddies with early dreams of taking over the music business.
Ascending to the ranks of VP of PR at Warner Bros. Records and VP of Marketing at Atlantic Records, respectively, they did just that, all the while brainstorming ways of one day working together.
"There were a lot of bad business ideas," says Steinthal, "but eventually we landed on a good one – The Infatuation," a website dedicated to trustworthy reviews and recommendations for the perfect restaurant to suit any occasion.
Applying everything they knew about building and developing bands to creating a brand, the two built out their company for the first five years while still working full time. When the New York Times reviewed their app in 2011, the response provided a catalyst.
"That plug got us a ton of new traffic and we retained a lot of those people," Steinthal says. "We left our jobs three years ago, raised a little bit of money [a $1 million seed round], hired our first person by the end of 2014, and for the last two years and change, the company has grown quickly, as we're now up to 25 full-time employees."
With activity in nine cities across the globe and a new full-time operation launching in London this month, that seems like an understatement.
"It's been a slow burn," Steinthal says of The Infatuation's success. "We've put in the time and work to consistently do whatever we can to get in front of new people to help us gradually grow."
Here, Steinthal, now Co-founder and CRO of The Infatuation and a #ThinkContent 2017 speaker, shares what they did to get it so right.
Andrew Steinthal, Co-founder and CRO of The Infatuation
How did The Infatuation come about?
We launched in 2009, when the culture surrounding restaurants was changing.
Dining out was evolving from stuffy French restaurants and white tablecloths to places like Shake Shack and Momofuku. Despite a change, the media that covered them remained very much the same. We wanted to change that and help people like ourselves – the "normal," not the gourmands – find great places to eat.
We were definitely not professional food writers, but that was the point. We were going out to eat all the time, and our friends and colleagues kept coming to us for recommendations. They needed a trusted source for no bullshit restaurant intel, and if we could be this for our friends, why couldn't we be this for everyone? It was go time.
Take me through your stages of audience growth. How did you approach community-building at the onset of your business?
The first few years we were really grinded in daily hand-to-hand online combat, doing whatever we could, guerrilla marketing-style, to try and find people who might be interested in our content. Our backgrounds in music taught us how to hustle, hard. That's what you have to do in the music business, because there are no marketing budgets, for the most part.
Back in 2009, we spent hours on places like Chowhound, Yelp, and of course the greatest free marketing tool of them all back then: Twitter. Basically, wherever there were communities of people talking about food and restaurants, we were butting into conversations and trying to get people aware of the then Immaculate Infatuation (which we later shortened to The Infatuation).
We got kicked off Yelp because we'd be posting half our reviews and then driving people to our own site via "for more, click here" links. Eventually, they figured it out. On Chowhound, we'd get in there and start commenting with links to our website. On Twitter, we just butted into conversations. We were searching for every human being who was talking about Freemans and liking their posts, writing back to them, getting into conversations.
So, the key was one-on-one communication.
One-on-one communication is so important, especially in the beginning. You want to connect with people on a personal level, so they'll champion your brand. It's a big part in what has made us successful. It's incredibly powerful. Talk to people the way you talk to your friends, not like a programmed media robot. For us, we succeeded because of the conversational and relatable nature of our brand, and our commitment to connecting with anyone and everyone that we could via social media.
Social is obviously a huge part of your strategy, Instagram in particular. How do you use the platform in different, innovative ways to engage your audiences?
We built this company on the back of social media, and Instagram has been by far our biggest and most important channel. We were early adopters, starting own hashtag, #EEEEEATS, which has now been used almost 7 million times globally, early on.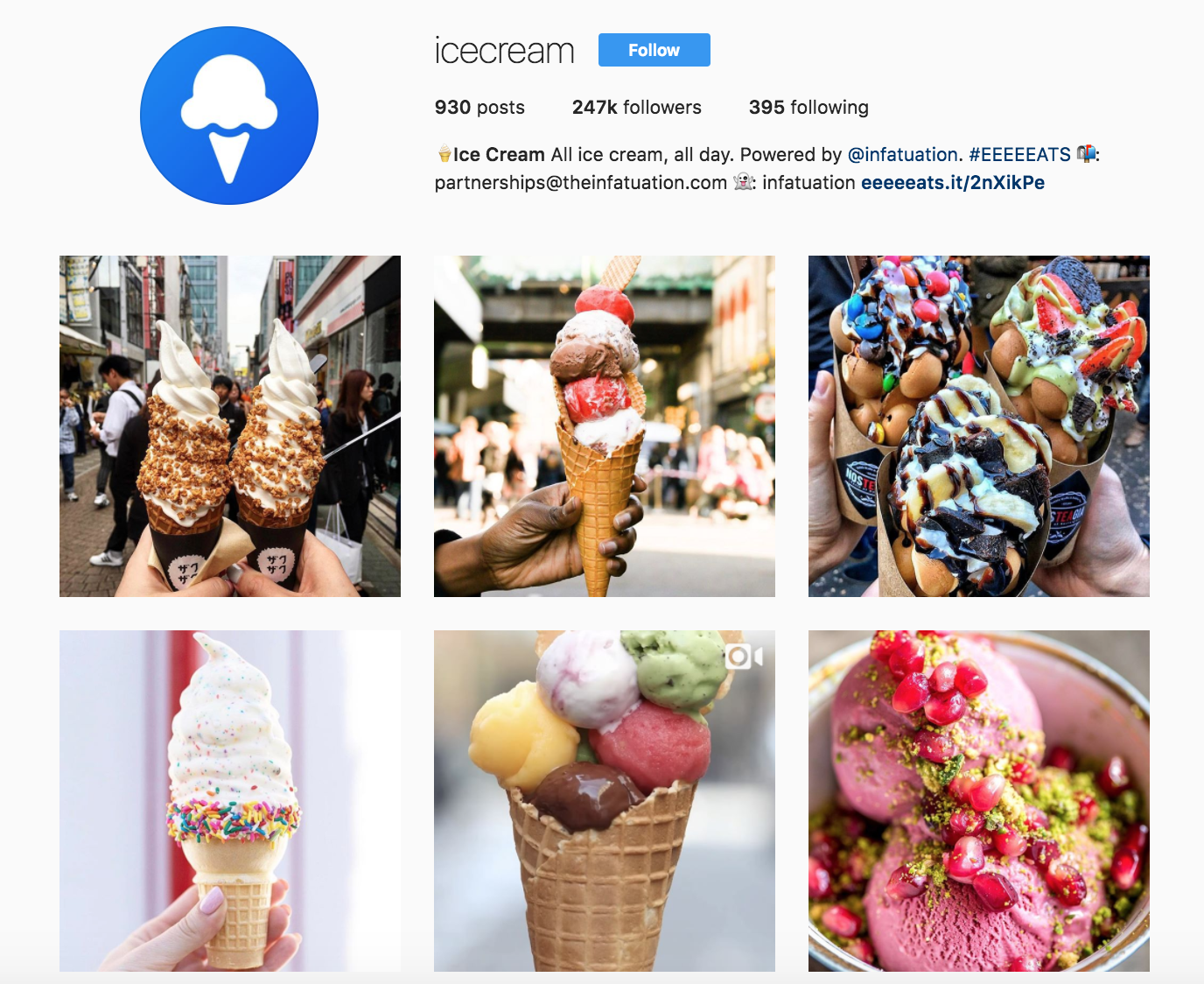 A lot of brands get caught up in using Instagram as just another place to advertise or promote whatever you're doing, which is fine. But if you can find a way to engage an audience in a two-way conversation and make them part of your world, there's so much more value in that.
In the beginning we were giving people an opportunity to be featured: "Use our hashtag and we'll repost it if your photo's really good." Now, everybody does that, but back then, no one did and we were one of the first brands to embrace the idea of Instagram as a two-way conversation, encouraging people to create user-generated content and rewarding them for it.
After we saw our @infatuation account start to take off, we realized we were onto something and wanted to double down on it and started stockpiling Instagram real estate. We now have local accounts in 10 different markets including Los Angeles, New York, San Francisco, Chicago, London, and more. We also run nine different food accounts, including @pizza (a collaboration with [social media influencer and agency] @FuckJerry) @pasta, @burger, @icecream, @coffee, and @donuts. It's an amazing way to reinforce what we do on the web and with our app – help people find restaurants. Now we have a lot more channels to push our brand on.
Give us the lowdown on the #EEEEEATS phenomenon.
#EEEEEATS has been crazy. It's five Es, always. People are like, why five? Because when you say it out loud – "EEEEEATS" – that's what it sounds like. It's silly and stupid, but it works because it's not #Instayum, which is very lame. Ultimately, it connected with people enough to inspire them to get involved, and then it just became internet speak that got bigger than we did. We had someone say to us once: "Oh you guys started #EEEEEATS? I thought that was like BRB or LOL." Victory.
#EEEEEATS has become bigger than us, which is great. People who use it don't necessarily know what The Infatuation is, but it doesn't matter because we engage so hard around that hashtag. We try to interact with everyone using it, commenting, liking, engaging so that they eventually connect the dots and know that Infatuation is the reason they're actually using that hashtag.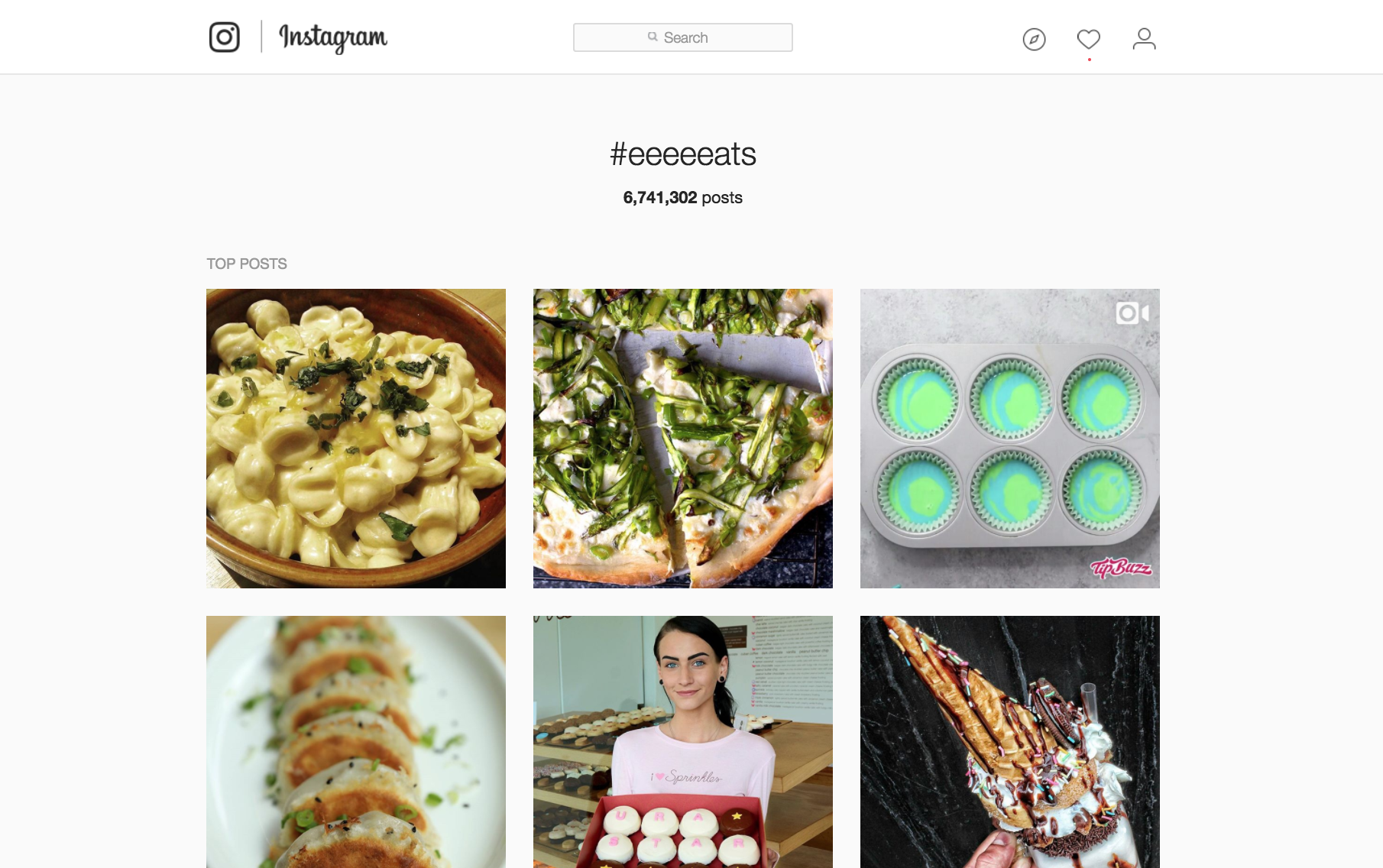 What's coming up next in your Instagram endeavors?
We're always looking to the future, and now we're thinking about what we're going to do with Instagram Stories. How can we utilize that tool to better tell The Infatuation story? Now that Instagram is so oversaturated with so much food porn ridiculousness, if you're just looking at the pictures, so much of it looks the same. We try to be different and provide great content, but we're always trying to evolve and stay ahead of the game with what's next.
Stories have given us an opportunity to really hammer home what we do on a daily basis and why we exist: We review restaurants and help you discover great #EEEEEATS. You don't come to us for food porn, you come to us to figure out where to go.
Without Instagram Stories, it's really hard to communicate that on Instagram. With it, we've been doing a series of restaurant review ride-alongs, which connects back to the narrative of why we exist, and that's been huge for us.
Are there any other, non-digital ways in which you've grown your community?
Events. We've been getting people together IRL since the beginning. Creating eating and drinking fueled experiences for like-minded people has proven very, very powerful. If people go out and have fun under your banner, they're yours for life. We've been able to grow our curated events into a big business, and being able to bring our audience out to do cool shit that we put together has been a huge key to us scaling our revenue.
EEEEEATSCon is the next step. Our first Infatuation owned food festival, and a food festival for people who love music festivals. It's May 20th at the Barker Hangar in Santa Monica, we've assembled over 20 vendors, speakers, bands (Lizzo, The Knocks), and some amazing partners. It's going to be social media paradise with all kinds of cool, photo-friendly activations. So many of us have become obsessed with food via our phones, so we wanted to create an opportunity for people to take that obsession to the next level.
How will EEEEEATSCon be different from other food festivals?
The old model of food festivals like New York City Food and Wine is ripe for a little disruption. They're great for a specific type of person, but our audience isn't going to be spending hundreds of dollars to see "celebrity chefs" cook a "grand tasting." They want something more accessible and aligned with their interests, cheaper, and to be honest, more fun.
Can you share some advice with other content marketers and creators as they go about assembling their strategies?
We live in this "me too" world where all of sudden BuzzFeed Tasty starts making crazy food videos and crushing it, and then every single company that touches food is doing the same copycat videos.
But be different. Don't follow everybody else. Come up with your own voice. Do something that feels more personal and authentic to who you are and what you do, as opposed to doing what everybody else does. You need to have a point of view though – if you don't or it's not unique, it's not going to break through.
Hear more from Andrew Steinthal at NewsCred's #ThinkContent Summit on May 10th, in NYC!


Anastasia Dyakovskaya is a NewsCred Contributor.