Diversity and inclusion is no longer a "buzz" topic — that is, it's fairly established as a business priority at leading companies (with plenty of research to support the benefits). It's not unusual for a large company to have a D&I team on payroll, for instance, and it's mostly expected that organizations have a point of view on the topic.
When I started at NewsCred, I was blown away by the people and the culture. It was already an incredibly inclusive, thoughtful group of some of the smartest individuals I've ever met. In my first few months, several groups of employees had formed task forces to address issues like immigration and women's rights. I believed we could apply that energy to diversity and inclusion efforts, and was thrilled to see that my colleagues, and senior leadership, agreed.
That's how I worked together with other dedicated colleagues to start NewsCred's Diversity & Inclusion Council, and we've been a driving force for transparency and change ever since. Here are three tactics that have helped us make this council an effective and impactful presence in our company:
Make a Mission and Stick to It
As one of our first tasks in early 2017, the NewsCred D&I Council met as a group to create our mission statement, which reads:
"The mission of the NewsCred Diversity & Inclusion Council is twofold: We aim to both increase and maintain a diverse workforce, and to create an inclusive environment for all employees regardless of race, gender, gender identity, ethnicity, religion, sexual orientation, age, ability, or background."
I recently represented NewsCred as a speaker on a diversity and inclusion panel hosted by Pluto, an analytics platform we partnered with to provide us insights and recommendations based on workplace data and reporting. The other speakers worked at different-sized companies across a variety of industries, but one recurring theme was the dedication of the employees involved in these efforts. For all members of the NewsCred council, this is a passion project in addition to our full-time jobs; and once we all aligned on our mission, we had a clear compass pointing us towards short- and long-term goals for the company.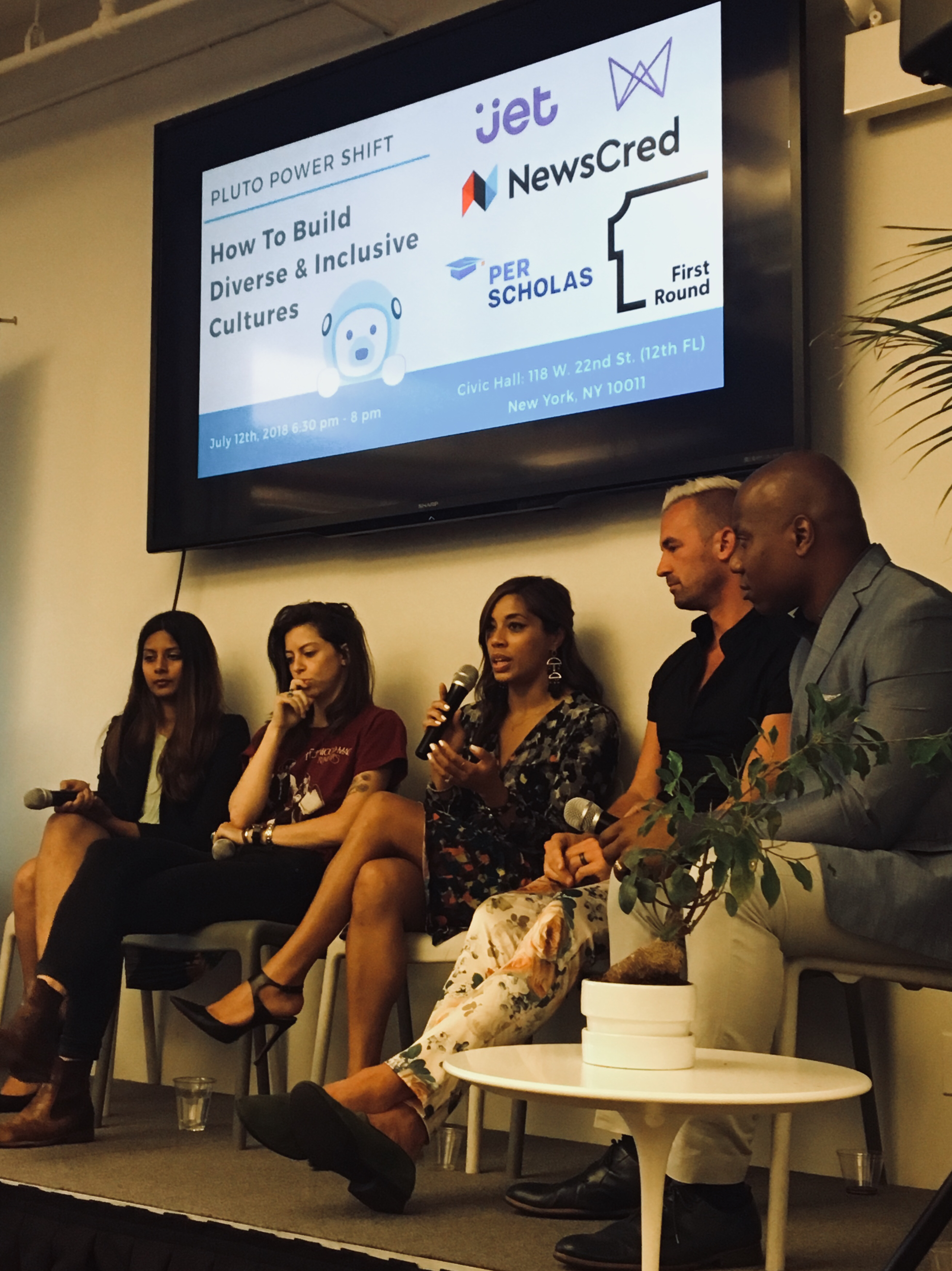 Get Buy-In from the Executive Team and Senior Leaders
We've been very lucky to have buy-in from senior leadership and the executive team from the get-go. Without them, these initiatives tend to be an uphill battle. Our CEO and co-founder Shafqat Islam, and COO and President Charles Hough, both sit on the council and attend meetings regularly, and serve as liaisons for the rest of the executive team.
If you're planning to form a similar council and need this participation, you'll set yourself up for success by preparing the following:
Appeal to the emotional aspects of D&I, but be prepared to make a business case.
Come with facts and stats at your disposal, and do your research.
Get the input of your colleagues to find out where there may be blind spots that need to be addressed

—

an anonymous survey can do wonders for bringing issues to light.
Have an Active and Consistent Presence in the Company
Many initiatives like this can fade away due to a lack of cadence and activity. We've hosted a plethora of initiatives, including a 2017 International Women's Day event held at NewsCred's offices followed by a similar 2018 event co-hosted with Blue Apron; internal lunch and learns to discuss controversial events in the news; and an informal survey in which we gut-checked overall feelings about inclusivity at NewsCred and used our findings to inform future goals.
But one of the moments that made me most proud was an open discussion that we held following an all-company unconscious bias training in partnership with The Mind Gym. At the end of the session, we opened the floor to anyone who wanted to talk about how issues of inclusivity had affected them in their lives. In those 30 short minutes, several of our colleagues felt comfortable enough to volunteer their own experiences in a way that gave us much more insight into who they were as people, and sparked additional conversation in a natural and personal way. When one of the people who spoke up said that it felt like a "safe space" to share, that was one of the best things we as a council could hear.

NewsCred is a relatively small (but growing!) company with a lot of heart. Too often, companies begin D&I efforts after an incident has occurred or a complaint escalated. If you have an opportunity to get in at the ground floor, take it; you can play a central role in shaping the future of your company, and help make it a positive, collaborative and welcoming place to work.
Meghan Catucci is a Content Strategist at NewsCred.