You may have read our recent "What is a Content Marketing Platform" article, which discussed the benefits of using a CMP (and if you haven't, nudge nudge). The capabilities of content marketing platforms have greatly evolved over recent years, shifting from content creation and dissemination to including marketing project management capabilities and more, so it's worth noting this updated definition: CMPs are a software solution that drives content marketing efficiencies and results by centralizing and streamlining the end-to-end process of creating content — from ideation and planning through to distribution and ROI measurement.
Deciding whether or not to employ a content marketing platform as part of your martech stack is an easy decision — who wouldn't want campaign management, marketing resource management, and marketing project management functionality all in one software? The hard part is evaluating what's on the market and determining which platform is right for your organization. We're breaking down how to know when your organization is ready for a CMP and how to choose the one that will best fit your marketing needs.
Signs you're ready for a marketing management platform
If you're experiencing any combination of these pain points, it's time that you start evaluating content marketing platforms as a solution.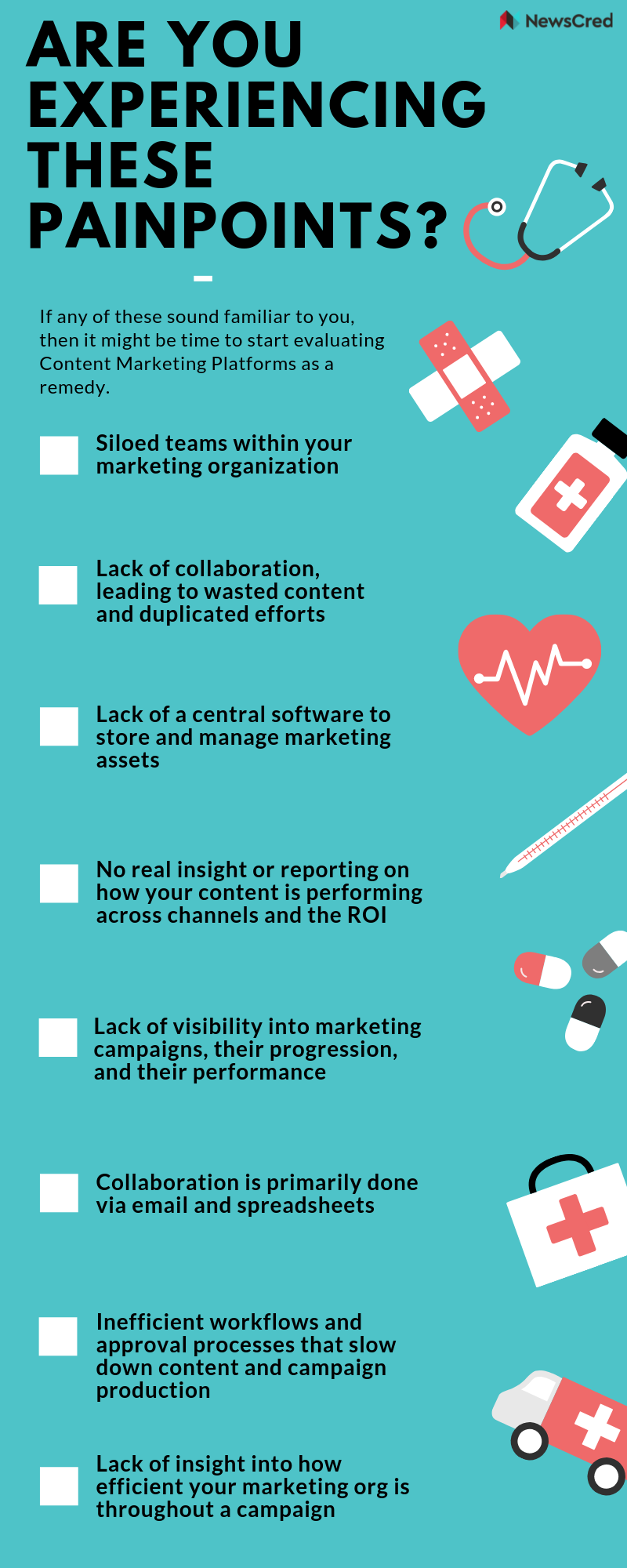 How to evaluate which platform is right for your organization
Step 1. Determine what's important to your marketing organization
Now that you've established your organization can benefit from implementing a content marketing platform, you need to determine where your current processes are falling short and where a CMP would fit into your daily work. What are your main goals as a marketing team? How do you currently execute on and measure them? What are you lacking from the signs listed above?
If your team struggles with visibility and inefficiency, or perhaps are executing campaigns via shared spreadsheets, you might place emphasis on a platform that eases the process of collaboration and offers marketing project management functionality. Or maybe you're lacking a central place to store campaign assets (e.g. content, creative, etc), in which case a platform with marketing resource management capabilities might appeal to your team. Do you currently have an effective process for measuring content performance and operational efficiency? You might be in need of a platform with robust analytics capabilities.
Other than platform features (both those you deem non-negotiable and those that would be nice to have), what else is important to your team? Will you need or want support services? Some content marketing platform vendors have additional offerings bundled with their software, such as content strategy and access to freelance content creation networks. If your organization is in need of these types of services, now would be the time to take that into consideration.
Step 2. Do your research
Once you know what capabilities you're looking for, it's time to start the research phase. Most vendors will have a "features" page on their site, so you can see exactly what their platform has to offer. Making a good old pro/con list for your top three choices will help you to lay out where each option stands in terms of your organization's needs. Consider where each solution provider exceeds and falls short in terms of features and offerings. Is the platform flexible and multi-purpose? Does it have the functionality to support marketing project management, resource management, and content creation all in one place?
Apart from functionality-based research, it's always a good idea to look into a list of customers. Software companies will typically also have client case studies available on their website, which can be helpful for determining whether or not their platform can serve your use case. Similarly, looking for customer reviews on external websites (such as G2crowd and Capterra) can also give you a good (unfiltered) idea of how good their offerings and customer service is.
This type of assessment will provide a comprehensive breakdown for you to circulate to other internal stakeholders to get buy-in and show the depth of your research. Since content marketing platforms can be a costly investment, it's important to show that you've done your homework, understand what's on the market, and are moving toward an informed decision.
Step 3. Ask for a demo
You've narrowed it down to your top three options. Now it's time to see the CMPs in action. Look to see if your top choices have the options for a limited time free trial or any freemium services. Some vendors might have pre-recorded demos available on their website, while others might require you to engage in conversation with a sales rep or technical consultant.
If you're going to start talks with a sales rep, it's a good idea to have your pro/con list handy and any questions you might need answered for yourself or other stakeholders, such as pricing. This would also be a good time to inquire about implementation logistics: How long does it take to implement and train users? Where does the platform fit into your current tech stack? Does it offer strong integrations? Will you need to hire a certified expert to properly operate the platform? What's the time-to-value?
Step 4. Get input from key stakeholders
Content marketing platforms (depending on their breadth of functionality) will ideally be used by the entire marketing organization to collaborate, execute, and measure integrated campaigns, so you'll need to get buy-in from the leaders of each function on your marketing team as well as executives.
This may take additional demo sessions, a free trial for all users, and reviews of RFPs. Ultimately, you'll want to make sure everyone is in agreement on the platform of choice and takes a sense of ownership in the process, as this will help with product adoption later on.
Recap: evaluation checklist
Determine what your current process is lacking

Marketing goals, criteria, and KPIs

How you measure each (or lack the ability to)

Non-negotiable capabilities vs. nice to haves

Additional services/support

Market research

Available vendors

Top choices

Pros/cons of top 3

Current customer reviews and case studies

Demo request

Free trials or freemium options

Engage with a sales rep

Pricing/bundle offerings

Consider/inquire about implementation logistics

Stakeholder input

Marketing team demos

Show value for each section of the marketing team

Ensure cross-team alignment on decision