In this infographic series, we share the top five trends that will shape content marketing in 2018, as well as key tactics for implementing them into your program to drive the results that matter most to your company. Here's how to create values-driven content to enhance your content marketing program:
When choosing which brands to engage with on a regular basis, consumers consider whether or not the brand's values line up with their own. Though taking a public stance on social and political issues can involve risk, new research suggests that vocalizing your beliefs through content can create strong brand salience with your target audience.
In an increasingly polarized political climate, and with the rise of social activism with movements like Black Lives Matter, #MeToo, and March for Our Lives, marketers need to be concerned with how consumers perceive their brands.
Last September, Sprout Social surveyed some 1,000 internet users in the U.S. and discovered that two-thirds want brands to take a stand on social and political issues. According to the survey, companies that take a public stand are more credible, and therefore more likely to attract loyal customers interested in long-term commitments. The same can be said about social influencers. According to influencer marketing automation platform TapInfluence, four in ten influencers consider common values before deciding to partner with a brand – which makes sense, considering that they're endorsing the brand to all their followers.
When done correctly, values-driven content can help companies drive brand sentiment, brand loyalty, and increased sales. Ben & Jerry's sets a prime example by regularly staking out a position on topical issues, from climate change to voting rights to LGBT equality. By tackling hot-button social issues through short and accessible blog posts online, the company continues to boost brand love and achieve impressive ROI: In 2017, Ben & Jerry's reported a double-digit growth rate.
Though there is always the possibility that political or social positioning will upset or alienate certain potential clients, using values-driven content to connect with loyal fans and followers has proven to be worth the risk. In the infographic below, we share best practices for creating compelling content around the topics and trends that matter to your brand: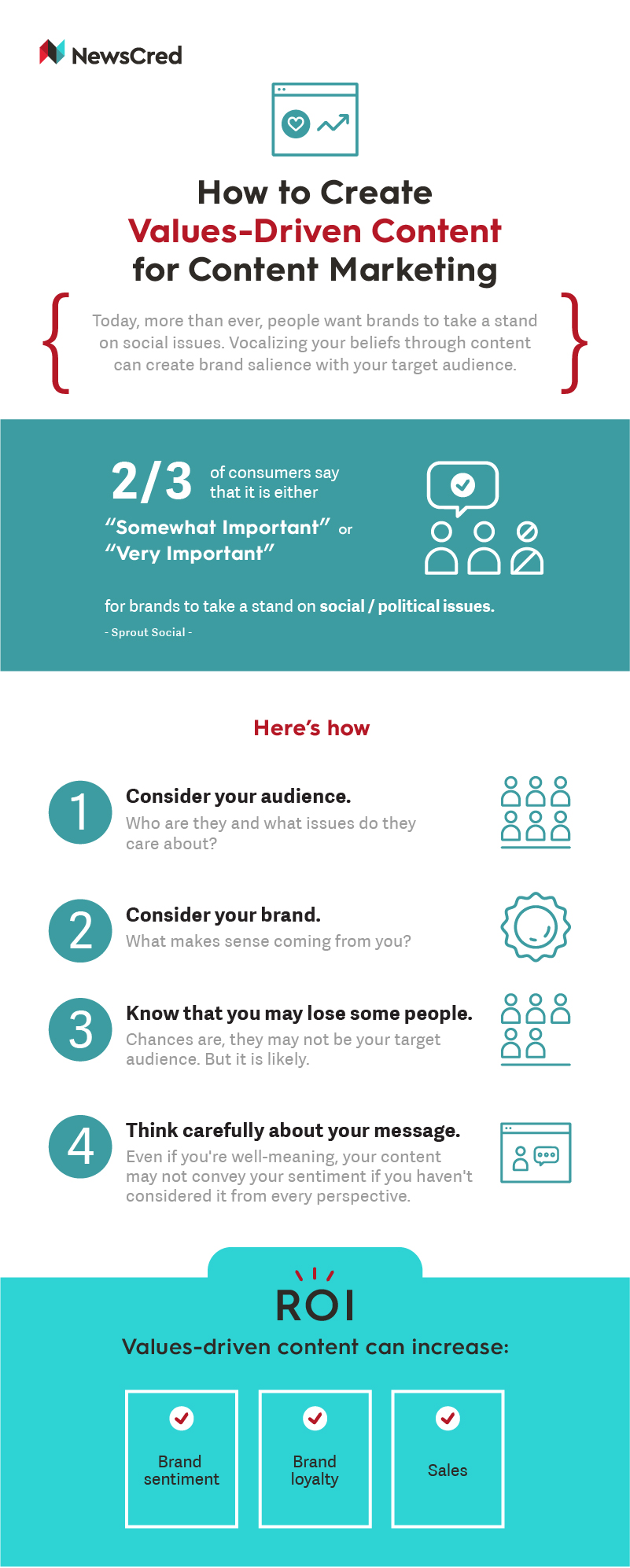 See the related infographics:
How to Introduce Content Marketing to Other Business Functions
How to Create Video Content for Content Marketing

Gaby Tama is NewsCred's Social Media Associate.