Gone are the glory days where law firms could sit back, relax, and rely on events and referrals to generate massive annual revenue growth.
Over the past decade, the demand for law firm services has become sluggish. Increased competition and market saturation have driven leading firms to focus on how their brand & image can fuel business development on the digital battlefield.
Content that showcases a firm's credibility sits at the center of any legal marketing strategy aiming to drive prospects to consider, contact, and ultimately hire them. And BigLaw has been quick to adapt, as evidenced by the countless blogs and content hubs nested within company websites. But while creating enough quality and differentiated thought-leadership in partnership with time-poor lawyers is a considerable undertaking of its own, it's only one part of the process.
The truth is that most firms create too much content already. Most of which is wasted because it's not easy to find or use, and therefore, isn't sufficiently promoted. Not to mention the amount of content that is off-brand, too dense, or inadequately personalized to drive meaningful action.
Law firms don't need more content, they need the right content. And the key to creating it lies in streamlining the processes and systems that enable them to execute strategically and at scale — especially when supporting thousands of lawyers across dozens of markets, practices, specialities, and jurisdictions.
The most innovative firms are adopting content marketing platforms (CMPs) in order to eliminate inefficiencies across the content development lifecycle and mitigate waste. If your organization is experiencing any of the following common pain points, it might be time to evaluate and choose a CMP.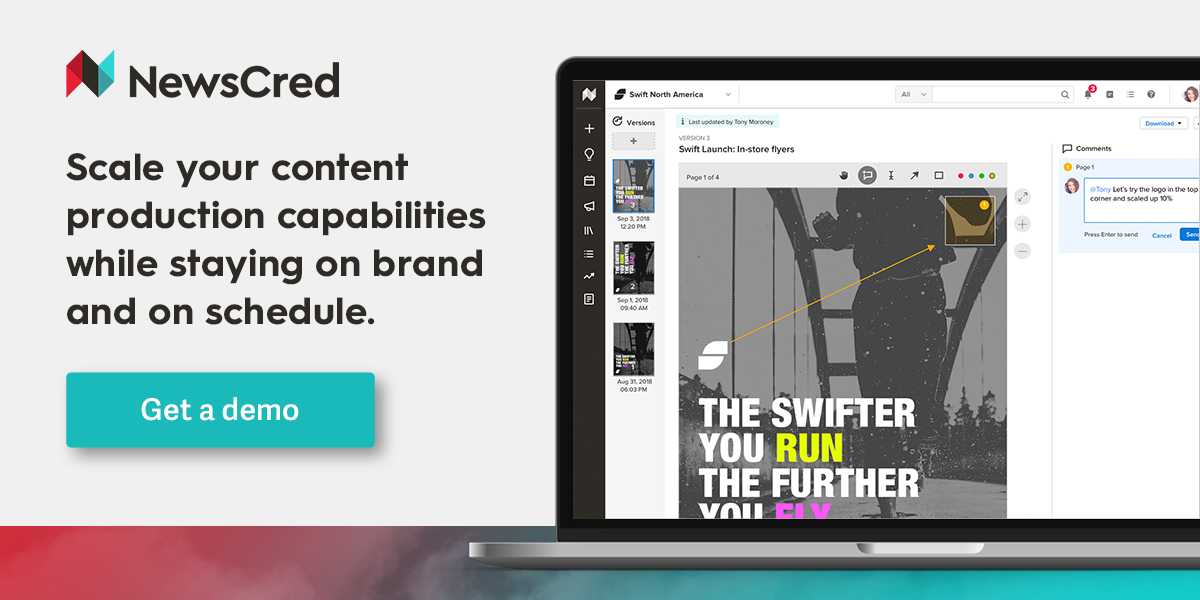 Content planning
Pain points:
Omni-channel campaigns, presentations, events, and publications are planned in spreadsheets, which require constant upkeep as work exchanges hands
Minimal cross-functional visibility, leaves stakeholders asking, "What do I owe, to whom, and when?" and leadership asking, "What is the objective of this campaign?"
Time-consuming ad hoc requests pour in via emails, chats, and meetings, making it difficult to track, prioritize, and respond efficiently
Spreadsheets and emails create work about work. And when campaign planning, ad hoc requests, and content creation happen in different tools, you're not only wasting time (and money), but you're also risking misalignment and inconsistent messaging. CMPs provide visibility into the global campaigns and editorial calendars, ensuring alignment and that tasks stay on track.
Content execution
Pain points:
Inefficient workflows and approval processes that make it difficult to drive accountability, slow down content production, and cause delays
Decentralized management of legal feedback, revisions, and paper trails
Assets developed and stored in disparate tools, making it difficult to locate and reuse, leading to wasted content and/or duplicated efforts
CMPs offer a centralized content workspace including multi-format content editors, enterprise-grade workflows, progress indicators, and history feeds, which help to streamline content creation, editing, and review processes. They also aid in maintaining brand governance and accelerating time-to-publish. Additionally, some CMPs offer a native digital asset manager, making it easy to locate and repurpose existing assets.
Content measurement and ROI
Pain points:
No streamlined way of pulling data into a detailed retrospective that offers a full, unbiased, and complete picture for executive review
No consolidated, actionable view of what's working across markets, campaigns, content formats, topics, target audiences, etc.
Lack of insight into how efficient marketing / creative teams are throughout the content lifecycle
The best CMPs provide holistic views into both operational efficiencies and the impact content has on the business, so your team can do more of what works and iterate on what doesn't. Content-centric tracking is critical to identifying which topics, formats, and channels drive the most traffic and engagement.
Today's top firms are also leveraging social media and marketing automation tools to ensure effective distribution strategies. Thus, it's critical for any content marketing platform to seamlessly sync with those systems. Having a cohesive marketing technology stack allows you to better double down on ROI, mapping content initiatives directly to revenue and demonstrating the value of your content marketing efforts.
Bottom line, CMPs allow law firms to spend more time creating exceptional content and less time reinventing workflows, finding assets, gathering approvals, and wasting money through operational inefficiencies. And because a CMP-powered operation enables strategic, cross-functional collaboration, it results in content that is far better aligned with the quality service and customer experience law firms seek to deliver.
NewsCred's CMP powers the world's biggest businesses and our team is uniquely versed in working with modern law firms to achieve their goals. Request a demo to see our platform and browse some of our success stories.
..
Jaisy De La Cruz is Head of Growth, France & Switzerland and Nabilah Irshad is VP of Legal and Business Affairs at NewsCred.