The financial services content marketing landscape can be a crowded one, so our team jumped at the opportunity to get a look behind the curtain and see what it takes to produce content for one of the world's biggest marketing stages, the Super Bowl.
As NewsCred expands our relationship with the Financial Communications Society (FCS), I recently had the pleasure of introducing Kari Axberg, Co-Head of Marketing at New York Life, ahead of her keynote presentation at February's installment of the FCS Monthly CMO Luncheon Series at the New York Yacht Club. Kari has quite an impressive background and currently oversees the expression of the New York Life brand, including strategy, insights, customer experience, and creative.
Kari was invited by Kevin Windorf, CEO of the FCS, to speak to a group of financial services marketing and communication experts about the launch of New York Life's "Love Takes Action" campaign which debuted with the company's Agápē Super Bowl spot and coincides with the celebration of the company's first 175 years in 2020.
On Emotional Intelligence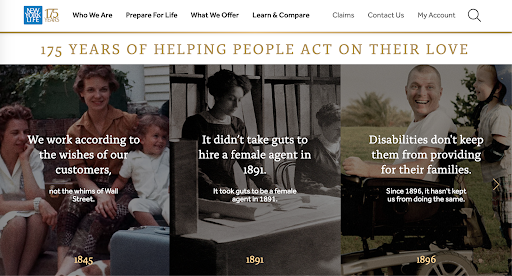 Addressing the challenge of connecting a 175-year-old life insurance company in a relevant way, Kari discussed the need to highlight New York Life's humanity and the pivotal role that love, fortitude, trust, and empathy play in individuals taking action to build better futures for those they love. To her credit, New York Life does an incredible job of fostering an emotionally intelligent brand.
Tellingly, the company's homepage, NewYorkLife.com, doesn't feature a laundry list of products to purchase, but rather, the page highlights stories from 175 years of helping people act on their love.
Per Kari, the objective of the Agápē spot was to establish an emotional connection with the Super Bowl's audience. Key priorities included reflecting the diversity of New York Life's policy owners, agents, and employees and being authentic to who New York Life is as a brand.
She explained that the big ideal at the core of New York Life's narrative stated, "The world would be a better place if we all knew we had the power to build a better future for ourselves and those we love."
On Production
The team pulled off an audacious production on a tight timeline that featured high-profile names with big reputations. Anomaly led the creative and production for the spot, which was directed by Cole Webley of Sanctuary Content. Agápē features an impactful voiceover by accomplished actress Tessa Thompson and the bespoke score for was created by world-renowned composer Max Richter and performed by 74 musicians from London's Royal Philharmonic Orchestra.
On Financial Education
When asked about the role that financial services companies should take in educating people about financial products, Kari offered a unique perspective. She explained to the audience that while financial education is key, education on its own is not enough. Rather, she believes that to inspire change, "Education in support of action" is required. This intention is key to creating a lasting impact for good.
On Results
Kari explained that the team spent the Super Bowl in a "war room" ready for anything and everything that the Super Bowl's audience of 100 million viewers had to offer. In the end, New York Life's integrated marketing approach was well-rewarded. Highlight outcomes include:
143 million impressions
103 million YouTube views
190+ media placements
142,000 visitors to the Agápē page on NewYorkLife.com
Appearances on multiple "Best of Super Bowl" lists including those from Time and Forbes
Without further ado, New York Life's Agápē Super Bowl spot can be found here. #LoveTakesAction
Article was written by Chase Neinken, Vice President at NewsCred