Lego has become the biggest toy company on the planet, and it's all thanks to a genius content marketing strategy.
In the first half of 2014, the company reported that its sales increased by 11 percent to $2 billion, while Mattel's earnings floundered. The rise in sales is credited to The Lego Movie, which was released this past February and made $468 million around the globe while kids flocked to the store to grab their toys related to the film.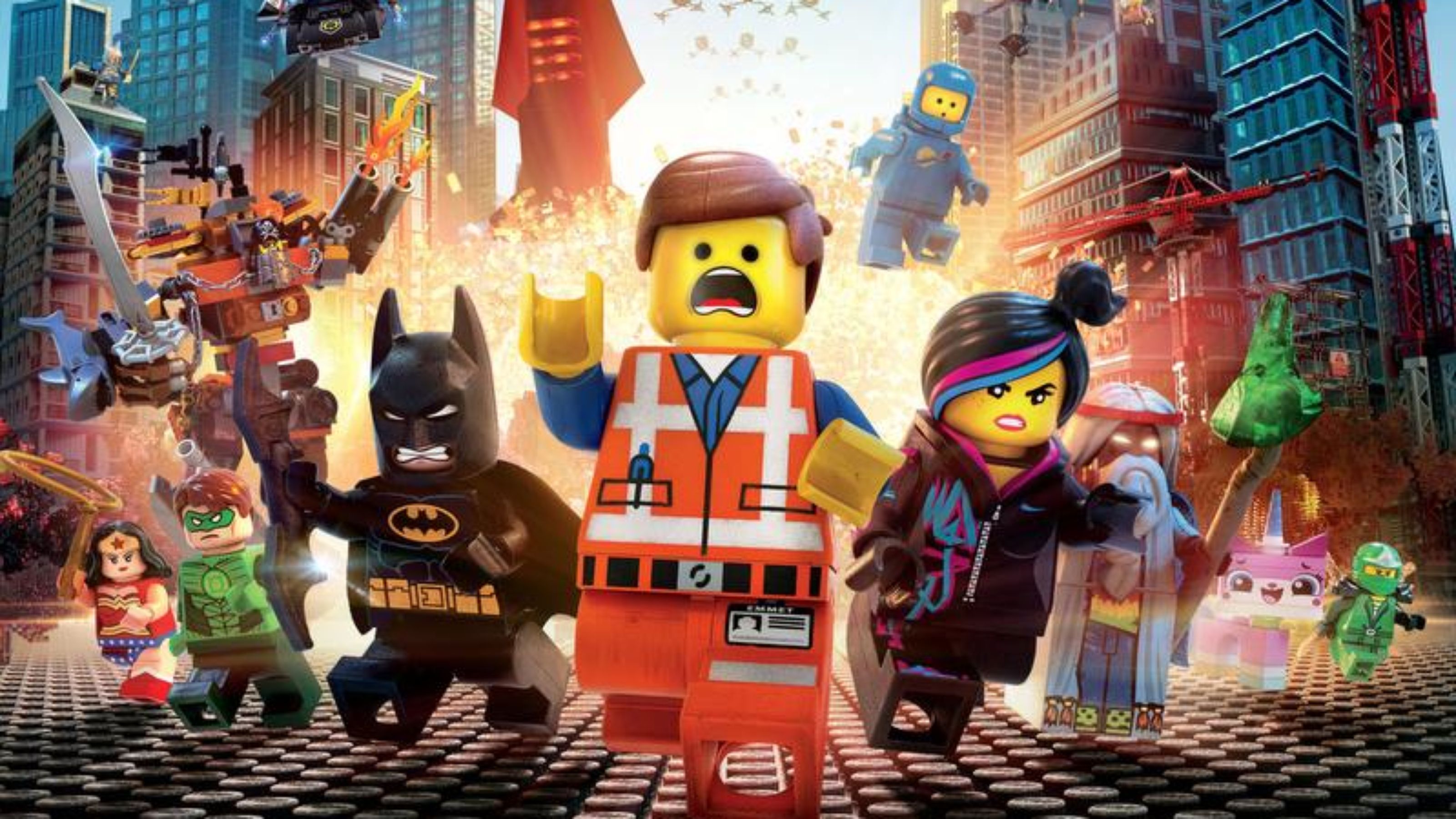 As Pablo Smithson of The Guardian points out, The Lego Movie is the definitive content marketing device for the brand. It appeals to both children and adults; the kids want to play with the toys, while the adults connect with the universal message of the film, which is that it's important to always have an imagination, no matter what age you are. The brand message is much more than, "Buy our stuff." Smithson says, "It is a huge coup to persuade adults essentially to be indoctrinated with the Lego spirit of adventure."
Though Lego was on social media and producing content before February of this year, it wasn't until the movie came out that the adult appeal broke into mainstream consciousness. "The point when LEGO got its marketing strategy dead-on is when it started treating adult and child one and the same," writes EConsultancy's Christopher Ratcliff. "LEGO's invitation to its audience is a catch-all policy: 'Hey come on in, we're all the same here, we're just a bunch of people who love LEGO.'"
Lego's Numbers on Social Media: Before and after The Lego Movie
On Instagram, Lego boasts 285k followers. Months before The Lego Movie came out, typical posts would receive around 7k to 10k likes. Now, they're consistently getting 15k to 22k per post.
When it comes to Twitter, numbers are way up as well. Photos uploaded to the @LEGO_Group account this past July during Comic Con saw two, three, and four thousand retweets. One year earlier, 56 retweets was considered a high number for the page.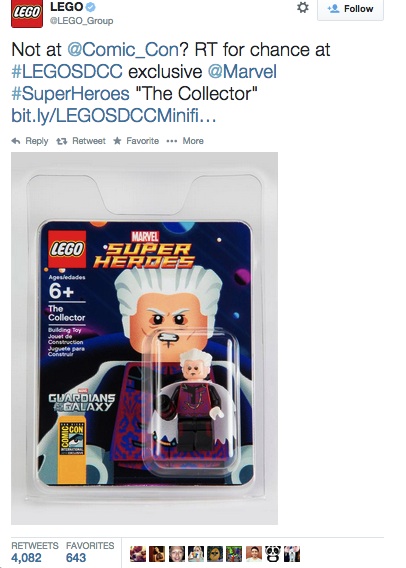 Lego has more than nine million likes on Facebook, and it's always done well for itself on the site. When a post is popular now, however, the numbers are exponentially higher than they were in the past.
For example, a post on July 20, which featured a Batmobile made of Lego bricks, received over 48k likes and 13,506 shares. In July of 2013, the most popular post, which showcased bricks of the Royal couple and their new baby, got 33k likes and 3,999 shares. Since June of 2013, the page has increased its fan base by more than four million.
A Look at Lego's Content
Lars Silberbauer, the global director of social media and search at Lego told Ragan Communications, "If we just invest in content, it has the potential to really, really drive a lot of views, a lot of impressions, [and] a lot of brand awareness."
The company has done just that. Along with its social media content, it puts out a variety of original websites relating to its products, as Content Marketing Institute's Joe Pulizzi noted in a June 2013 article on the brand. He highlighted My Lego Network, a social networking site for Lego fans, and the Lego Star Wars and Ninjago pages, which consist of games, movies, apps, and message boards. There's also Lord of the Rings, Super Heroes, and Disney Princess sites, all of which contain the same categories as the Ninjago and Star Wars pages.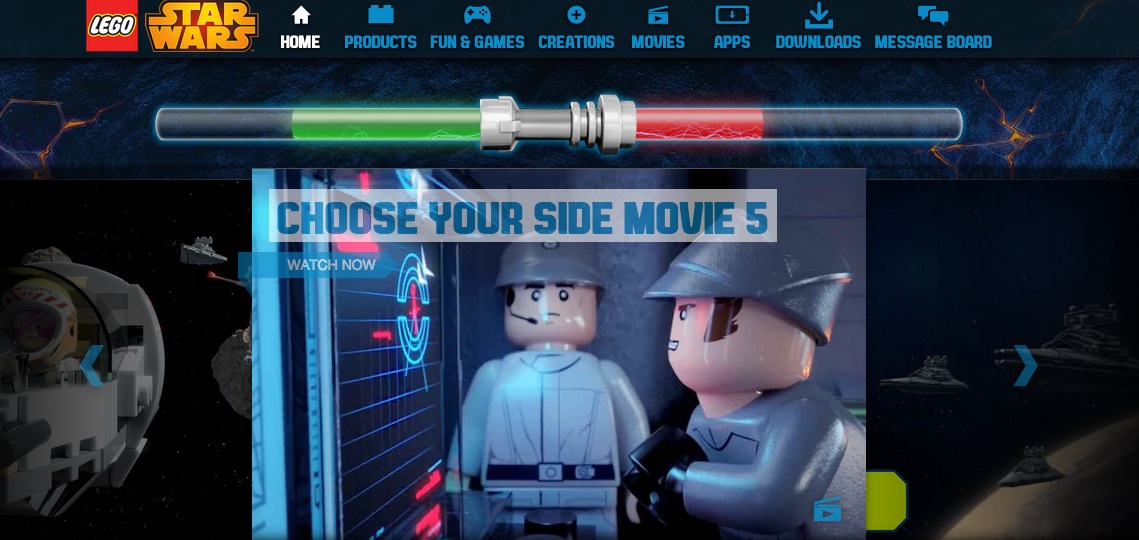 On the main Lego site, under Lego Creator, fans are encouraged to post what they've made with the bricks and like what their fellow Lego builders have uploaded on the site. The videos show customers what kind of creations they can put together with their own products at home. Fans are also encouraged to the join the Lego Club, where they will be signed up for the Lego Club magazine and gain access to join offline events to meet up with other enthusiasts.
Key Takeaways From Lego's Strategy
Lego gets a lot of things right with their content marketing. Pulizzi said, "As a toy company, no one else comes close to what LEGO has been able to accomplish with branded content."
The company is so successful for a number of reasons. Here are a few, as well as what you can learn from them when carrying out your own content marketing campaigns.
There is a deeper message behind the content
As mentioned earlier, the content is guided by a bigger message: It's crucial that even as an adult, you use your imagination. Adults are able to do this by making their own Lego characters and scenes and posting them on Lego Create. Through the company, they can use their imaginations and feel like kids again.
In your own content, figure out your brand's deepest message, and then let that guide all of your efforts. There must be a deeper meaning, or it will risk seeming superficial. What really matters to you and your audience?
It builds a community around the brand
The customers are given the chance to connect with other like-minded individuals on the Lego sites. Their content, which includes videos, pictures, and message boards, fosters community, which people crave.
Think about how your company can bring your customers together. Online, people are always looking to connect on a more personal level since browsing is often an impersonal experience.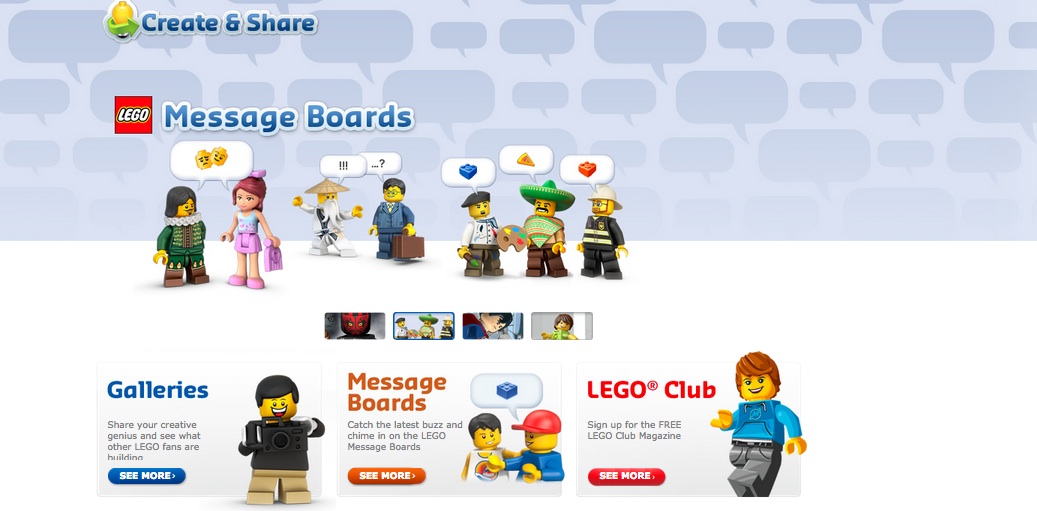 It outsources content creation to customers
Lego is crowdsourcing and empowering people to create their own content, too. That way, people can feel like they're part of the company's legacy. In the end, brand loyalty is increased.
Ask your customers to contribute content. You can do this by starting up communities, holding contests, or asking for submissions that you can then show off to other customers.
It showcases current events from a unique perspective
On social media, Lego taps into current events and puts their own spin on it. For example, instead of simply posting "Congratulations to Kate and William on their new baby, George," they built Legos of them all to commemorate the occasion.
Figure out how your brand can tap into what's going on in the world and put your own twist on it. If done right, it'll be much more memorable than a status update or tweet acknowledging current events.
Creative and imaginative content like Lego's can help you build something magnificent.