Joan Didion famously said, "We tell ourselves stories in order to live." And she's right. From the 20,000 year old cave paintings at Lascaux to the bedtime stories we hear as children and hope to one day tell our own kids, storytelling is a part of the human fabric.
Today, there are stories all around us – ones that entertain, delight, sadden, and anger. But perhaps the best kind of stories are those that inspire, and ultimately are powerful enough to change the world. If you want to believe in the power of storytelling, just look at Humans of New York.
Started in 2010 by 32-year-old photographer Brandon Stanton, Humans of New York has grown far beyond its roots of solely New York-based, man-on-the-street interviews. What began as a project intended to "interview 10,000 of New Yorkers on the street and create an extensive catalogue of the city's inhabitants" turned into worldwide phenomenon. To date, Humans of New York has amassed 20 million social media followers, and has featured stories from people in over 20 countries.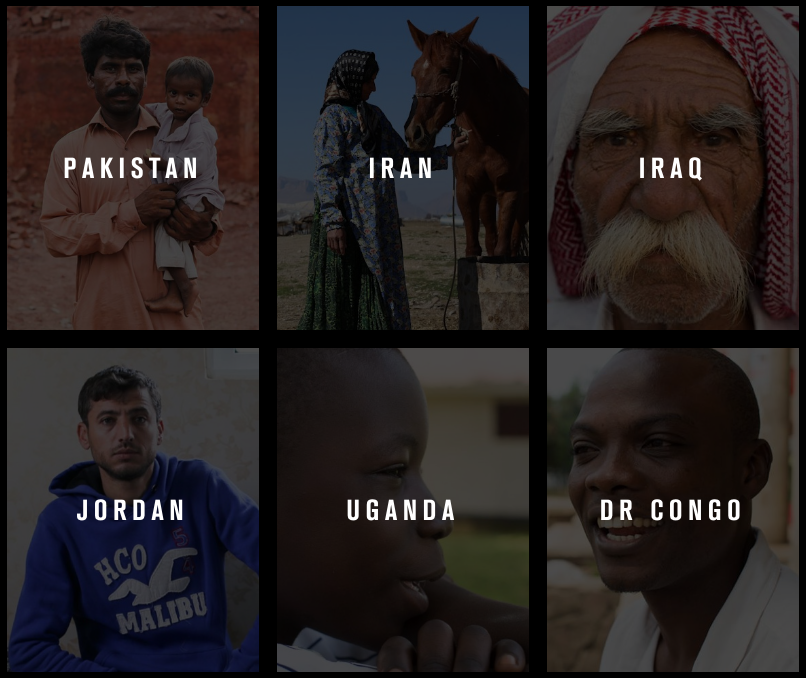 However, it's the latest Humans of New York series that drew the attention of millions and shattered crowd funding records. For two weeks, Stanton shared the stories of families, doctors, researchers, surgeons, and nurses in the pediatric unit of the Memorial Sloan Kettering Cancer Center. Through over 50 Facebook and Instagram posts, Stanton spread awareness about pediatric cancer and the emerging medical advancements to treat rare and highly progressive cancers. Best of all, the series raised $3.8 million dollars from over 100,000 donors that were moved by the Humans of New York content – all in a little over 14 days.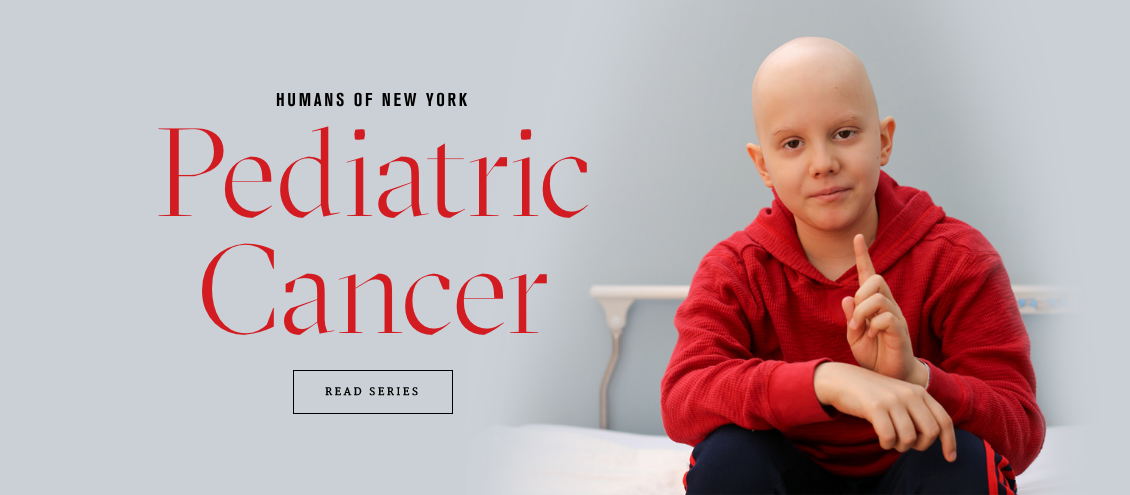 Many of the stories featured parents sharing their darkest fears while the children shared nothing but hope – many of them worried not for themselves but for their parents' well being during this tough time.
Take Grace's story. In a series of six posts, we learned that Grace had stage four, high-risk neuroblastoma, a type of cancer so lethal that doctors from a different hospital told Grace's mom to "keep her comfortable" after the treatment stopped working.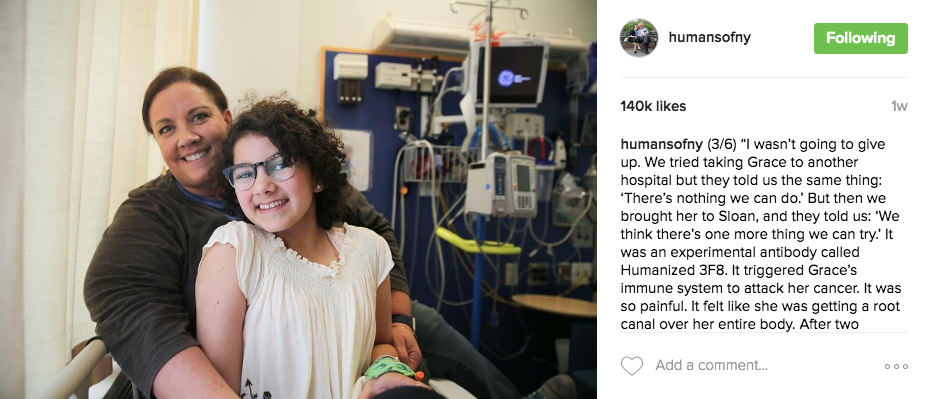 However, when admitted to Memorial Sloan Kettering, doctors tried an experimental drug that ultimately saved Grace – and she proudly displayed her "beads of courage" to tell her incredibly difficult journey with a healthy dose of humor at having to turn down Justin Bieber while doctors had to restart her heart.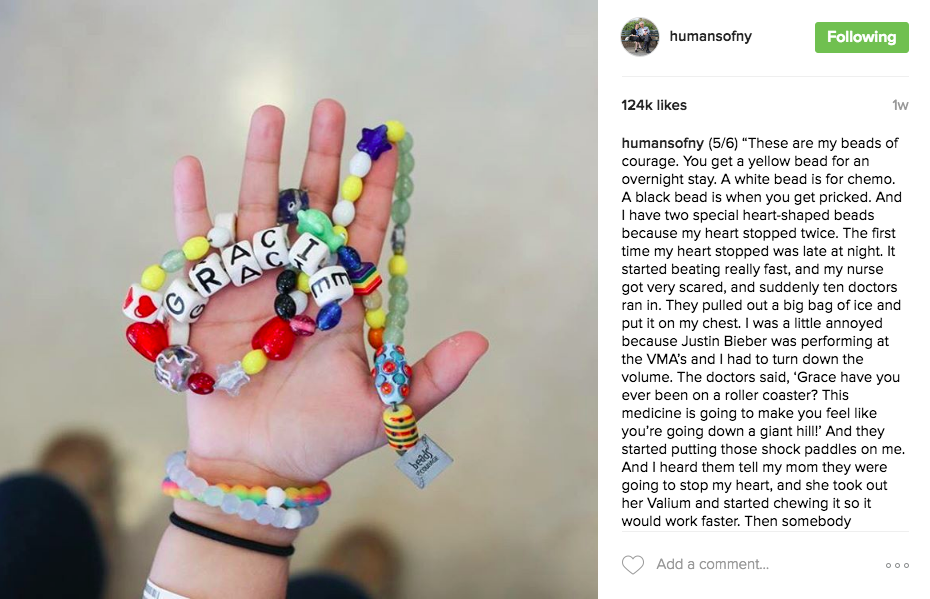 Stories like Grace's are part of the brilliance of Humans of New York. It's the kind of storytelling that sticks with you – it's raw, emotional, gut-wrenching, and inspiring. It's the kind of content that elicits a visceral reaction, and in this case, serves as the catalyst to start a record-breaking fundraiser.
Part of the success of Humans of New York is how it has adapted to the way people consume content. As of 2015, more than two thirds of Americans have a smartphone, and today vertical viewing accounts for 29% of total time spend on screens. While storytelling itself may not have changed, how we read, listen, and interact with these stories has changed, and Humans of New York has adapted with the technology.
How we interact with each other has changed as well. Through the ability to comment, thousands more people were able to share their stories of survival, grief, and love. This Humans of New York series ended on a close-up photo of a memorial bench in Madison Square Park for Max, a 7-year-old boy who died of pediatric cancer and a community was born out of the comments section. Memorial Sloan Kettering even took to Facebook to thank everyone who helped spread awareness and support each other: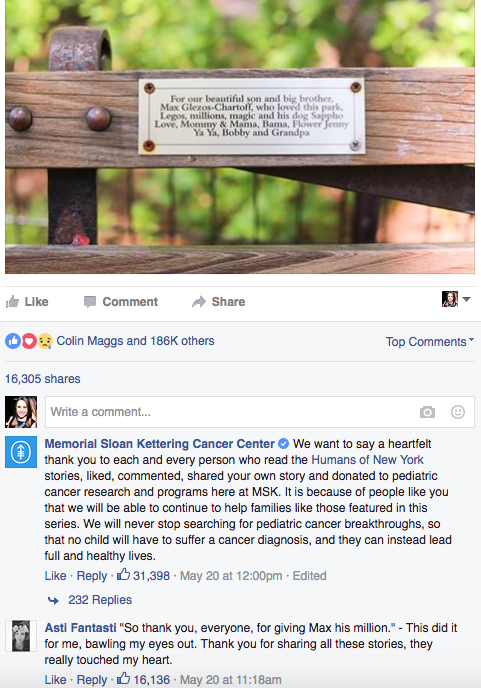 The fact is that no matter what generation – Baby Boomers, Millennials, Gen Z, etc. – we all need stories to survive and thrive, as Joan Didion said. If you take a moment to look around, you'll see that storytelling is very much alive and better than ever. It even has the ability to change lives.
To read the entire Humans of New York series on pediatric cancer, click here. To learn more about the Memorial Sloan Kettering Cancer Center, click here.
Alexa Biale is a Brand Marketing Manager at NewsCred.