In other articles on this blog, you will have read about how content is the connective tissue between all of your marketing efforts.
We even have a term for it: the hub-and-spoke model.
Imagine a wheel where your content hub is at the center, and it fuels all your other marketing channels via numerous spokes, such as SEO, social media, and PR.
This rings true because the content journey mirrors the consumer journey.
Content meets the consumer where she is to answer whatever questions she has along her path to purchase.
This is especially important today, when consumers are exposed to your brand in so many different ways: as they pass by a billboard, on an influencer's Instagram page, or while streaming TV.
In a world in which you can literally tweet "?" at Domino's to order a pizza, customers expect a seamless interaction as they transition from their phone to their computer to a store.
This is what omnichannel marketing is: the practice of orchestrating consistent and personalized messaging to your customer as they move through the consumer journey, no matter how fragmented and non-linear it is.
But how can you ensure a customer's relationship to your brand is not only seamless, but measured effectively to ensure you are driving the desired behavior?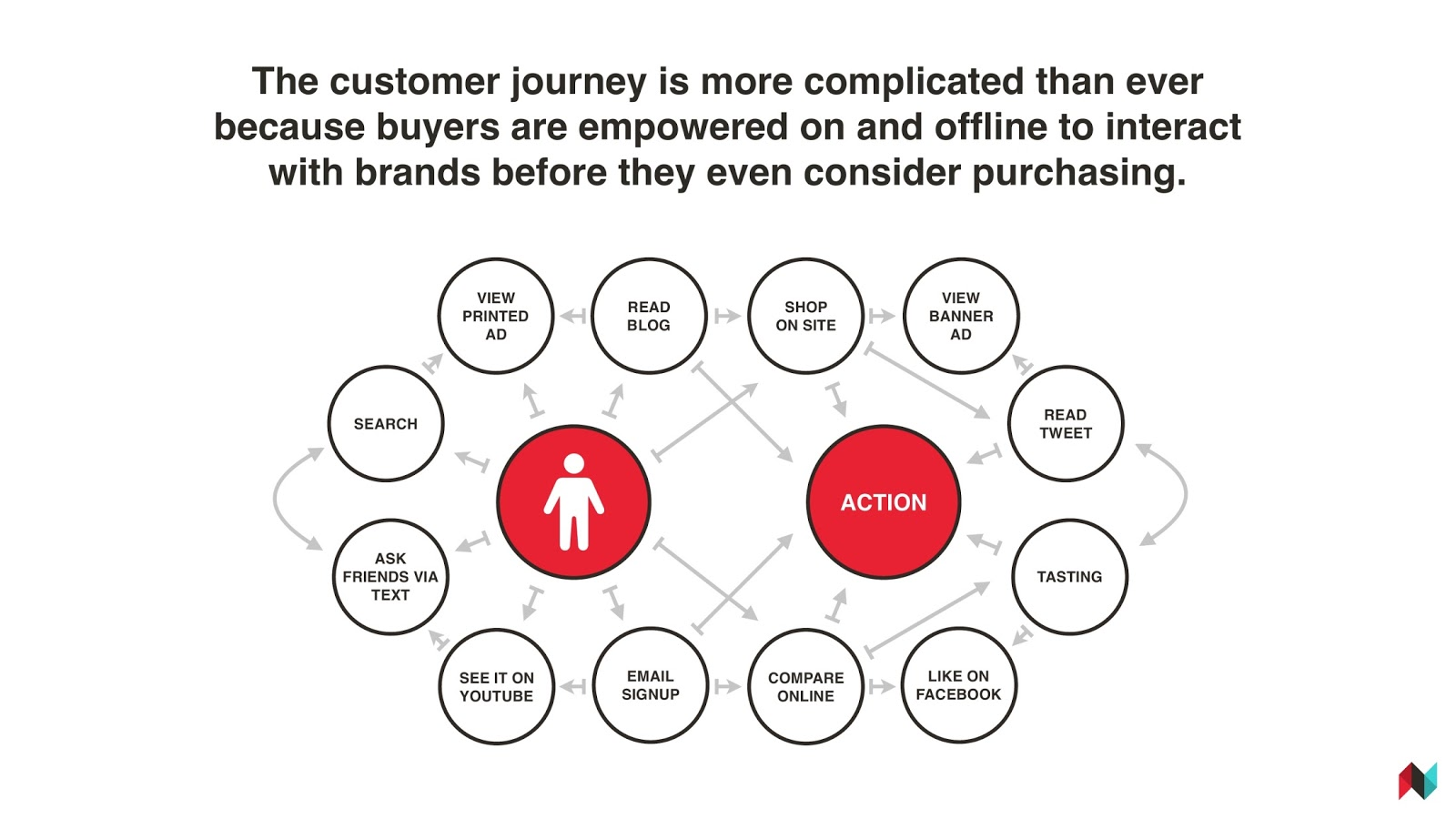 The brands succeeding at omnichannel marketing are the ones that are placing the customer at the center of their marketing efforts and using content to architect and measure their journeys effectively.
To do this, you need to have a user profile that you can follow between your online and offline activities.
This means thinking outside of the traditional 700 word blog format that comes to mind when you think about content marketing.
"Content" is anything that provides value to the customer in order to drive a profitable action on their part.
But you can no longer expect to write an amazing blog post, share it on social, and convince people to immediately purchase something – all while measuring their journey.
Rather, we need to provide customers with an engaging, valuable, and consistent experience at every interaction. There are three key ways to create that effective omnichannel experience.
Provide Real Value to Encourage Readers to Become Members
If you are offering customers value through content – whether via an article, app, tool, or map – they may be willing to provide their information in return.
One of my favorite clients at NewsCred is Big Heart Pet Brands (and not just because of the puppies), who maintain an adorably named blog called The Nose Print.
Big Heart is in the difficult position of having to measure the efficacy of their digital marketing efforts when most of their products are purchased in-store.
The first way they address this is by encouraging visitors to The Nose Print to "join the pack," by promising "personalized content and special offers to you and your pet."
Besides the funny copy and photo of snuggling animals, this CTA comes with a guarantee of valuable content in exchange for entering your information.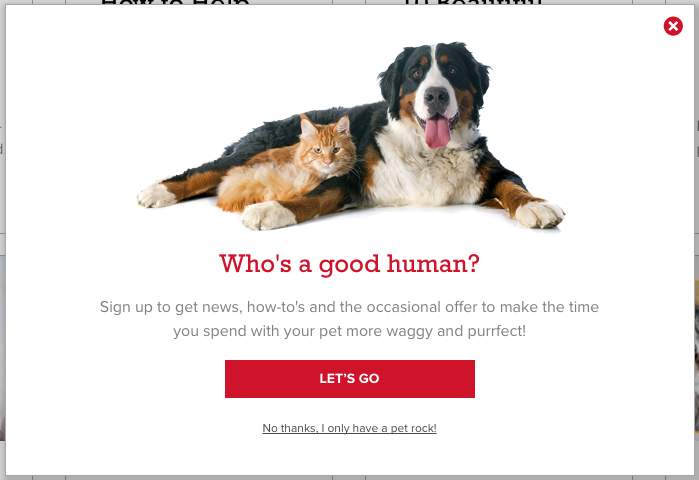 When you sign up to become a member, Big Heart can learn what type of content you enjoy and send you promotional materials like coupons to drive you closer to an in-store purchase.
In addition to high-value articles like "Teach Your Dog to Give a High Five" and "10 Beautiful Sets of Cat Eyes," Big Heart provides an integration with Yelp to help dog owners find pet-friendly places in their neighborhoods.
The Nose Print is using content to connect digital dog lovers to their offline selves.
This thoughtful approach not only provides value to customers by considering their entire relationship to their dogs and to the brand, but it also allows them to pinpoint which content and tools are resonating in which communities and optimize accordingly.
Big Heart is treating their customers as people who read articles online – but also walk their dogs in parks and shop in real-world stores. Its membership program is a sophisticated way to link these facets together into a consistent omnichannel experience.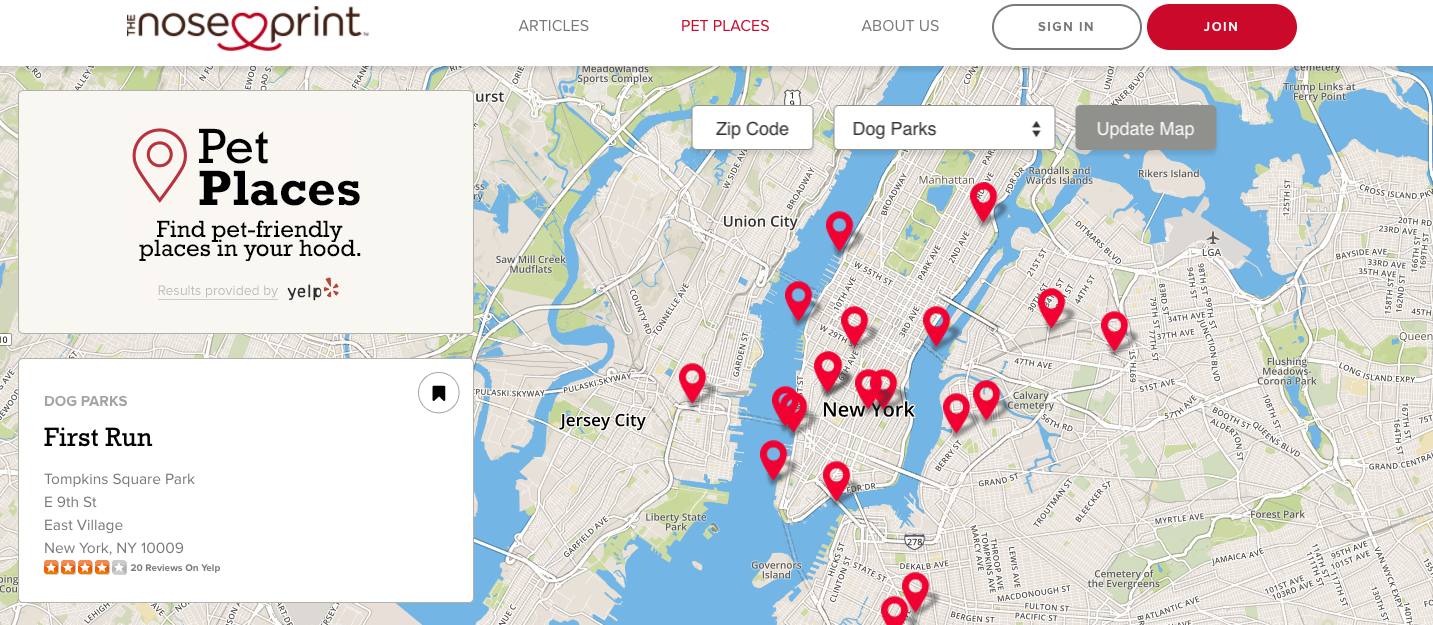 Provide Content Across Multiple Touch Points
Another stellar omnichannel marketer is Nike, who recently opened a five-story retail store in New York's Soho filled with what it calls "immersive experiences."
Nike has an almost opposite challenge to Big Heart, in that most of its customers will opt to buy shoes online rather than in the store.
According to Lee Peterson from WD Partners, Nike store employees believe: "We don't care if you buy [in the store]. We want to engage you and help you reach your goals. Given that you can purchase nearly 90% of what is in store online, our job is to create a relationship with you, the customer, and the brand."
Sounds familiar, right?
It's almost like Nike is creating an in-person/offline content marketing experience.
Nike not only cares about building a relationship with you, by letting you practice your three-point shot in a new pair of Jordans or build a customized sneaker with a Nike+ Expert, for example. Nike has also thought about how to connect these in-store experiences to your digital presence.
While you're perfecting your jumper or running through a simulation of Central Park, cameras will track your movements and translate them directly into your Nike+ app. Now your entire brick and mortar experience has been moved over to your phone and Nike can target you with personalized content to move you closer to a purchase decision.
Nike also understands that the more customers are exposed to its brand across channels in a consistent way, the more likely they are to purchase.
In fact, 47% of shoppers who engage with retailers across 10 or more channels make purchases from their favorite retailer's website at least once a week, compared to just 21% for those who engage across one to four channels.
Nike facilitates this in-store by constantly pointing users towards their digital and social properties. You can find Nike.com written all over the store, including on the soles of shoes and on the walls. You can even move your shopping experience online while in the store by customizing your shoes at a NikeiD station.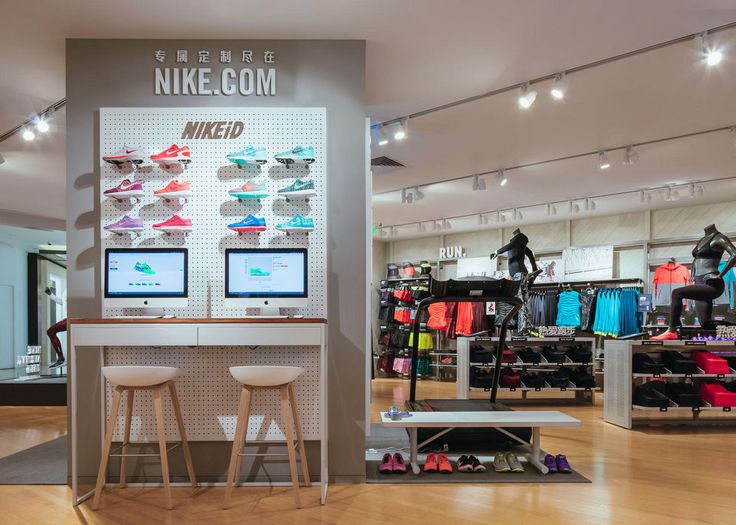 In its Munich store, Nike built a Community Wall that allows you to interact with content and tools to connect you to a community of fellow sports enthusiasts.
While you are in the physical store, Nike is encouraging you to interact with content to flesh out your digital profile, so it can keep in touch with you in the app or on social media.
Once Nike has connected your real self to your phone self, then they can deliver valuable content to you wherever you are to continue building a relationship with you and driving you further down the purchase funnel.
Provide a Mobile First Experience
No conversation about omnichannel content marketing would be complete without mentioning REI, who truly approach content marketing by thinking outside of the confines of a traditional blog or article.
REI understands its customers and knows that people are likely to do a lot of research online before wanting to actually test something out in the store.
REI omnichannel shoppers spend 2-4 times more than customers who only interact with the brand in-store.
What's more, those who have interacted with REI on another channel are 40 percent more likely to make a purchase when they do find themselves in a store.
As an outdoor apparel brand, it's apt that REI understands that customers lead very real lives outside of a dot-com and a retail store.
REI has created an omnichannel strategy that is truly mobile-centric and encourages customers to spend time in the REI app.
Yahoo's analytics recently reported that 90% of consumer's mobile time is spent in apps. Most brands are missing this opportunity to provide valuable content to readers where they are.
REI funnels all mobile activity into the app using deep linking. If you click on a product in an email from REI and have the app on your phone, it will automatically open there and tell you where the nearest store is that has it in stock.
REI partners with the National Parks Service to help you "find your park" with another app available on your phone. Similar to Big Heart's dog walking map, the app features valuable articles like "4 National Parks for the Foodie in You," alongside maps and tools that help you on your park adventure. Once you've "found your park," social sharing options make it easy to share your experience with your friends and join a community of outdoor enthusiasts that are engaging with REI's content.

With its robust omnichannel marketing strategy, REI can seamlessly sell customers the gear they need for their trip to the national parks they found through the app.
For every national parks trip highlighted, there is a complementary gear list with recommended items that link directly to REI's e-commerce site.
REI's CEO and President has said that 75% of customers who buy in-store have visited the REI website or app beforehand to look at the products they're considering.
The mobile first approach follows you into the store and connects your app usage to your in-store shopping experience.
Employees are equipped with phones to check product availability in real-time. All REI stores have WiFi, encouraging users to log in to the app to check their gear lists, as well as read reviews of the products they are considering on REI's website. With a deep understanding of customers' behavior, REI is able to integrate its content into customers' mobile lifestyles and encourage purchases through omnichannel marketing.
Key Takeaways for Omnichannel Success
No brand has solved the challenges presented by omnichannel marketing, but customers have come to expect brands to know who they are and what they need across devices and channels. Content can fuel these efforts by providing ways to engage with customers across multiple touch points.
The brands that are leading the charge are keeping these three actionable takeaways in mind:
Provide Real Value to Encourage Readers to Become Members: Use content to incentivize readers to opt into your community or membership program.
Provide Content Across Multiple Touch Points: Reach customers where they are by providing valuable content in-store, online, and on mobile. The content journey allows you to track and influence behavior along the way.
Provide a Mobile First Experience: Don't miss out on the opportunity to connect users to their mobile personas by thinking outside of a traditional blog format.
Esti Frischling is a Practice Director at NewsCred.