There is an ever-growing demand to prove the value of content marketing.
While business goals vary significantly from industry to industry, our experience at NewsCred tells us that nearly all marketers have the same content goals: generating conversions and building brand equity.
As the demand generation manager for NewsCred, I am held accountable for these same goals. And because my role has me facing the same challenges as our customers, there is added pressure on my department to really measure the ROI of our content marketing efforts and not settle for soft metrics.
As a result, I spend a lot of time looking for the most concrete metrics available for both B2B and B2C customers. In my opinion, there is no better place to begin measuring your success than within your content hub.
Google Analytics (GA) provides very powerful analytics tools right out of the box. However, most marketers are not familiar enough with what those tools can do, and are therefore not using them to their full advantage.
But to achieve true content marketing success, customizing GA to your hub architecture and business goals are essential first steps. Failure to do this results in not just bad data, which will impact your ability to strategize correctly, but will also make you miss out on one of the easiest and more impactful methods of tracking ROI metrics that your CMO will really respond to.
In this blog post, I'm going to break down your essential GA setup into two distinct sections:
Website Architecture: In this section, I will address the infrastructure setup issues that will result in cleaner data, and make it easier to access that data in a reportable way.
Setting up Goals and Measuring Success: Once your site is able to pull in data in a reliable way, I'll cover the really impactful task of how to use that data to measure and prove success from your content.
To illustrate these points, I'll give examples of the benefits for both B2C and B2B.
If you're not a GA expert, don't panic. The only requirements you'll need for this post to be actionable is to have your GA instance already gathering data from your hub and to have editing privileges for that instance. There are no special technical skills required, nor will you need anyone outside of your marketing department to implement them.
1. Setting up Your Website Architecture
Before we get into the weeds, let's take a second to ask the important question: What's wrong with your current GA architecture? Straight out of the box, GA is pretty good at understanding the buckets your data sources fall into and demographic information in a way few other products could rival.
However, it does not know the intricacies of your business, and so, can often bucket data into sections that will give you false readings on your success. (Which we'll see shortly.) It also doesn't know how to break your content hub into groupings that make it easier for you to glean insights into your various sections. GA is very good at telling you how people got to your content, but it does not do a great job of telling you how your content is performing with those visitors. Ultimately, a content marketing software solution will provide you with true content performance insights, but if you're not there yet (we can help with that!), then setting up content groupings in GA will start you on that path.
Defining Your Traffic Sources Accurately
When you look at where traffic is coming from to get to your site (Acquisition > All Traffic > Channels) you'll be given a display of GA's Default Channel Groupings:

In most cases, the information here will be accurate; however, there are a few instances that you'll need to tell GA about to get your data truly reflective of your business. The most significant of these is your Referral traffic grouping.
When we think of referral traffic and content, the general consensus is that referrals come from third party sources who have linked to your content and driven visitors from their destination to yours. The trouble with this channel grouping is that Google doesn't know the difference between one of your owned properties and a true referral. Since many brands are labeling their content hubs differently from their corporate brand, GA will assume that traffic from your corporate domain counts as a referral. While this may not seem like a big deal, it will give you greatly inflated numbers when it comes to your referral traffic, which will not only give you a bad indication of your actual success, but will also hide the true referral sources on which you should be focusing your strategies.
In our own real example, our unamended referral grouping was grossly overstated by traffic from our main domain: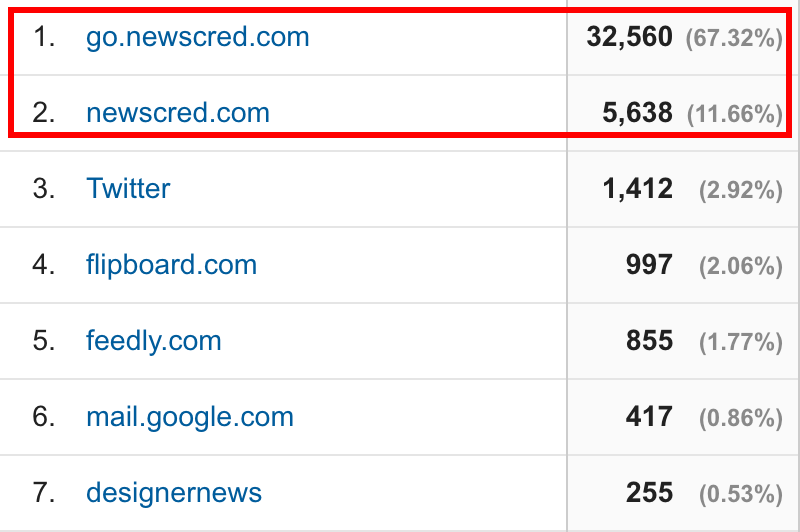 Not only was our NewsCred.com traffic distorting our numbers, but a campaign being run with the Twitter utm tag was also being pulled in mistakenly. So how do you change this?
Under the Admin section of GA, you'll be presented with all of your options, including Channel Settings. In here, we get the ability to edit the default channel groupings set by Google. Don't be nervous about breaking everything in here and causing chaos – we're not undoing Google's settings, but are instead adding nuanced rules to help Google identify specifics in addition to its own algorithm.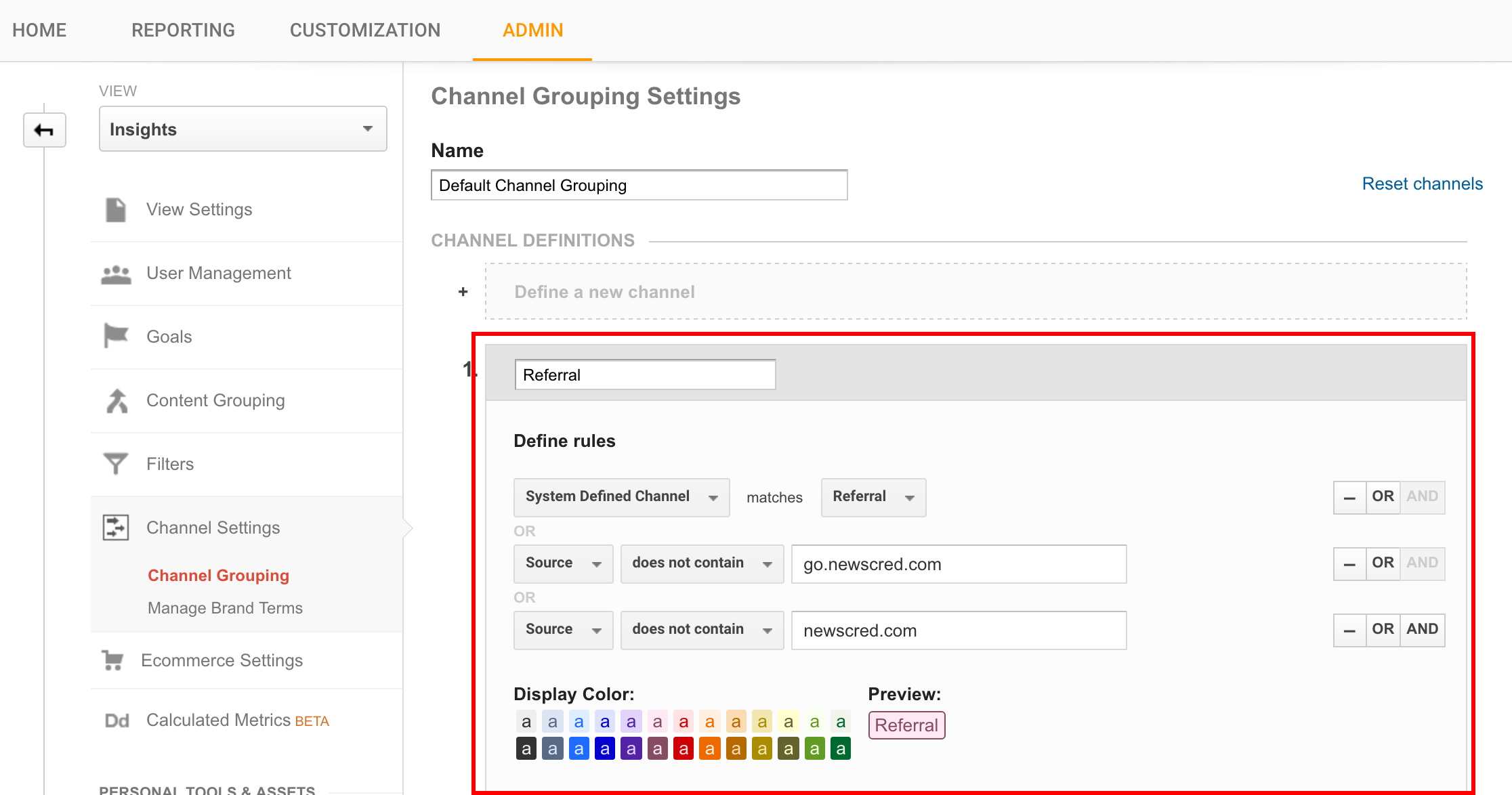 Once in this section, we'll add some rules to tell Google what sources not to include in its reporting of the data. In NewsCred's case, it's anything from the source of go.newscred.com (our Marketo email link), and from www.newscred.com.
What's important to remember here, is that for every action there is an equal and opposite reaction, so anything you tell GA to exclude, you should also tell it to include in the relevant channel. In this case, I created a new channel (Define a New Channel option), created rules that were the opposite of the above, and named it 'NewsCred'. This gives me a separate view of our main site performance. If you don't provide some alternative destination, GA will still gather this information but will bucket it under the source of 'Other.'
While the referral channel is the most likely culprit of bad information, you should also not neglect your other channels, such as Email and Social, which frequently contain noise or are missing information, like our Marketo example above. It's worth the exercise of looking through each one to find erroneous instances and taking the time to set up rules to prevent them reoccurring.
Once you've set up all of the nuances of your traffic, you'll have a more accurate picture of how traffic actually finds its way to your site, and you'll be able to look for trends that you can exploit or correct.
Examples of benefits:
B2B: As in our own case, it's hugely valuable to know when traffic makes the journey from our content to our product pages and vice versa. We've set up a separate channel called "NewsCred" where we include not only the main site but also any landing pages we create. This shows us when readers makes the leap from content to product-focused information – becoming potential sales leads – and helps us to measure those conversions better.
B2C: Particularly for enterprise brands that have multiple domains across various countries, as well as Corporate Social Responsibility hubs, retail environments, and more, having a clear understanding of how traffic comes from these environments and goes to these environments can help you to understand just how much or how little support you may be getting from brand sources. These insights will not only allow you to demonstrate internally where you need help, but will also allow you to measure conversions against those cross-hub journeys, which we'll cover shortly.
Setting Up Content Groupings
While we're still in the Admin section, we're going to create Content Groupings, which will allow you to categorize your website to gain deeper insight into your content performance. Right above where you selected Channel Settings, you'll find the Content Grouping tools.
Why set up Content Groupings? There are many difference scenarios where content grouping can help you, but few are as important as this: It will allow you to understand your content performance at a macro level. If your content lives underneath your main domain, it will allow you to separate it from the rest of the non-content-related pages, and even if it lives on a separate domain, it will allow you to look at content from a content, topic, or intention lens.
There are three different ways to create content groupings, but because two of those involve technical assistance, we're going to focus on the third one here: grouping using rule sets. As with your channel settings, here we're going to give GA the information necessary to categorize automatically. You can get as granular as you'd like here, but the best practices are to create broad-match criteria as much as possible. Here's how we separate out our topics on NewsCred Insights:



As you'll see, we focus on broad page criteria, which reduces the chance of error. So, once you set up your content groupings, what can you do with it? While channel settings appear in the Acquisition section of GA, content groupings appear under Behavior.

As you'll guess, the Behavior section deals with what people do when they reach your content. When you look at the specifics (Behavior > Site Content > All Pages), you'll have an option above the data table to select a content grouping. Here's an actual example from our solutions offerings on www.newscred.com: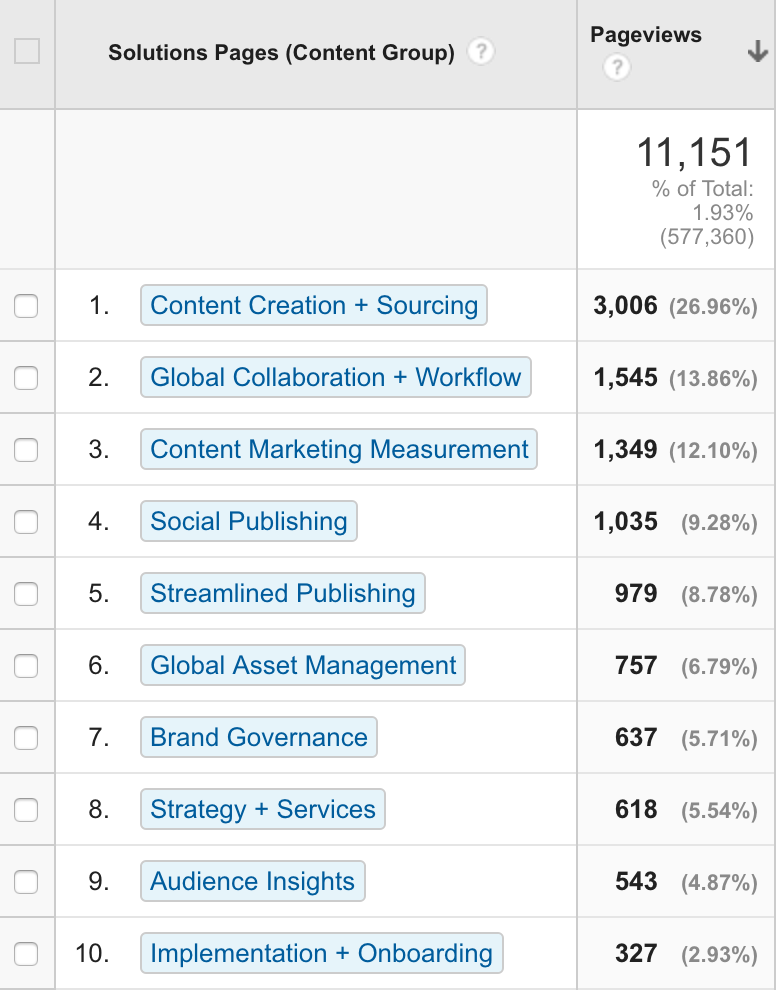 Without the aid of our Content Groupings, we wouldn't be able to see what topics really resonate with our audience and prospective customers. Knowing this information at a macro level allows us to strategize solutions that matter most to our website visitors.
Examples of benefits:
B2B: As with the above case, knowing what people are looking at most can help to identify the seniority of your visitors – whether they're CMOs and executives, for example, or directors and managers. Knowing what type of content to serve them can help you be more impactful by speaking in their language and addressing their pain points, rather than trying to adopt a 'one-size-fits-all' approach.
B2C: While GA offers impressive demographic data, knowing what resonates with your audiences can help you to develop more content to suit them. If you were creating content for, say, the travel industry, categorizing content by destination or vacation styles would help inform you about what your audience is really looking for. Using that data, you could then create content more strategically.
2. Goals and Measurement
Now that you've set up your GA infrastructure correctly, you're ready for the most important step you can take in GA for content marketing: Setting up goals to measure the success of your content.
I've briefly touched on GA Goals in the past, but today we're going to dive into them in a deeper way. First let's start from the beginning: What are Google Analytics Goals?
In their simplest form, GA Goals are rules that you give to GA that allow you to record every time an action is taken that meets those rules. Goals can be set up to record an absolute number, but can also have dollar values attached to them when applicable. What this means for content marketers is that you can set up goals that capture behavior patterns taken from your content that align with your business objectives and help to prove intent.
This may sound complicated, but it's actually quite simple in action. Let's take a look at some common goals that content marketers can set up:
Shopping Cart Completions: This is the most frequently used goal in GA from ecommerce sites. Every time a visitor reaches a page that follows a cart checkout, GA captures that information and assigns a value to it.
New User Registration: For the non-ecommerce sites, goals can record when a new user signs up for your content hub, such as our Insights Member Sign-Up, or for a simple newsletter registration sign-up.
Pricing Page Visits: While much less tangible than a lead capture or purchase completion, visits to key pages show that a visitor has a deeper level of intent.
Corporate Domain Visits: This takes the above step a level deeper. Instead of capturing visits to a particular page, it can capture visits that move from one domain to another. This can be particularly effective for CSR programs.
How Do I Set Up a Goal?
As with Content Groupings, there are multiple ways to set up a goal, but we're going to focus on the one that requires no technical assistance: Destination Goals. Log into your Admin section again, and this time choose Goals. When you set up a new goal, it will present you with four options: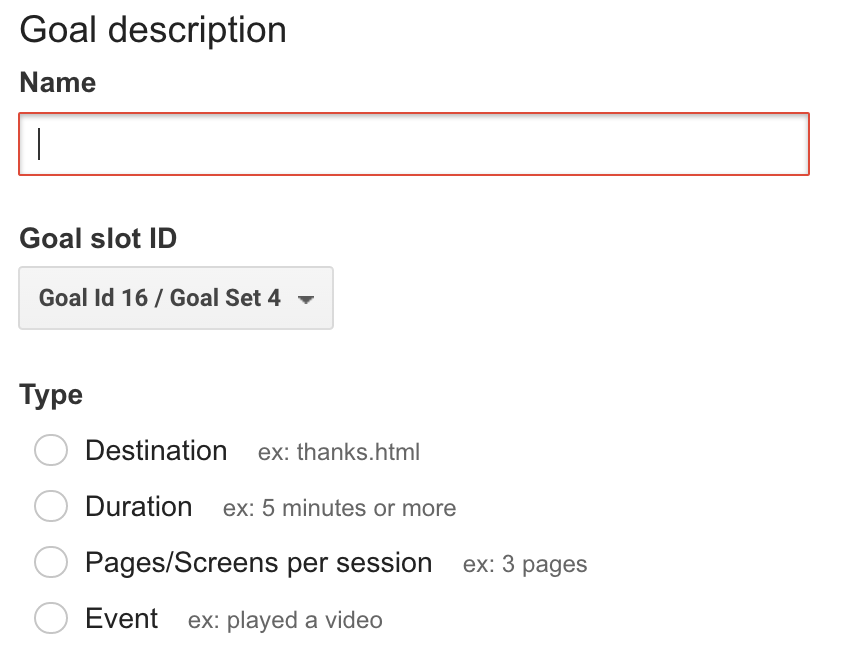 We're going to focus on Destination goals here because for most content marketers, this is the ideal starting ground. On every site, there are always pages that hold more value (e.g. Pricing, About Us, Contact Us, Sign Up, etc.) that you can start with that will allow you to demonstrate customer intent to your CMO. Once you begin to capture basic goals, you can go a level deeper and record much more complex user journeys.
Example 1: Basic Company Page Visits
In the first example, we're going to set up a basic goal that captures a lead visit to a particular page of value – in our case, the pricing page. We're going to select a Destination Goal, and we'll input our pricing page url. Remember to drop the www.yourwebsite.com part of the address and focus on only the location that follows, such as below: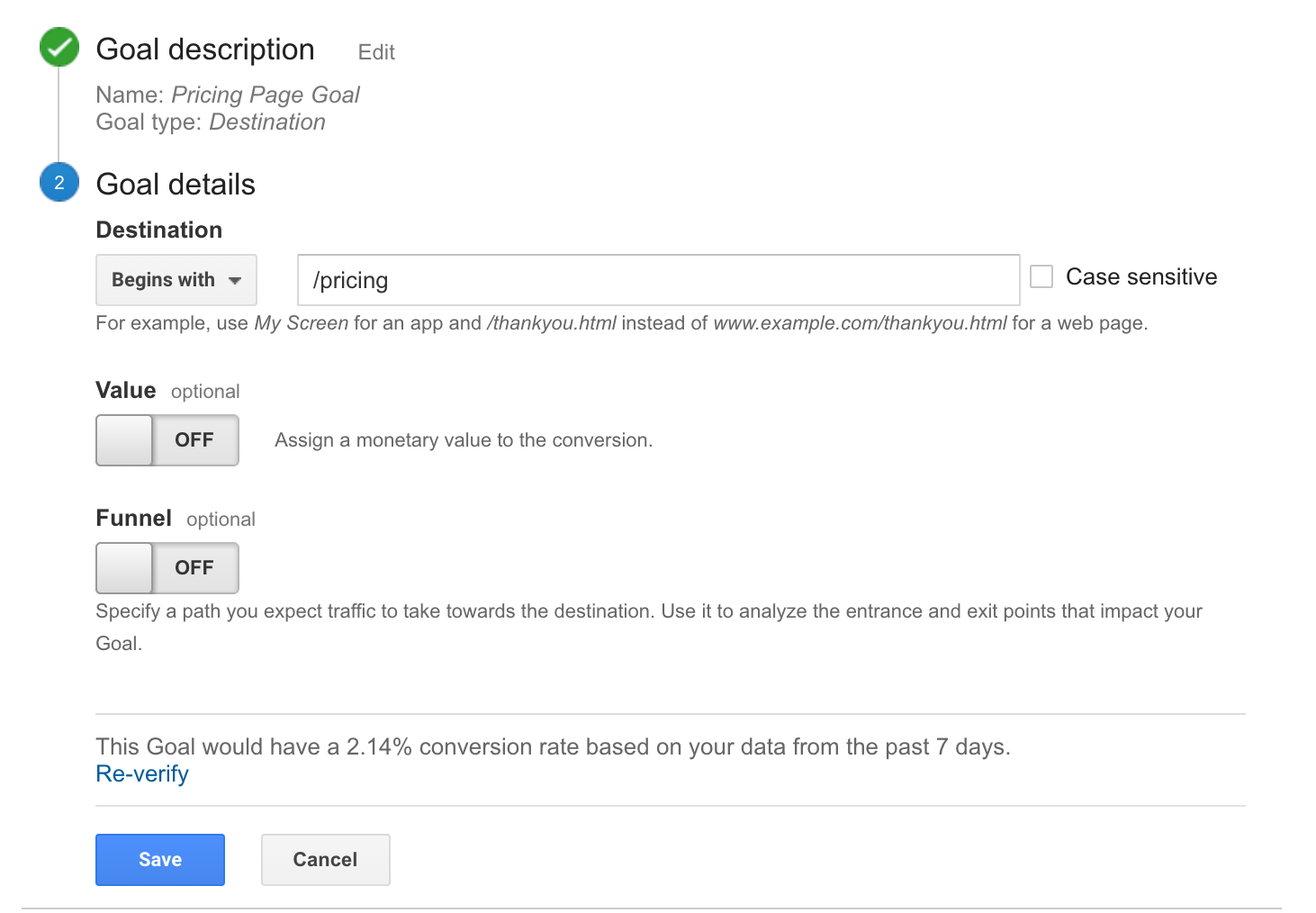 Be sure to verify the goal by clicking the link before completing. GA will test the parameters and give you back a percentage of total traffic that meet this rule. Don't be worried if the number appears very small; as long as it's more than 0%, you'll know it's not incorrect.
Example 2: New Sign-Up Page
You'll notice in the above image that there is an option labeled Funnel. This is an optional but powerful tool that allows you to track user journeys that take a specific path. Let's take NewsCred Insights as an example. When a user signs up for a new account on Insights, the completed form will take them to a dashboard page. However, if a returning user signs in, they will also visit the dashboard page too. This means that creating a goal that records only dashboard visits will result in a combination of new and returning visitors, which would give us unusable information.
The solution to this is to introduce a necessary step in the journey that must be taken in order for the goal to be marked as complete: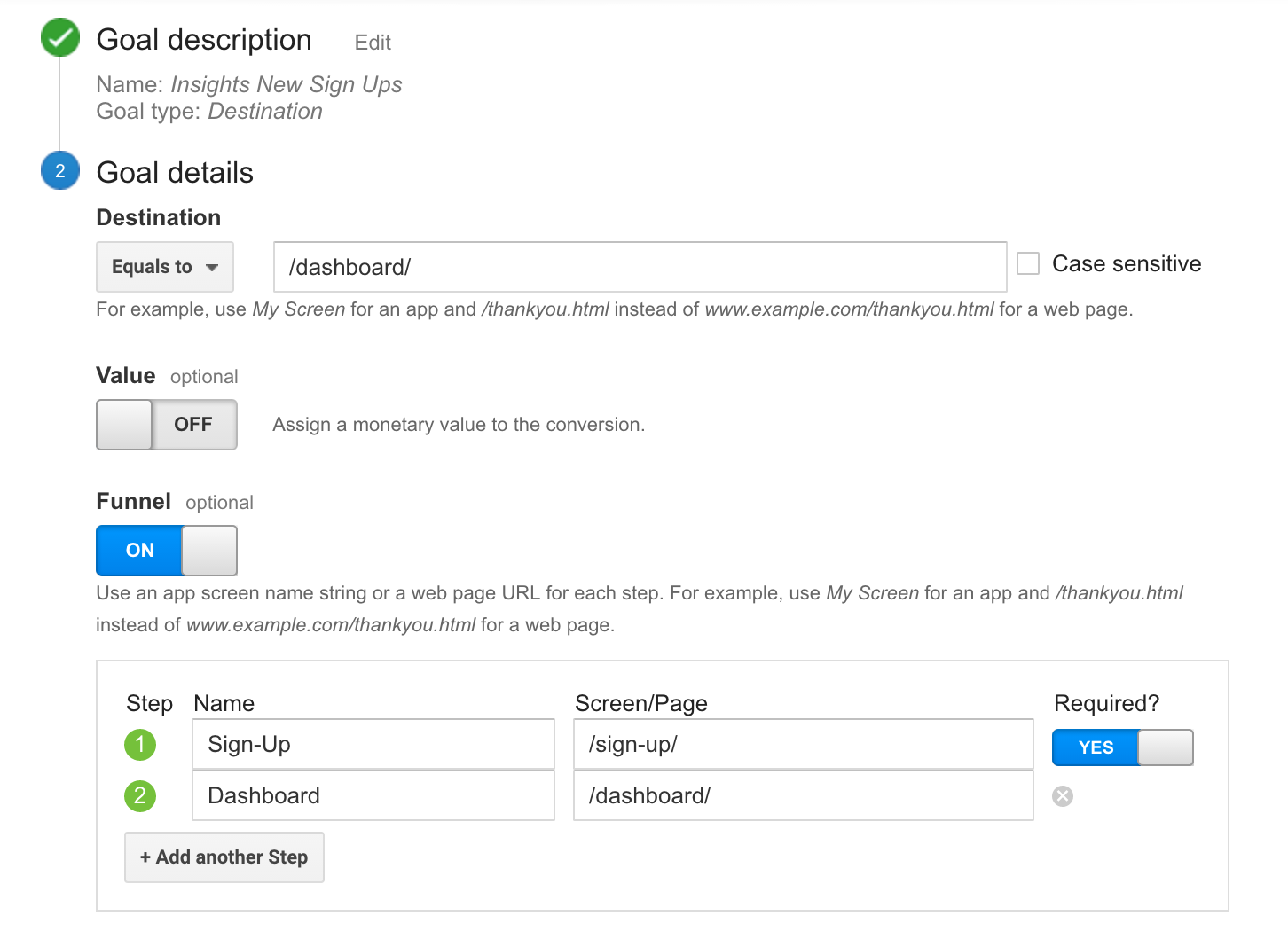 Now the goal will only work if the visitor first goes to the /sign-up/ page. So what does this goal look like in action?
Viewing Goal Data
GA will display basic goal overview data (Conversions > Goals > Overview) in a similar way to any overview page in GA:



This report is customizable in all the same ways that a typical report in GA would be. For the more valuable insights into the Goals, however, we need to go a step deeper into the Funnel Visualization and Goal Flow options. 

Funnel Visualization
This section allows you to see how a goal journey plays out based on real data. This is especially valuable for goals based on numerous steps, where you can see the conversion range, entry, and exit pages for each step: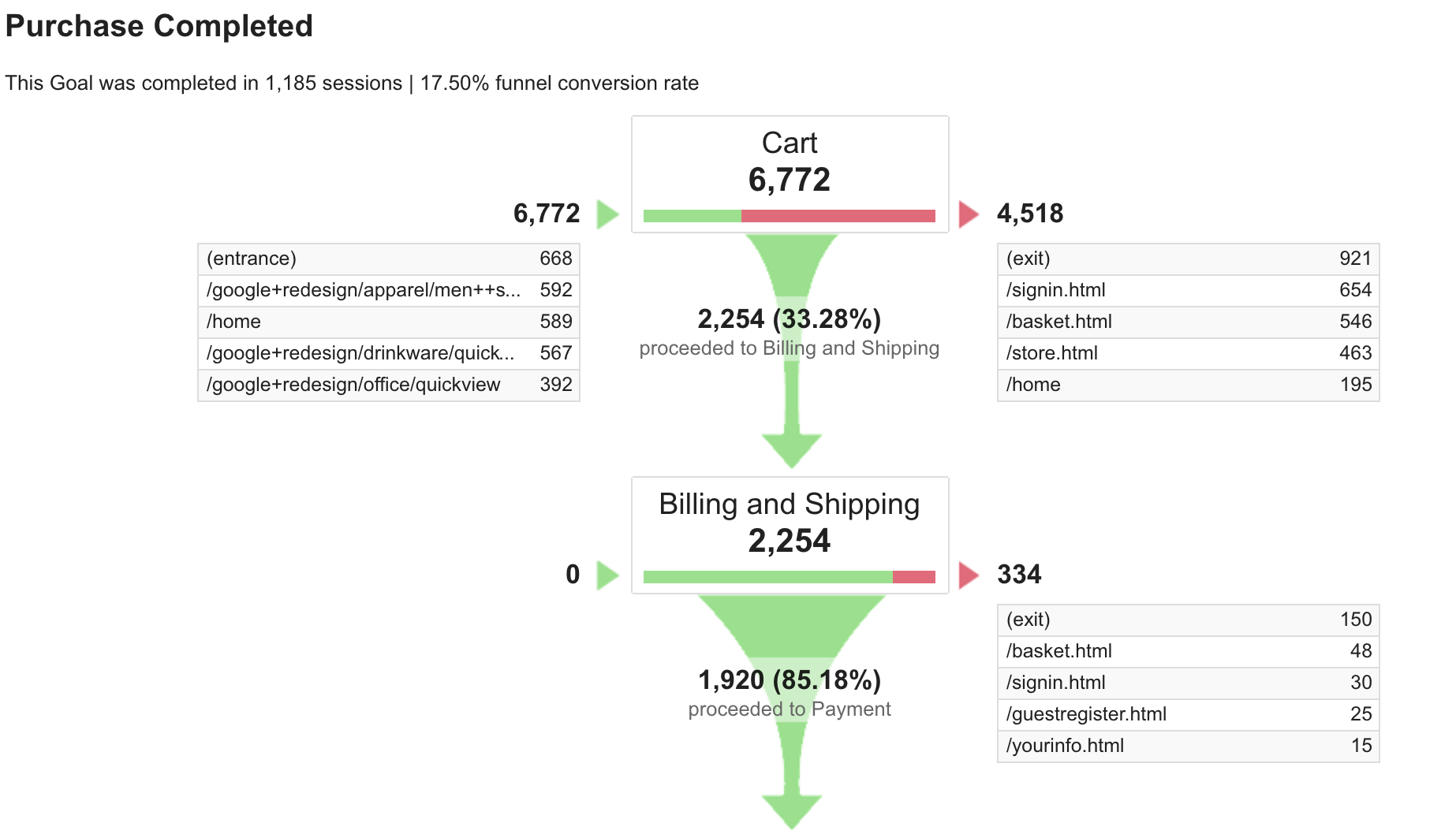 This information will allow you to identify pages that are high or low converters, as well as pages that result in a lot of drop-off. Understanding where conversions fail is often more valuable than understanding where they succeed.
Goal Flow
Many marketers will not have complex funnel goals. However, for cases where a single page visit counts as a goal completion, knowing what drove that behavior is often the most valuable piece of information you can get. This is where the Goal Flow section will allow you to see where and how these goals develop: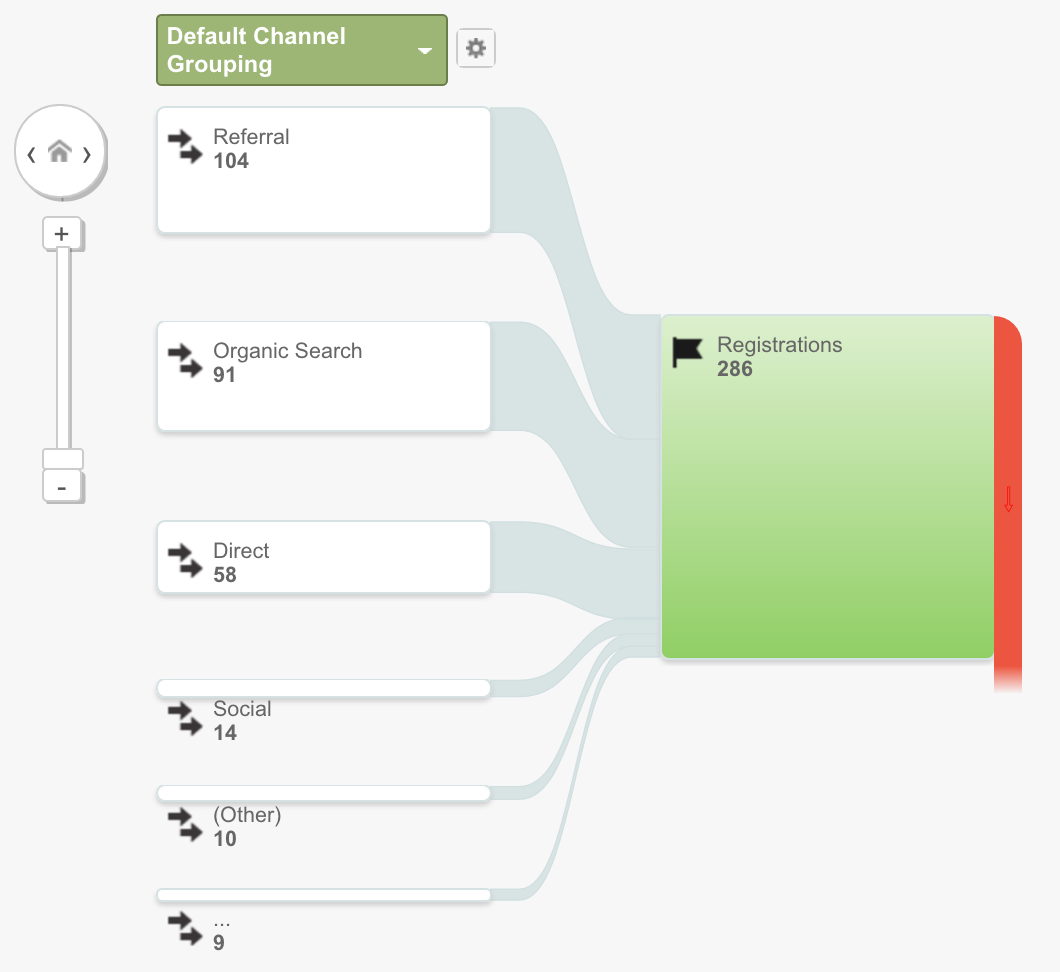 As you'll see from the above picture, Goal Flow does exactly what you'd expect: It lets you see the traffic flow that led to your goal completion. You'll be able to look at this data in many ways, from traffic source to your content groupings. This will allow you to see which of your content has resulted in goal completions and from which content bucket. In other words: Content that results in action that matters to your business. This is a hugely powerful visual to show any executive.
Deeper Goal Analysis
Once you are accurately capturing goals in GA, there is no shortage of ways to view the data to glean more information. For example, a single source may complete a goal, but that source may have needed many visits before making that completion. This is especially true for content marketing and business with long buying cycles. To make sure that you don't miss out on the effect of multi-channel attribution, GA has a report for just that (Completions > Multi-Channel Funnels > Overview).
This interactive chart allows you to select your key channels and view their combined impact when it comes to goal completion. This is one of the most impressive visuals in all of GA: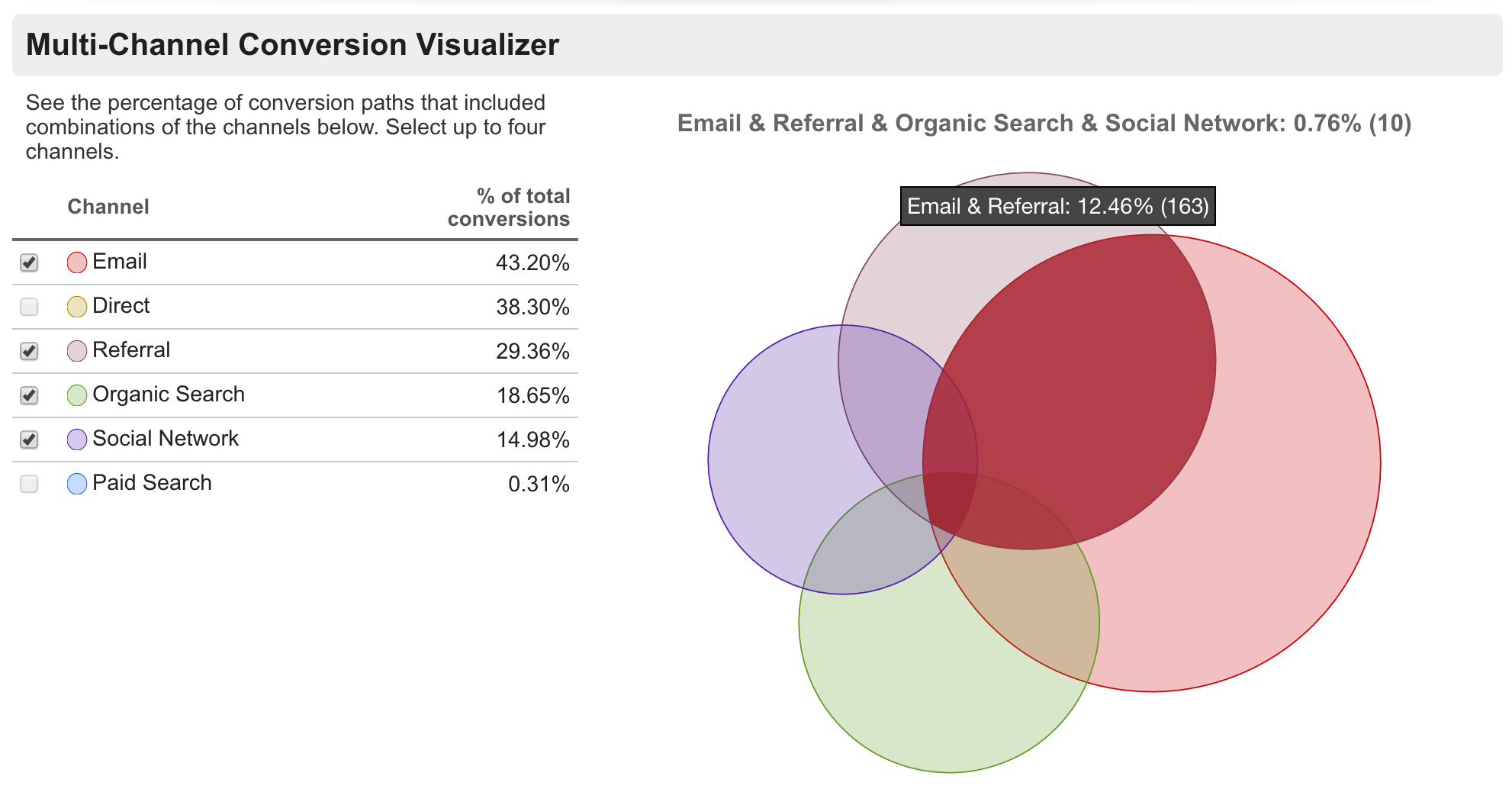 As you can see from the above, a combination of Email and Referral traffic was responsible for 12.46% of goals completed in this time frame. Having this information at your disposal can highlight just how important a full channel strategy is on content marketing effectiveness.
Conversion Rates by Channel
When it comes to goal completion, not all channels are created equally. Luckily, GA allows you to view data on a table basis for goals, too. If you're a fan of spreadsheets, you're going to love this:



Once you have goals set up, you'll be able to look at all of your channel and audience traffic with the new comparison of how it performs in conversions. This data will not only show you absolute numbers per channel, but also the conversion rate. Because GA is one giant pivot table, you can actually take advantage of its powerful visualization tools to make this data more usable.
For example, if you want to see the data above but through visual channel comparison, there is a comparison option:



Choose this and the same data will now present you with tremendously actionable insights:



Here, the same data as above is presented with each channel compared with the overall average conversion rate. As you'll clearly see from the above dummy data example, Referral sources perform nearly 3x that of any other channel, while social is among the weakest. Data insights like this can allow you to radically transform your content effectiveness.
This is what having Goals set up can allow you to accomplish.
Conclusions and Next Steps
Having clean data and a tailored GA instance can allow you to view your data with confidence and act upon it as you gain insights. As with the above example, learning about the effectiveness of your referral channel is only as effective as the accuracy of your referral channel. Digging into the data periodically will allow you to catch erroneous assignments and, using the steps above, you'll be able to tell GA how to correct these errors.
Once you have a clean data set, Goals will become one of the most powerful methods you have at your disposal for proving content effectiveness. When it comes to reporting to your CMO or other executives, having a report like GA goals allows you to present tangible journeys that your audience took based on interaction with your content. This will carry you much further than pageviews alone.
As much as we've covered today, this is simply scratching the surface of what GA can do for you as a content marketer. If you would like to be kept informed with even more GA advice, sign up for Insights today, where you'll get access to deeper information, as well as be first in line to receive more articles like this. In future posts, I'll be digging into how to create, run, and automate reports in GA to get detailed insights on a repeatable basis.