For a global content marketing strategy to be effective in a large and complex enterprise, central and local teams must find the right balance.
Just deploying a content marketing model across multiple regions will simply not work – even if you've successfully tested it in one country. In most regions, like Asia or Europe, for example, where there are dozens of countries and languages, it is unrealistic to expect that global and local teams will work together seamlessly from the beginning. It takes time for them to plan, pilot, iterate, and find the right global to local balance.
In this article, we'll discuss how you can find that balance. Let's start by defining the key terms:
Central: the corporate (or "head") division of a company.
Local: regions or countries where the company has a presence. In large enterprises, marketers might refer to these areas as "markets," "geographies," or "geos."
Global: worldwide or cross-regional programs, or a combination of regions or countries where the company has a presence.
3 Models for Global Content Marketing
In general, a company's organisational setup and business model shape the content marketing model that it adopts. Here's a look at the three most common models:
The Centralised Model
In centralised organisations, the corporate team generally determines the strategy and directions, while local teams execute.
With this model, the central team needs to understand the type of content that each market needs. Often, it will recruit team members or agencies at the local levels to create and adapt content for that region.
The central team's role may evolve as the program matures. In early stages, the central team leads content strategy and production, flowing information and assets outward. As the program matures, the central team shifts to more of an advisory role, providing guidance on how local teams can build up their content skills and competencies.
At NewsCred, we evangelise a concept called the "Content Centre of Excellence" (CCE). The CCE serves as a liaison between the central and local teams. The central team will still deliver the overarching strategy. But the CCE promotes best practices and sheds transparency on the content production and distribution processes. A CCE team would ideally exist in each region. This way, each country has a dedicated content support centre.
The Decentralised Model
In the case of decentralised organisations, the regions lead content strategy and creation. I've worked on cases where local teams were so independent, in terms of competencies and resources, that they had no reason to involve the central organisation. The central team just provided branding templates and guidelines. This is, of course, a challenging case, and one I would not recommend. The risk is that each geography will have its own content marketing program that's not working with others toward a larger company goal.
Decentralised global content marketing programs might have different personas for each country, region, or business unit. But the ideal situation is for a central team to set up processes and directions, with the countries managing local strategies, content creation, budgets, and resources. In her book "Global Content Marketing," Pam Didner suggests a "band-aid compromise," where teams find common challenges between global and local personas. This creates alignment and encourages local teams to use the central team's content instead of creating their own.
Several situations create tension in decentralised models: Central teams might not understand local markets. They may also fear that local teams won't correctly deliver the corporate messaging, but lack enough knowledge about the markets to provide directions or take corrective actions. Central teams may be hesitant to test and pilot programs; if the pilots fail, then they fear that the country won't retain its trust in them and will be "lost forever." Trust and collaboration represent the best way for firms to avoid these issues. Global and local teams should work together in a way in which they share the same vision, align on same objectives, and act with a sense of trust.
The Ideal Model
The ideal model is usually somewhere between the centralised and decentralised model. Central should set goals and regional teams should decide how to reach them. Creating content centrally and allowing the countries to fill in the gaps is often a good solution, since many businesses require local languages. This means that countries take ownership of the localisation process.
I love the way Didner defines in her book the relationship that the central content team has to establish with the geographies: one of "servant leadership." She writes: "I attribute the success of our partnership to one important factor: Headquarters' role is to serve."
When I was VP of Content Marketing at Schneider Electric, the central team owned B2B and B2C content strategy. We created content, guidelines, distribution packages, and documents with recommended dos and don'ts. The countries, then, could edit and adapt the content to their cultures.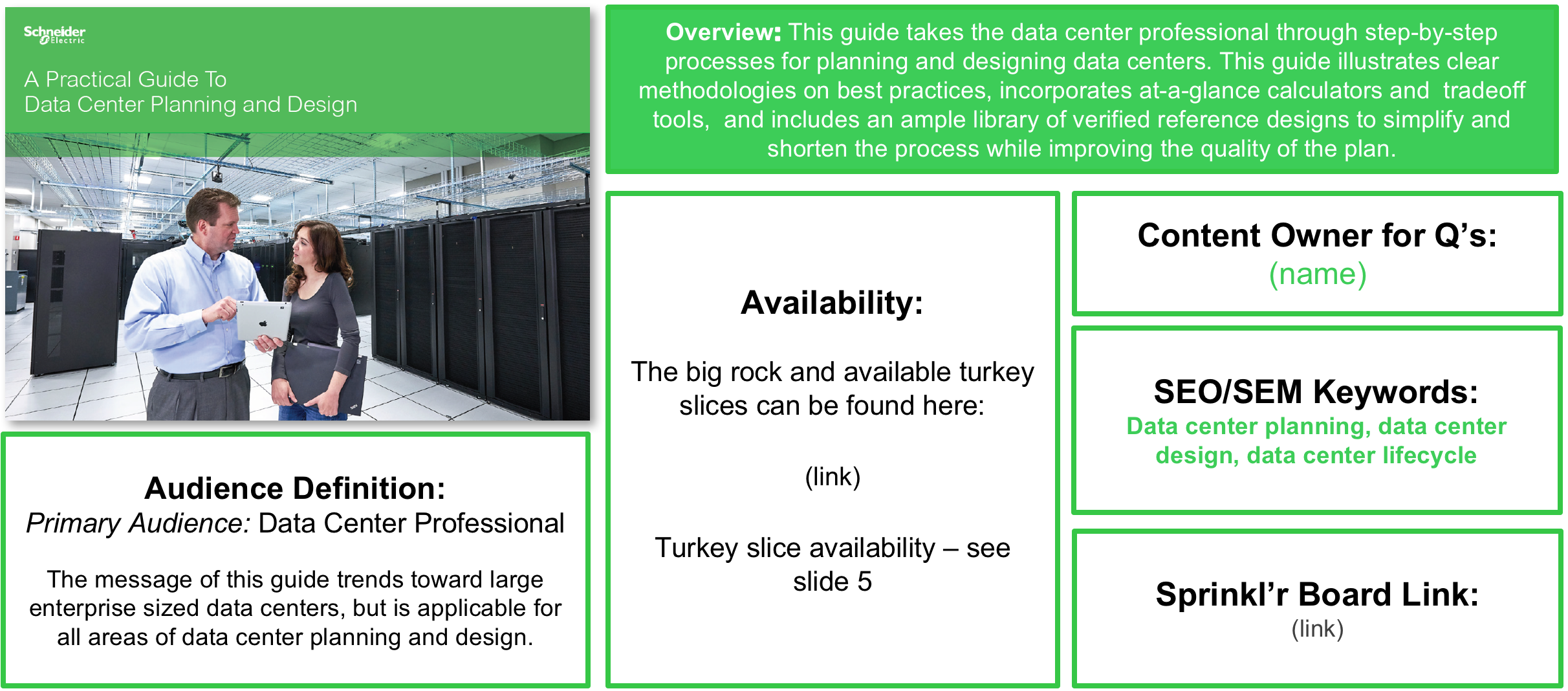 Example of content guidelines for pilot countries.
Creating and Executing the Content Marketing Strategy
In many cases, a global content marketing program is the very first collaboration between central and local teams. In these cases, it also represents the beginning of a deeper, internal transformation. By aligning on a global content marketing strategy, central and local teams are establishing foundational processes across their organisation.
That's not to say that the process always goes smoothly. Central teams are often frustrated when the regions don't follow their strategy, branding, or campaign directions. On the other hand, regions are often annoyed at central teams because they move too slowly and produce content and messaging that doesn't resonate with local personas and audiences.
While the strategy may live with central or local teams, depending on their models, local teams always own the execution. This works well, for the following reasons:
Local teams are usually much faster than global ones because of their lean natures.
Local teams best understand execution tactics for their markets: which distribution channels to use, which events to participate in, what their audiences need.
If products are highly localised, this model just makes sense.
Local teams understand regional compliance laws and regulations. Regulatory oversight could be a big challenge, especially with companies operating globally and dealing with multiple jurisdictions. Compliance is critical in sectors like healthcare, pharmaceuticals, finance, and other sectors.
The level of headquarters' engagement with regional execution may vary with time and circumstances. For example, central teams play critical roles for new, emerging areas lacking resources and competencies. Also, when local teams suffer challenging budget conditions, the central content team needs to take the lead.
My rule of thumb: Even in the decentralised model, central teams should lead areas of commonality: establishing strategy, processes, software tools, personas, big rock content creation. On the other side, even in the most centralised organisation, the central team should try to follow the 80/20 rule and give the local teams freedom to create customised content.
All these considerations show how complex it can be to find the right balance between global and local teams. Only a good, continuous spirit of collaboration can solve issues as they arise and drive content marketing success.