Move aside, millennials. The next generation of consumers is poised to assert their influence. For marketers, it's time to start paying attention to Generation Z, those born between the mid-1990s and early 2000s.
They are the first fully digital generation, having grown up with tablets and smartphones in hand, and with social media handles replacing nicknames. As such, they have a different set of expectations when it comes to marketing and brand behavior. Generation Z, which already numbers 2 to 2.5 billion strong, commands $44 billion in buying power. Hence, why marketers should be turning at least some of their focus toward this cohort.
What's important to realize, however, is that although Gen Z directly follows millennials, there are some significant differences between the two groups.
If you're a content marketer, you'll want to keep reading to learn all about Gen Z and find out which brands are doing a great job connecting with them.
Gen Z: The Jan Brady of Generations
While they probably won't get that "Brady Bunch" reference unless they've caught the series on Hulu, Gen Z wants you to know they are unique, and it's not all about "Marsha, Marsha, Marsha" (the millennials) anymore. Brands have to reach Gen Z on their terms and turf – that is, providing them with non-promotional, multi-channel content that feels authentic and speaks to their values.
If you want a stat that sums up this demographic, here it is: 40 percent of Generation Z prioritize a Wi-Fi connection over a working bathroom. (Crazy, right?) In other words, they are the always-connected, on-demand content consumers whose knowledge is just as likely to come from a YouTube channel as it is from a formal classroom. In fact, according to a report by FullScreen Media, Gen Z views digital video/short-form clips almost six times as much as traditional publishers/blogs.
A few other generational generalizations to keep in mind:
| | |
| --- | --- |
| Millennials | Gen Z |
| Saw the beginnings of the digital age, but spent their early childhood with "old school" media | Grew up fully online, preferring mobile technology to TV and radio |
| Often rely on parents for financial help (e.g. living at home after college) | Came of age during the recession and watched their parents get hit hard economically, therefore are more frugal |
| Like to work collaboratively and thrive on feedback | Entrepreneurial, and more likely to start working as young teens |
| Short attention spans | Even shorter attention spans |
| Raised in the "everyone gets a trophy" age | A gradual return to the pre-trophy era |
With that said, here's a closer look at some of the ways in which Gen Z consumers require a whole new content marketing plan.
Traditional advertising doesn't work with Gen Z
You won't catch Gen Z sitting through commercials in front of the TV, or captivated by a pre-roll video ad on YouTube. Rather, non-promotional, short-form video storytelling is the way to win this audience. Brands would be well-served to tailor those videos for various platforms and devices: MobileMarketer.com says that Gen Z consumers require a five-screen experience: phone, computer, TV, tablet, and wearable.
Brand content in action: Converse launched a back-to-school digital video campaign aimed at teens called "First Day Feels," starring Millie Bobby Brown from the Netflix hit, "Stranger Things." The actress created a collection of GIFs to capture the emotions of the first day back that ran on BuzzFeed, Teen Vogue, and on Converse's website and social media channels. Smart move, since teens love sharing GIFs via their favorite messaging apps. Fans could also watch a supercut of all of Brown's GIF reactions in a longer YouTube video.

Gen Z values diversity and inclusion
Sixty percent of teens support brands that take a stand on issues they believe in regarding human rights, race, and sexual orientation, according to the study, "Getting to Know Gen Z: How the Pivotal Generation is Different From Millennials."
But you can't just tweet out a supportive hashtag and call it a day. If given a choice between two brands, 85 percent of teens are "likely" to purchase from a brand that supports a social cause over another brand that does not, according to a survey by Fuse Marketing.
"Generation Z seems to really care about engaging with brands that have values that align with their own," explains Kyle Andrew, CMO of American Eagle, in a Fast Company article. "You can't just make stuff: You have to stand for something. As a brand, we want to support and enable the freedom to be yourself."
Brand content in action: Nike is a top Gen Z-endorsed brand, and the Nike Women's Instagram account (with more than 7 million followers) routinely features photos of strong women of diverse backgrounds and body types.
Ben and Jerry's, another popular brand among Gen Z, fills its YouTube channel with videos not just about yummy flavors, but about social issues like climate change and voting rights.

Snapchat is the platform of choice
Gen Z tends to be more private than millennials, favoring ephemeral messaging apps over those that put their content out there for public consumption. More than half of Gen Zers use Snapchat at least 11 times a day, according to a recent study. And one in five Gen Zers, or 21 percent, say that Snapchat influences their purchase decisions – twice as much as their millennial counterparts. Although Gen Z may be on Facebook, they consider it mom and dad's platform.
Brand content in action: Let this sink in: Taco Bell's taco Snapchat filter was viewed a record 220 million-plus times during Cinco de Mayo 2016. With the right combination of fun and clever, brands can get teen fans to snap and share.

Gen Z trusts influencers
Unlike previous generations, Gen Z is more likely to relate to a "real" peer online than a celebrity spokesperson or supermodel. That's why they're drawn to influencers, who serve as arbiters of what's new and exciting. Though most people outside of Gen Z would be hard-pressed to even name one influencer, it's hard to deny that they're undeserving of their titles. Influencers have massive followings that rival those of traditional celebrities across social platforms.
Brand content in action: When Target decided to launch a new "Art Class" collection of clothing aimed at Gen Z earlier this year, it partnered with a 12-year-old chef who owns his own cookie business, an 8-year old surfing prodigy, and a 10-year-old dancing sensation. Collectively, they have 10 million followers on social media.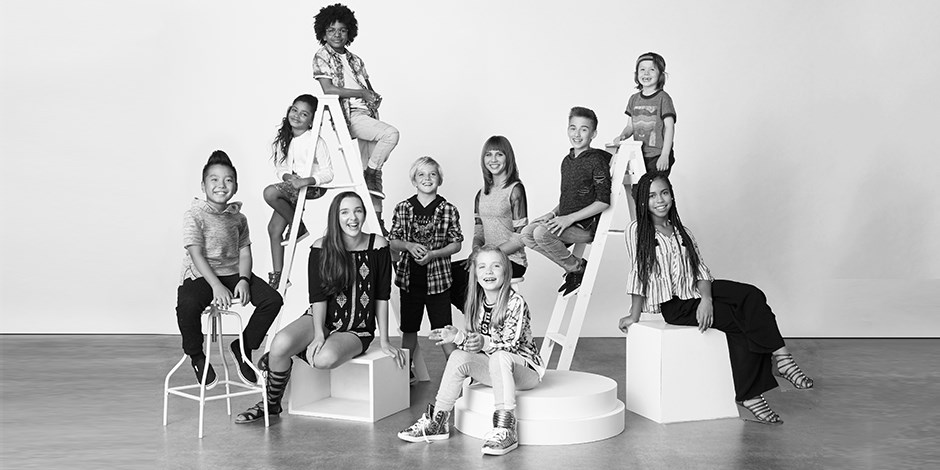 Sour Patch Kids hired Ariel Martin, the 16-year-old Musical.ly star (with 19.5 million fans) known as Baby Ariel, for a cross-platform social integration tied to the Teen Choice Awards. It included tweets, Instagram posts, and a takeover of the brand's Snapchat account. (For those not familiar with Musical.ly, it's a social network where people can share videos of themselves lip-syncing to songs. Musical.ly currently has more than 215 million users.)
Gen Z does influencing of its own
More than 70 percent of surveyed Gen Zers said they influence family decisions on buying furniture, household goods, and food and beverages. Some brands have decided that trying to reach Gen Z will have a payoff in the long run, even if it's not exactly their target demographic. The platform of choice to make this connection is YouTube, where 95 percent of Gen Z say they spend a lot of their time.
Brand content in action: Royal Caribbean worked with AwesomenessTV, a millennial media company, to create "Royal Crush," a branded video series about teens who fall in love on Royal Caribbean cruises. After five seasons, the series has more than 75 million views. In case you're wondering why Royal Caribbean would want to connect with young teens who aren't the ones booking cruises, the answer is simple: Marketing research revealed that teen girls have a huge influence on helping choose the family vacation.
Tips for Using Content Marketing to Reach Gen Z
If you're a content marketer who hopes to capture the hearts and minds of Gen Z, take a page from the brand playbooks above, and get to know these up-and-coming consumers. They may not be as abundant as millennials, but their own buying power coupled with the influence they wield can't go ignored.
To get started, here's your Gen Z content marketing best practices cheat-sheet:
Explore interactive content.
Hook up with influencers.
Focus on short videos over long-form articles.
Always be authentic.
Promote social responsibility.
Whatever you do, don't lump in Gen Z with millennials.

Dawn Papandrea is a NewsCred Contributor.